By Joakim Kling- Last Updated: January 2, 2020 | Contact Author

iTunes Is Shut Down on macOS Catalina. What We Can Do?

Spotlight - DearMob iPhone Manager vs. iTunes
At the WWDC 2019, Apple not only released the Mac Pro, which is the most expensive Mac in history, and the iPadOS for iPad, but also launched a new Mac OS. The biggest change is to split iTunes into three apps: Apple Music, Apple Podcasts, and Apple TV. This also announced the official retirement of iTunes.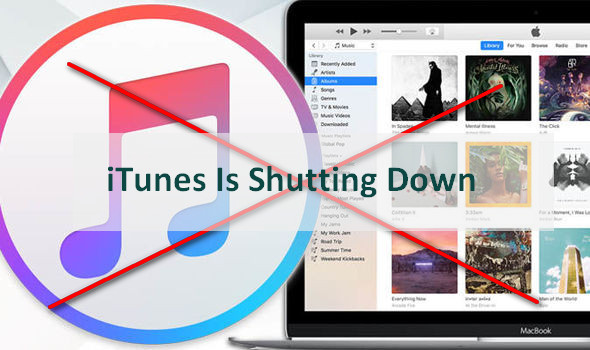 Part 1. Users' Concern about iTunes Shutdown
There are a lot of users complaining that iTunes is clumsy, so Apple wanted to simplify it by breaking it down into different applications. Now, you will no longer have one complex app to handle different files, but will have three apps to access different types of media.
After learning that iTunes was going to "retire", many iPhone fans said "pity". After all, the status of iTunes was the core of Apple's digital center strategy. The emergence of this software also changed the entire paid music industry. Also, users have some concerns:
Q: When will iTunes end? What will replace iTunes?
A: iTunes will soon be shut down on Mac with its fall update in 2019 and replaced with three new Apple apps: Apple Music, Apple TV, and Apple Podcasts. And Finder will become the bridge between iDevice and Mac. If you are a Windows user, then nothing is changing. And if you don't update to the macOS Catalina, iTunes will exist on Mac computers that are running previous versions of macOS.
Part 2. What Will Happen After iTunes Shutting Down?
If you are an iTunes user, you may have several questions: Will all the previously purchased and downloaded music be lost? Will the existing playlist be disrupted? Will the previously edited data still be there? Also, there are still many users who want to "own" their music permanently. What if people who still want to buy digital songs?
Don't worry, all your iTunes purchases are safe and you just need to go to another app to find different type of data. Movies and TV shows you bought will show up in the Apple TV app, podcats of your iTunes will be transferred to the Apple Podcasts app and all songs you purchased from iTunes or imported to iTunes will be available on Apple Music app.
If you buy a physical product, which means you own it so you can sell, lend or give away as you like. But according to Apple's terms and conditions, it's not the same case. Buying digital files like music through iTunes means you're buying a license to listen to the music as long as it exists on this platform. And you are allowed to burn a playlist of purchased music to disc for the non-commercial purpose up to seven times. So if you want to keep your digital songs, you can export them to an external hard drive or a cloud service.
Part 3. How to Sync iPhone iPad iPod after iTunes Shutting Down?
In addition to the loss of music mentioned above, more people care about how to sync iPhone iPad iPod after iTunes shutting down. After all, the function of iTunes is quite a lot, except for the media player, media library, which is also a mobile device management application. Can all of these features be replaced by new apps that have been split?
After shutting down iTunes on macOS Catalina, three newly revamped apps won't be able to sync iPhone or iPad with computer. Instead, your device will appear in Finder window when you connect your iPhone or iPhone to macOS Catalina.
Though Finder can help you access iPhone data on Mac, you can't be sure what type of data it supports or what limitations it has. Therefore, it is recommended to download third-party software to organize digital multimedia files. Compared to cloud backup, there is a more secure and foolproof way: a comprehensive "physical backup" of the files in the iPhone iPad - backup to the computer with a data cable connection.
To manage iPhone data in an easy and efficient way, DearMob iPhone Manager is here to help. It's able to transfer files like photos, music, video and more between iPhone/iPad and computer. You can backup your iPhone/iPad/iPod data to macOS Catalina or Windows computer within simple steps. Without iTunes, DearMob iPhone Manager can keep all your files safe and sound.
Here let's check how to export music from iPhone to computer, as an illustration:
Step 1: Download and install DearMob iPhone Manager to your computer and run it.

Download VideoProc on Windows

to Backup Files between iPhone iPad and Windows

Download VideoProc on Mac

to Backup Files between iPhone iPad and Mac
Connect your iPhone to computer via a USB cable. Click Music Manager on the main page.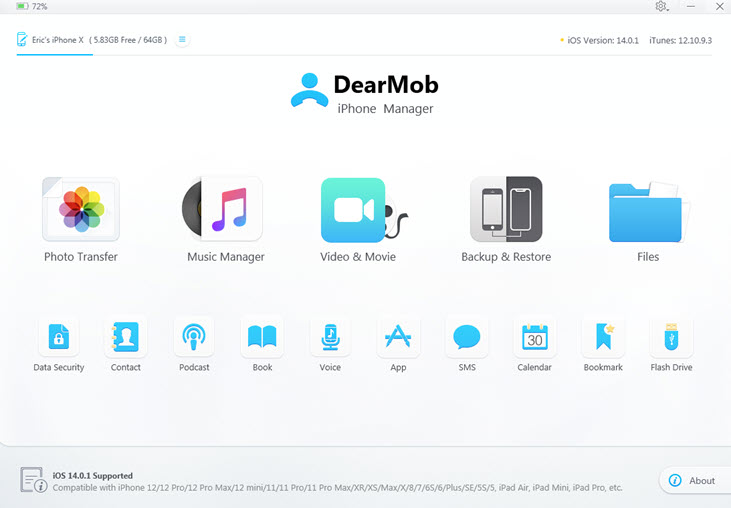 Step 2. Choose the music you want to transfer > click the Export button to start.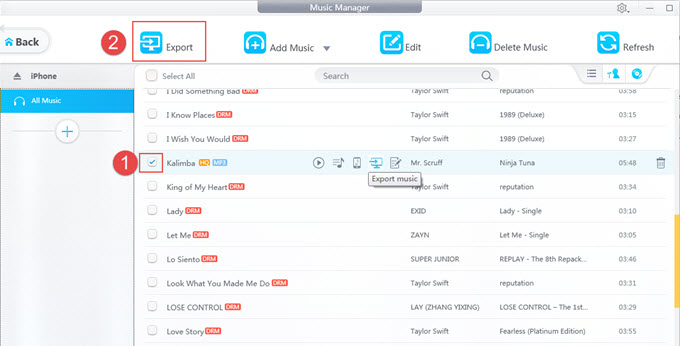 Conclusion
Though iTunes will disappear on macOS Catalina, it still exists on old versions of Mac and nothing is going to change for Windows users. If you want to update to the latest version of macOS, it's recommended to rely on a third-party iPhone data managing tool like DearMob iPhone Manager. Whether you are using a Mac or Windows, it will take care of all your iPhone data and files.