"In & Out" - Move any of your own movies, music, books into iPhone and iTunes purchases out of iPhone on Windows 10 for secured backup and playback freedom.
In the age of show business, the path of "amusing ourselves to death" surely should not be restricted by Apple iTunes. As it not merely brings content source limitations, but limits our joy to Apple-only devices.
1- Click Transfer iTunes Purchases to DRM-free version;
10x Processing Speed in Purchases DRM Removal;
Batch Remove DRM from iTunes Purchased Media;
Guarantee DRM Removal without Quality Loss;
Among all the media forms of being, no one can discard vast media streams on online sharing sites like YouTube, and contents saved in physical DVD discs, CD discs, hard drives, SSD cards. And we all know how to download, rip, and export to obtain the legal digital copy on Windows. Yet somehow, we freeze at the threshold of non-iTunes purchases being ruled out from syncing back to iOS devices, with doors slammed right in external-contents' face.
And "Bans" always comes in pairs.
For media contents, having "What I purchased yet still is not mine" made accepted undoubtedly circles us in Apple marshland, since playing back locked purchases on non-Apple devices is not a prayer. In the middle of being thrilled by having a lifetime access to purchased movies, music, books, ringtones, you suddenly realized the prerequisite is sticking with Apple for a lifetime. And be alert, just as Amazon did to Kindle readers, they still have the right to remotely delete your purchases without your permission. And the prospect of watching purchased media on hooked-up external monitors, Android, Windows, Xbox, Playstation4, becomes unreachable.
These add up to be a total bullying for iOS holders. But we just discovered another commercial tool to tweak things right - DearMob iPhone Manager - a once-only purchase for a lifetime usage to solve iOS media transfer barriers - by removing DRM from iTunes movies. Downloaded its giveaway version, and here is my observation.
Transfer Non-purchased Songs, Movies to iPhone iPad from Windows 10
DearMob iPhone Manager actually detects your local audio/video files detailed to codecs (not superficial file extension) and size, to offer format auto-conversion for media transfer to iPhone iPad from Windows 10. It batch converts and moves your iOS-incompatible media files onto your iPhone iPad, be it your customized ringtones, collected songs, DVD movies, audio-books, ebooks etc, and helps compress oversized videos before transfer. Any of your own media collection, non-iTunes music/movies can be imported to iPhone and iPad for on the go joy now. It gathers media from everywhere to your iPhone without iTunes!
Also, using this transfer tool can help avoid iTunes' scary general error messages like
- "iPhone is synced with another iTunes Library. Do you want to erase this iPhone and sync with this iTunes Library".
No more worries on data erasing by iTunes syncing, now that we can sync selected contents with multiple Windows 10 PCs with DearMob iPhone Manager.
▶ How to Transfer Non-iTunes Purchases from Windows 10 to iPhone/iPad: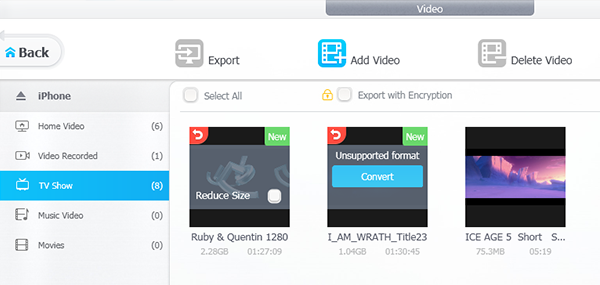 Step 1: Get DearMob iPhone Manager (desktop app), no iTunes needed!
Step 2: Connect your iPhone/iPad to PC Windows 10 via a lightning cable.
Step 3: On the main UI, click on "Music Manager", "Video", "Book" or other utilities you need.
Step 4: Click on "Add Music" or "Add Video" to select your non-iTunes file.
Step 5: Convert format/reduce size before transfer
Step 6: Hit "Sync" button to complete the transfer
How to Make Your iTunes Purchases Playable on Non-Apple Devices
I would like to call this iPhone Manager a media locksmith here, since it exactly pops the lock on your purchased media files to make them playable on non-Apple devices and external monitors. Personally, quite satisfied with the unlock speed and output quality, converting M4P to MP3 and M4V to MP4. And the most efficient part is its batch unlocking capability.
▶ Transfer iTunes Purchases from iPhone/iPad to Windows 10: Step 1: Install DearMob iPhone Manager.
Step 2: Connect your iPhone/iPad to PC Windows 10 via a lightning cable.
Step 3: On the main UI, click on "Music Manager", "Video", "Book" or other contents you aim at. The locked iTunes purchased media will be detected and shown with a red tag.
Step 4: Select several items and click on "Export"
Step 5: Click on "Remove" when a dialogue box saying "This song is protected by iTunes DRM" pops up.
Note:
No iTunes needed in the whole DRM removal process!
Get iTunes Purchases DRM-removal Tool Now
DearMob iPhone Manager is an all-in-one efficient DRM removal software that can not merely remove DRM from Apple Music and iTunes movies, but provide iTunes TV shows DRM removal and audio-book DRM removal utility. With this iPhone Manager, almost all DRM protected iTunes files can be turned into DRM-free and transferred to your Windows/Mac computers or shared to others without restrictions. If you wish for free DRM removal, you can join the official Campaign to get the giveaway version.