"I love photographing, especially when I got my iPhone 12/11 Pro with all-new dual 12 MP cameras. But quickly my iPhone got stocked, I need an easy way to transfer my iPhone photos to computer, any one can help?"
Actually, photos are the second element following videos to occupy iPhone memory, making transferring photos from iPhone to computer prevalent. You can delete the downloadable videos or movies without regret, but you may think twice before move those unrecoverable and monumental photos you take with friends or families in a special place and time. To help you transfer iPhone pictures to computer for releasing the device memory, backing up as well as sharing in the future, here are 5 best ways guiding you to copy photos pictures from iPhone XS Max/XS/XR/X/8/8 Plus/7/7 Plus/6S/6S Plus/6/5/SE to Windows PC and Mac.
Transfer iPhone Photos to Computer Method 1: DearMob Solution
Apple has its own logic of organizing and moving photos between iOS and macOS devices. For Mac users they benefit from this seamlessness to back up and transfer photos between platforms. However, the cozy ecosystem of Apple turns out to be not so friendly with Windows users: AutoPlay on Windows 7 only transfers Camera Roll photos, Photos app and File Explore on Windows 10 can't read all iPhone photos, and iPhone DCIM folder not showing on computer issue is a regular thing, and you cannot preview iPhone HEIC photos unless an HEIC photo viewer is installed. DearMob decides to bridge the two.
DearMob inherits the Photo app's logic and applies it on computer within a software's reach. Upon installation, all your iPhone photos are displayed as it is sorted on your portable devices - by Albums, App photos, Media Types and Other Albums are all remained tidy, including the newest Apple ProRAW images in DNG format. One can also filter through date, month, and year. Choosing a photo or a batch of images to transfer can be deadly easy. With the software installed and iPhone connected:
Step 1: Go to Photos tab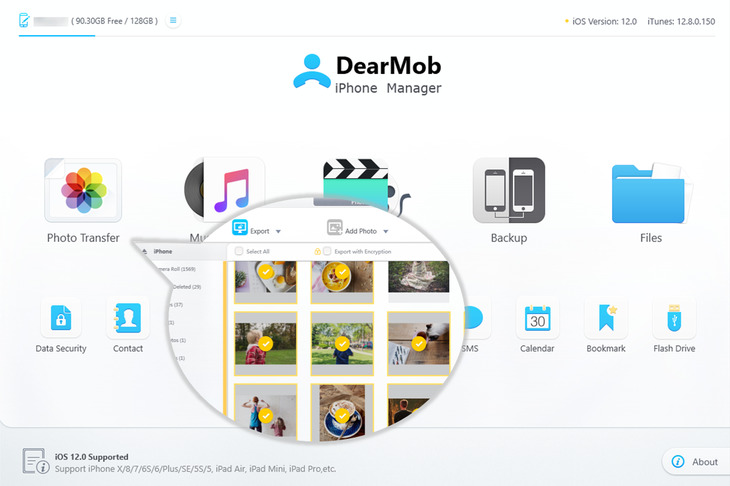 Step 2: Browse and select photos to transfer to computer
Step 3: Click "Export" drop-down button
You can either choose direct Export or to Export HEIC to JPG

Tips and notes
You can batch delete photos right away when you are done exporting. And you can also tick the checkbox for encrypted export to prevent others from peeking your privacy.
Transfer iPhone Photos to Computer Method 2: Use Email/iMessage
You can always email yourself tons of photos from iPhone and download them from computer.
Step 1. Select some photos in your Photos app
Browse your photos on iPhone and select photo albums or several photos
Step 2. Tap the Share icon


By tapping the share icon, you will be lead to multiple share options - Airdrop, iMessages, Apps, etc.
Step 3. Choose iMessage, Apple Mail app or your specific email app, e.g. Outlook
By emailing photos as attachments to yourself, you get all your photos in full resolution and retains complete EXIF data needed. If you cannot find your personal email app icon in the list, simply slide to left and click More.
By hitting the "Option", you can choose to transfer photos via iCloud link or as individual photos.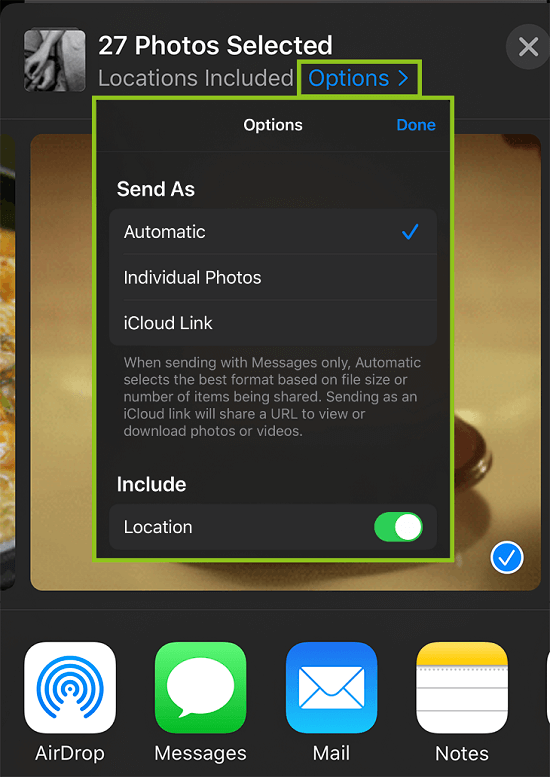 Tips and notes
Emailing too many photos to yourself can also meet issues like unable to attach files and files keeps loading and time out. And in the latest iOS 14, it only allows for at most 20 items to be selected to send in iMessage. Thus we would not recommend moving a large number of photos using Email sharing. Usb cable in this case works better.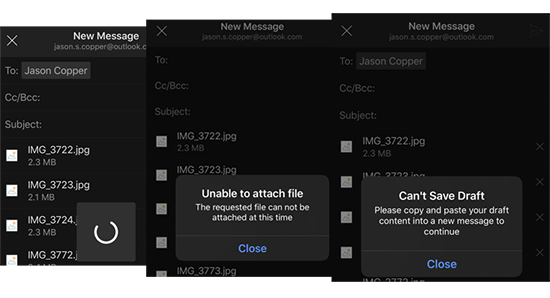 Transfer Pictures from iPhone to Computer Method 3: Use USB Cable
Windows computers recognize iOS devices natively. For Windows 7 computers, AutoPlay will intuitively pop up a dialogue windows once you connect the device to it. You can choose either AutoPlay or File Explorer to move photos from iPhone to computer. For Windows 10 users can choose either Photo app or Windows Explorer to migrate pictures from iPhone to PC.
File Explorer for Windows Computers:
Step 1. Connect your iPhone to computer.
Step 2. Passcode unlock your iPhone and you will see your device > Internal Storage > DCIM folder Step 3. Copy all the folders or open folders to select certain picture to copy and paste from iPhone to computer.
Drawbacks: all the pictures are listed by IMG_xxx numbers without proper organization, which makes it difficult to navigate or pinpoint a picture.
AutoPlay For Windows 7: Step 1. Connect your iPhone to computer.
The AutoPlay window will appear. You can either click "Import Pictures and Videos using Windows" or close AutoPlay dialogue window and direct to File/Windows explorer.
Step 2. Click the Import Settings link and a window pops up showing you different settings including the target folder you want to import iPhone photos to by clicking the Browse button.
Step 3. After setting up the import options, click OK to transfer photos from iPhone to computer.
Notice: Only Camera Roll photos can be transferred via AutoPlay. And by using AutoPlay, you cannot preview all your photos. If AutoPlay fails to work, you can either transfer iPhone photos to PC using Windows Explorer.
Photos App For Windows 10:
You can use Photos app for Windows to transfer photos from iPhone to PC, and collect, view, or edit your photos.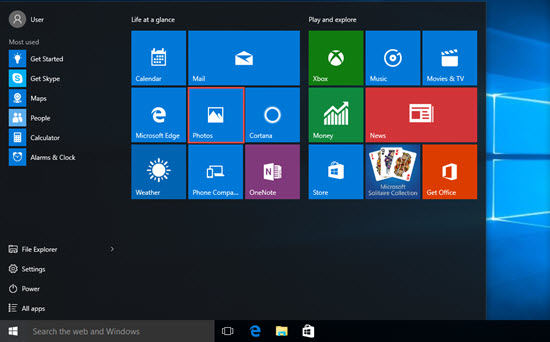 Step 1. Connect your iPhone to Windows 8/10 PC -> Open Photos app –> Scroll down to the bottom -> Click Import.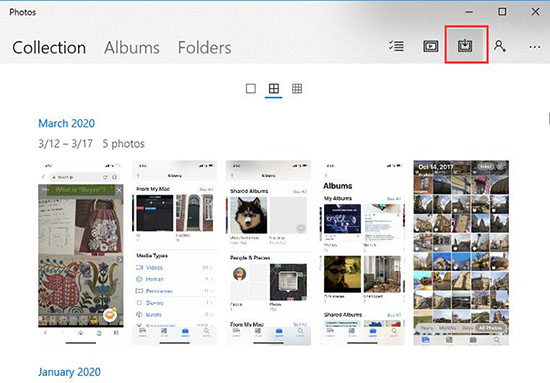 Note: Photos app will automatically detect all photos on your iPhone, and you can click "Select all" to get all your photos from iPhone to Windows 8/10 PC at once.
Step 2. Choose the iPhone photos you want to import your Photos App by clicking Clear All and then pick the ones you like to move.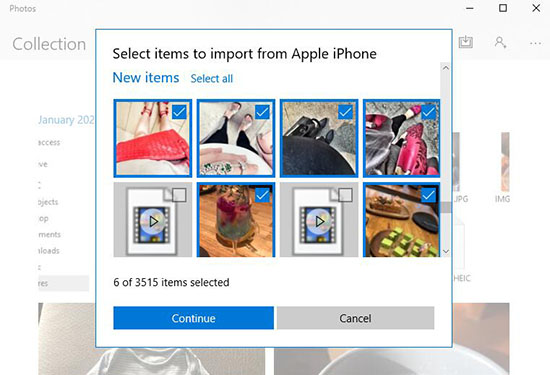 The best part of Windows 10 Photo app is that you can tick the checkbox to delete all imported photos from Apple device upon exporting. Clearing up your iPhone photo can be way easier in this way.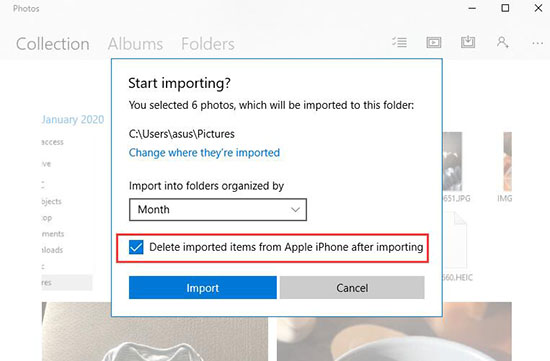 Drawbacks: The problems of this transfer method are:
1. You cannot preview photos to compare which one is better to pick and transfer.
2. And all the video thumbnails are the same that you cannot identify which one to be moved to PC.
3. Also, you cannot directly transfer photos from iphone to Albums. Photos in the collection are a mess unless you manually add them to Albums after import.
Download iPhone Photos to PC/Mac Method 4: iCloud for Windows
iCloud for Windows is another popular way for transferring photos from iPhone to computer and vice versa. With WiFi connected and valid Apple ID, it allows you to wirelessly upload new photos or videos to your personal account and view anywhere anytime on iPhone, iPad, iPod touch, Mac and PC. You can directly watch your iPhone photos on PC or Mac with network required, or you can download iPhone photos to computer for offline enjoy as well.
Step 1. Sign in with your Apple ID to access your iCould personal center on iPhone and computer.
Step 2. Choose one photo you like to upload -> tap the Share button at the bottom left corner of your iPhone -> choose Add To iCloud Drive -> choose the folder you set to save your photo, and then it will automatically sync your photo to iCloud on your computer in a flash. You may find you can only select one picture each time to upload, that's really inconvenient indeed.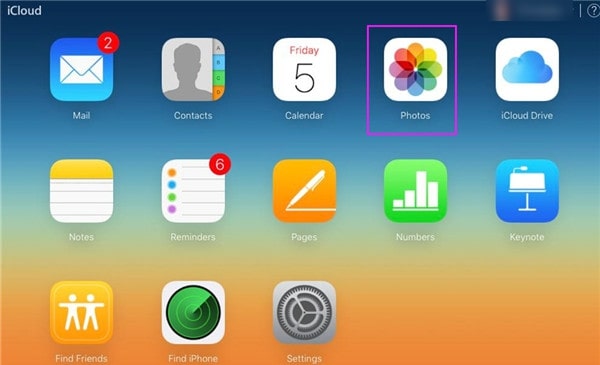 Step 3. Go to your computer, click Photos button in your iCloud. A window with all photos you upload shows up, choose one or several photos you like to download and then click the download arrow on the top right of iCloud Photos. Now the photos on your iPhone have been downloaded on your computer, you can find them in your Downloads folder.
Notice: iCloud allows you to take various beautiful pictures in different places and enjoy them at home easily. However, it requires network for uploading and only offers 5GB storage space for free storing.
Copy Photos from iPhone to Mac/PC Method 5: by Using Dropbox
To transfer iPhoto photos to computer, you need Dropbox which is similar to AirDrop for Mac. Step 1: Download and install Dropbox app on both your iPhone and Windows PC.
Step 2: Open Dropbox on iPhone and switch to Uploads tab
Step 3: Press + icon at the top left corner to choose the photos you want to transfer
Step 4: Choose an upload destination and start uploading.
Now you get to your computer, and the photos are ready to be downloaded to your Dropbox folder.
Comparing all the 4 ways, you may find each has its strengths and shortcomings. However, there was once a Photos Companion app developed by Microsoft to let users directly transfer photos from iPhone to Windows 10 Photos app via Wi-Fi. And the project was ended on June 3, 2019. Hope that it will get back to us soon.