How to Remove DRM from Apple Music iTunes?
By Joakim Kling - Last Updated: January 2, 2020 | Contact Author

iTunes not playing Apple music again? Maybe it is just because your songs are DRM protected. Here we introduce you 2019 the most popular DRM removal tool to remove DRM from Apple Music and iTunes once for all. Without iTunes Plus plan or shedding extra money on other lame DRM removal software, you can get ideal DRM free music as many as you want! This DRM removal tool can even let you get iTunes TV shows DRM removal and audio book DRM removal.
Fastest Apple Music DRM Removal Software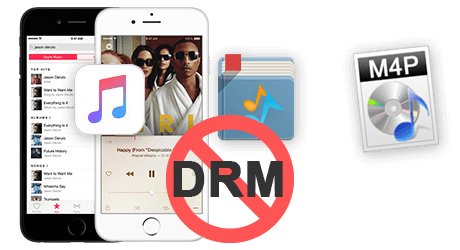 You Choose - DearMob iPhone Manager
1- Click Apple Music DRM Removal;
10x Processing Speed in Music DRM Removal;
Batch Remove DRM from Apple Music;
Guarantee Music DRM Removal without Quality Loss;
Apple Music might be the biggest online music seller in the 21st century. Almost everyone buys songs from Apple now! However, after purchasing songs in Apple music, you will notice that nearly all the music downloaded is protected by DRM which prevents you from sharing to others or get songs free from purchased friends. Apple forces every single music lover to spend money under DRM protection.
Though, they also offer a new DRM-free plan called iTunes Plus for your library to upgrade to. But the rotten fact is not all songs you bought are in the iTunes Plus DRM-free list. Imagine, only 645 songs out of your 2419 tracks are DRM-free in iTunes Plus plan, isn't it a far cry from ass-saving. So better not to be tricked into this Plus fantasy. Then,
How to Remove DRM from Apple Music?
DearMob iPhone Manager is the ideal DRM removal software you should choose. It lets you remove DRM from Apple Music, TV shows and remove DRM from iTunes Movies and Audio Books and the process is quickly done through one-click operation within 1/10 of the song's duration. You can batch remove DRM protection from several songs altogether and the songs will be saved in MP3/M4A univeral format to make later file transfer to iOS/Android/Windows/macOS a more pleasant experience.

DRM removal preparations:
Step 1: Download, install and launch DearMob iPhone Manager for Windows or Mac, make sure that your iOS system and iTunes are updated to the latest version and logged in the same Apple ID.
Note: iTunes is totally not needed in the whole process.
Step 2: Connect iPhone with your computer via a lightning cable.
Step 3: Download songs from Apple Music to your iPhone and enable iCloud to sync songs to your iTunes.
Step 4: Click to download songs from iCloud to iTunes Library so that DearMob iPhone Manager can access to the songs and remove DRM protection.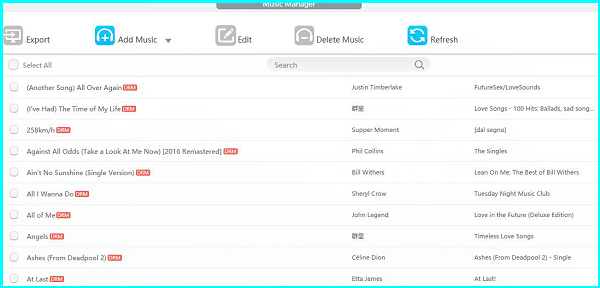 Remove DRM protection:
Step 1: Visit the "Music" tab on DearMob iPhone Manager. There you shall see purchased songs shown in a list tagged with "DRM".
Step 2: Choose songs you want to remove DRM from and click on "Export" which will take you to a dialogue box saying "This song is protected by iTunes DRM", click on "Remove"
Or you can :
Step 1: Visit the "Remove DRM" tab on the main interface, locate and select your purchased Apple music under "Music".
Step 2: Click on "Remove DRM" button.
Get Apple Music DRM-removal Tool Now:
There are many ways to remove DRM from iTunes Apple Music. You can surely make use of Requiem freeware or Tuneskit for $60. However, the former choice is out of upgrade and maintenance, while the latter is too expensive. DearMob iPhone Manager falls out to be the best choice among them all.

DearMob iPhone Manager is an all-in-one efficient DRM removal software that can not only remove DRM from iTunes movies and Apple Music, but provide iTunes TV shows DRM removal and audio-book DRM removal utility. With this iPhone Manager, almost all DRM protected files can be turned into DRM-free and transferred to your Windows/Mac computers or shared to others without restrictions. If you wish for free DRM removal, you can give a try to the free version below, and save unlocked Apple music in iPhone hard drive to take them wherever you go.




<