By Joakim Kling - Last Updated: January 2, 2020 | Contact Author

How to Drag and Drop Music to iPhone without iTunes Sync?

For drag'n drop easy solution, please click here: The solution most recommended by us [85%]

Spotlight - DearMob iPhone Manager vs. iTunes
Can't Drag'n Drop Music to iPhone from Windows PC? Your Problem Will Be Settled Here.
Countless attempts have repeatedly proved that Windows system won't let users drag'n drop songs to iPhone internal storage space even though it displays iPhone storage no problem. And this is exactly the loophole where the confusing iTunes for Windows steals in - bluffing that it could do an easy drag'n drop music transfer, but end up erasing your entire iPhone music library accidentally or popping up an alert saying it just cannot copy the song to iPhone.

To directly drag'n drop any song to iPhone Music won't pan out as expected on a Windows PC. Not just because of the inate system access prevention between Windows and iOS, but the highly-limited iOS format/codec support standing in our way of music transfer - despite that iTunes for Windows does provide manual music and video management option.
Can't Drag'n Drop Music to iPhone via iTunes - Reasons and Solutions
If you're wondering why you cannot directly drag'n drop any song to iPhone Apple Music library, here are 2 possible causes:
Possible reason 1. You failed to enable iTunes manual management. Only "Manually manage music and videos" option is enabled, can you manage songs and videos individually. Never ever assume that iTunes Sync feature can help you transfer selected songs one by one to iPhone from your music library.
Possible reason 2. Your music files are not supported by iOS iPhone/iPod/iPad. You may be confused that an *.aac file should be iOS-supportive as confirmed officially, but why does an alert still pops up anyway? When you look further by checking the mediainfo, you will find that some incompatible codecs like ADTS can also be contained in an *.aac file that cannot be played on iPhone. In this case, iTunes cannot help you convert let alone transfer incompatible audio files to iPhone. You will have to convert those files first yourself.
How to Drag And Drop Music to iPhone from iTunes Library?
iTunes does provide a drag-n-drop easy solution for music transfer from Windows to iPhone, but you should be very very careful doing the presets.
Caution 1: DO NOT click on "Sync Music".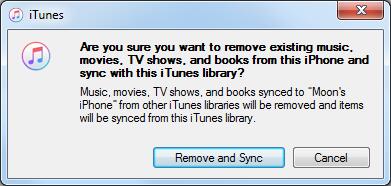 Note that enabling only its high-profile option of "Selected playlists, artists, albums, and genres" under Sync Music still restricts you to sync songs to iPhone in batch and can erase your iPhone music library as a whole.
The key is to enable the "Manually manage music and videos" option to conduct single track transfer, which is different from iTunes Sync feature.
Caution 2: You should have all your music converted to iOS supported formats in advance, or those incompatible formated songs won't be able to be copied to iPhone.
Caution 3: Do remember your Apple ID password or you won't be able to sync at all.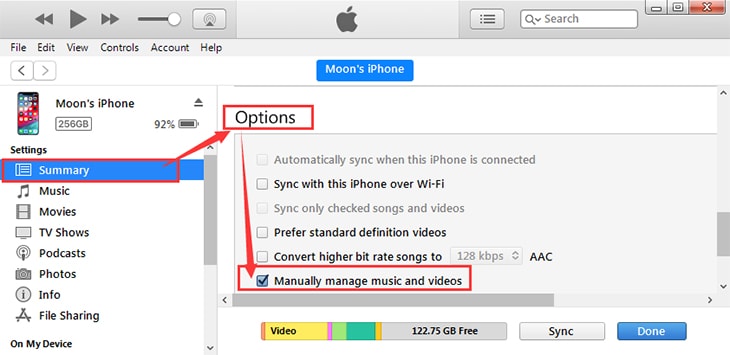 Step 1: Upgrade iTunes to the latest version, cable-connect iPhone and computer;
Step 2: Enable the option "Manually manage music and videos"
Clicking on the iPhone icon in iTunes
Go to Summary
Stroll down to Options
Check the "Manually manage music and videos" box
Click Apply.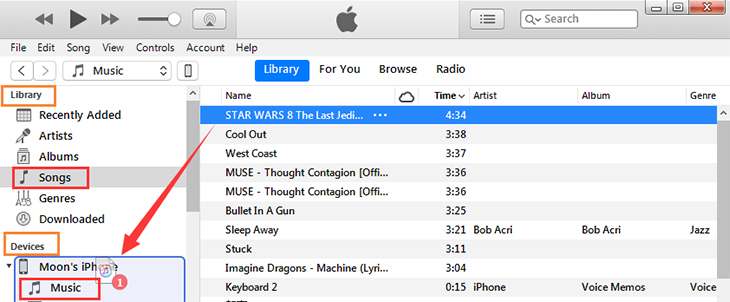 Step 3: Import music from computer to iTunes library or you can directly open your local music file folder.
Tips: File > Add File to Library > Select files and click open.
Step 4: Drag and drop music titles that you want to copy to iPhone music library from iTunes library.
Or you can also Right click on the song titles > Add to device > My iPhone.
How to Drag and Drop Music to iPhone from Local Music Folder via iTunes?
Not just from iTunes music library, you can also drag and drop songs directly from local music folder to iPhone via iTunes without adding them to iTunes library first.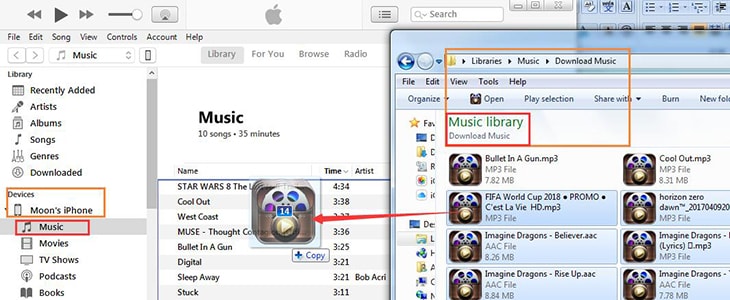 Step 1: Upgrade iTunes to the latest version, cable-connect iPhone and computer;
Step 2: Open your music file folder and select several songs to copy to iPhone;
Step 3: Find "Devices" and click the drop down menu;
Step 4: Click on Music tab to view all the songs in iPhone music library;
Step 5: Drag and drop those songs directly to iPhone music playlist.
In 3 Steps: Drag and Drop Music in Any Format to iPhone without iTunes Auto-convert incompatible formats to fix "can't drag and drop songs to iPhone" error.Easier & fast Solution
Drag'n drop Easy - No-brainer Way to Put Music on iPhone without iTunes
DearMob iPhone Manager lets you get the best of both worlds - excellent safe Apple devices and idoit-proof flexibly music management service without iTunes.
Bridges full system access between Windows 10 and iOS 12 music library;
Drags and drops transfer songs between Windows and iPhone/iPod/iPad;
Auto-converts incompatible audio formats before transfer to iPhone;
Makes ringtones for iPhone without iTunes and edits music 3D tags/playlists;
Unlocks purchased iTunes music, videos, audiobooks;

Download DearMob iPhone Manager Windows

Follow the steps below after downloading DearMob iPhone Manager on your computer and cable connect iPhone/iPod/iPad to PC.
Step 1. Click on "Music Manager" to view all songs on your iOS devices;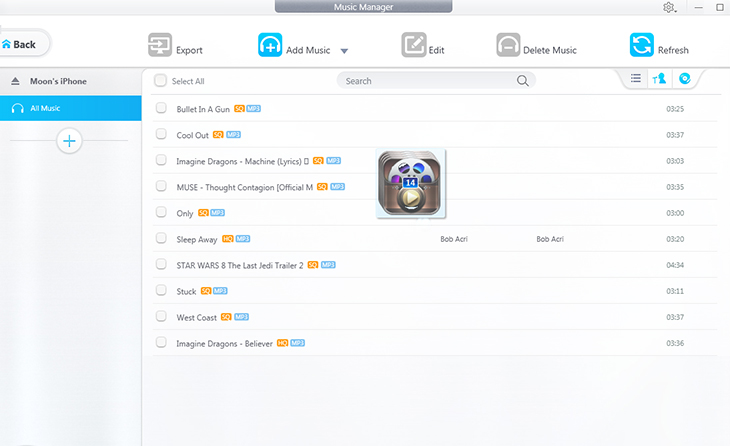 Step 2. Drag'n drop selected songs in any format from computer directly to the panel;
Step 3. Click "Sync button" on the lower-right corner.
Those iOS incompatible music formats like ADTS, AMR, FLAC, etc will be auto-detected and converted to MP3 by DearMob iPhone Manager before transfer to iPhone. Do not plug out your devices during that process.
Final Words:
DearMob iPhone Manager is an all-round iPhone device management tool to solve issues not limited to Can't drag and drop music to iPhone from Windows PC, but generally all iOS files and data transfer issues caused by cross-system barriers and cockamamie iTunes. It even lets you remove DRM from iTunes purchased songs, movies, audio books, add/make ringtones for iPhone and transfer other important data including contacts, podcasts, photos between iPhone and computer, drag-n-drop easy!