Wondering how to transfer videos from iPhone to computer? Besides messing around with the internal storage folder, you can find better ways here to send videos easily, fast, and never leave one behind (especially those outside the camera roll) - Using DearMob iPhone Manager.
Transferring videos to PC is an effective way to free up iPhone storage. According to Apple, a minute of 60 fps 1080p HD video will be 90MB, and 60fps 4K video will be 400MB. Even if you can use high efficiency video format to reduce file size, photos and videos are still the biggest storage hog.
Also, you may be in the mood to get videos off iPhone, and edit them on a bigger screen; copy videos to PC or external hard drive for backup purpose; or save Snapchat, WhatsApp and iMessage videos to a computer.
Transferring All Kinds of Videos
Depending on video types, the methods to adopt are slightly different. As you can see, there are various types of videos on iPhone to deal with:
iPhone Cinematic Mode videos shot on supported devices;
Videos shot and stored in camera roll album in the Photos app;
Videos downloaded by Safari or other browsers;
Videos purchased from iTunes Store or cached in the TV app;
Videos in iMessage, Text Message, Files app, iCloud drive, etc.
Every method we covered below allows you to transfer camera roll videos, while some method also helps you with videos outside the camera roll. Read on to find how to transfer videos from iPhone to computer.
How to Transfer Videos from iPhone to Computer Easily
As you already know, iTunes only sync videos from PC to iPhone, not the other way around. It is not an iPhone file explorer that serves as an interface to manage and transfer content from iPhone to computer.
For flexible two-way transfer (iPhone to computer and vice versa), let's see a professional iPhone/iPad management tool DearMob iPhone Manager in action.
Free download DearMob iPhone Manager to get started:
Step 1. Connect your iPhone to DearMob iPhone Manager, and go to Videos & Movies.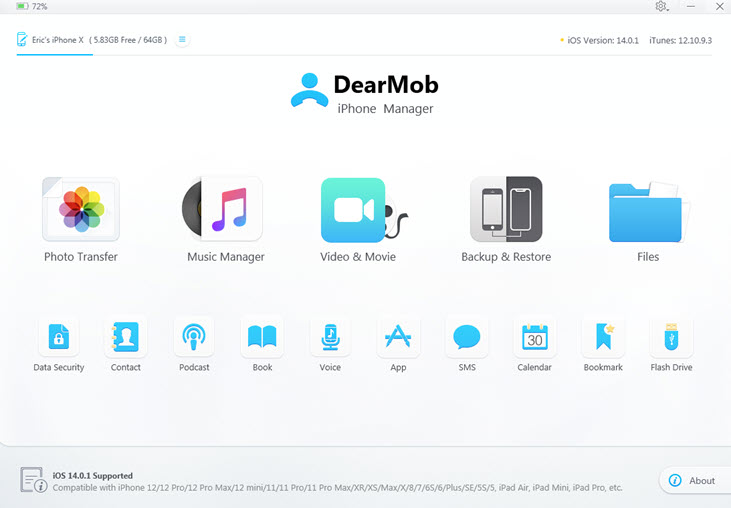 Tip: You can transfer and manage videos and files from multiple iPhone and iPad, and there is no Apple ID restriction. For instance, you don't need to sign-out from your account and sign in to your wife's/husband's account to transfer videos.
Step 2. Select videos and click Export to transfer videos from iPhone to computer.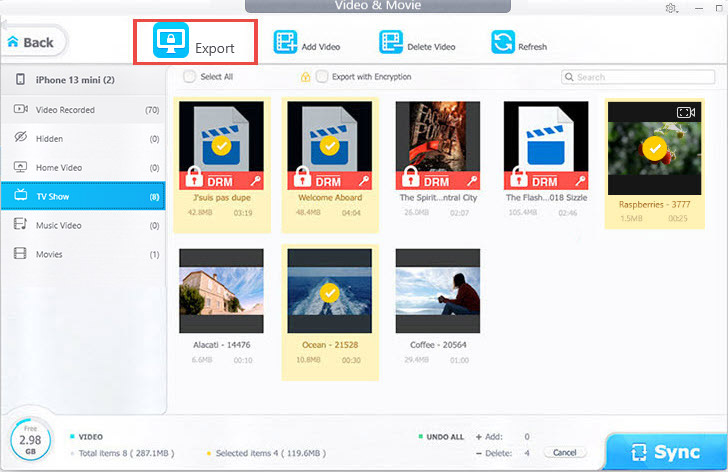 DearMob iPhone Manager ground videos into the following panels, so that you can easily navigate and quickly find videos you want to import to computer.
Video Recorded: It groups all the videos from camera roll. Since videos are separated from photos, it is easier to find the video you are looking for. You can also find Cinematic Mode videos here.
TV Show & Movies: Videos you download from the TV app (also known as Video app in some country and region), or from iTunes store.
Music Video: Videos you saved from Apple Music.
Home Video: Videos manually synced from iTunes.
Watch the videos to use DearMob iPhone Manager (video transfer how-tos starts at 02:38)
Note:
For Cinematic Mode videos shot on iPhone 13 and higher versions, or edited on iOS 16 or newer OS, DearMob iPhone Manager can easily help you to export the video with the rack focus effects retained. Once you connect iPhone to the computer, tap the option to process the cinematic video on iPhone screen, and then from the main interface of DearMob iPhone Manager, go to Videos & Movie module > Recorded Video to export the Cinematic Mode videos.
Bonus Feature 1:
If you have videos download from Safari, VLC or other apps, and saved to the Files app, you can access the content too.
Go to Files or Apps from the home screen, and copy out videos as you like.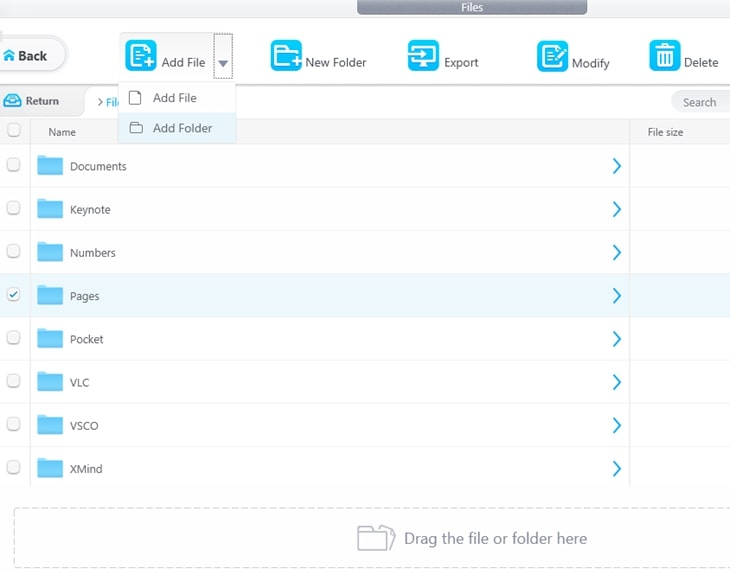 Bonus Feature 2:
For photos and videos in text messages, you can easily view and export them to computer using DearMob iPhone Manager. As you can see from the steps, DearMob iPhone Manager makes everything simple and straightforward to transfer videos from iPhone to computer. This program is free to use, you can download it by clicking the buttons below.
What else can DearMob iPhone Manager do:
Convert Live Photos to videos upon transferring
Transfer pictures among multiple iPhone, PC and Mac
Convert content to Apple-compatible format
Set custom ringtone and alert tone with 1-click
DearMob iPhone Manager also runs on Mac, you can trust it to transfer iPhone videos to Mac or transfer video from iPhone to PC without iTunes >
2. How to Transfer Videos from iPhone to Computer using the DCIM Folder
You might find the AutoPlay method less straightforward, especially when you simply want to download a recently created video on iPhone. Directly browsing the internal storage DCIM folder is another way.
Step 1. Connect your iPhone to the computer, and make sure to unlock screen.
• If you have large videos to transfer, make sure the screen lock time is long enough. If your iPhone lock its screen during the process, it will break the transferring.
Step 2. Click your device in the left panel, and go to Internal Storage folder, then open the DCIM folder.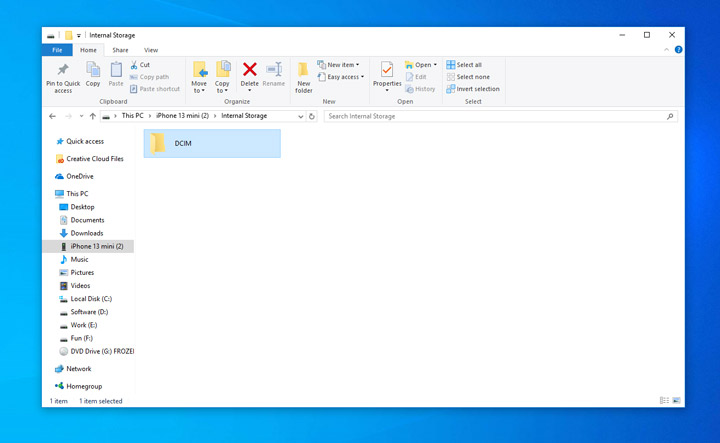 If you don't see the DCIM folder, or the DCIM folder is empty, try switch to another USB port, and always make sure your iPhone is unlocked. Here are another four ways to fix DCIM folder empty or not showing up >>
Step 3. Go to 100APPLE, 101 APPLE, 102 APPLE etc. Right click to Group by Type. Step 4. Copy and paste the MP4 and MOV files to the local drive on your computer. It is safer to copy-and-paste instead of cut-and-paste. A hard lesson I learned: I cut and paste dozens of large videos from iPhone to (E:) drive. During the process, the connection breaks somehow, and some videos are not copied to the destination folder, while they have already been removed from iPhone.
3. How to Import Videos from iPhone to PC via Photos App (Windows 10/11)
Transferring videos from iPhone to PC using the Photos app is officailly recommended in the Microssoft's Support blog.
Windows Photos App is a pre-installed program developed by Microsoft. It acts as a central hub for all the media stored on your local drive. It is the default photos viewer, and displays your photos and videos in photo library style, with smart utilities to create photos slideshow for you.
You may not notice that, the photos app also have a dedicated Import option to transfer photos and videos from camera devices, iPhone, iPad, and other mobiles & tablets. Here is how: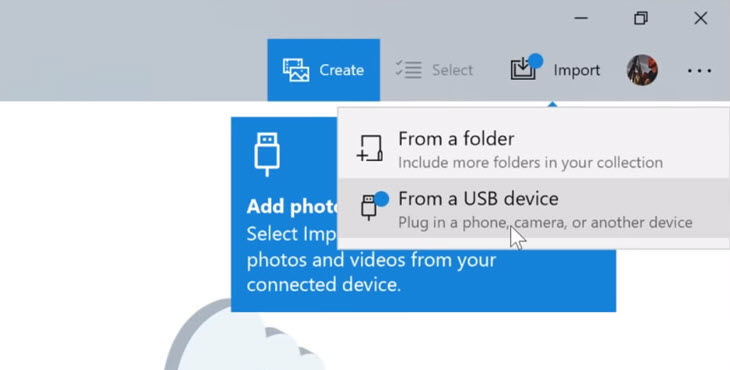 Step 1. Unlock iPhone screen and plug it to the computer.
Step 2. Tap Trust when you are prompted to trust this computer.
Step 3. Open up the Photos app on Windows 11/10 (also works on Windows 8).
Step 4. On the top right corner, click Import > From a USB device.
From a folder: you can add a folder with photos on your computer, so that the photos app displays these photos as your collection.
From a USB device: it will import photos on any camera device, including iPhone and iPad. iOS devices complies to the "de facto" DCF standard, or the DCIM folder that you are well familiar to. (Read more: Why Does Every Camera Put Photos in a DCIM Folder).
Step 5. In the pop up Window, you can see all your camera roll photos and videos. If you only want to import videos, go unselect all, and manually tick videos you like.
When you are happy with the selection, go confirm importing the footage.
If you have no desired to fill up your C: Drive, make sure to change folders via Import Settings.
4. How to Transfer Videos from iPhone to PC with AutoPlay (Windows 7)
The import function in AutoPlay will treat your iPhone as a camera, and access videos and photos in iPhone camera roll. Videos and other media files stored somewhere else in iPhone storage are not accessible.
This method is suitable for the following situation: you want to import all the photos and videos to Windows local drive, without the need to separate videos from camera roll photos.
Step 1. Connect your iPhone or iPad to a Windows PC with the cable. Tap Trust this computer when you see the prompt on iDevice.
• If you don't see AutoPlay popup, switch to another USB port to re-connect your device.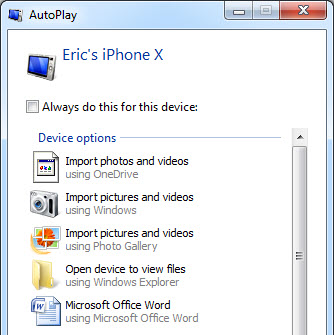 Step 2. Click Import pictures and videos using Windows.
• The AutoPlay utility will scan all the videos and photos on your iPhone. When it's done, hit Next.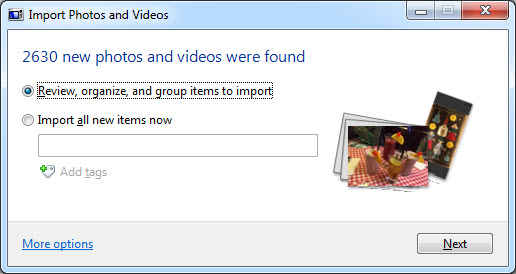 • You can click More options to change import folder, file naming strategy (name + Date Taken, for instance), or enable the option to delete videos after importing. Step 3. After scanning, your videos and photos in camera roll will be grouped chronologically. You can drag the slider at bottom right corner to adjust the time range.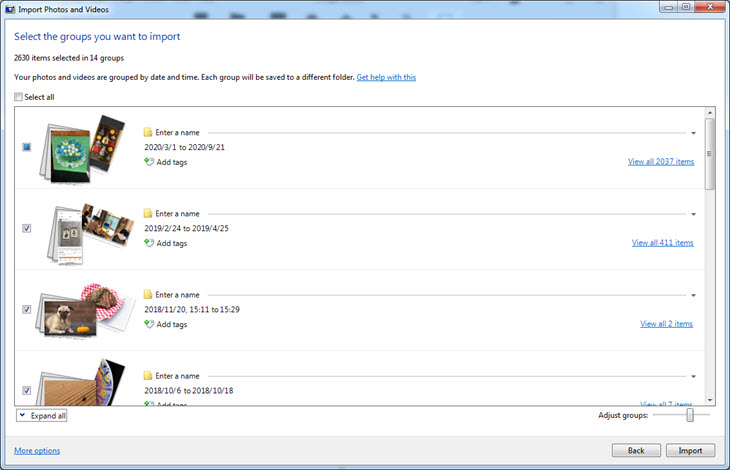 Step 4. Click Import to get videos off iPhone, together with photos.
As you can see from the screenshot, there is no option to filter out videos from photos, unless you tick video files manually.
One possible solution to get organized is, you can perform the importation regularly, say, every Saturday, or at the end of each month. Then, you can select "Import all new items now". When it's done, right click to group files by type, so that you can separate videos out of thousands of pictures.
Windows AutoPlay not showing up?
If the AutoPlay dialogue box won't pop up, besides manage settings in control panel, you can also right click on the device (iPhone/iPad) to import.
Open Windows Explorer, find your device on the left panel, right click and hit Import pictures and videos. 5. How to Send Videos from iPhone to Computer via iCloud
If you have good network connection and upgrade to iCloud large storage plan, enabling iCloud photos library is another workable option.
Currently, iOS and iPadOS haven't offered you any option to sync video only. You need to turn on iCloud syncing for the photos app, so that videos are uploading to the cloud service together with photos.
Step 1. On your iPhone, go to Settings > Tap your profile photo on the top > iCloud.
Step 2. In Apps using iCloud section, tap Photos, and toggle it on for iCloud syncing.
Note:
If you have synced media from a computer previously, you will see the warning to erase synced items. It is because iCloud and iTunes syncing are mutual exclusive, as per Apple's design. If you prefer not to remove synced photos, you cannot turn on iCloud syncing.
To solve this dilemma, you can export synced photos to computer, and then delete them. However, as synced photos are not part of the camera roll photos, you won't be able to view them in DCIM folder. You can go back to method 1 and use the dedicated iOS explorer DearMob iPhone Manager to view and transfer synced content.
Step 3. When you successfully toggled on iCloud photo syncing, wait for some time for the videos and photos to be uploaded online. Depending on your network condition, the process would take hours or days to finish for the first time.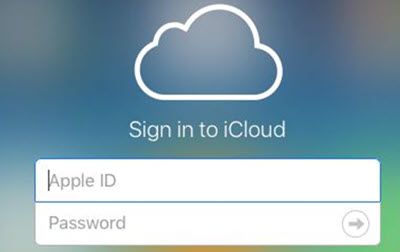 Step 4. On your computer, visit icloud.com or download iCloud for Windows app.
Step 5. Enter your Apple ID and password. If you have turned on two-factor protection, you need to authorize the logging-in on iPhone and enter the provided code.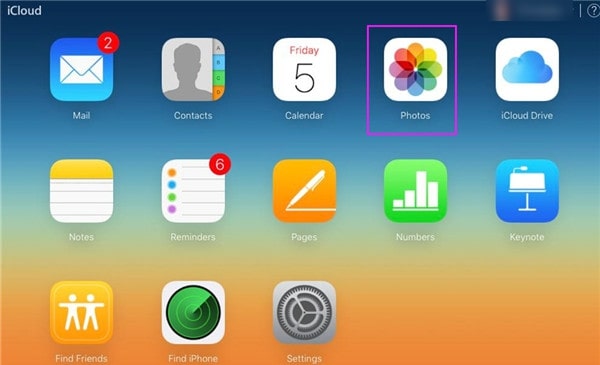 Step 6. Within iCloud, navigate to Photos, preview videos within, and download them to your local drive.
6. How to Send Videos from iPhone to PC via Email and Message Apps
This is one of the most common methods every iPhone owner would think of. Its drawback is obvious: the file size is limited, and it is inconvenient to transfer multiple files at once. However, this can be used as a workaround if you happen to need a compressed video file.
For instance, you may need to upload some videos to forums or online platforms with file size limits. Most Email apps allow you to attach a video with quality option, such as original, medium, or small sizes.
After adding videos, you can send it to yourself. Similarly, you can download Facebook Messenger apps for iOS and for PC to transfer videos, or any other Instant Message applications you use regularly.
Methods Comparison
Method
Video Type
Connection
Note

DearMob iPhone Manager

Camera Roll videos, iTunes purchases, movies, videos in messages, Files, VLC, etc.

Wired/Wi-Fi transfer

Option to encrypt videos

Windows DCIM folder

Camera Roll videos

Wired transfer

Videos scattered in subfolders

Windows 11/10 Photos App

Camera Roll videos

Wired transfer

Videos will be imported to the Photos Library

AutoPlay (Windows 7)

Camera Roll videos

Wired transfer

Videos are mixed with photos

iCloud

Camera Roll videos

Wireless

Download videos from iCloud

Email & IM App

Videos with Share option

Wireless

Videos will be compressed
(learn how to send videos without losing quality)
Free download DearMob iPhone Manager to import videos from iPhone to computer: