By Joakim Kling - Last Updated: January 2, 2020 | Contact Author

Add Music to iPhone on macOS Catalina [Even Your Own Collections]

If you want to sync non-Apple music to iPhone with quickest method, jump to Part 3.

Spotlight - DearMob iPhone Manager vs. iTunes
I start to miss iTunes the minute I saw the brand new dock after updating my MacBook Air to macOS 10.15. With iTunes no longer a thing in the upgraded system, how to sync music to iPhone on macOS Catalina?
The majority of folks are convinced that device backup and syncing function is integrated into the Finder app, so you just sync music tracks and movie clips with Finder. But that's only half of the story. If you have non-apple music at hand, such as free music downloaded online, ripped from CD, and send over from a friend, then...
Finder Alone is not Capable of Finishing the Syncing-to-iPhone Task in Some Situations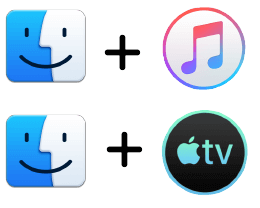 1. You are not allowed to drag and drop songs into Finder to sync. Before macOS 10.15, we build music library and sync music to iPhone in one place: iTunes. Now with Catalina, if you only listen to Apple Music (the subscription service), everything is fine. If you have your own music collections and want to put music to iPhone, Finder is not enough. You will have to add local songs to the Music App playlist, and then open up Finder to sync to iPhone.
2. You cannot sync home videos to iPhone via Finder only. This dilemma is almost a parallel of the situation with music syncing. You cannot directly drop videos to Finder and syncing to iPhone, but to add home videos to TV app, and then resort to Finder to finish syncing.
3. The warning of "Are you sure you want to remove existing music, movies, TV shows, and books from this iPhone and sync with this library" still exists should you plug in an iPhone previously synced with another computer. This one-iPhone-one-library mechanism is innate as Apple try to confine you within its ecosystem, which offers seamless experience for the streaming crowd, but could be a pain for music hoarders. Luckily, there is always a workaround to flexibly transfer data from Mac to iPhone or backward (iPhone to Mac) without Apple ID or library identity restriction (See part 3).
Part 1: How to Sync Previous iTunes Music to iPhone on macOS Catalina
If the viral hashtag iTunes shutting down ever scared you, relax. The good news is, all the playlist and songs that you have meticulously curated over the years will stay intact and appear in the Music app automatically. You can also check your library to see if everything is there: ~Music/iTunes/username/Music/iTunes

Follow these steps to sync previous iTunes Music to iPhone with Finder on Catalina:
Step 1. Open finder, plug in your iPhone and hit pair.
Step 2. Click your device, go to Music tab.
Tips: if you cannot see a sidebar with your device, go to Finder > Preferences > General, and make sure to check External disks, CDs, DVDs, and iPods. Also select All My Files.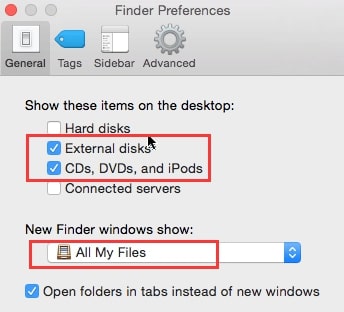 Step 3. Tick entire music library or selected playlists, artists, albums and genres depending on your need, and hit Sync.
Caution: If you check include voice memos, the sync operation will copy voice memos from your iPhone onto Mac, which could be a privacy problem if you are sharing a Mac with other people. Other media go in the direction of Mac to iPhone when you hit sync.
Related post: How to Backup iPhone with Finder>>
Part 2: How to Sync Non-Apple Music to iPhone on macOS Catalina
The splitting of iTunes into individual dedicated apps might make sense to streaming person. For offline hoarders who love to keep digital copies of songs and movies on the local drive, syncing media files to iPhone or iPad to enjoy on the go could be troublesome. If you want an interface to drag and drop files to iPhone/iPad without restriction, jump to part 3.
Or, you can switch between Music app, Video app, and Finder app to nail the job:
Step 1: Open Music app on Mac, go to edit > new> playlist (cmd+N) to create a playlist.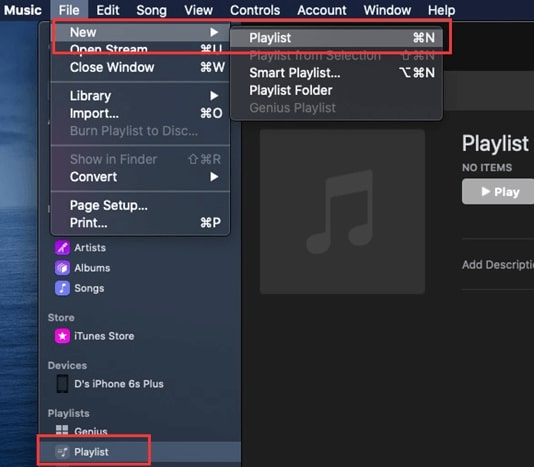 Step 2. Drag non-apple music to the playlist.
Step 3. Open up Finder, plug in your iPhone and go to Music tab.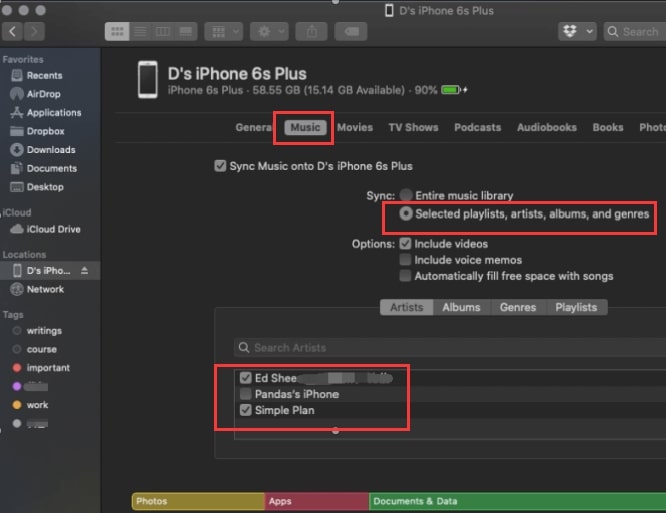 Step 4: Check selected playlists, find your newly created playlist and hit sync.
Part 3: How to Drag and Drop Any Music to iPhone without Finder or iTunes [Easy Solution]Add music from your own collection to iPhone on macOS CatalinaEasy Solution
It's a pain to switch between Finder, Music, TV and Book app to sync local music, movies, books to iPhone on Catalina. If you prefer a drag a drop solution in one place to nail the job, follow these steps.
DearMob iPhone Manager - Sync Music from Any Resources to iPhone on macOS Catalina
One-stop syncing solution in drag and drop manner
Manage offline music playlists on iPhone and iPad
Never erase existing songs on iPhone, zero data loss
Wide media type support: photos, videos, music, contacts, documents, etc.
1-click to set custom ringtone with your favorite songs

Download DearMob iPhone Manager on Windows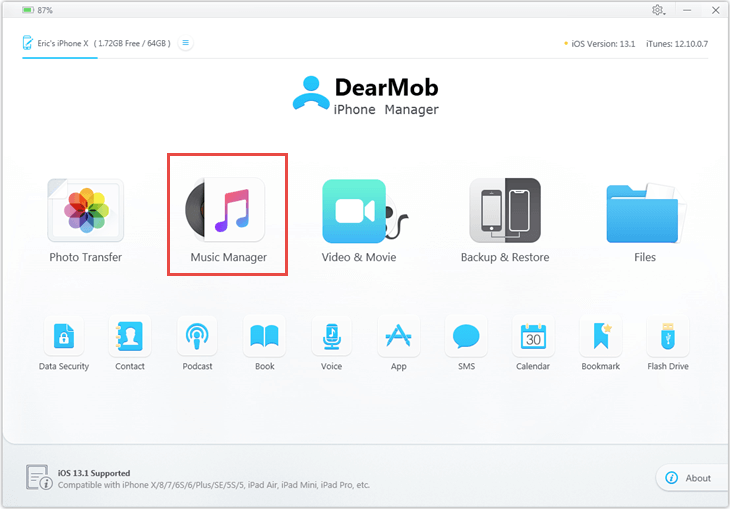 Step 1. Plug in your iPhone and launch DearMob iPhone Manager.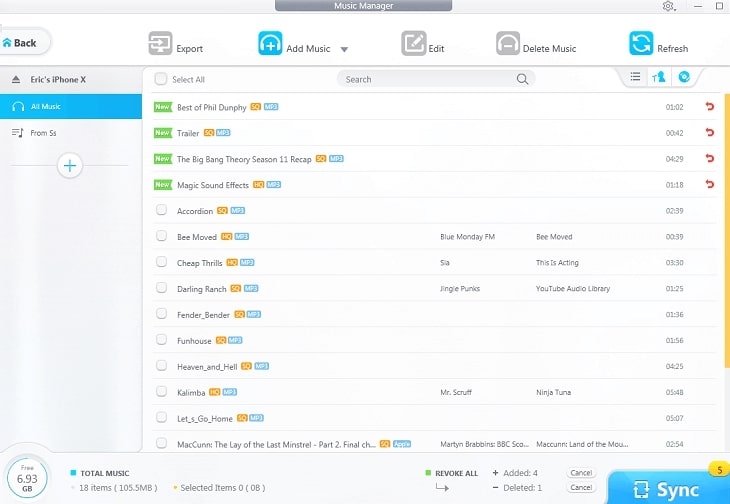 Step 2. Go to music module, drag and drop any song and hit Sync.
Tips: Feel free to drag and drop mp3, flac, ape, wav, wma, oga, ogg, m4a, m4b. DearMob iPhone Manager will auto convert mainstream audio format to iOS-friendly format upon syncing.
How to Manage Playlists on iPhone and iPad
Step 1. Within Music module in DearMob iPhone Manager, click the + button to create playlists.
Step 2. Drag any songs you want into the playlists.
Step 3. Click Sync. The playlists and songs will be added to your iPhone or iPad.
You can finded newly added playlists and songs in the Music App on iOS and iPadOS devices.
Final Words:
To sync music already in your old iTunes library, Finder is enough for paired iPhone. As for your fresh download or any other newly added music on your local drive, you can either resort to Finder plus Music app, or enjoy one-stop syncing with DearMob iPhone Manager that simplifies the workflow with no-brainer drag and drop solution and breaks the walled garden to connect any iDevice without restriction. Heads up: ringtone making utility disappeared on Catalina with the demise of iTunes, but you can set custom ringtone with DearMob iPhone Manager in a whoosh.