How to Transfer & Manage Music on Windows
DearMob iPhone Manager, a PC-based music backup and transfer tool for iOS devices, makes it much easier to export and import music, modify music info, and customize ringtone for your iPhone, iPad and iPod securely.
Fully Backup. Selectively/Fully backup data. Won't erase existing fles.
Music Transfer. Two-way sync at super fast speed.Manage songs in bulk.
File Transfer. Transfer 15+ file types via Wi-Fi or USB connection.
Create Ringtones. Create ringtones easily and transfer ringtones without iTunes.
Data Protection. Encrypt iPhone backup files with military-grade algorithm.
Batch Export. Batch export videos to free up space and you can compress videos.
Export Your iPhone, iPad or iPod Music to PC
In DearMob,
Audio format supports : .mp3, .aac, .m4a, .flac, .ape, .wav, .wma, .oga, .ogg.
1. Click Music Manager on the main interface to jump into music management window.
2. Select some songs and click Export.
3. Seconds later, you can find them on local computer folder.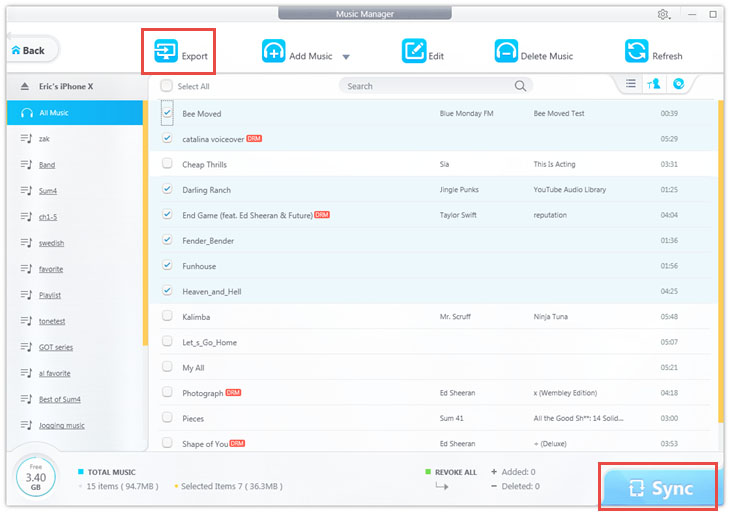 Note: From DearMob iPhone Manager version 6.2 and onwards, you can export music by albums or by artists. To enable this option, go to Settings > Export music by group.


Tips:
Songs can be classified by List, Artist or Album.
You need to decode DRM music first when export to PC.
Add Music to Your iOS Devices
1. Click Add Music and tick some local songs.
2. Hit Sync to transfer music to your iOS device.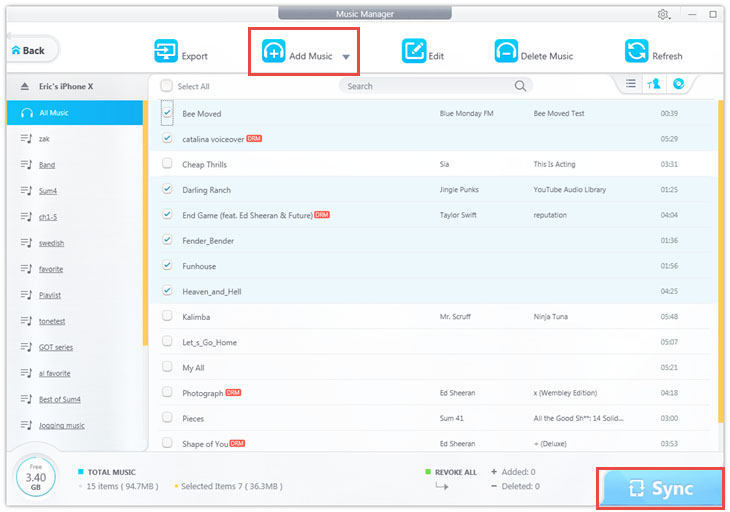 Tips:
All changes are visible in real time by hitting Refresh.
Edit Music from Your iPhone, iPod or iPad
In DearMob,
Music info : Title, Artist, Album, Composer, Year and Comment can be managed both selectively and in bulk.
1. Click Edit on the music manager interface.
2. Choose the music you want to edit, and click the pen icon to edit music.
3. Click Sync button.


Tips:
Every step is revocable by clicking the red curve or Cancel before sync.
Delete Music from Your iPhone, iPod or iPad
1. Choose the music that you want to delete.
2. Click Delete Music, and hit OK to confirm deletion.
3. Hit Sync to apply.


Tips:
Every step is revocable by clicking the red curve or Cancel before sync.
Add, Edit, Delete Playlist on Your PC
Manage music more personally and conveniently by creating playlists.
1. Click + icon to create a new playlist. Then you can import or move songs to this playlist.
2. Click the pen-shaped icon to modify the name of playlist.
3.Click × icon to delete a certain playlist.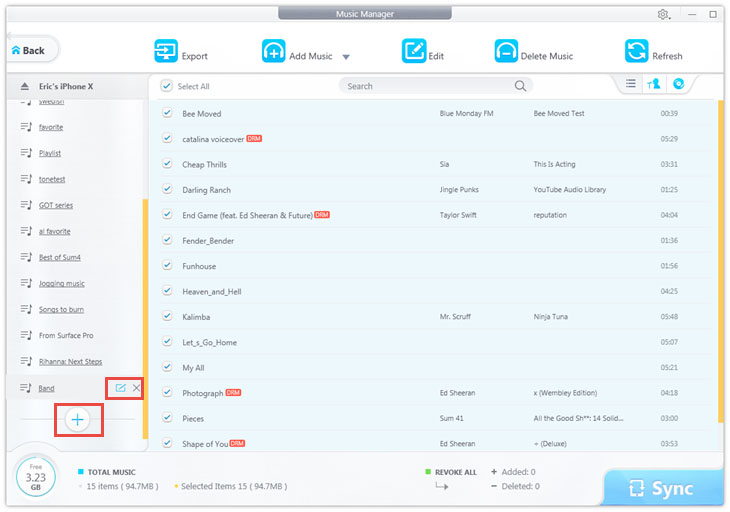 Tips:
You need to click Sync button to transfer all the changes you made to your iPhone.
Create Ringtone on Your Windows Computer
DearMob iPhone Manager can help you create custom ringtones easily. You can trim songs up to 40s for ringtones, and up to 25 seconds for alert tones as per iOS requirements.
1. Click the ringtone icon next to the file name in the playlist.
2. Drag the bright part of the form to choose which part to be used in ringtone.
3. Click OK and then Sync to add the ringtone to your iPhone.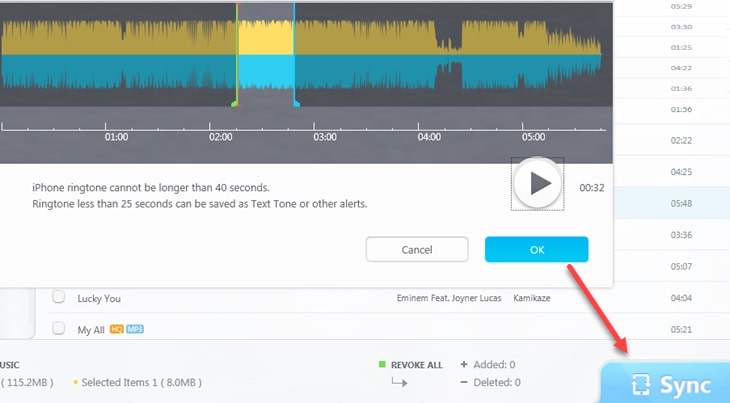 Tips:
You can play the ringtone on DearMob when you editing it.
Set the ringtone on your iPhone in Settings > Sound > Ringtone.
To manage your ringtone, please check Voice & Ringtone management .
Frequently Asked Questions
Is it safe to use an iPhone Manager on Windows?
Most reputable iPhone Managers are safe to use and DearMob iPhone Manager will never pose a threat to your data or device.
Will my data be erase after transferring?
No, Dearmob iPhone Manager will not erase existing after transferring or backing up.