All About macOS 10.15 - Catalina Big Changes, Hidden Issues and More
Thrilled at the final official release of the dazzling macOS Catalina? Yes we all do. But somehow, this sixteenth major release of macOS casts a shadow on many users due to two of its biggest issues - 32-bit application incompatibleness and iTunes shutting down. After a thorough digging, it seems that there awaits a lot more missing features and hidden problems when changing over to this new system, yet of which we have little knowledge before. Thus, no matter you are an early Catalina adopter or still hesitating to jump onto the Catalina train, here is all about macOS Catalina we prepared for you as a minesweeping guide.
Part 1. macOS Catalina System Requirements
1. Unfortunately, not all Mac computers support macOS Catalina, meaning some aged Mac users cannot mow this greener grass, except the following listed device holders:
MacBook (early 2015 or later)
MacBook Air (mid 2012 or later)
MacBook Pro (mid 2012 or later)
Mac mini (late 2012 or later)
iMac (late 2012 or later)
iMac Pro (all models)
Mac Pro (late 2013 or later)
If you are facing the macOS Catalina won't install issue, check your Mac build version first.
2. Recommended Disk Space:
20 GB of free main drive storage.
4 GB of RAM
So, do free up space as much as you can beforehand.
Part 2. The Release Date of macOS Catalina?
macOS Catalina was first announced in June at WWDC before the public beta version became available. The official version was released on October 7, 2019, followed by iPadOS 13.1 and tvOS 13. It means that you can upgrade from the older version directly now.
Part 3. Is macOS Catalina Worth an Upgrade?
Definitely yes! There are so many exciting bells and whistles, including brand-new Sidecar, more smartly arranged Reminders, Photo, and so on.
And how much will it cost to upgrade to Catalina? Zero! Since it is totally free, why not upgrade right off the bat? If you are worrying about any pitfalls, that is totally not necessary. But there are still things to be attentive. Please keep reading, and find the whole ball of wax.
Part 4. What Are New Features of macOS Catalina?
Every year innovative designs and applications are created for new macOS. This time, apart from big improvements in existing apps such as Photos, Safari, and QuickTime player, macOS 10.15 Catalina comes with startling new features focusing on productivity, security, and health.
Productivity
1. iTunes is going to be split into three independent apps in Catalina - Apple TV, Music and Podcasts. What about your data? Will you have to do a backup of movie/music before the upgrade? The answer is NO. According to Apple, your entire library will be rearranged automatically. Besides, 4K HDR content is available within the new Apple TV app. But don't upgrade to Catalina if you want to stick to iTunes.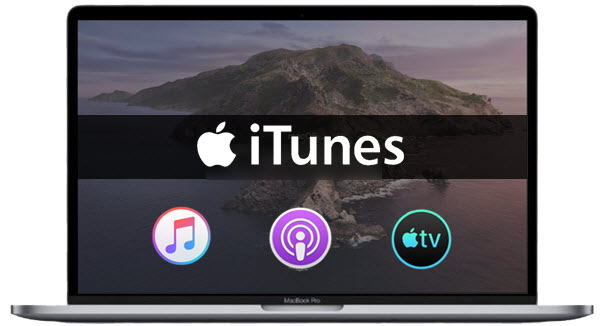 2. Another one of the most attractive brand-new features is Sidecar, which makes it possible to easily turn your iPad into an external display for Macs. The limitation is the Macs need to be with a 6th-gen Intel processor or later.
3. To further enhance the efficiency, Voice Control is invented for Catalina. Siri has long been used in macOS, but the new Voice Control turns out to be the one really for controlling your devices through voice commands.
Security
1. Activation Lock. Simply speaking, with Activation Lock turned on, only you can fully control your Mac. All needs your permission, be it data accessing, erasing or Mac reactivating, so that privacy is highly protected.
2. Find My actually is not a completely new app. Still remember Find My iPhone and Find My Friends in iOS devices and Find My Mac in Macs? Find My is a thing to merge and replace all the three, which can locate your Mac even if it's asleep and offline. Really a selling point here!
Health
Screen Time used to be a unique feature of iOS 12. Now it resides in macOS from Catalina. Set limits on how long you should sit down in front of your Macs, or set limits for different kinds of specific activities.
Those new features above are the cream of the crop in the upgrade. If there is anything that may change how you use Mac, like Dark Mode in El Capitan and Mojave, it is the nixing and iTunes and the abandoning of 32-bit apps. Read Part 6 and Part 7 to see details.
Part 5. iTunes Is Gone on macOS Catalina
Apple is retiring iTunes. The App will be gone the minute you upgrade to macOS Catalina, replaced by the brand new Music App, TV App, Podcasts App, and the revamped Books App. You can go on purchasing music, movies, TV shows and book with your Apple ID, within these individual Apps of course. Plus, your old iTunes purchased items stay intact theoretically. Though there are occasional iTunes library messed up reports or music missing after updating to macOS Catalina.
What about iPhone iPad device management? On macOS Catalina, device management utility is incorporated into Finder. You can backup iPhone with Finder as you once did with iTunes. However, "sync and remove/erase" issue in iTunes is inherited in Finder, which may lead to data loss during file syncing. Note that purchased movies, TV shows and the ones that were ripped to iTunes from DVDs you own can be accessed from TV app. But it is troublesome to sync. DearMob only provides an easier solution to transfer non-apple media on macOS Catalina.
Part 6. macOS Catalina Does not Support 32-bit Apps
Mac eventually supports only 64-bit Apps on Mac, claiming this offers better experiences, especially when 32-bit Apps is not supported by metal graphics acceleration, a technology that enables CPU and GPU to work together more efficiently, in terms of delivering a smoother graphic performance.

If you are bothered by the one-time alert pop out of each 32-bit App every time you launch one, saying "App is not optimised for your Mac, This app needs to be upgraded by its developer to improve compatibility", updating the App is the first task but not the final solution. Read on to find out why.
Shall I upgrade 32-bit Apps Before or After Installing Catalina?
Theoretically, you can uninstall a 32-bit App and reinstall its 64-bit version after updating to Catalina. But the tricky part is, some 32-bit app may be associated with older components, render it hard for you to removing all for a clean start. It's recommended to update 32-bit Apps to 64-bit, or delete 32-bit Apps if you cannot find their 64-bit version, BEFORE you venture a Catalina upgrade (macOS 10.15).
My App is 64-bit, Why There Are Still Problems
Even if your App is 64-bit, the components or extensions they need are still 32 bit, which may cause you tons of trouble, and entails data loss risks. One notable example is the components or accompanying Apps for editing software. Some are from Adobe, others are plug-ins from various vendors. The best practice is to check the compatibility and make sure your media are optimized before installing macOS Catalina. (Read about: Adobe apps not working on macOS Catalina)
How to Check Which Apps on My Mac are 32-bit
Though you can check the Incompatible Apps plist file shared on GitHub Gist, there is no point to rely on the complete list of 235 Apps that are incompatible with macOS Catalina found in the bundle. The most efficient way is to check Apps that you care about and already installed on your current macOS, whether they are 32-bit or 64-bit. Here are the steps.
Step 1. From Mac menu, click the Apple icon > About this Mac > System Report.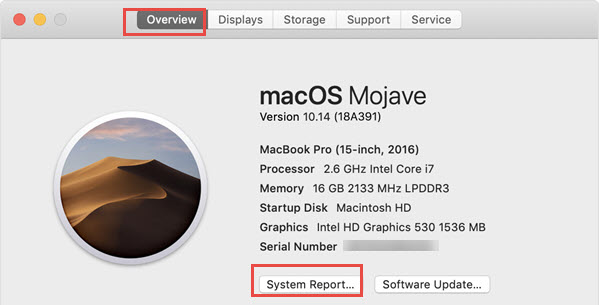 Step 2. In the pop up Window, scroll down and click Software > Applications.

Step 3. Take a look at the 64-bit (Intel) section, where NO indicates the corresponding App is 32-bit.
Tips:
• There is no rush if your favorite App doesn't support 64-bit yet. You can stick to macOS Mojave for a while, since Apple is likely to stop supporting Mojave in 2020. By the time you have to upgrade to macOS Catalina, your App might be able to update to 64-bit.
• Another workaround is to install both macOS Mojave and Catalina. But dual boot both macOS and switching between just for an App might be troublesome. You can find alternative App in the first place.
Notable Apps Incompatibility Issues
Aperture
As early as in 2014, Apple has already announced it will stop the development of Aperture, and encouraging users to switch to the Photo App or Adobe Lightroom, though users can still dwell on Aperture without updating. However, Aperture will not run on macOS after Mojave, so here is finally a goodbye.
Adobe Apps
• Photoshop: Droplets created in versions older than Photoshop 20.x will no longer run in macOS Catalina. Good news is, adobe is working on to find a workaround way to convert droplets from 32-bit to 64-bit. The software (20.x) itself is compatible with Catalina.
• Lightroom Classic: Same as the dilemma faced by Final Cut Pro, the latest version of Adobe Lightroom itself is compatible with macOS Catalina, but one of the components mainly utilized to playback video is still 32-bit, users need to keep an eye on this issue, as Adobe team is planning to update that components before Catalina official release.
• Creative Cloud: For users running old creative Cloud versions, including Photoshop CC 2018 (19.x), Lightroom (1.x) or Lightrrom Classic (2015.x), it would be better to stay on macOS Mojave.
• Other Adobe Apps: Adobe Application Manager, Len Profile Creator, Adobe+licutil are shown as 32-bit Apps, though Adobe team will seed updates later. As for the 32-bit ExtendScript Toolkit, it will be replaced by ExtendScript Debugger 1.1.0.
'09 iWork Imcomatibility: Pages, Keynote & Numbers
There won't be any problem if you are using the latest iWork suite after updating to macOS Catalina. According to Apple, the compatibility issue arises if you are using 2009 iWork versions of pages, numbers and keynote. For users accustomed to 09' iWork Apps layout and functions, there might be a hard transition process await.
Final Cut Pro: Convert incompatible File before Updating to Catalina!
Final Cut Studio and logic studio won't work in Catalina. In fact, they were replaced by Final Cut Pro and Logic Pro early in 2011. To have 64-bit architecture, upgrade to Final Cut Pro X 10.3.4. For a smoother experience, install the latest version of Final Cut Pro.
However, don't upgrade to macOS Catalina in haste even if you have Final Cut Pro installed. One step wrong, you won't be able to playback or edit some of your precious media files. According to Apple Support, macOS Catalina and future higher versions will no longer support QuickTime 7 framework, which means any file created with codecs that rely on QuickTime 7 will be problematic. The best practice is to detect legacy media files and optimize them before embracing macOS Catalina.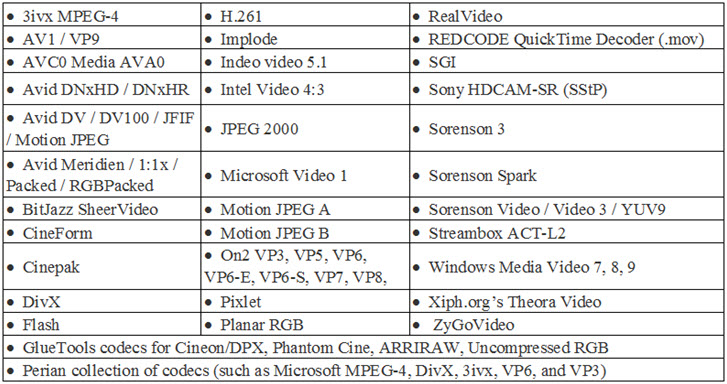 Also, If you are using accompanying apps, make sure they are at least on the versions listed below.
• Compressor 4.3.2
• Logic Pro X 10.3.1
• MainStage 3.3.
• Motion 5.3.2.
Microsoft Office
Office 2011 suite–Word 2011, Excel 2011, PowerPoint 2011 and Outlook 2011 for instance–came with 32-bit architectures thus won't work with Catalina macOS 10.15. Versions lower than Office 2016 v15.35 is a mix of 32-bit or 64 bit. If you are using lower versions, chances are that you won't be able to receive mainstream updates including security updates. For a smoother experience, updating to Office 365 or Office 2019 for Mac is the quickest way.
Other Commonly Used Apps Not Working Reported by Catalina Beta Adopters
Please note not all of these Apps are 32-bit. Some of them are buggy on macOS Catalina beta, and may be fixed in later versions.
Part 7. macOS Catalina vs. macOS Mojave
Catalina

Mojave

General

Version

macOS 10.15

macOS 10.14

Release date

Oct. 2019 (no released yet)

Sep. 24, 2018

Processor support

64-bit Intel

64-bit Intel

Darwin version

Unknown

18

Compatible Macs

MacBook 2015 or later
MacBook Air 2012 or later
MacBook Pro 2012 or later
Mac mini 2012 or later
iMac 2012 or later
iMac Pro all models
MacPro 2013 or later

MacBook 2015 or later MacBook Air 2012 or later MacBook Pro 2012 or later Mac mini 2012 or later iMac 2012 or later iMac Pro all models MacPro 2010 or later[1]

System

Dark Mode

√

√

Desktop Stacks

√

√

Catalyst

√

X

Activation Lock

√

X

Sidecar

√

X

Screen Time

√

X

Voice Control

√

X

Apps

Apps support

64-bit apps only

32-bit and 64-bit apps

iTunes

X (split into TV, Music, and Podcasts)

√

Dashboard

X

√

Find My

√

X

Reminders

√, updated

√

Photos

√, updated

√

Mail

√, updated

√

Safari

√, updated

√

Notes

√, updated

√

QuickTime Player

√, updated

√
[1] Mid 2010/2012 models require a Metal-capable GPU
Part 8. How to Upgrade to macOS Catalina?
As Apple has yet released macOS Catalina Official build, users can venture into beta versions. If you have a developer account, follow these steps.
Step 1. Enroll yourself into Apple's developer program and you will be able to try out macOS, iOS, iPadOS beta versions as the earliest adopters.
Step 2. Enter your Account and password, and click Downloads > Install profile.
Step 3. Find the downloaded PKG file via Finder, launch it and agree to the installation.
Step 4. Follow the instructions on the screen and enter Mac system password.
Step 5. Click Apple icon, select System Preferences and Click Upgrade Now to install the beta version.
Since there is a yearly fee on developer program, common users can install the free public beta version.
Step 1. Visit Apple beta program page, click Sign up or Sign In if you are already a beta program member (for instance, if you have enrolled in other Apple OS programs such as iOS beta).
Step 2. Go to Enroll your Mac > Download the macOS Public Beta Access Utility.
Step 3. Launch the downloaded installer, and click Apple icon from menu bar > System Preferences, locate the public beta upgrade sections and click Upgrade Now.
Part 9. Common Errors | Q&A
Q: macOS 10.15 Catalina Won't Install
First, make sure your Mac is compatible with Catalina. Refer to Catalina system requirements.

Second, restart your Mac, and install previous system versions, if any, pending in Software Upgrade before reaching to Catalina.
Third, release enough disk space first on your Macintosh HD. And here comes the mac OS Catalina won't install not enough space issue.
You can open up disc utility and choose different volumes so that you can get available space to upgrade. Or, you can bravely backup your disk and run a clean install anyway.
Q: macOS Catalina beta won't dual boot Windows?
Good news, bootcamp still works and it survives the upgrade. But you should be alerted that since macOS Catalina has launched its own dedicated partition/container, conflicts might hence rise between changed macOS partitions and Windows partitions when you proceed the upgrade.
Many a user reported that it caused the system breakdown. So, do sort out the partitions manually and carefully.
Q: Does iPhone sync properly in macOS Catalina?
It not bug free at present. Some users complain that Catalina won't sync photos or albums under folders from Photos app; others found Finder syncing takes forever and there is no progress bar so that they don't know whether iPhone or syncing or not. If you don't use iCloud much, and rely on Mac-based way to backup, transfer and manage iOS devices, think twice before you leap.
Q: How to solve macOS Catalina Sidecar not working?
Sidecar is the spotlight of this system upgrade. And macOS Catalina Sidecar sets a higher bar on Mac specs and iPadOS. It works only on the following devices, and they should be placed close to one another.
macOS

iPadOS

2019 Mac Pro
Late 2018 Mac mini +
Late 2018 MacBook Air +
2017 iMac Pro
Mid 2016 MacBook Pro +
Early 2016 MacBook +
Late 2015 iMac +

iPad Pro 12.9 (2015~2018)
iPad Pro 11
iPad Pro 10.5
iPad Pro 9.7
iPad 9.7 (2017~2018)
iPad Air, iPad Air 2
iPad mini 2019, iPad mini 4.
For more detailed solution to sidecar not working issue, please visit: Sidecar not Working when Mirrorr Mac Catalina to iPadOS
Q: macOS Catalina slowing down, stop running and overheating
Check on the applications you use. Kill the most energy consuming applications by referring to Activity Monitor and disable applications launch at startup. Or, you can always use it in you frig.
Q: Is there any other issues with macOS Catalina unsolved?
Yes, reported issues are included but not limited to:
- Cannot log in App Store with correct Apple ID
- CleanMyMac 3 is incompatible
- Dashboard is going the way of the dodo