2021 Best iPhone Backup Software to Backup iPhone without iTunes
By Amanda Wood - Last Updated: Contact Author

Never worry about losing anything important on iPhone during iOS 12 update! The 2020 best iPhone backup software recommended here stands by you to backup iPhone 12/11/Pro/XS Max/XS/XR etc in a click with no data loss when upgrading to iOS 12 avoiding losing photos, missing contacts or disappearing contacts.
iPhone backup software emerges one by one in a very fast speed as iTunes and iCloud let us down often when backing up iPhone or iPad. Though most of these iPhone backup tools crack themselves up, they are not 100% perfect and safe indeed. Some may record your personal information and some may backup your iPhone files to different file locations that are difficult to find out. Whatever, you should know such situation when finding an iPhone backup software and think twice before you make decision for iPhone backup software.
Best iPhone Backup Software for Windows 10/Mac
DearMob iPhone Manager is a professional iPhone backup tool for Windows 10 and Mac designed to make up for the imperfection of iTunes and iCloud. It runs smoothly when backing up iPhone. With no limit to file formats, this iPhone backup software can handle 12 types of iPhone data with encyrption - hence guaranteeing data security for Photo, Music, Video, Book, Calendar, App, Bookmark, SMS, Contact, DRM content, etc.
DearMob iPhone Manager
* Backup iPhone, no iTunes & iCloud;
* Password encrypt iPhone backup;
* Selectively backup iPhone data files;
How to Backup iPhone Contents:
When Do We Need iPhone Backup Software to Backup iPhone?
* When we need to upgrade iPhone to iOS 13 (for iPhone 12/11/XS/X/Max/8 or earlier), we are often suggested to have our iPhone data backed up through iPhone backup software so as to prevent data loss that is important or sensitive.
* When our iPhone is running out of space, especially the 16GB iPhone, we need to backup old data to computer and free up iPhone for new contents.
* When we want to keep our iPhone data safe in case that the device is lost, stolen, damaged or replaced, and more importantly we can restore all the precious details that backed up via iPhone backup software to computer in advance.
* When we plan to switch to the new iPhone 12/11, XS Max, XS or XR, we need to backup old iPhone and transfer data to the new device.
How to Backup iPhone 12/11/XS Max/XS/XR and More?
iTunes and iCloud are two kinds of iPhone backup software tools that Apple encourages for people to backup iPhone, iPad and iPod, and it is feasible to use them to backup your iPhone iPhone 12/11/XS Max/XS/XR etc if you do not mind their choppy performances. Supposing you have got tired of iTunes won't backup iPhone, slow backup of iTunes, limited iCloud storage space or iCloud backup can't be completed issue, we would like to offer you the third way – third-party iPhone backup software.
Good iPhone backup software does better than iTunes and iCloud in iPhone data backup and also makes it easy for you to manage iPhone files like correcting the wrong information, deleting the duplicate contents, restoring iPhone data later, and encrypting iPhone backup. There are a large number of iPhone backup tools in the market and you are free to choose any one of them, of course. However, considering you are busy and for the sake of your user experience, we have maken the fussy selection for you and highlighted 5 best iPhone backup software in 2020 here to help you backup iPhone 12/11/XS Max/XS/XR/X/8/7/6S etc and control the data with peace of mind.
Top 5 iPhone Backup Software Reviews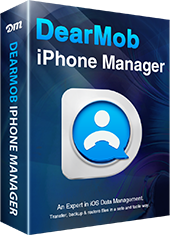 DearMob iPhone Manager - iPhone Backup Software with Bidirectional Transfer Way
As a full-fledged and best iPhone backup software, DearMob iPhone Manager is a tier-one product of its kind: with classy functions to selectively backup iPhone data like backup iPhone photos, text messages and music, this tool can do whatever iTunes can do in terms of iPhone data backup, and it can do much better.
Aside from basic features to backup iPhone photos, music and videos, DearMob's best iPhone backup software stands ready to work with other file types that matters: it transfer ebooks from iPhone to computer, save text messages from iPhone, as well as calendars, notes and voice memos… pretty much everything that matters to you on your iPhone can be backed up to computer, with option to edit and manage files.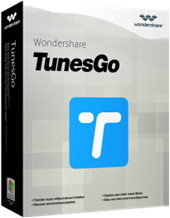 Wondershare Tunesgo - Backup iPhone Data at One Go
Though the free trial provides very limited experience of this iPhone data backup software, it delivers a slew of functions including video transfer between iPhone and PC, music transfer and help add ringtone to iPhone, photos transfer and contacts management.
In order to backup your iPhone contents to computer, launch Tunesgo iPhone backup software > click "Backup Device" > change the output path by clicking on the "Save Path" box, you could see both the Save Path, and that Wondershare's iPhone backup software exports its backup files as a .bak instead of a backup folder.
What you need to pay attention to is that Tunesgo iPhone backup tool doesn't support ebooks, voice memo, calllogs and Apps, Apps data, and bookmarks backup.
• Advantages: This iPhone backup software exports backup data into a .bak file, available for other iPhone backup tools to retrieve data.
• Disadvantages: Only support 6 types of content backup – aka contacts, calendars, music, videos and photos, also support iPhone text messages backup.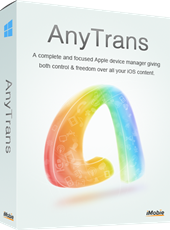 iMobie Anytrans iPhone Backup Software - Supports Selective Backup
The very best part about Anytrans iPhone backup software is that it offers 2 alternative methods to backup iPhone data: you can either click on the "1-click backup" button to deploy Anytrans to work and backup iPhone data, or that you may just click on "iTunes Backup" which deploys the iTunes software installed on your computer to initiate a backup.
This iPhone backup tool integrates most iTunes features when compared to the others of its kind – showing iTunes library with 2 functions to "send to PC" or "send to device".
Note that when using iMobie Anytrans to transfer APP datas, you may choose to transfer APP setups along with the APP data.
• Advantages: Support managing content on iTunes library and features ports to work with iCloud.
• Disadvantages: When this free iPhone backup software has expired its 7-days free trial.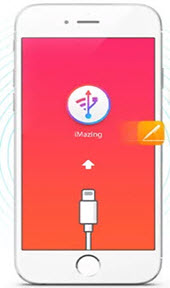 iMazing - 1-click iPhone Backup Software
Unlike the multi-functionality of DearMob iPhone Manager, iMazing is more a bare-bone iPhone backup software focusing on how to backup iPhone and restore the data. With the free version of this iPhone backup software, you may easily initiate a backup of iPhone data by clicking on the "Back Up" button – next to the stimulated iPhone home screen, the first option of its line – but by the time you plan to use the "Restore a Backup" function, you'll be redirected to iMazing's online store to purchase this iPhone backup software: $39.99 for a single copy, $49.99 for 2 computers and $69.99 for 5 computers are optional.
By default, iMazing iPhone backup software uses the spare space on your disk C:/ to store iPhone backup data – and it offers options for you to choose how often this software should clear its archival files generated by iPhone backup software.
• Advantages: 1-click iPhone backup available for the free trial, and offers advanced functions such as "Export Raw Data".
• Disadvantages: Retrieve function only available for paid products.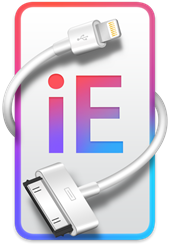 iExplorer iPhone Backup Software – Easy iPhone to Computer Backup (No PC to iPhone Transfer Support)
Another iPhone backup software with excellent iPhone to PC transfer function, though quite adept at iPhone to PC transfer, it doesn't intend to provide PC to iPhone transfer very much. Photos, music and videos backup can be finished within a mouse-click, but you're not really going to restore the iPhone backup with iExplorer.
By default, iMazing iPhone backup software uses the spare space on your disk C:/ to store iPhone backup data – and it offers options for you to choose how often this software should clear its archival of iPhone backup software.
• Advantages: 1-click iPhone backup available for the free trial, and offers advanced functions such as "Export Raw Data".
• Disadvantages: Retrieve function only available for paid products.
How to Backup iPhone with Best iPhone Backup Software DearMob iPhone Manager?
Step 1: Download, install DearMob iPhone Manager on Mac/Windows, launch it;
On the main UI of this iPhone backup tool, you can see 13 options to manage your iPhone contents, from photo/music/app transfer to iPhone backup/flash drive/DRM removal utilities.
Step 2: Connect your iPhone XS Max/XS/XR/X/8/7 to computer with a USB cable, tap Trust This Computer to manually allow this iPhone backup software to access your iPhone handset.
* This iPhone backup software will automatically detect your iPhone iOS device and build connection. The available storage, iOS version and battery status will also be presented for your consideration.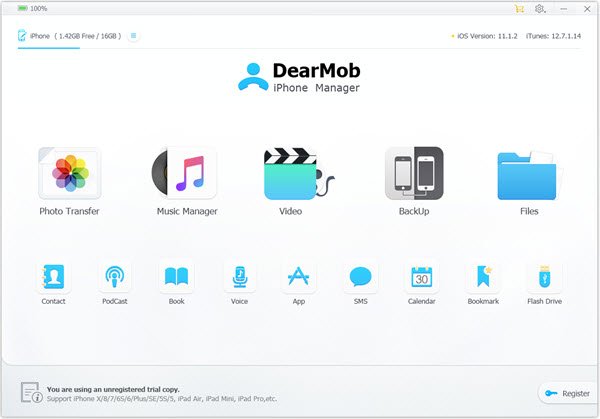 Step 3: Click "Backup" button, and you'll jump to the second UI to customize your iPhone backup, as shown in the screenshot on the right hand:
You can check the "Encrypt your Backup" box to password protect your iPhone backups. Later you may also stay with DearMob iPhone Manager to remove password or change password for local backup files including ID password, Homekit data and health data.
Step 4: Click "Backup Now" to backup iPhone data to computer, the whole process may take up 15-20 minutes, please make sure you have enough time for the backup. Commonly, the more data on your iPhone, the longer time will spend in the iPhone backup.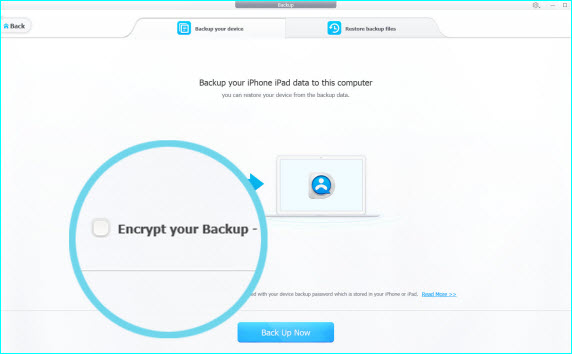 Don't plug your iPhone out from computer until you see the best iPhone backup software pops out the window saying "Backup Completed", otherwise the backup may fail. When you see the announcement, click on "OK".
Tip and Notes:
* If you plug out the iPhone while the best iPhone backup software is carrying out the backup, chances are that the backup is going to corrupt.
* You may use the iPhone backup software to backup and restore iPhone for iOS 12, as to assure safe data preservation during iOS 12 update to avoid missing photos or disappearing contacts.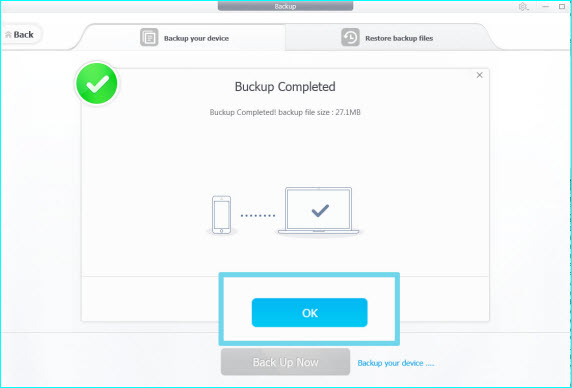 Tips and Notes
1. The new backup file won't replace the older backup files. To the contrary, each iPhone backup file will be saved respectively according to the backup time, so that you can select which backup file to retrieve later on.
2. To force-stop iPhone backup or restore process, plugging out the USB-cable won't ruin your iPhone/computer.
3. This "BackUp" button will activate the most thorough iPhone data backup process, including Music, Photo, Video, Ebooks, Bookmarks, SMS, Apps, Voice Memos, Calendar, Contacts - all saved in one file which will not be viewable.
If you desire to backup data like Photo for viewing on computer, you may select Photo transfer.
4. With this tool you can also restore iPhone without iTunes
5. This iPhone backup tool allows you to backup iPhone to external hard drives easily.
By comparing all those handy iPhone backup tools on market, DearMob iPhone Manager stands out to be the most comprehensive backup software to cover all forms of iPhone management including iPhone ringtone making, DRM removal, APP/Ebook/Boomark transfer, and even flash drive.
To Sum Up
Although the full version of DearMob iPhone Manager will not be charge-free, its free trial version offers sufficient amount of backup chances every day. You can 100% surely free backup contacts from iPhone to computer and backup & restore SMS within those limited trial times. It's an ideal iTunes alternative against all the iPhone backup not enough space errors.
So, don't hesitate trying this iPhone backup software out! Be our guest to download the free version and test whether it is worth your money before making purchases. Or you can purchase directly to lift the daily-limitations with 30-refound guarantee.