How to Transfer Photos between iPhone and PC
DearMob iPhone Manager lets you transfer photos to or from iOS and iPadOS devices in a fast, easy, and safe manner. It can transfer over 10,000 photos from iPhone to PC Windows within 2 minutes and vice versa. Whether they are Live Photos, ProRaw, burst photos, 4K HDR photos, or HEIC, all kinds of iPhone photos can be imported or exported to the iPhone in original resolution.
Speedy to move 10, 000 photos from/to iPhone in 2 minutes
High compatibility. Support HEIC, JPEG, GIF, BMP, and more
Convert HEIC to JPEG for error-free playback on PC, if necessary
Import or export photos shot in Live, Bust, HDR, and RAW modes…
1:1 Transfer photos between iPhone and PC with EXIF data
Flexible to delete all or selected photos from more than one album
Transfer Photos from iPhone, iPad, or iPod Photos to PC Windows
In DearMob,
Bulk transfer all or selected photos.
Preserve the original picture quality and album structure.
A Live Photo is converted to one video and one image file.
An HEIC photo can be exported as a JPG for viewing on PC.
An edited photo is exported in 2 versions: original and edited.
1. Launch DearMob iPhone Manager on PC. Connect your iOS/iPadOS device to your PC.
2. Hit Photo Transfer and select the photo(s) you want to transfer to PC. Click Export and then you can find the photos on the local drive of your computer.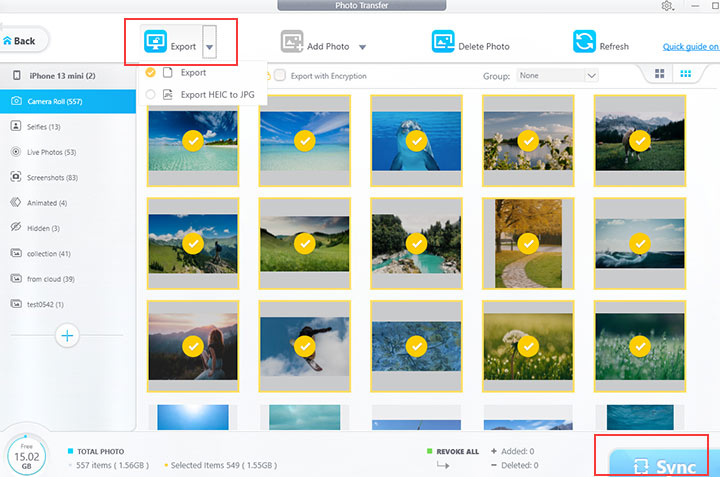 Tips:
Photos can be grouped by date or viewed in different size columns.
Tick Export with Encryption to encrypt the exported photo files.
A photo with a cloud tag shows that it is in iCloud. Please download it to your device first if it can't be exported.
iPhone Manager version 5.8 and above support previewing the hidden Photos album. Photos in the Hidden album will not show up in the Camera Roll album.
Transfer Photos from PC Windows to iPhone, iPad, or iPod Photos
In DearMob,
Photo Formats include .jpg, .jpeg, .png, .gif, .bmp, .tiff, and .heic.
Import HEIC to iPhone in the original format or convert to JPEG.
Undo Option allows you to click the red curve icon or cancel button for avoiding the wrong import before Sync.
1. Launch DearMob iPhone Manager and connect your iPhone to your computer.
2. Click Photo Transfer. Scroll down on the album list to find the + icon. Click it to create a new album. Open the new album.
3. Click Add Photo and select the photos or photo folders that you want to import from PC to iPhone. Alternatively, drag the photos or photo folders into the large blank area.
4. Click the Sync button to start transferring photos from PC to iPhone.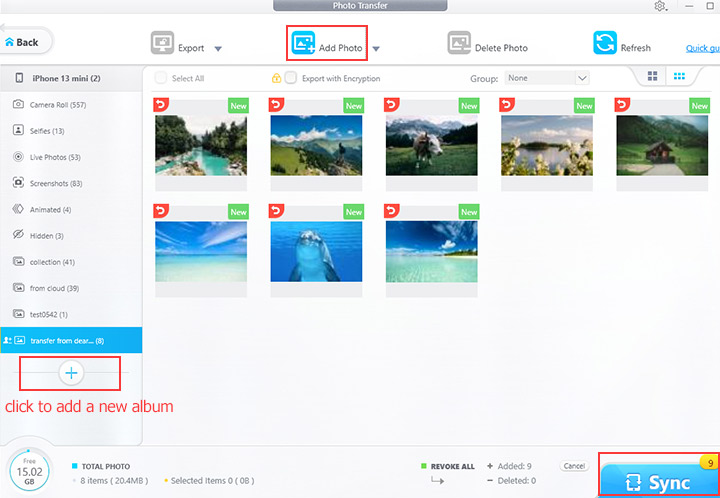 Tips:
Name the album as you like.
Photos from the PC computer won't be added to locked albums like Camera Roll or Screenshot.
Delete photos from your iPhone, iPad, or iPod on Your PC Windows
In DearMob,
Bulk delete all or selected photos from more than one album.
Undo option for preventing you from deleting some photos by mistake.
Cancel before Sync to revoke all deletions.
Preview photos in large icons before deleting them.
1. Launch DearMob iPhone Manager and connect your iDevices to the PC.
2. Select the photo(s) that you want to delete and click Delete Photo to confirm.
3. Click Sync to enable DearMob to start deleting the selected photos.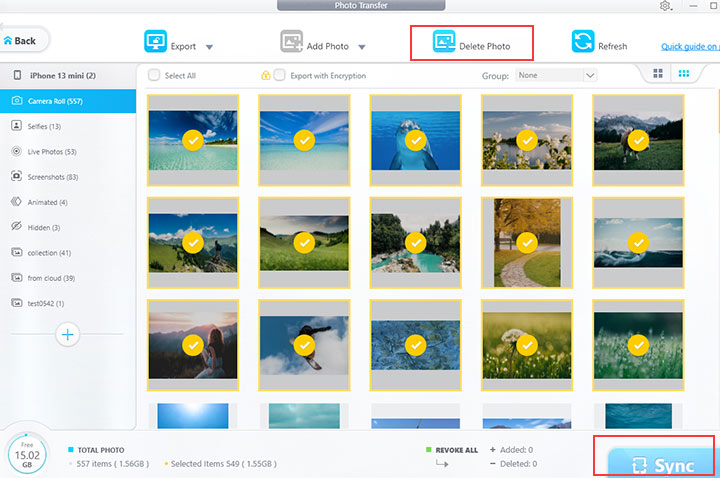 Tips:
Hit Select All to select all photos in an album.
To select multiple adjacent photos in an album, click the first photo, press and hold down the Shift key on the keyboard, and then click the last photo.
All photos between the first and last photo will be selected.
Frequently Asked Questions
How to Check Your iPhone Photos in Large Icons on a PC?
To display your iPhone photos in the large icons view, simply click the 4-square icon located in the top right of the Photo Transfer panel.
Can It Retain the Actual Capture Date When Exporting iPhone Photos?
Yes. The Windows version of DearMob iPhone Manager won't change the original creation dates of your photos during export.