It is unexpected that Apple has a great intention to make HEIC/HEIF a new image format standard along with the release of iOS 11 to replace JPG, so HEIC problems like iPhone HEIC photos can't open on Mac/PC/mobile occur widely as software developers haven't responded with good solutions to HEIC errors immediately. What is HEIC? Why HEIC problems exist? If you are searching for answers, here is the right place.
What is HEIC? Why HEIC Problems Happen?
HEIC or HEIF (High Efficiency Image File), developed by the MPEG group, is an image format that Apple recently adopts in iOS 11 to replace the standard format JPEG, for its great ability to save twice as much as information comparing the JPEG images with the same size. Though it is not a new format, seldom picture viewers and platforms support HEIC at present. Even Microsoft Windows Photos Viewer and Photos app on some Macs (Mac OS lower than 10.13) can't open iOS 11 iPhone HEIC photos. To make it clearer, you can read on to find the questions and solutions to HEIC problems in the following Q&A list.
iPhone HEIC/HEIF Photos Problems & Solutions
Q: "Once updated to iOS 11, we've got a new format of images - HEIC. I want to move it on my PC to save phone storage, only to find that Windows does not provide a native app to open this type of image. How can I do that?"
A: Classical Windows Photo Viewer can't open HEIC problem. The requirement similar to yours had been asked in Microsoft Community since October 1, 2017, but it seems there isn't any tendency of Microsoft to add HEIC formats support for pictures. Therefore, you have to abandon Windows native photo viewer and turn to the third-party HEIC viewers for Windows to open HEIC on PC. It's said that the next version of Windows 10 will add HEIC support, but the day is to be determined.
Q: "I use El Capitan and iPhone 7 with iOS 11. Photos I take with my iPhoto will not import into PHOTOS on my iMac. While the thumbnail appears, an alert exclamation is all I get. Only started with IOS 11!!" – from Apple Forum user.
A: Certain iPhone HEIC photos won't open on Mac error: According to Apple's style, it always does well in making their older systems obsolete and convincing people to try their new systems or new products. As for the HEIC feature, it is only added to iOS 11 iPhone7/7 Plus/8/8 Plus/X/iPad Pro/iPad 9.7 and macOS High Sierra 10.13 as of now. So, you need to upgrade your Mac OS of MacBook (Pro/Air)/iMac to macOS High Sierra 10.13 to view HEIC photos from iPhone on Mac with the native Photos app.
Q: I want to upload my photos to the social network Twitter for sharing, but when I add a HEIC photo, it says 'That kind of file isn't supported yet. Try uploading a gif, video, or picture instead.' What can I do?
A: Besides Twitter, most social networks like Facebook, Pinterest, Tumblr can't recognize the HEIC photos uploaded from your computer. The only chance is that you share your HEIC photos to these kinds of channels by uploading the images with your iPhone powered by iOS 11 and A10 chip, as your iPhone will automatically convert HEIC to JPG during the uploading without HEIC errors. Otherwise, you need to make use of third-party HEIC converters to turn HEIC into JPG on the computer and post to social platforms thereafter.
Q: "I have downloaded iOS 11 on my iPhone 6s, why I still can't take HEIC photos?"
A: As Apple only adds HEIC feature to iPhone 7/7 Plus/8/8 Plus/X/iPad Pro/iPad 9.7 shipped with iOS 11 and Mac powered by macOS High Sierra 10.13, you have no other choices but use one of these iPhones to take HEIC photos. Worth mentioning, the HEIC photos from iOS 11 iPhones mentioned above can be shared with older iPhones, Android phones, Windows phones but can't be opened. And if you downgrade your iOS 11 iPhone to the lower version, the previously-taken HEIC photos can't be opened on iPhone 7/7 Plus/8/8 Plus/X/iPad Pro/iPad 9.7 as well.
Other HEIC Problems: Apple has determined to make HEIC overthrow the region of old JPG with enough preparations, but third-party applications obviously haven't got themselves ready, also you'll have to convert HEIC to JPG Android. Well-known photo editor Picasa and Photoshop cannot now edit HEIC photos files, common image viewers for mobile phones can't open HEIC pictures, Microsoft Word/Excel/PowerPoint can't add HEIC pictures for showing, and some cloud services only make HEIC images viewable on apps within themselves.
It seems that there is no good solution to tackle some specific HEIC problems, but DearMob iPhone Manager would say no to this opinion.
How to Solve HEIC Problems with DearMob iPhone Manager?
Though there are some third-party HEIC viewers available for you to open HEIC on Windows and Mac, I guess you are much more favorable to the native app - Windows Photo Viewer or Mac Photos app. To enjoy HEIC with the built-in app, you have no choice but transfer HEIC to jpg at present.
DearMob iPhone Manager is a professional iPhone HEIC photo backup and transfer tool for you to transfer HEIC to JPG to open with Windows Photo Viewer and Mac Photos app without need of upgrading the operating system. Also, if you want keep the original HEIC photos from iPhone to computer, DearMob iPhone Manager can realize that without converting the image format and encrypt the photos in a locked way.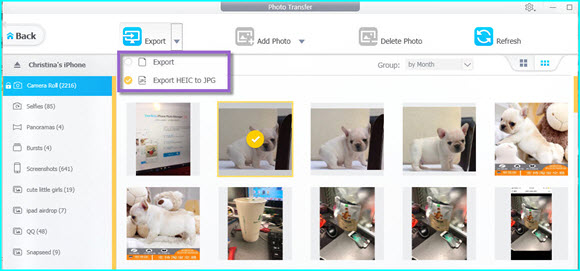 Transfer iPhone HEIC Photos to Mac/PC as JPG
Step 1: Click the download button below to download DearMob iPhone Manager, install and launch it.
Step 2: Use USB to make your iPhone connect to computer, and tap Trust This Computer to continue if there is a message popping up on your iPhone.
Step 3: Once you see your iPhone HEIC photos, you can select one or more than one HEIC/HEIF pictures to be transferred to computer as JPG or remaining the original HEIC photos in seconds by clicking the "Transfer HEIC to JPG" or "Export" button.