How to Open HEIC HEIF Files on Windows 10/8/7 & Preview HEIC?
By Joakim Kling - Last Updated: Contact Author

"I've just exported photos from the new iPhone to my Windows 10 computer – but HEIC can't open on Windows saying "incompatible format"! Is there something wrong with my PC or what should I do to open HEIC on PC?"
---- Carol on Microsoft Forum
HEIC, or High Efficiency Image File Format, is Apple's new standard to save photo with high quality. If you have such problems as HEIC won't open on Windows 10, which doesn't natively read HEIC files, here indeed are 2 workarounds that work: Convert HEIC to JPG, or get help from an HEIC viewer for Windows 10, all depending on what you'd like to do with the photos.
How to Convert HEIC to JPG on Windows 10?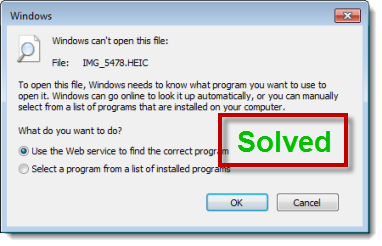 Easy to go with - DearMob iPhone Manager
1-click export HEIC as JPG for Windows 10 without quality loss;
Transfer by date/month/year or batch transfer HEIC;
Show HEIC photo previews on Windows PC;
100% compatible with Windows 10/8/7 or earlier;
Why HEIC Photos won't Open on Windows 10?
If you live on an iPhone 15/14/13/12/11 and a Windows PC like the rest millions of users all around the world, and would like to open and edit HEIC photos, the experience that HEIC cannot open on Windows 10 may feel like a technical bug that you expect the Windows Photo Viewer team to address AS SOON AS POSSIBLE.
Unlike JPG format pictures, HEIC vs JPG comparison and why it matters, HEIC won't open on Windows [Solved] natively because of a lack of appropriate decoders for this new image container format, which is licensed on Apple devices only. If you need to open HEIC on Windows 10 right away, please check through the tips given below:
What is HEIC, How to Open HEIC on Windows PC?
HEIC, or HEIF (High Efficiency Image File) format is Apple's lately-unveiled image file format to replace JPEG, released along with iOS 11. That been said, this Apple-only image format could only be decoded by an iOS or macOS device with the latest processing chip: iPhone 15/14/13/12/11/X/8/7 Plus/7, iPad pro powered with iOS 11, and macOS High Sierra devices. HEIC won't open on Windows 10, neither would it on Android, Windows phone, Symbian, or any other non-Apple operating system.
To open HEIC on Windows 10, chances are that you seek 3-rd party help, such as an HEIC viewer Windows 10, or directly export HEIC as JPG. Although there are such help-seeking voices suggesting Microsoft developers' team to open HEIC support, it may still be a while before you can open HEIC on Windows 10.
Will There be Native Support to Open HEIC on Windows?
Though there are still user expectations for such tools as an HEIC Windows 10 plugin or other forms of HEIC Windows support, it WILL TAKE TIME. As of now no official message has been announces from the Microsoft side as of whether users will be able to open HEIC on Windows 10/8/7 natively in the near future, in contrast there're forum comments and Windows feedback hub submissions from PC users who've tried phone-call support before leaving the query reference number in an attempt to seek official help to HEIC won't open on Window 10. There is no official response from Microsoft Team as of now. You may visit the Windows feedback hub to submit request for HEIC support on Windows 10, or turn to how to convert HEIC to JPG and directly view the photos, if you can't wait for HEIC photos won't open on Windows problem to be solved.

Guide: How to Open HEIC/HEIF on Windows with DearMob iPhone Manager?
Here we introduce one of the best iPhone manager software – DearMob iPhone Manager – to help you export HEIC/HEIF photos from iPhone to Windows 10/8/7. No more worries as of HEIC not opening on Windows 10, now you can PREVIEW HEIC pictures directly on iPhone before click on "export as JPG".
Step 1: First download this best HEIC iPhone manager for Windows, install and launch it.
Step 2: USB connect iPhone to computer, and by the time you see all pictures out-and-out previewed on DearMob iPhone Manager, choose the HEIC/JPG/GIF photos you'd like to export from iPhone to Windows 10.
Tips and Notes: This tool offers direct preview of HEIC photos without 3rd-party HEIC viewer for Windows 10.s
Step 3: You may choose "Export HEIC to JPG" or "Export".
Tips and Notes: HEIC live photos, when exported with DearMob iPhone Manager, can output as a MOV video & a still photo, easily enabling you to view the output pictures as live photos.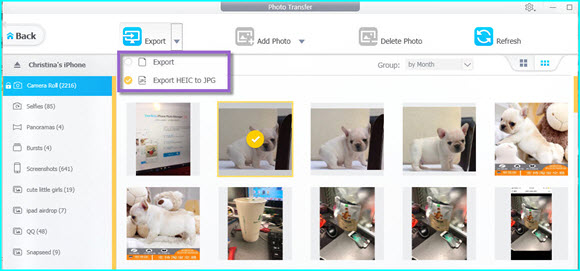 SUMMARY
Now that we've come through the reasons why HEIC won't open on Windows 10, here indeed are some other HEIC photo viewers which enables you to view HEIC photos directly. For example, you can use Apowersoft HEIC viewer or Mobikin to finish such as task.
However, the smooth-as-cream DearMob iPhone Manager, once downloaded and installed on your computer, can not only help you export HEIC photos from iPhone to computer, but also backup iPhone photos, pictures in JPG PNG HEIC GIF as you like. You may as well use it to download pictures from computer to iPhone. Here's also a Mac version of it, now click to download below!