How to edit HEIC files on macOS (Sonoma and earlier) and Windows 10/11? If your brand-new iPhone model is using the cutting-edge High Efficiency Image File mode to take pictures, and you'd like to edit HEIC photos from the bigger-screen computer/Mac. This page introduces to you the top 3 HEIC editor software with both Windows and Mac versions, now read on to find out. Preparation: Transfer HEIC Files from iPhone to Windows/Mac
When you attempt to import HEIC photos from your iPhone to your computer via the Photos app on Windows 10/11, you'll find that it does not support HEIC natively.
So here comes DearMob iPhone Manager to your first aid. It's an ultimate iPhone file management tool and accesses all HEIC files on your iPhone by album/date. Upon transferring to your computer, it also allows previewing, selecting all/specific HEIC photos, customizing the destination folder, and many more to assist HEIC editing.
Step 1: Download DearMob iPhone Manager on your computer (100% safe and clean download from the button below). Install and launch it on Windows/Mac.
Step 2: Connect your iPhone to your PC/Mac via USB or Wi-Fi. If this is the first time you connect your iPhone to this computer, unlock the device by tapping "Trust this computer" before you import HEIC to the computer.
Step 3: Click "Photo Transfer" in the main interface so as to view HEIC photos on your iPhone. DearMob iPhone Manager can load as many as 10,000 photos within seconds thanks to its dynamic preview technology.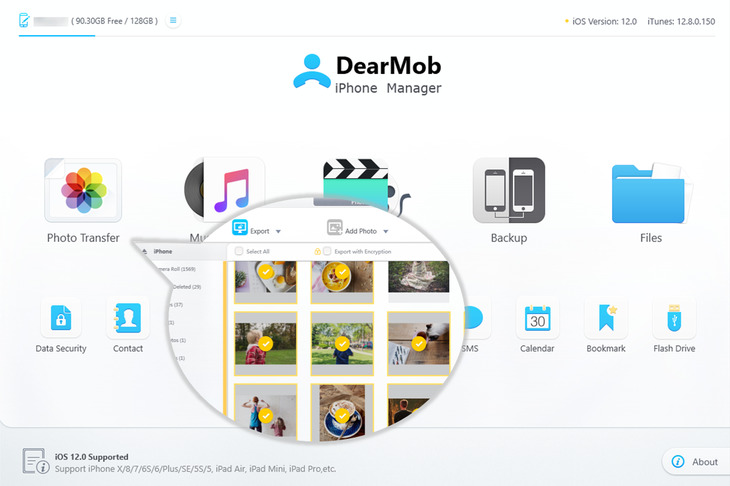 Step 4: Manually choose the photos you'd like to export with this tool, hit the "Export" icon, and in the drag-down list, choose "HEIC to JPG" if you want to edit these photos in JPG format.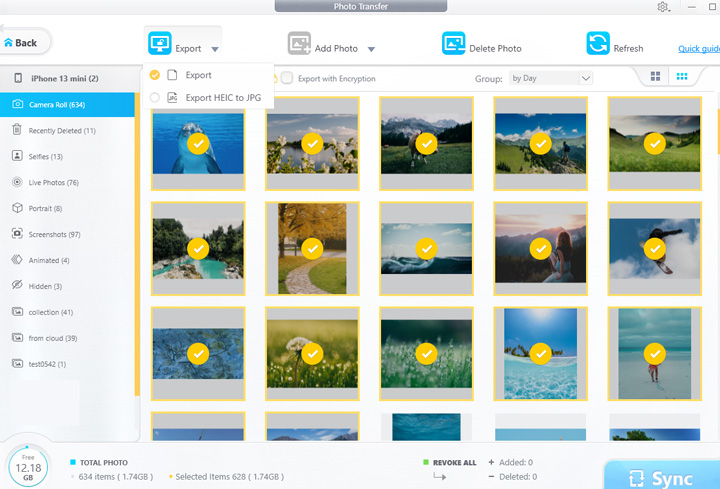 1. How to Edit HEIC Files in Photoshop
Adobe Photoshop CC 2023 – Big Name HEIC Files Edit Tool
It hadn't been long after the adoption of HEIC on iOS 11 when the Adobe family started to provide support for those who want to edit iOS 11 HEIC photos from professional desktop software – If you're also one of the adept-handed designing practitioners, then HEIC editing software from the Adobe family shouldn't be new to you. Here we introduce Adobe Photoshop CC 2023, the latest version 24.3, as one of the top 3 ways to edit HEIC files.
Together with its latest release, this professional HEIC photo editing tool has been shipped with such functions: selecting subjects, improvements for high-res monitors, and better integration with Microsoft Dial. Now with HEIC photos from iOS 11 given full play to the advantages of what a high-res picture should be like, you can make the best of the newly-added functions of Adobe Photoshop CC 2023 to edit HEIC photos from an iPhone.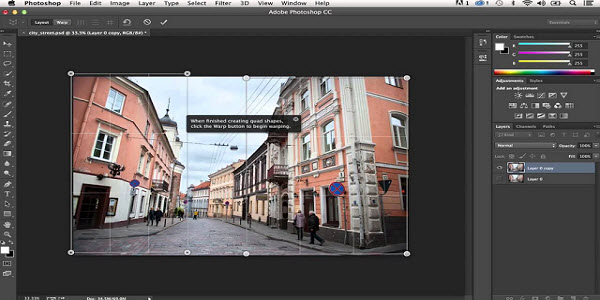 2. How to Edit HEIC Files in Fotor
Fotor – Cross-platform Software to Edit HEIC on Windows Mac
If you're looking for a lightweight tool to edit HEIC files from iPhone iOS 11, take a look at this agile photo editing software – Fotor. Available in both Mac and Windows, Fotor can meet roughly meet everything a user will need for HEIC file editing: with as many as 11 automatic editing settings (Auto, Portrait, Flash, Cloudy, etc.), the HDR effect capable Fotor is a second-to-none choice if you'd like to edit HEIC photos, files.
Accredited by BBC as the lite Photoshop, the Mac version of Fotor has been ranking top in over 80 countries. Fotor is extremely helpful in its batch editing functionality: If you'd like to edit HEIC and JPG images, HEIC vs JPG comparison and why it matters, in terms of renaming, resizing, or convert HEIC photos quality so as to compress the photos, end your search here as nothing compares this HEIC editor in terms of batch editing speed.
However, unless you have a macOS High Sierra computer, HEIC photos won't open on Windows natively, or on earlier versions of macOS, which means even Fotor can't directly open HEIC files. So you'll need to convert HEIC to JPG before your edit HEIC photos with Fotor.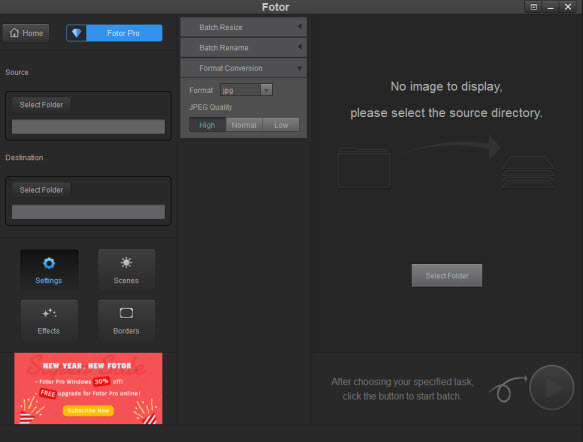 3. How to Edit HEIC Files in Pixlr Web App
Pixlr Web App – Easily, Smoothly Edit HEIC Photos Online
Let's assume you don't have a frequent need to edit HEIC photos, and pictures, and will just need to edit HEIC for one-time use. Then why not consider Pixlr Web APP for Windows or Mac which can help you work on HEIC files in layers, replace colors of an iPhone-taken HEIC photo, or picture, and even transform objects – all in a web browser?
If this is your first time using this HEIC editing tool online, you'll find a list of options including a Pixlr Web APP, a mobile version of this tool, and the Web APP further divides into Pixlr editor and Pixlr Express. To edit HEIC photos, pictures in terms of in-picture objects, go with Pixlr editor online, however, if what you need is photo borders, overlays, and personal touch for the HEIC HEIF photos, pictures taken with an iPhone, then Pixlr Express is your answer.
Before you land on this web-based tool to edit HEIC photos, take a look at the screenshots to learn a bit about its category-wide functions.
As you may see above, Pixlr and Photoshop feature much-alike functional areas, if you've been with Photoshop for a while, then going with Pixlr to edit HEIC HEIF files in photos wouldn't be of much difficulty to you. However, if you're expecting something with a more intuitive interface, we'd recommend you go with Fotor with Mac or Windows. Summary
One thing to note, both Pixlr and Fotor can't open HEIC on Windows or Mac with them due to a lack of necessary decoders, which means you will need the help of an HEIC converter – DearMob iPhone Manager to convert HEIC to JPG before you edit photos.
You can not only use DearMob iPhone Manager to convert & edit HEIC files in photos from iPhone 14/13/12/11/X etc., for as long as you'd like to, this all-in-one iPhone manager can also help you delete photos from iPhone (in bulk), or backup iPhone photos. In case you run into other forms of HEIC that won't open on Windows/Mac problems, stay with DearMob iPhone Manager to fix them. Now click to download them below.