How to Convert HEIC to JPG on Windows and Mac
By Joakim Kling - Last Updated: Contact Author

How to convert iPhone high efficiency photos HEIC to JPG, on Windows 11/10/macOS in particular? How to convert a .heic format to .jpeg format in my iPhone? Note that not all iPhones support HEIC photo taking and viewing - only iPhone models powered by A9 chip and higher, shipped with iOS 13 and higher versions. Since we prefer taking photos in HEIC format to save our iPhone storage space yet not all platforms support this file format, here we will inform you of some easy and quick ways to convert and view HEIC in JPG on all OS platforms.
Fastest HEIC to JPG Viewer for Windows/Mac

Cannot Open HEIC on PC/Mac? Solve it with DearMob iPhone Manager
Superfast view and convert HEIC to JPG/JPEG
Superfast export/import iOS 13/14/15 HEIC photos
Windows 11/10/macOS Ventura compatible
100% image quality reserved after conversion
What is HEIC (HEIF) Photos
HEIF vs HEIC
High Efficiency Image File Format, aka HEIF, is a container format based on HEVC for containing individual images and image sequences. Its two main filename extensions are .heif and .heic, along with a less common .avci that is typically used for H.264/AVC encoded files.
However, in Apple iOS 11 implementation, they have chosen .heic filename extension for single images producing/containing and heics for image sequence files. And these are the commonly encountered HEIC photos we are talking about. At present, the foremost HEIC photo problem for iPhone iOS 11 users is that HEIC won't show up on macOS High Sierra, Windows 10, Android. To view those files on certain OS platforms, one might have to convert HEIC to widely applied JPG/JPEG formats.
HEIC vs JPG
HEIC has so many advantages over JPG, To save storage space by half, HEIC images can be used for compressing the full-resolution images while keeping a lower-resolution JPEG copy for on-screen displaying purposes. To reduce web/image content download time, HEIC provides single-file packaging of burst photos, focal stacks, and exposure stacks. HEIF even introduces a framework for non-destructive editing operations.
Efficient and storage-saving as HEIF/HEIC is, its implementation might not be widely welcomed in a fast manner, since its use will be subjected to patent infringement. Therefore, the JPG/JPEG image format will still be the most commonly used formats cross platforms, esp on Windows 10 and macOS for now. Thus to view those image files HEIC or JPG/JPEG on varied operating systems, you will have to one way or another encounter the need of converting HEIC to JPG/JPEG.
Method 1: How to Convert HEIC to JPG Online - All Platform Compatible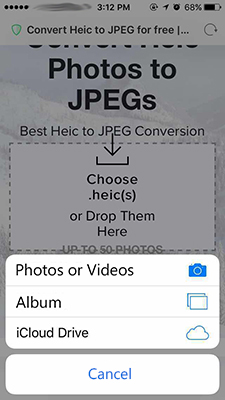 This is the most direct yet slowest way to convert HEIC to JPG on Windows, macOS, Android, iPhone iOS iPad, Linux alike. It supports HEIC to JPEG/JPG conversion on almost all platforms as long as you have internet access.
Step 1: Open your web browser on any platforms.
Step 2: Enter the URL: "https://heictojpg.com/".
Step 3: Tap "Choose .heic(s)".
Step 4: Select and upload photos to this site's server
Though it marks that "you can choose up to 50 HEIC photos at one time" from your local file folder, the tortoiselike upload speed and processing speed will hold you back.
Step 5: Click "Download JPEG" and wait for converted JPG photo downloaded back to your devices.
Under this slow uploading/downloading circumstances, we advise you avoid proceeding this online HEIC to JPG conversion on your storage-limited phones/tablets and make sure that you get absolutely fast network and enough storage space.
Method 2: How to Convert HEIC to JPG on Windows 11/10/Mac - DearMob iPhone Manager

DearMob iPhone Manager offers HEIC to JPG convert and transfer utility bundled togeter, as one of the best HEIC converters, downloading DearMob iPhone Manager means you will be able to transfer photos in HEIC out to your PC/Mac in an output JPG format. It would be 20x faster than online conversion without file number limitation.
Step 1: Download DearMob iPhone Manager on your Windows 11/10/8/7 and Mac computers.
Step 2: Connect your iPhone to computer with a lightning cable (the original Apple USB cable would be preferred)
Step 3: Click on one or several HEIC photos and then click the Export drop down menue.
Step 4: Select "Export HEIC to JPG" and the photos will be transferred and converted to your local file folder.
Note: You can select to convert as many photos as you like without transferring/converting limitations.
Method 3: How to Open HEIC to JPG on Android/iPhone - Dropbox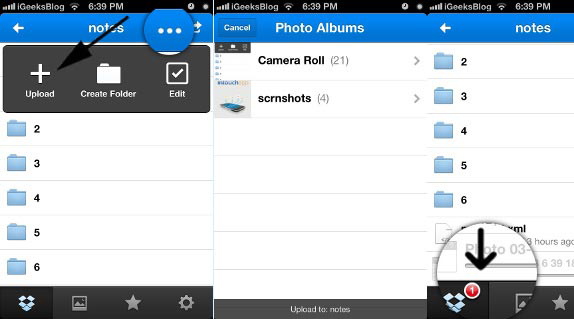 View this guide on how to convert HEIC to JPG Android. Dropbox is another free yet internet concerned heic viewer for viewing, converting, downloading HEIC photos.
How to download HEIC to JPG in Dropbox:
Step 1: Launch Dropbox App
Step 2: Tab on Photos file folder to view and select certain HEIC photos to download
Note: Dropbox downloads OTA photos in JPG format by default.
Other recommended HEIC to JPG converters download free:
• iMazing HEIC Converter
• Luma HEIC Converter app for Android
Method 4: Apple Built-in HEIC to JPG Convert Free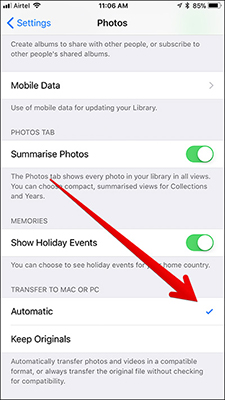 This built-in HEIC to JPG transfer/convert method works on any computer including Windows PCs and macOS computers.
You can use Photo app on Mac (in Applications folder) or use AutoPlay on Windows PC to read iPhone/iPad iOS 13 photos.
Step 1: Head to Settings > Photos and scroll down to Transfer to Mac or PC
Step 2: Tap to choose "Automatic"
With the iPhone set to "Automatic", photos show up as JPGs on the computer. With it set to "Keep Originals", the HEIC files are transferred.
The only trouble here is the overall arrangement of AutoPlay images are not pleasant to the eyes.
SUMMARY
With all the listed ways to convert HEIC to JPG, we still recommend you DearMob iPhone Manager, since it is the quickest and smoothiest choice to get conversions done. In addition, DearMob iPhone Manager can let you transfer not only photos but manage and arrange all iPhone/iPad contents as you like.
As an efficient iPhone management software, DearMob iPhone Manager supports tranferring and importing almost all kinds of photos you can imagine, be it HEIC, JPG JPEC PNG TIFF BMP as well as open HEIC on Windows. When all platforms and OS systems support HEIC formats, the HEIC to JPG conversion might be no longer needed, but you will still need this iPhone/iPad manager for video, music, ebook, apps management. Get it downloaded now!