Password Lock Private Photo Vault & Sensitive Images on iPhone
By Joakim Kling - Last Updated: Contact Author

Private photo vault encryption is a necessity as there are more or less secret or sensitive photos like embarrassing selfies or sexy pictures on iPhone that you don't want others to see. iPhone Photos app is a good solution to hide photos on iPhone by putting the private pictures to a hidden album, but it is only a lash-up way to protect iPhone photos and not as safe as the password-protected way. So, to protect your private iPhone photos from prying eyes, here we find three ideal workarounds to password lock photos on iPhone, 100% safe and privacy gurantee.
How to Encrypt Private Photos on iPhone to Computer?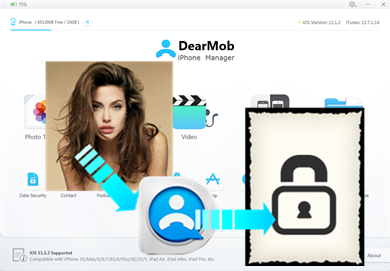 Via Private Photo Encryption - DearMob iPhone Manager
Password protect private selfies, hot sexy images, sensitive pictures, Hidden and Recently Deleted albums;
Encrypt iPhone iPad photos, videos, contacts & backups;
Ensure safe photo transferring and sharing cross the internet;
Military & government-grade private data encryption standard.
Let's come straight to the point, the following three ways to lock iPhone photos are prepared not only for preventing you from the awkward ridicule to your embarrassing selfies from friends or colleagues after you losing the Truth or Dare game, but also to keep away potential dangers when someone utilize your private photos to blackmail you or your families when you are in danger. For your security assurance and guessing you have different requirements, these solutions include desktop encryption software for iPhone, private photo vault encryption via iPhone Notes app and third-party iPhone photo vault apps.
How to Encrypt iPhone Photos Transferred or Backed up to Computer?
Supposing that you have many private photos needing to be transferred to computer for edit, share or backup, best encryption software DearMob iPhone Manager is designed to safeguard secure photo transferring without data loss and privacy leak, as well as hide iPhone photos on computer in a locked way with complicated password you know only. As a result, you can put the protected photos to a public computer without worrying others' curiosity or upload to the Cloud and share with friends over internet having no pressure to the hackers.
DearMob iPhone Manager equips itself with military and government-grade encryption standard in four types, say 256-bit AES, 1024-bit RSA, PBKDF2 and Argon 2, which assures you the highest level of protection to your iPhone photos. Besides locking photos on iPhone, anything in the realm of private things you want to keep secret or safe can be protected by DearMob iPhone Manager, like SM videos, business contacts, iPhone iPad backups, etc as easy as ABC.
Encrypt Photos on iPhone via DearMob iPhone Manager
Click the download button below to download this private photo vault encryption software, install and launch it on your computer.
Step 1. USB-connect your iPhone to computer, tap "Trust This Computer" to continue when there is a popping up message on your iPhone.
Step 2. Click on Photo Transfer icon on the main UI of DearMob iPhone Manager to access the photo transfer and encryption window.
Step 3. Check the Export files encryption. When the Encryption Password Setting window pops up, read and agree the notification, choose a password you can remember to input into the Password box and then check Photo Encryption -> click OK.
Step 4. After that, choose iPhone photos you want to lock with passcode and click Export. Then, DearMob iPhone Manager will automatically encrypt photos on iPhone for you and transfer them to computer simultaneously.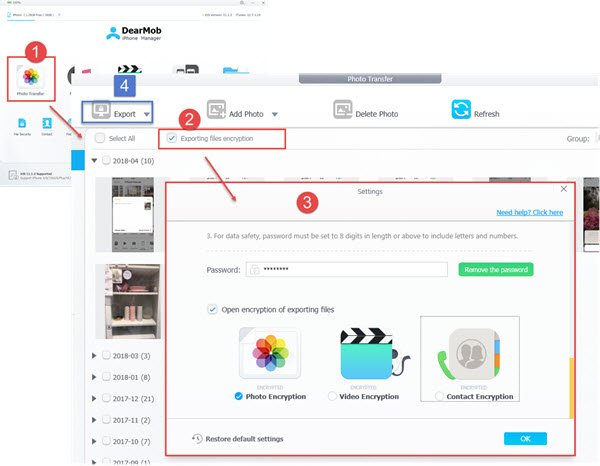 Notice: By choosing the File Security option on main UI of this iPhone photo encryption software, you can add and manage any iPhone file or folder on computer, encrypt and decrypt the photos, videos, contacts, etc you just encrypted as well. But, please use the same password to encrypt and decrypt the same file.
How to Lock Photos on iPhone via iPhone Notes App?
If you are outside and happen to have no desktop iPhone photo encryption software to encrypt iPhone pictures, you are suggested to use iPhone Notes app to hide photos on iPhone temporarily that nobody else can see.
Step 1. Open your Photos app, select the photos you want to hide.
Step 2. Tap the share icon at the left bottom corner of your iPhone, and then tap Add to Notes. Here you can name the note for further easy finding -> tap Save.
Step 3. Return to the main UI of your iPhone, open Notes app in which you can find the saved photos notes.
Step 4. Just open the Saved Photos Notes, tap the share icon and choose Lock Note. Then, input a password that only you know to add a lock.
Step 5. Tap the lock and your iPhone photos will be locked.
Notice: Return to the Photos app and delete the photos you have chosen to encrypt from the app.
If you are not that satisfied with this native iPhone app, third-party private photo vault encryption apps would be a good choice as long as you don't mind their occupancy to your iPhone storage.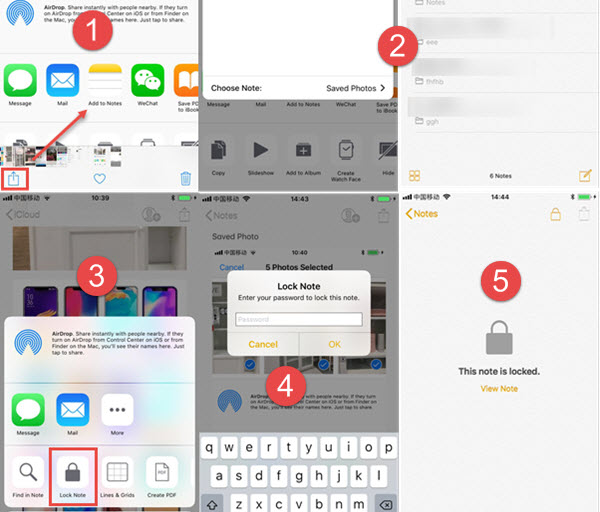 Top 3 Private Photo Vault Encryption App on iTunes App Store
#1 Private Photo Vault – Pic Safe
★★★★★ 120.1K Ratings
Available in over 20 countries, Pic Safe is designed to be the best and most private photo and video app for iPhone/iPad/iPod to lock iPhone photos videos in a hidden way. Any special photos you don't want to show to others can be protected by a password and even the developer have no ability to remotely access your photos.
#2 Secret Photo Vault – Keepsafe
★★★★☆ 18.5K Ratings
This private photo vault encryption app is an award-winning photo locker with over 70 million users that assures you the great confidence to use it to lock personal pictures and videos on iPhone. Besides, military-grade encryption, this app can save a bunch of stuff, take pictures and let you personalize the images as well.
#3 Picture Vault Lock Photo Safe
★★★☆☆ 7.7K Ratings
Like the private photo vault encryption app mentioned above, this app allows you to set password to hide iPhone photos videos and keep people out of your secret folders. You can enjoy your private photos with background music, easily get back your password by answer the security question you have set, and more importantly, you can set a Decoy password to cover your real privacy and show different albums to a nosy person who hopes to see your secrets.
Whatever solution you choose, DearMob iPhone Manager always stays the same to offer you different ways to encrypt iPhone photos, videos, contacts as well as iPhone iPad backup. Guarantee you the 100% security to iPhone iPad data. Any other requirement to manage iPhone data can also be satisfied, like video transfer, music management, photo backup, etc.