Top 3 HEIC Photo Viewers for Mac to Open HEIC/HEIF on Mac
By Luna Chao - Last Updated: Contact Author

Using a HEIC photo viewer for Mac to open HEIC images on Mac is feasible only under the circumstance that your Mac has been upgraded to macOS High Sierra or later (macOS Mojave included). Supposing that you know this requirement, we have discovered some third-party HEIC image viewers for Mac besides Apple's Photos app and Image Capture. Also, if your Mac OS is happened to be lower than Sierra 10.13, you can still find some other way here to view HEIC photos on Mac.
At the moment, the only platforms that can open HEIC images are iOS 11 on iPhone 7 or later and Apple Photos app/Image Capture with macOS High Sierra (10.13) or higher. It seems that there is no other way to open iPhone HEIC photos on Mac and Windows, but chances are that you can use third-party HEIC image viewer Mac or convert HEIC to JPG to view HEIC photos on Mac.
2020 Top 3 HEIC Photo Viewer for Mac (macOS Mojave included)
No.1 Phiewer Image Viewer for Mac – A Multi-media Viewer
Phiewer is a fast and responsive image viewer for Mac to open HEIC photos and JPG, PNG, BMP, TIFF, GIF pictures. As long as your Mac is shipped with macOS High Sierra 10.13 or later, you can use this HEIC viewer Mac to open HEIC photos from iOS 11 iPhone iPad on Mac directly without converting. Not just opening HEIC, you can do even more to your HEIC photos with Phiewer, like rotating HEIC images, enlarging HEIC pictures, and adding a HEIC image folder to it and Slideshow viewing HEIC photos automatically without the need of manual click each picture one by one. Besides, it is folder based that you can also browse your video audio file with it in one window without the help of a third-party video music player.
Supported Image Formats: HEIC, HEIF, TIFF, GIF, BMP, JPG, PNG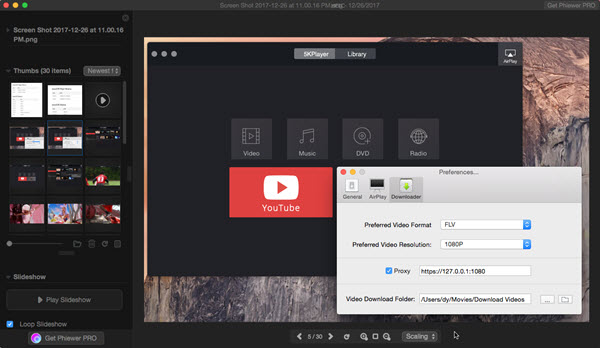 No.2 Pixelmator 3.7 Mount Whitney – Mac HEIC Image Viewer & Editor
Pixelmator for Mac is actually a powerful and full-featured image editor for Mac with photo view ability. In the new Pixelmator 3.7 Mount Whitney, it brings the full compatibility with macOS High Sierra and HEIC/HEIF feature is also added to support for importing HEIC/HEIF images to view and edit on Mac. With a smart way, you can easily view HEIC photos on Mac and edit HEIC photos by moving, rotating or distorting any element, text, shape, etc and adding specifically inspiring effects to your HEIC images. This HEIC viewer Mac gets closely in touch with your Photos App that you can perfect all of your shots from iOS 11 iPhone inside the Photos app. If you like it, you can pay for it.
Supported Image Formats: HEIC, HEIF, TIFF, GIF, BMP, JPG, PNG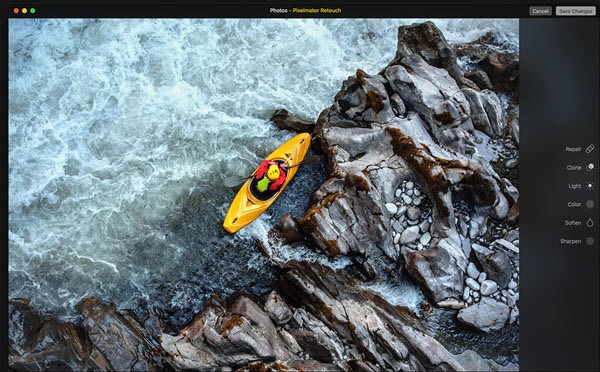 No.3 DearMob iPhone Manager – HEIC Photo Viewer & Converter for Mac
DearMob iPhone Manager is a full-fledged HEIC image viewer and manager for Mac and Windows that you can use it to pre-view HEIC photos on Mac without the need of upgrading your Mac OS. Unlike any other similar products, DearMob iPhone Manager is the only one that can show the original HEIC files without conversion, leaving no place to HEIC won't open on Mac problems.
If you want to open HEIC images on Mac with Photos app or Image Capture when your Mac hasn't been upgraded, what can you do? Obviously, the first two HEIC image viewers Mac could do nothing for you, but DearMob iPhone Manager would give you some help. With 1-click transfer HEIC to JPG function, DearMob iPhone Manager turns your HEIC photos to more compatible image format JPG to be viewed on Mac and PC. Besides, you can export the original HEIC photos files for backup on computer, restore HEIC photos to new iPhone and bulk deleted unwanted HEIC photos to free up iPhone as well. If these HEIC photos are private and sensitive that you don't want others to see, you can also use DearMob iPhone Manager to encrypt the HEIC photos in a password-locked way, 100% safe.
Supported Image Formats: HEIC, HEIF, TIFF, GIF, BMP, JPG, JPEG, PNG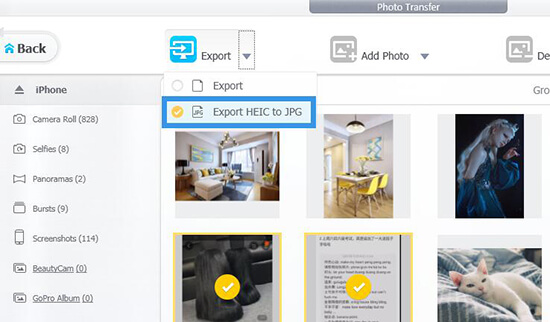 How to View iPhone HEIC Photos on Mac via DearMob iPhone Manager?
If you are using the latest macOS 10.13 High Sierra, you can view the HEIC images imported from your iOS 11 iPhone 7/7 Plus/8/ 8 Plus/X with the native Mac HEIC image viewer Photos app or Image Capture. The only thing DearMob iPhone Manager can do for you is to transfer HEIC photos to Mac in batch.
Pre-view HEIC Photos & Transfer to Mac as JPG
The video guide: https://www.youtube.com/embed/yygDlONUBPg
Step 1: Click the download button below to download DearMob iPhone Manager, install and launch it on your Mac.
Step 2: USB-connect your iPhone to Mac, and tap Trust This Computer to continue if there is a message popping up on your iPhone.
Step 3: Once connected, tap Photo Transfer icon on the main UI. Then, you will preview your HEIC photos on Mac here clearly that are assorted by time.
Step 4: If you need the original HEIC images to open on Mac, you can just click the "Export" icon to export the original iPhone HEIC photos to Mac. If nothing here can open HEIC pictures on Mac, you can use DearMob iPhone Manager's "Transfer HEIC to JPG" to convert HEIC to more compatible JPG in a click.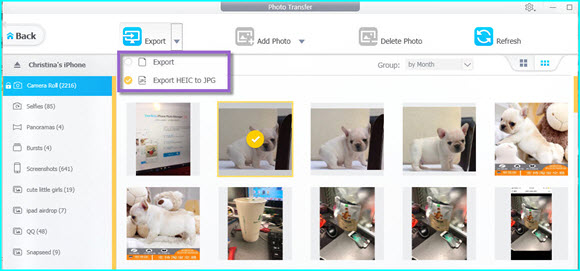 Soon or later, HEIC image format will become normal that most software and platforms can open HEIC images on Mac or Windows without converting. However, the day is not confirmed and you still have to convert the HEIC photos manually such as converting HEIC to JPG Android. So, we have to make use of some third-party HEIC photo viewers to view HEIC files and DearMob iPhone Manager is the one. DearMob iPhone Manager will never be out of date as you more or less need it to manage, transfer, delete heic photos