iPhone Storage Almost Full? Free up Space on iPhone Now!
By Joakim Kling - Last Updated: Contact Author

Is " iPhone Storage Almost Full" popup showing up now and then to notify you that your iPhone device is running out of storage space? Leave the message alone and the consequence is that you will not be able to take more photos, download more music, record new videos, open WhatsApp or update to the new iOS 17/16/15 smoothly. So, it is your first mission to free up space on iPhone to make the most of your mobile and get rid of iPhone storage full message for good.
No matter you are struggling with iPhone 6 with 16GB storage space or upgrade to iPhone 14/13/12/11/XS/X with 256GB capability, the fact is that you soon or later will encounter iPhone out of storage problem. Just pony up for a more expensive with higher-capacity iPhone model to stop the "iPhone Storage Almost Full" message interrupting your every move? Knowing how to free up space on iPhone is a better solution. Here, Apple native solution and an iPhone storage manager are provided to help get you out of the trouble.
How to Solve iPhone Storage Almost Full Problem Easily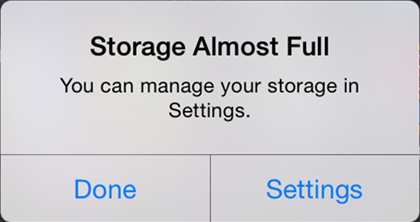 iPhone storage almost full? Don't worry! Best iPhone backup software DearMob iPhone Manager is here to offer types of ways to free up space on iPhone in an easy manner. Just backup iPhone in a click or transfer specific important iOS files to computer and then batch delete the unwanted ones to save iPhone out of storage.
Method 1. Manually Delete iPhone Files One by One to Free up iPhone Storage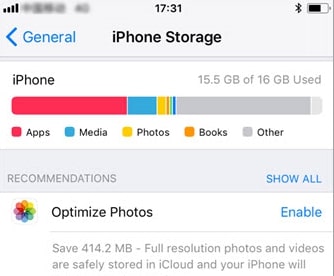 When the iPhone storage full message shows up, iPhone itself will suggest you to manage the iPhone storage in Settings:
1. Delete everything you no longer need:
• Delete the unused apps by firm-pressing the app on iPhone UI or accessing Settings to delete, or delete and reinstall the app to clear the cache.
• Delete unwanted photos and videos in Photos app.
• Delete pictures and videos in messages or delete imessages by setting your Message app to delete messages after 30 days automatically.
• Remove documents, downloaded movies/music, podcasts, voice memos, notes, or ebooks
2. Clear Safari cache
Go to Settings > Safari > Clear History and Website Data.
3. Reset all settings
This plays a small role in free up space on iPhone by erasing the settings and preferences without deleting important videos, music, photos, contacts, etc.
4. Backup files to iCloud
It is the first way that Apple promotes for users to copy iPhone data files to the cloud service to solve iPhone storage almost full. But, funny thing is that iCloud only offers 5GB free space to store files. When iPhone iCloud storage gets full, you have to pay extra money for more space.
5. Turn off iCloud Drive
Turn off iCloud service that can access files from your Mac or any other device connected to iCloud.
6. Turn off Photo Stream
Go to Settings > iCloud > photos, toggle off My Photo Stream and uncheck Download and Keep Originals to keep photos in iCloud to make space on iPhone.
7. Remove offline data like downloaded books, videos, music, etc.
8. Banish HDR mode, Live photo and 4K video. And shoot in High Efficiency.
However...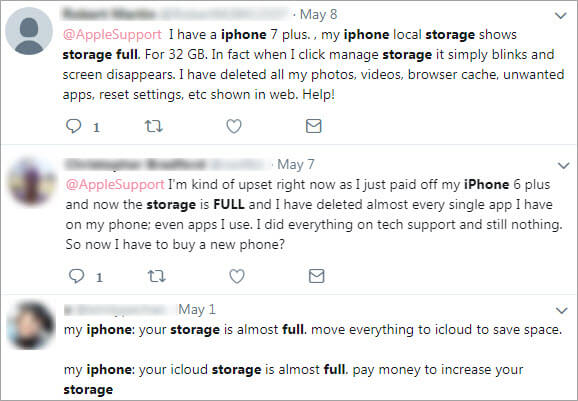 Commonly, solving iPhone out of storage issue manually with your finger on iPhone works great especially to cache created by apps that do not self-clean. However, the way seems to fail occasionally as some users still get iPhone storage full popup after erasing vast data.
Besides, using Apple native ways to handle iPhone storage full error often requires abandoning some precious data like family photos, video recordings and important contacts, or sacrificing image and video quality by killing HDR mode, Live effect and 4K shooting to save more space.
The only chance you can keep these data files normal is to upload them to iCloud with the premise that you have paid to enough space for storage. What if you want to keep these important data safe without iCloud storage limits and enjoy great iPhone features at the same time free up iPhone storage? Please read on.
Method 2. Solve iPhone Storage Almost Full without Abandoning iPhone Data
Killing two birds with one stone, DearMob iPhone Manager offers several ways to help toss out what you don't need to free up storage on iPhone as well as keep what are important to you in a safe manner. As a versatile iPhone content manager, DearMob iPhone Manager empowers itself with great compatibility with more than 12 types of iOS data including photo, music, video, contact, PodCast, book, voice memo, app, message, calendar and bookmark.
It helps transfer data files between devices and organize iPhone to prevent mess, as well as outshines iTunes to backup iPhone data in a secure mode with military/government-level encryption standard. The key feature put forward here is how to use DearMob iPhone Manager to solve iPhone storage almost full problem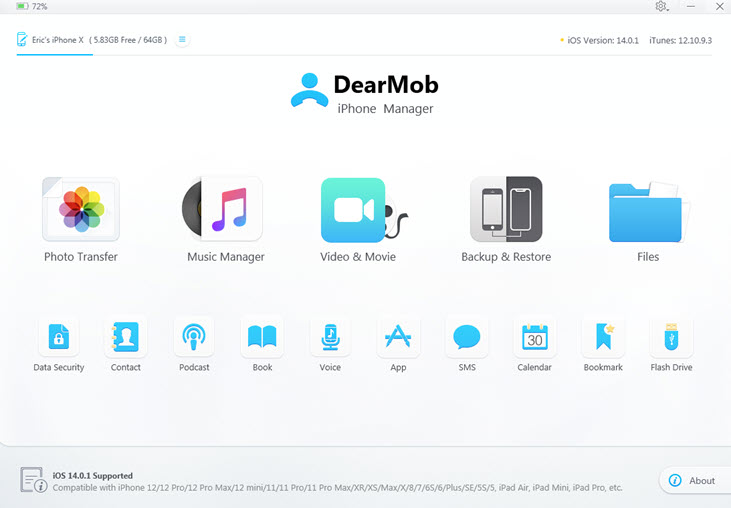 1. Delete Specific File to Free up Storage on iPhone
Step 1. USB-connect your iPhone to computer, and tap "Trust This Computer", and launch DearMob iPhone Manager.
Step 2. Access each type of your iPhone data by clicking on the icon on the main UI of this software.
• Take Photo Transfer as an example, just click on it to access your iPhone photos and here you could see how much iPhone storage space your photos have taken.
• Choose photos you don't need and then click Delete Photo. DearMob iPhone Manager recommends that you first transfer photos to computer for backup in case that you have mistakenly deleted some important pictures.
Notice: Other specific type of iPhone data can also be managed in this way to free iPhone storage after transferring to computer for backup.
2. Backup iPhone and then Factory Reset iPhone
DearMob iPhone Manager also offers one-click Backup function to backup and restore iPhone when iPhone storage full happened or when you need to switch to a new iPhone device.
Step 1. Click on Backup icon on the main UI of DearMob iPhone Manager to access the Backup window.
Step 2. Just click Back Up Now and DearMob iPhone Manager will immediately backup your iPhone to computer. The backup time will depend on the size of your device data, so please be patient. Kindly remind, encrypt your backup with DearMob iPhone Manager if your iPhone data is quite private.
Step 3. After backup, you can factory reset your iPhone to clear iPhone storage full.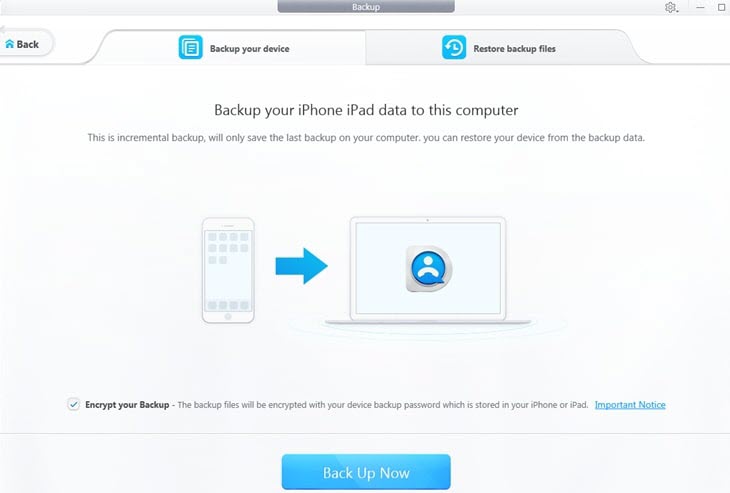 Sick and tired of your iPhone Storage being full popup, and would rather stay away from the erroneous iTunes that ofter throws iTunes won't backup iPhone alerts? Choose a way here to stop iPhone storage almost full message that reminds you every 20 minute and avoid iPhone storage space shrinkage. Throw away the unwanted iPhone files once they occupy much space or transfer them to computer for further using via DearMob iPhone Manager.