Best Free Music Organizer for iPhone iPad & iPod
By Joakim Kling - Last Updated: Contact Author

Have you got a messy collection of music, playlists and albums from your favorite artists on iPhone, iPad or iPod? Is your iOS device overloaded by audio tracks leaving insufficient space for more photos, apps, videos, etc? Or are you totally get tired when organize iPhone music one by one through Apple Music app? If your answer is yes, you need an iPhone music organizer to manage and organize iPhone music in order.
You may think that it is good enough to use the native products of Apple like iTunes and iCloud to organize iPhone music, but disappointedly such programs are limited in what they can do and often require much from you. For instance, iTunes only manages purchased music and iCloud asks you at least $0.99/month to store more music files. So, choose a third-party iPhone music organizer like DearMob iPhone Music Manager is an advisable and wise choice to clean and sort your massive iPhone music library.
Free Music Organizer for iPhone to Organize iPhone iPad Music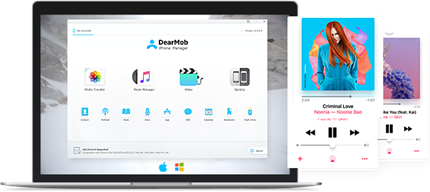 DearMob iPhone Music Manager has a compact user interface and good set of built-in attachments for working with your Apple Music library and organize music on iPhone iPad and iPod, like seletively transfer songs, batch-delete audio tracks, edit music info, create playlists, etc. As easy as ABC, handle every song at will.
Why DearMob iPhone Music Organizer? Say Goodbye to iTunes
Great Compatibility: DearMob iPhone Music Manager was brought into being as people need to organize iPhone music in the easiest way. It is not designed for the mere iPhone handsets, but also for iPad and iPod. Running on Mac and Windows, this iPhone music organizer stands ready to orgainze music MP3, AAC, ripped CD songs, downloaded or purchased music on your devices.
Concise Design: DearMob can easily find the sepcific song from an artist using Search function even though your iPhone is fulled with hundreds of Apple music. On the top bar of the main UI, DearMob iPhone Music Manager offers you one-click buttons to orgainze iPhone music in a flash.
• Export iPhone music to computer for secure backup
• Download non-purchased music
• Edit iPhone music info for easy classification
• Delete iPhone music to free up iPhone
Powerful Functions: Running without iTunes, this tool makes it better to manage music without slowing down your computer. And there is more:
• One-click create preferred playlist like pop, jazz, rock, etc to store favorite songs
• Convert MP3 to iPhone ringtone from your favorite music
• Remove DRM from iTunes Apple Music as well.
How to Organize Music on iPhone with DearMob iPhone Music Manager?
Before organizing iPhone music, you should first free download DearMob iPhone Music Manager, install and launch it on your Mac or PC. Then connect your iPhone to computer with the Apple original USB cable and tap Trust to continue if there is a message poping up showing "Trust this computer or not".
1. Organize iPhone Music by Editing the Info
Often the case you spend too much time transfering songs to iPhone with wrong music information or without any info of artists, albums, published years, etc. By using this music organizer, you can easily find a song, an artist or album through Search function.
Select music> click Edit on the top bar> modify music info> hit Sync.
2. Organize iPhone Music through Deleting Music
Want to erase duplicated audio tracks to add more music to iPhone or just free up your iPhone? Deleting them with DearMob iPhone Music Manager is a good way. You can batch-delete the unwanted music files in seconds, plus transfer them to computer first for backup before deletion.
Choose the unwanted music> click Delete> confirm the deletion.
3. Organize iPhone Music by Creating Playlist
Creating playlists makes a more orderly music library on iPhone, iPad and iPod. Use this iPhone music manager, and follow these steps:
• Click + icon on the left side to create a new playlist.
• Hit the pen-shaped icon to edit playlist name.
• Add some music file to this playlist.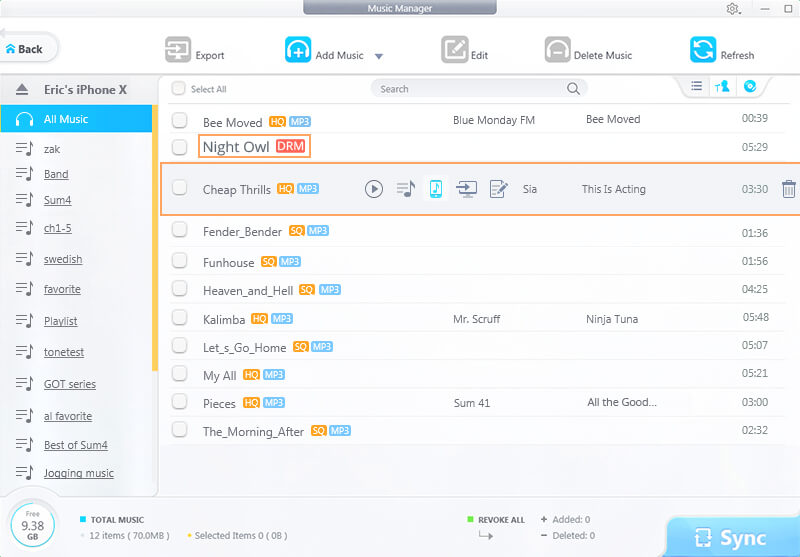 Tips and Notes
Once again, iTunes and Apple Music app can help you organize iPhone music indeed, but a bit complicated and time-consuming. If you need an easier way, DearMob iPhone Music Manager is the one to help keep every music on iPhone without iTunes, so do iPad and iPod in order, in control and without iTunes. If you upgrade to the Pro version, you can manage more files on iPhone/iPad like DRM files, photos, videos, books, contacts, messages, voice memos, bookmarks, etc.