Since it is not workable to access music files on the computer via simple drag & drop, Apple developed an iOS data manager called iTunes to help. But it seems that iTunes did not do a good job in music managing. It can help you to sync music library from computer to iPhone, create a playlist, download podcast and more.
But clearly, it also has some limitations so many iPhone users are searching for non-iTunes ways to manage music on iPhone/iPod. For example, iTunes might not be helpful if you want to:
Transfer downloaded music from iPhone to computer
Sync songs from computer to iPhone selectively
Manage OGG and FLAC format music files
Sync music without removing existing ones
Restore selected files from iTunes backup
For all those situations , a comprehensive third-party iPhone music manager is exactly what you need. So what is a good iPhone music manager and what are our criteria to select those Top 5 iPhone iPod music managers?
The Criteria of Good iPhone Music Managers
1. 100% Safe: Safety is a factor that users concern most. Nobody wants to lose any files or leak any private information during the process.
2. Powerful Functions: Abilities to manage music files on the iPhone or iPad in an easier way like two-way transfer, no-erasing sync, and selective restore.
3. Entire Compatibility: Fully compatible with all iOS versions of iPhone, iPad or iPod, and can work on both Windows and Mac computer.
4. Easy-to-Use: Known-at-glance interface with handy features for everybody to manage iPhone music instinctively.
DearMob iPhone Manager: Best iPhone iPod Music Managers in 2020
DearMob iPhone Manager is a brand-new way for iPhone music management without iTunes syncing, including one-click backup iPhone music files to computer for safe keeping, transfer music playlist from PC/Mac to iPhone 12/11/old models for on-the-go enjoying, batch-delete iPhone music songs to free up iPhone, etc. No matter you throw MP3/AAC purchased music, CD songs or downloaded YouTube music to it, DearMob iPhone Music Manager eats them all.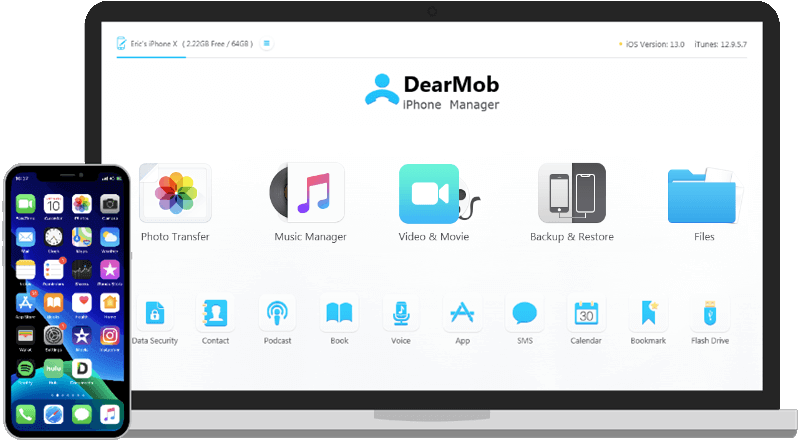 Unlike AutoPlay on Windows 7 and Image Capture on Mac for direct photo transfer and backup, there is actually no native way for iPhone music management except iTunes and iCloud. So, DearMob iPhone Music Manager comes out to help you tackle all the problems that you encounter when managing music songs on iPhone with iTunes and iCloud.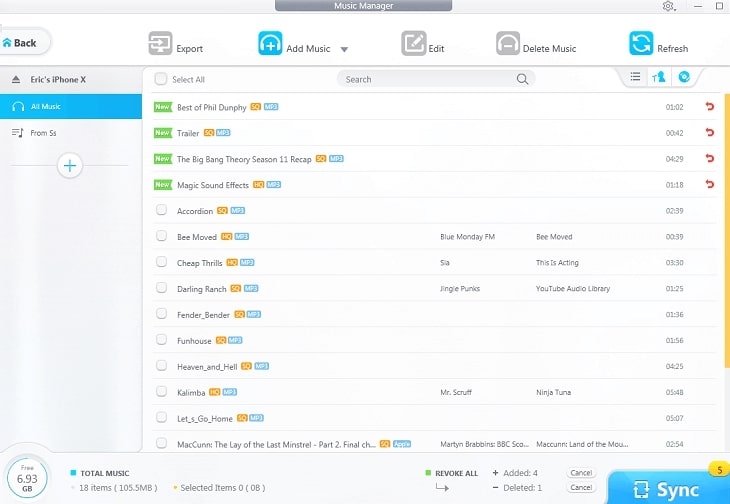 What makes it win so much reputation in music managing? Check it below
The two-way transfer makes it more convenient to manage iPhone music, and it will never remove your existing songs or other data on the device.
Whether you want to selectively transfer music or restore iTunes backup, DearMob will always be a good helper.
You can manage your iPhone music like classify music files, delete unwanted songs in batch, and edit the information of iPhone music.
Supports removing DRM from Apple Music to make you music truly yours.
It also supports making custom ringtone and text tone.
How to Manage iPhone Music with DearMob iPhone Manager
Note: Before managing your iPhone songs with this iPhone music management tool, download, install and launch it on your Mac or PC. And connect your iPhone to computer with Apple original USB cable, then tap "Trust this computer" on your iPhone to complete the connection.
Manage iPhone Music Part 1. Export Music from iPhone to Computer
This function is especially set for you who want to transfer iPhone music to computer for secure backup or enjoying with desktop media player. You can export your iPhone music songs one by one or just batch-transfer them in a click. After choosing several iPhone songs, you need to click the "Export" icon on the topbar to one-click export the selected music to computer. If you just need to transfer one single file, move your mouse to the song and click "Export music" icon to transfer. Please remember to set the target folder to save the transferred music by clicking "Settings" on the top right corner. Manage Music on iPhone Part 2. Add Music from Computer to iPhone
If you do not want to restrict yourself to purchased music in iPhone Music app, you can transfer ripped CD songs, self-made music or free downloaded online MP3 AAC files from Mac/PC to iPhone. DearMob iPhone Music Manager offers you several ways to add music from computer to iPhone.
1. Drag'n drop one or more music songs on computer to iPhone. DearMob Music Manager for iPhone will automatically receive the songs, and then click "Sync" button to sync to your iPhone.
2. Click "Add Music" to add music. When the music folder on your computer pops up -> click one or two songs -> click Open -> click "Sync" to import to your iPhone.
3. Click "Add Folder" to add playlist. Click the music folder you want to add -> click "Select Folder" -> tap "Sync" button.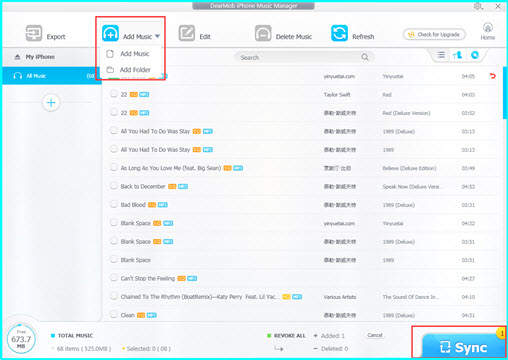 Manage iPhone Songs Part 3. Edit Information of iPhone Music
Sometimes, you may download songs with wrong music informations or without any info of artists, albums, published years, etc, you can use DearMob iPhone Music Manager to add or correct the music info for easy management in the future.
1. Edit one single song. Check the specific song you want to edit -> click "Edit" icon on the top part or "Edit music" right to the music name -> type the information and then click OK -> tap "Sync" to save the edited info.
2. Edit more than one song. If you have songs from the same artist and album, you need to click "Edit" on the top part to add information.
Note: You can click the red back arrow in the left side of one song to undo the changes. Please remember to sync iPhone to finish the changes. Manage Songs on iPhone Part 4. Classify Your iPhone Music
On the sidebar of DearMob iPhone Music Manager UI, you can see what types of music you have on your iPhone. Here, you can reclassify your iPhone songs and add new kind by clicking the "+" icon > type the name you favor like pop, jazz, dance, etc music > choose songs in All Music folder and click "Add to playlist" or just transfer music from computer to fullfill your music folder. Manage iPhone Music Part 5. Delete iPhone Songs
If your iPhone is overloaded with music songs and needs release, DearMob iPhone Music Manager helps free your iPhone and save more space for other files like photos, videos, apps, etc. After you backup music to computer, you can batch-delete the songs in seconds. Please remember to log out your Apple ID before deleting. Manage iPhone Music Part 6. Remove Apple Music DRM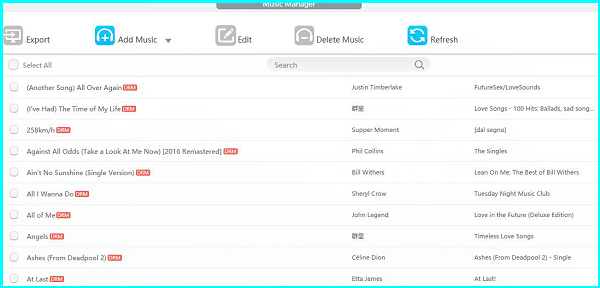 DearMob iPhone Music Manager Pro version would allow you to remove DRM from iTunes Apple music to make encrypted music sharable on platforms among people. Just upgrade to the pro version, and it will teach you how to remove DRM.
2. MediaMonkey Standard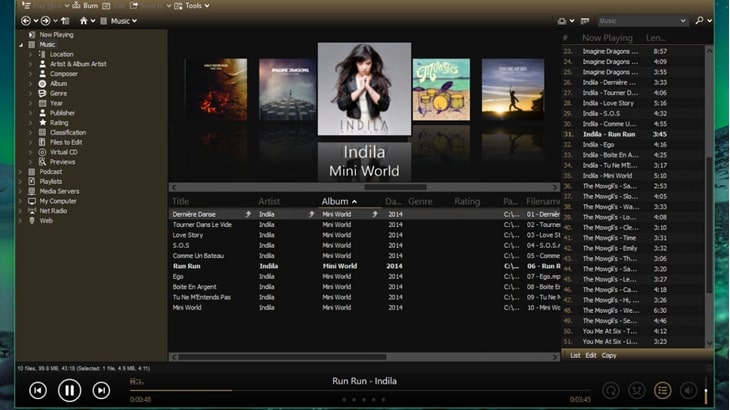 Media Monkey Standard is designed as a great iPhone music manager, which packs a lot of power to manage your music files on iOS devices. It's able to manage 100,100+ music and video files and can effortlessly sync android, iPhone and iPod. If you want to throw a party, it can help you create a playlist and let Auto-DJ & Party Mode take care of your party. Though its default layout requires some learning curve, it is fully customizable.
3. MusicBee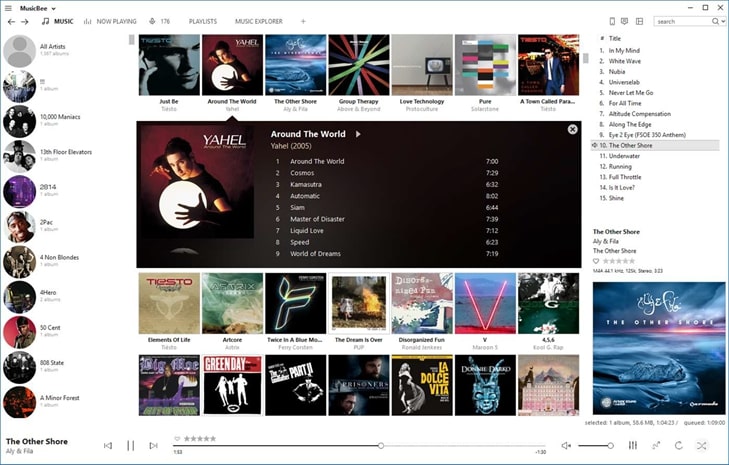 MusicBee is an ultimate music manager and player on Windows, which makes it super easy to play, manage and find music files on your computer. It can auto-fill the information of the songs, supports customizing layout and skin, and able to convert the media, but it crashes and freezes a lot and repetitively play some skipped songs.
4. Xilisoft iPhone Transfer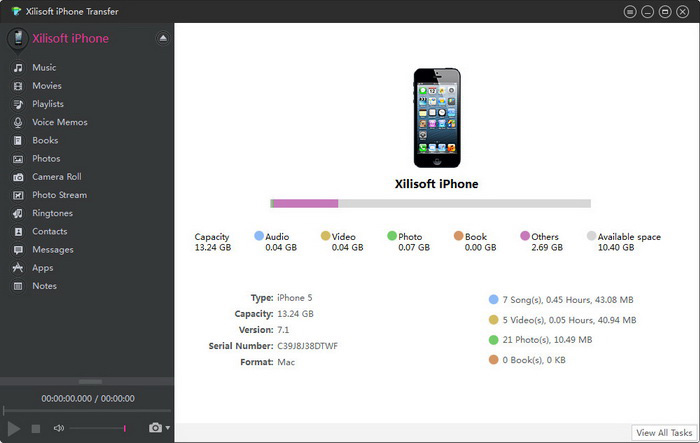 Xilisoft iPhone Transfer is also a decent option to manage your iPhone or iPod music, which can copy your files from iPhone, iPod, iPad to PC and vice versa. This software always works like a portable hard disk to manage your iPhone iPod music on the computer without any barrier.
5. Syncios iPhone Transfer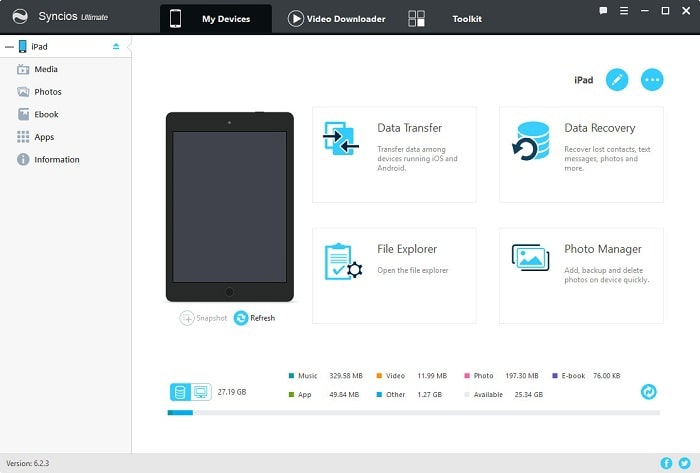 If you are tired of tedious iTunes and looking for an alternative, Syncios iPhone Transfer may help you out. It allows you to manage iPhone music files and access iTunes backup with ease. You can transfer your iPhone music data and other files between iPhone and computer. But you need to turn off iCloud before using some features.