Best Encrytion Software for iPhone iPad to Lock Your Private Info
By Joakim Kling - Last Updated: Contact Author

For your iPhone iPad data safety, best encryption software for iOS is listed here to help protect your iOS photo vault, private videos or important contacts in case that someone is trying to beat your iPhone iPad. Lock your iPhone backup and secret data with the password that only you know and place the encrypted files anywhere without worrying the privacy leak.
Best Encryption Software for iPhone iPad to Lock Private Data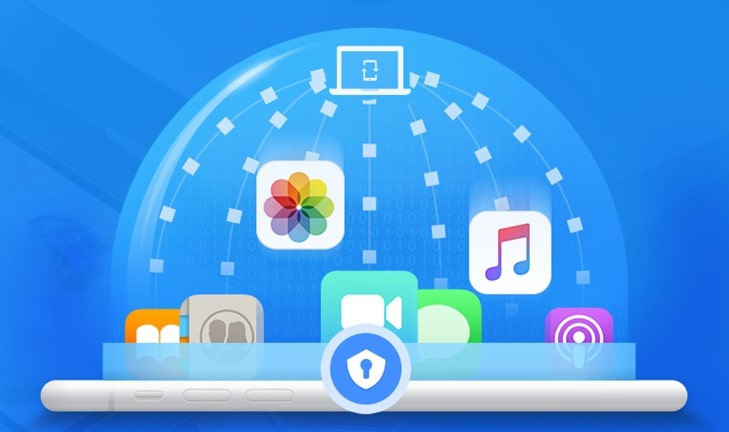 How to encrypt iPhone iPad? End-to-end iOS data encryption method DearMob iPhone Manager will help keep your data files secure forever.
✔ Password protect photo vault, secret videos, business contacts;
✔ 1-click encrypt iPhone iPad backup & restore;
✔ Ensure safe data file transfer & sharing among platforms;
✔ Meet the highest military encryption standard;
✔ 100% clean and safe. No creepy tracking.
Click to download the best encryption software for iOS content below:
What is Encryption? Why You Need Encryption Software for iPhone iPad?
In cryptography, encryption means that certain information or data is encoded to be unreadable and only authorized parties or man with password can access it. No matter you are business men or individual consumers, you need the encryption technology to safeguard private data and information transferring across networks or prevent some sensitive and secret photos from being stolen to be used for ransom.
So, best encryption software for iPhone metioned here is an ideal choice and easy way to avoid unconscious privacy leak and falling victim to a host of cyber crime, as the so-called safest mobile device iPhone had also encountered two crises recently that may leave your iPhone vulnerable, that are the leak of iBoot code and the new iPhone crack tool GrayKey. And led by DearMob iPhone Manager, top 3 best iPhone iPad encryption apps are prepared for your iOS data safety.
Top 3 Encryption Software for iPhone and iPad Reviews
No.1 DearMob iPhone Manager – Military-grade Encryption Software for iOS Data
For security assurance, DearMob iPhone Manager recently added U.S. military-level encryption technology to beef up itself as well as help keep your private information from being divulged when you try to transfer iPhone data to computer for backup, upload your photos to Cloud or just share contacts to your business partners across networks. Even if the computer is public to everyone or the online sites had encountered baleful attacks, none of your private and secret information will be leaked. No one can open and view the encrypted iOS backup without your password.
This iPhone encryption app Mac version adopts four types of encryption technology: 256-bit AES (Advanced Encryption Standard) designed to protect government classified information; 1024-bit RSA – widely used for secure data transmission; PBKDF2 (Password-Based Key Derivation Function 2) to avoid brute force attacks to vulnerable encrypted keys and Argon 2. While Windows version uses AES and RSA encryption techs.
With such high-level encryption technologies, you can lock your iPhone information in a 100% safe and private situation. Whatever data, secret photo vault or videos, online file sharing or external hard drive stored information, or anything you don't want others to see or know, DearMob iPhone Manager helps to encrypt files and allow you to expose these encrypted contacts, videos, photos and backups to any place without worrying the data loss or privacy leak. And this best encryption software for iPhone would not hold your decryption keys as there is no backdoor to anyone.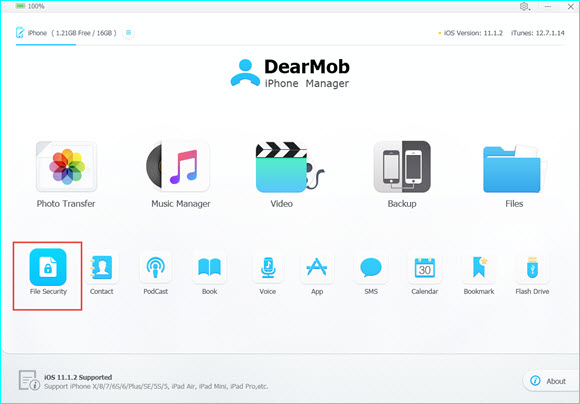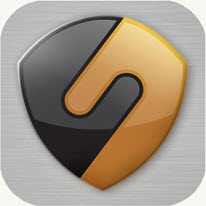 No.2 SecureSafe – Online Storage Solution to Encrypt iPhone Data
Powered by built-in password manager and with double encryption technologies (AES-256 & RSA-2048 encryption), SecureSafe holds the very high level of privacy protection to your important data including passwords, PINs, credit card details, images, videos, contacts, etc. This iPhone encryption app is a very easy-to-use online service app that you can online store and edit all important files anywhere anytime safely, and view any sensitive information in a safe mode without leaving a digital trace on the device even you're using a public WLAN. SecureSafe also ensures secure file sharing via HTTPS and authorizes your families or business partners to access your data if you are involved in an emergency.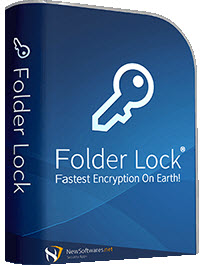 No.3 Folder Lock – Multifunctional iPhone Encryption App
Folder Lock iPhone encryption app locks everything you want to hide! You are allowed to password protect your personal files, private photos, sensitive videos, important documents, business contacts, ID information, etc in iPhone at will. And in this iPhone data encryption app, you can directly open and view any photo, video and document in a safe mode. Folder Lock is also a perfect WiFi manager app that you can use it to transfer files from iPhone to PC or vice versa without any cable.
Actually, most of the iPhone encryption software tools only encrypt a certain file, like messenger encryption method Signal/Wickr/Confide, email encryption solution ProtonMail, documents protection tool iTamer, etc. They often complete 1 task and are usually in-action encryption methods to protect privacy. While DearMob iPhone Manager, the military and government-grade encryption software will protect nearly all of your data on iPhone iPad during transferring and backup. No backdoors. No registrations.
Simple Guide: How to Encrypt iPhone Data Files
DearMob iPhone Manager offers several ways to encrypt your iPhone iPad data files considering your habits, and the following is the how-to. But before the encryption, please click the download button to install and launch this best encryption software for iOS on your computer.
How to Encrypt iPhone Backup?
Step 1. Once launch DearMob iPhone Manager, USB connect your iPhone to computer, tap Trust This Computer to continue if there is a pop-up message on your device.
Step 2. Click on Backup icon on the main UI of DearMob iPhone Manager, then you will access the backup section where you need to first check Encrypt your Backup, put the password that is used to encrypt and decrypt/restore the Backup, and then click OK.
Step 3. After DearMob iPhone Manager saving Backup password, you can click Back Up Now to finish the backup and the iPhone backup encryption process finishes right after that.
Notice: The password is only saved in your iPhone device, please remember the password you set, later restore needs this password. And iTunes and other software will also use this password to backup iPhone files.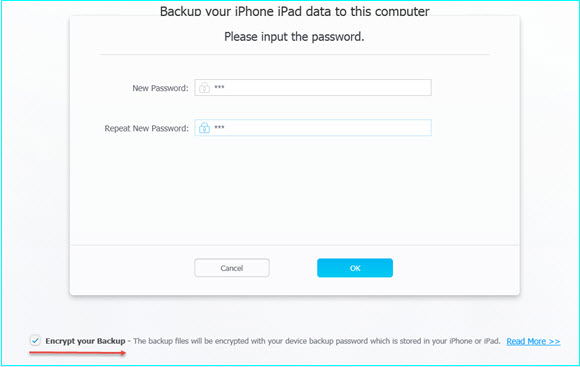 How to Encrypt iPhone Photos Videos Contacts Separately?
Step 1. Click on the Photo Transfer/Video/Contact icon on the main UI of DearMob iPhone Manager.
Step 2. Choose the photos/videos/contacts on iPhone you want to encrypt, check the Exporting files encryption and then a window of Encryption Password Setting will pop up.
Step 3. Read and agree the notice, input your password based on the requirements and then click OK.
Step 4. Finally, click Export to transfer the encrypted photos, videos or contacts to computer for safe backup.
Notice:
• Please remember the password you set.
• If you'd like to decrypt the photos, videos and contacts you just encrypted with DearMob iPhone Manager, you can click the File Security icon on the main UI of this best encryption software for iPhone iPad. Choose File Decryption option, add files or folder to this software, input your password related to the encryption and then click File Decryption icon.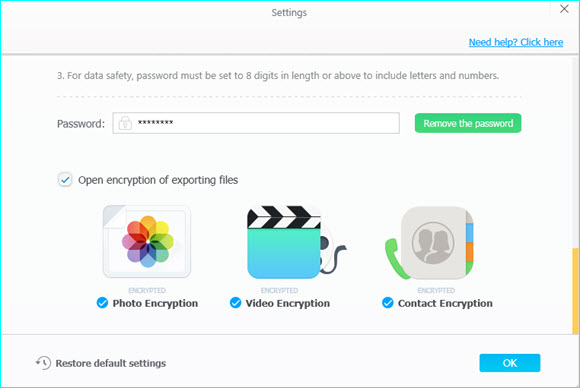 Apart from encoding your backup files, photos, videos and contacts, this program also serves as an iOS management tool to transfer data, back up and edit iPhone iPad content without data erasing warnings that iTunes throws at you.