By Joakim Kling - Last Updated: Contact Author

[No Data Erasing] Fix "iTunes Could Not Connect to This iPhone the Value Is Missing"

If you want a one minute solution, please jump here to rid yourself of iTunes error messages

Spotlight - DearMob iPhone Manager vs. iTunes
iTunes has gained global recognition as the official device management software developed by Apple Inc. Users can easily manage their iOS device apart from updating songs, syncing data and creating playlists using iTunes. But instances are also not rare where users encounter error messages such as "iTunes could not connect to this iPhone. The value is missing." If you have encountered similar problems previously, then you have come to the right place as today we are going to talk about methods of troubleshooting the same. This error might be triggered due to an invalid response received, 0xe8000015 errors and other reasons. Let's take a look at one such user complaint:
The phone was operator locked. I got it unlock by the operator. Then I did a factory reset via the menus. But something must have gone wrong in the factory reset. The phone did require a pin code at restart. Strange! Even more strange is that the old pin code did not work. I followed the instructions on the Apple web site for forgotten the pin code - two button reset while connected to our MacBook Air. Then I get the message "iTunes could not connect to this iPhone. The value is missing".
Before I started I confirmed that everything was up to date on the MacBook Air. Next I tried the same procedure on a Windows box. Same result. Finally we even went to the operator to see if they could fix it (using the original SIM-card). They couldn't – but they confirmed the phone was unlocked. I checked the system report on the MacBook and the iPhone it is identified as an iPhone on the USB port. What can I do to get out of this deadlock?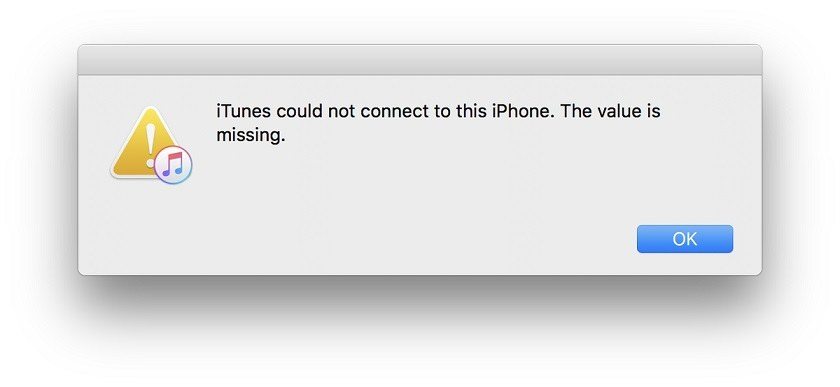 They seem to be different troubles, but all share the same cause - "Duplicate File Name Specified". Then, how to define which file name is duplicated? And why does this error message come out?
Possible meanings and reasons:
1.If what you are doing is one-on-one device syncing with iTunes, it is highly possible that it is either your iTunes compatibility issue or iTunes library corrupted/duplicated issue that caused the duplicate file name issue.
2.Unknown iTunes errors which may be solved by uninstalling & reinstalling iTunes all Apple components.
3.And if you are doing an iTunes backup/syncing of multiple devices -backing up both iPhone and iPad with duplicated filename, it is possible that you've messed up your backup with the other device. You might consider backing up or syncing your other device using a different backup tool.
5 manual solutions to battle with this "Value Missing" error message
Solution 1: Update iTunes To The Latest Version
Your iTunes need to be updated regularly and failing to do the same can cause the 'iTunes cannot connect to this ipad the value is missing' message to pop up. This can be done by following the steps mentioned below:
You will first have to launch iTunes and navigate to the Help tab.
Next you will have to select the 'Check for Updates' option from the drop-down menu.
iTunes will automatically search for and install the latest version of the software if the same is available.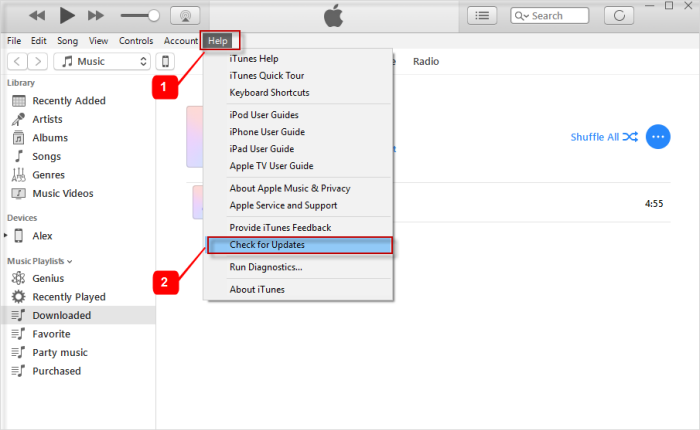 Solution 2: Update iOS To The Latest Version
This is another common area of concern which when left unattended can lead to problems like iPhone cannot connect to iTunes. You can ensure that the iOS is updated by following the steps mentioned below: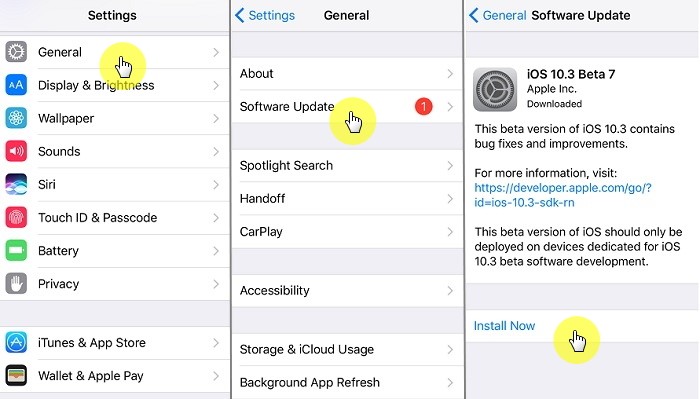 Firstly, you will have to navigate to the 'Settings' application of your phone.
Next, you will have to click on 'General' and ultimately 'Software Update.'
Here, you will be able to view the version of your iOS and update it by clicking the "Download and Install" button if the same is outdated.
Solution 3: Reconnect iPhone Or Restarting The Computer
Everytime we face the iPhone cannot connect to iTunes on computer problems, we have a tendency of jumping to immediate conclusions. But in most cases, a simple restart can solve your problem. If restarting the device fails to solve the issue, then chances are high that the problem is regarding the lighting cable being used. You can try and tackle the same by using another USB port. If the iTunes cannot connect to this iPad the value is missing error message disappears after doing this, then the problem was triggered by the lightning cable or USB port, both of which can be fixed up easily.
Solution 4: Uninstall & Reinstall iTunes
People usually shy away from reinstalling iTunes given the hectic process of re-downloading all the associated files. But this might serve as your ultimate nirvana if the iTunes cannot connect to this iPhone the value is missing message error cannot be fixed by simply updating the software. However, you need to follow the right steps of uninstallation as even the slightest of mistakes can lead to grave results.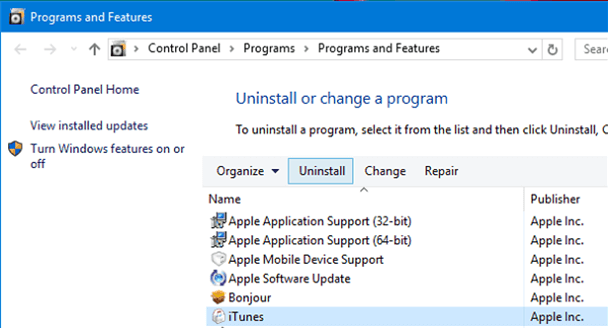 For uninstalling the software, you will first have to go to Start followed by Control Panel – Programs – Programs and Features. You will be presented with a list of items from where you need to click on iTunes followed by Uninstall. Here you can also uninstall related iTunes components like QuickTime, Bonjour, Apple Support software etc. You can restart your computer after finishing with uninstallation of iTunes and the error message is most likely to be solved by now. o iTunes can be reinstalled easily by visiting www.Apple.com and downloading its latest version. Next you will simply have to launch it and follow the steps laid down by the installation wizard.
When you connect your second iPhone to iTunes for backup after the first iPhone backup,iTunes will ask you to set up your second iPhone as new iPhone. Choose this option and iTunes will know it is another device so it will create another record.
Solution 5: Restore the iOS Device In DFU Mode
For placing your device to DFU mode, you will have to firstly shut it down completely and then connect it with a computer.
Instruction with pictures: How to Enter iPhone DFU Mode >>
Next you will have to hold down the Home and Power button for 10 seconds. You can press and hold the Volume Down button in the place of the Home button if you have been using iPhone 7/8/8 Plus models. In the case of iPhone X, you will have to press and hold the Volume Down button and Side button together.
Ultimately, you need to let go of the Power button but have to keep pressing the remaining button for three more seconds.
A message will next pop up in the screen indicating that the device has entered recovery mode. Once iPhone gets detected in recovery mode, you can restore or update it easily using iTunes.
Rocket fast solution to fix "Value missing" iTunes error message in 3 stepsSync iPhone without error, no data erasing.Easier & fast Solution
No more setting tweaks and endless try-outs. If none of the above solutions helps you win the error message battle, we recommend you to use DearMob iPhone Manager to avoid this connecting error message as a whole.
Backup/sync more than one iPhone/iPad iOS devices on one computer without messing up files;
Selectively backup, restore and manually sync any iPhone file as you prefer;
Safely sync and transfer iPhone data without duplicating;

Download DearMob iPhone Manager Windows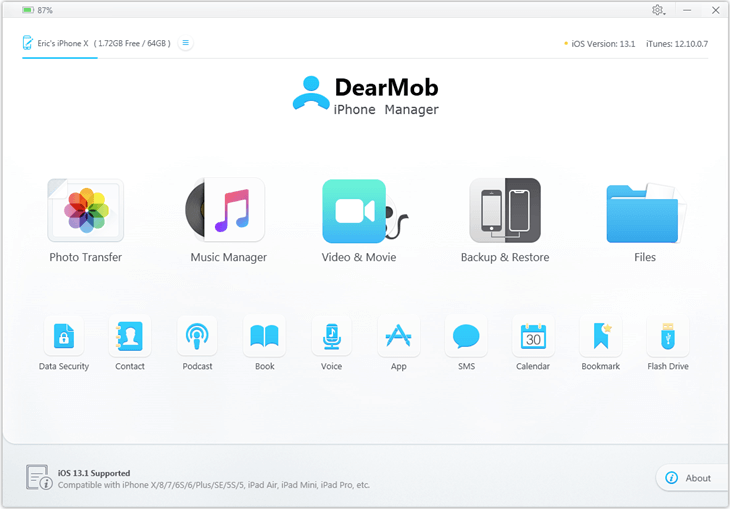 Step 1: Launch DearMob iPhone Manager
Step 2: Sync any file under the listed tabs as you prefer without iTunes nor its error code messages
Step 3: Backup your device by clicking backup tab to proceed without iTunes.
Final Words:
In spite of initially looking very complicated, you can solve the connection problem by simply trying out the troubleshooting tips listed above. But if you need foolproof results, then DearMob iPhone Manager can serve you extremely well.