How to Remove DRM from iTunes Audiobook iBook?
By Joakim Kling - Last Updated: Contact Author

In iOS 10 iBook store, you can directly purchase audiobooks for reading fictions without using eyes, or you can buy audiobooks from iTunes and sync them to your iPhone. Audiobook is a total bless for multitasking lovers and those who have to take long car trips. It is also a great way to relax and have fun with kids before going to sleep. However, audio books with DRM protection are confined to limited devices and what if your child want to have a book on his own audio player device? Remove DRM from purchased audiobooks can directly help you out.
Reliable Audiobook DRM Removal Software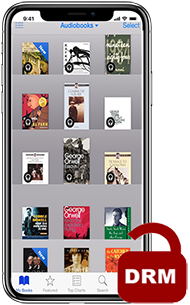 You Choose - DearMob iPhone Manager
1- Click iTunes Audiobook DRM Removal;
10x Processing Speed in Audiobook DRM Removal;
Batch Remove DRM from Audiobook Purchased in iBook;
Guarantee Audiobook DRM Removal without Quality Loss;
Is It Legal to Remove DRM from iTunes Audiobooks?
Well, for personal use only! In fact, the purchased DRM audiobooks only gives you the privilege to access those audio files as a user not an owner. In another word, you pay for it, but you do not necessarily own it just like you lease a car. The very problem is, we can easily share the rented car with our friend, but with Apple, we cannot share audiobooks on iTunes or iBook that easily since iCloud Family Sharing does not support it. You can anyway make use of Home Sharing to transfer an audiobook copy to family members' iTunes libraries before they sync it to their devices. If you decide to stick to the 100% legal method for sharing audiobooks, you can refer to Apple discussions.
How to share your audiobook with your family without DRM removal?
https://discussions.apple.com/thread/6600139?tstart=0
How to Remove DRM from iTunes Audiobooks or Purchased in iBooks
How to remove drm from iTunes audiobook and audiobooks purchased in iBooks? DearMob iPhone Manager is the best iTunes DRM removal tool to let you remove DRM from audiobook M4B M4A purchased in iTunes and iBook and transfer iTunes purchased Audiobook to iPhone. Without DRM protection, you can also add audio books to iPhone free.
▶ Audiobook DRM removal preparations:
Step 1: Download, install and launch DearMob iPhone Manager for Windows or Mac, make sure that your iOS system and iTunes are updated to the latest version and logged in the same Apple ID.
Note: No iTunes installation needed at all.
Step 2: Connect iPhone with your computer via a lightning cable.
Step 3: Purchase audiobooks from iBook or from iTunes to your iPhone.
▶ Remove Audiobook DRM protection:
Step 1: Visit the "Book" tab on DearMob iPhone Manager. There you shall see purchased ebooks and audiobooks shown in a list tagged with "DRM".
Step 2: Choose audiobooks you want to remove DRM from and click on "Export" which will take you to a dialogue box saying "This song is protected by iTunes DRM", click on "Remove"
Or you can :
Step 1: Visit the "Remove DRM" tab on the main interface, locate and select your purchased audiobooks under "AUDIO BOOKS".
Step 2: Click on "Remove DRM" button and the DRM removed audiobook will be saved in M4B format on your computer.
Note:
Please keep iTunes open throughout the Audiobook DRM removal process, otherwise the removal process could crash halfway.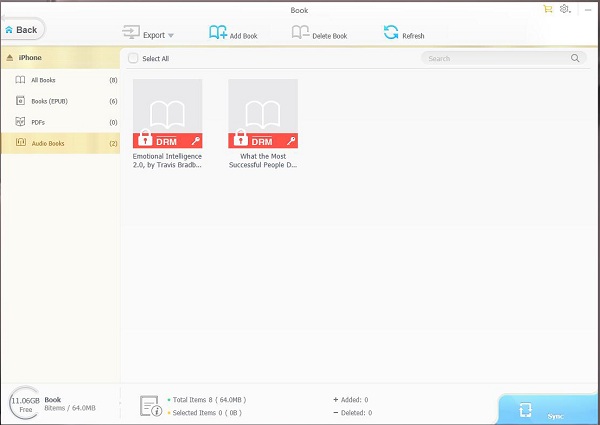 Get Audiobook DRM-removal Tool Now:
To remove DRM from iBook purchased audiobooks. You can surely make use of Requiem freeware or Tuneskit for $60. However, the former choice is out of upgrade and maintenance, while the latter is too expensive. DearMob iPhone Manager falls out to be the best choice among them all.
DearMob iPhone Manager is an all-in-one efficient DRM removal software that can remove DRM from Audiobook, remove DRM from Apple Music and iTunes movies, TV shows. With this iPhone Manager, almost all DRM protected media files can be turned into DRM-free and transferred to your Windows/Mac computers or shared to others without restrictions. If you wish for free DRM removal, you can give a try to the free trial version below: