It is highly recommended that you transfer videos from iPhone to Mac or PC when your iPhone is overloaded and needs alleviation. Movies, TV shows or video recordings are indeed the chief culprit making iPhone storage space shrink sharply, but you just can't abandon these clips because of their heavy bodies. So, copying videos from iPhone to Mac/PC is a win-win strategy to set your iPhone 12/11/XS/XS Max/XR etc free as well as retain any iPhone video you cherish.
Best Way to Transfer Videos from iPhone to Mac
No need for WiFi and no storage limitation, DearMob iPhone Manager can help move videos from iPhone to Mac and PC as many as possible without any data loss. Plus, it allows you to import videos of various formats downloaded from YouTube, Dailymotion, Facebook etc. to iPhone 12/11/XS Max/XS/XR/X/8/7/6S etc, and auto convert to iOS-compatible clips upon syncing.
1. Transfer Videos from iPhone to Mac via DearMob iPhone Manager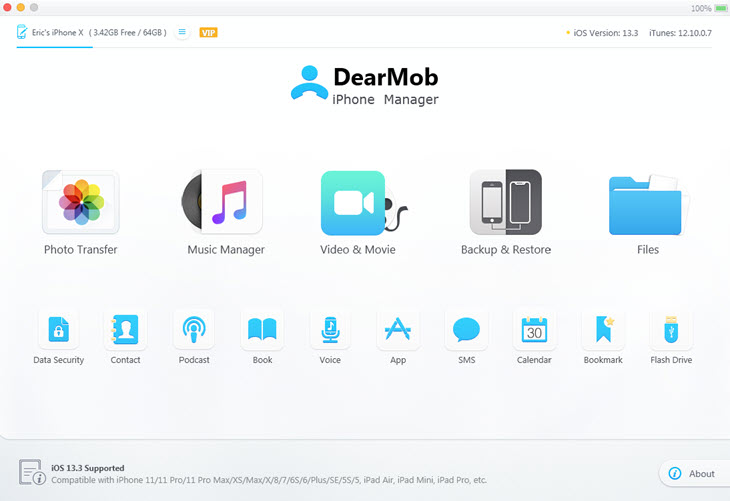 Step 1. Install and launch DearMob iPhone Manager on your Mac, and plug in your iPhone.
Step 2. Click on the Video & Movie icon to access the video transfer screen.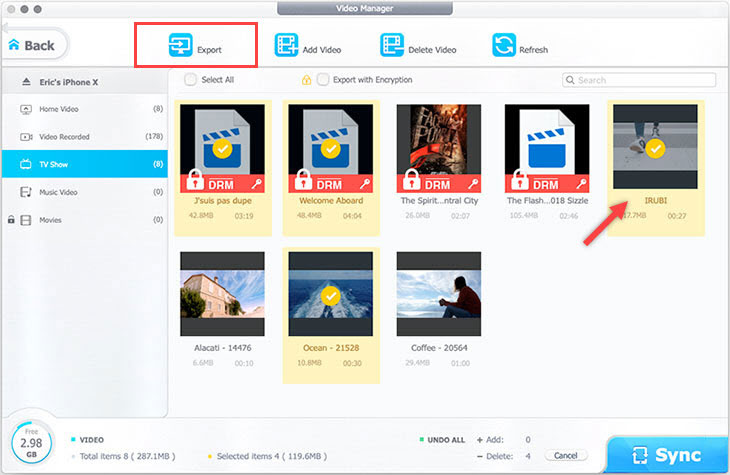 Step 3. Choose the videos you want to move to Mac and then click Export on the top bar.
Notice: Besides copying videos from iPhone to Mac/PC, DearMob iPhone Manager can also download videos to iPhone and batch delete the unwanted video clips. From the main UI, you can discover that this software tool does not restrict itself to video management. Photo transfer, music management and iPhone to iPhone backup are also shining and useful features that all of you iPhone users can make use of. It is easier than ever to manage iPhone messages, contacts, notes, books, DRM contents, etc with DearMob iPhone Manager as well.
2. Import iPhone Videos to Mac via Photos App
If you have iCloud photos library turned on, both on your iPhone and Mac Photos app, videos shall automatically show up on Mac.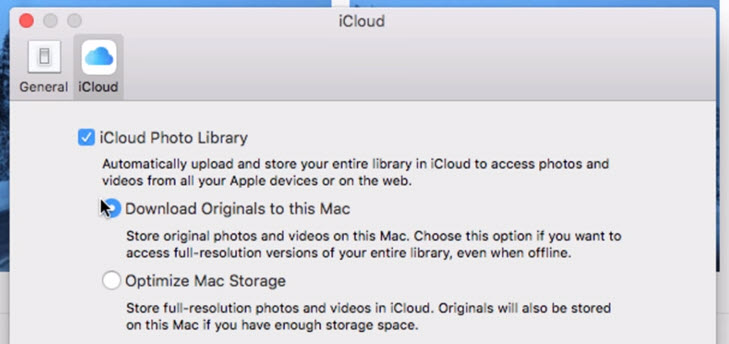 Toggle iCloud syncing: Mac menu > System Preferences > iCloud.
Videos will automatically showed up in the Photos app, and you won't need to import it again.
However, if you don't have enough iCloud storage, or simply have no desire to store media with the cloud thing, you can manually import videos from iPhone to the Photos app.
Step 1. Connect your iPhone or iPad to Mac.
Step 2. Launch Photos app if it doesn't pop up automatically.
Step 3. Click your device from the sidebar, and select the folder or albums to import.
Step 4. Import all new videos or selectively import desired ones.
You can find the videos in Last Import and in the Videos album.
If you want to copy iPhone videos to a normal folder, instead of in the library, method 1 is more suitable, or you can use the good old Image Capture utility.
What's the difference between Photos app and Image Capture?
In terms of transferring videos, the largest difference is where the video will be stored after importing.
Using the photos app, videos and images are stored in the Photos Library. When you first use the Photos app on a Mac, you will be asked to create new library to use. Since then, imported videos and photos are stored in that Photos Library. Manually move media files may lead to Library corruption.
With Image Capture, you can download iPhone video to any folder, and access, copy, edit them as you do with common files.
Another difference lies in the integration with other apps. If you like editing videos in iMovie, the videos in the Photos app are available right within the media browser.
3. Download iPhone Pictures to Mac via Image Capture
Image Capture utility regard your iPhone as a camera device. It has access to camera roll photos and videos. It allows you to download iPhone images to a folder, bypassing Photos library.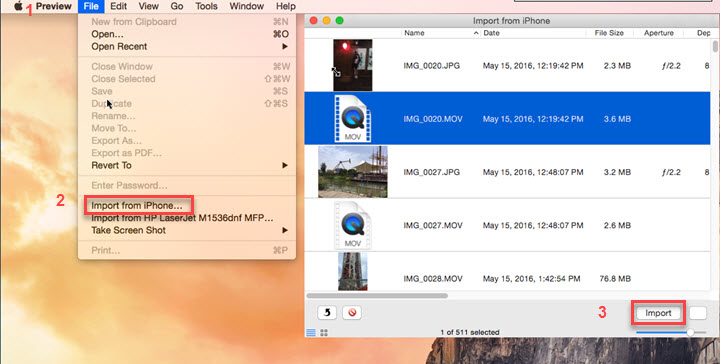 Step 1. Press down command + space to call out the spotlight search, and type Image Capture. You can also go to File > Import from iPhone.
Step 2. Select MOV and MP4 files, and specify the destination folder.
Step 3. Click Import.
Note: Some users reported an Image Capture error that leads to photo loss. If you choose to erase photos after importing, there are risks that Image Capture erases the photo before downloading, and fails to copy pictures to Mac.
4. Transfer Videos from iPhone to Mac via AirDrop
AirDrop is the best way to send one short video from iPhone to Mac. If you select multiple files or large 4K videos, you will see a "preparing" notice, and it is quite unstable.
Step 1. Launch Finder from your Mac, and click AirDrop on the sidebar. Step 2. In the AirDrop area, click Allow me to be discovered by: Contacts Only or Everyone. Step 3. On your iPhone, swipe up the control panel, and firmly press the middle part in the wi-Fi/Bluetooth section.
Step 4. Turn on AirDrop.
Step 5. Find the video you want to send to Mac, click the Share icon

, and AirDrop to your Mac.
Wrap Up
| Method | Video Type | Connection | Note |
| --- | --- | --- | --- |
| DearMob iPhone Manager | Camera roll videos, iTunes purchases, movies, videos in messages, Files, VLC, etc. | Wired | Option to convert live photos to videos |
| Mac Photos app | Camera Roll videos | iCloud syncing or wired transfer | Videos will be imported to the Photos Library |
| Mac Image Capture | Camera Roll videos | Wired | Videos will be imported to folders |
| AirDrop | Videos with Share option | Wireless | Best for small size videos |
Free download DearMob iPhone Manager: