Download Free Ringtone for iPhone and Apply without iTunes
By Joakim Kling - Last Updated: Contact Author

Get bored with default system ringtones on iPhone? Though iPhone is a relatively closed system comparing to Android, making it seemingly difficult to change ringtone or personalize it. In fact, you can download free ringtones online, and even turn any song on your iPhone as ringtone easily and quickly, without iTunes or Garageband.
Jump to the Ringtone Tips & Tutorials You Need
Part 1. Top 5 Websites to Download Ringtones for iPhone
1. Melofania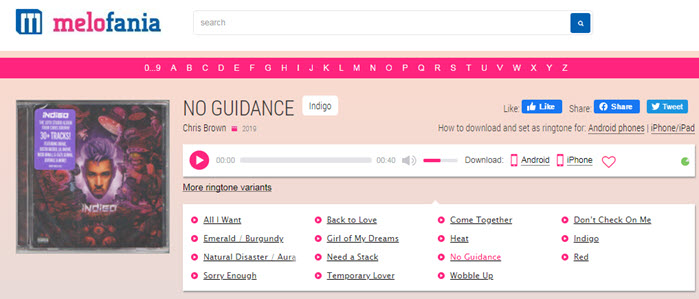 Melofania provides free ringtones in neat layout of album art. You can browse top ringtones or search by title or by artists. Nicely enough, it auto suggests similar genre and artists based on the ringtone you selected. All the tons have a length of 40s, right within the limit of iPhone ringtone length. You can stream the tones to see whether you like it and free download iPhone m4r or Android mp3. It has all those fabulous album cover retained for the songs.
2. Tones7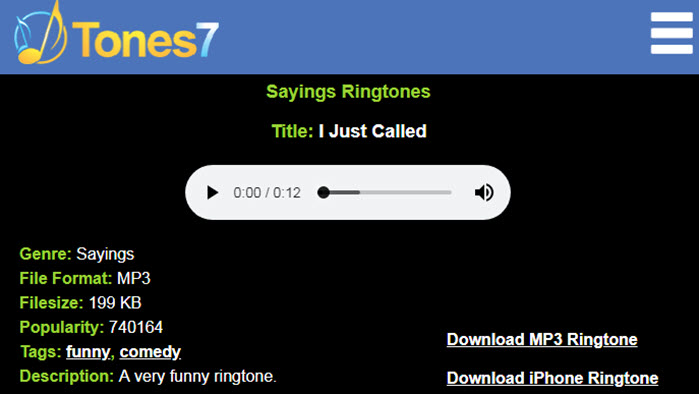 This site offers free ringtones and wallpapers for mobile phones. There are over 25 categories, including electronic, folk, hip hop, metal, RnB ringtones…You can use the search bar to find your favorite music and download it for your phone. Two options are available: download MP3 ringtone or iPhone ringtone, the later is in m4r format. Interesting enough, there is a comment section for each tone, and you can see how other people react of a certain ringtone.
3. iTunemachine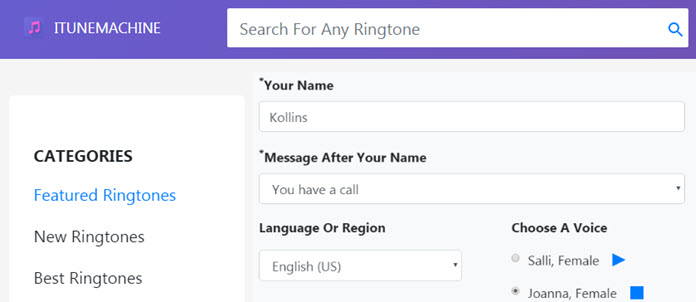 iTunemachine hosts tons of trendy songs and music effects. You can navigate to different categories such as alarm, funny, game, Christmas ringtones. It also offers a customizable option to create name ringtone to call out your name and ask you to pick up the phone. Plus, you can register on this site in order to save ringtones to your collections.
4. My TinyPhone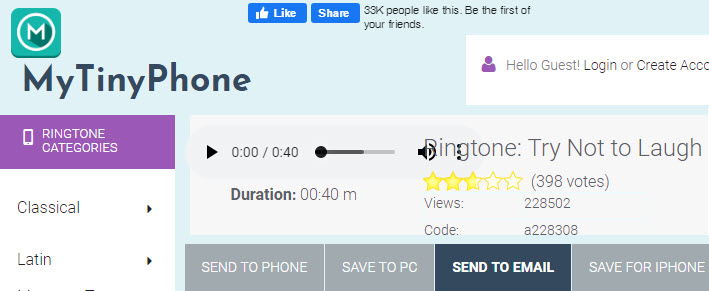 My TinyPhone features ringtones, wallpapers, apps and games for iPhone and Android. You can sort tons by genre, themes, and voice (the most popular "Mom is calling", for instance). Unlike other sites offering a simple download option, you can also send ringtones via email to yourself or to your friend.
5. Notification sounds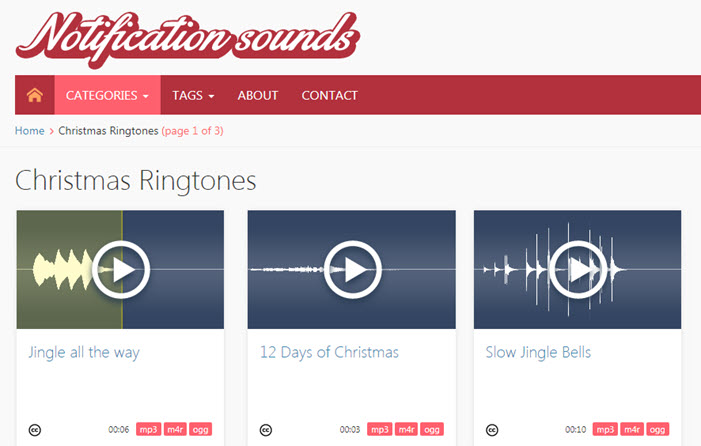 As you can tell from the site name, it mainly focuses on notification sounds for iPhone and Android phones, though you can also download ringtones. The best thing about this site is that, each tone is visualized for you to quickly choose. Once you got yourself a fabulous ringtones, you can consider changing the dull default alarm tones too.
Part 2. Make Your Own Ringtone from YouTube or Any Song
None of above websites offers the ringtone you are searching for? Don't be upset, you can create personalized ringtones from YouTube background music, Vimeo, Dailymotion, your voice memos, recordings and ringtongs from any TikTok video you like.
Step 1. Download and install VideoProc.
Click the picture below to visit VideoProc Official Site: https://www.videoproc.com/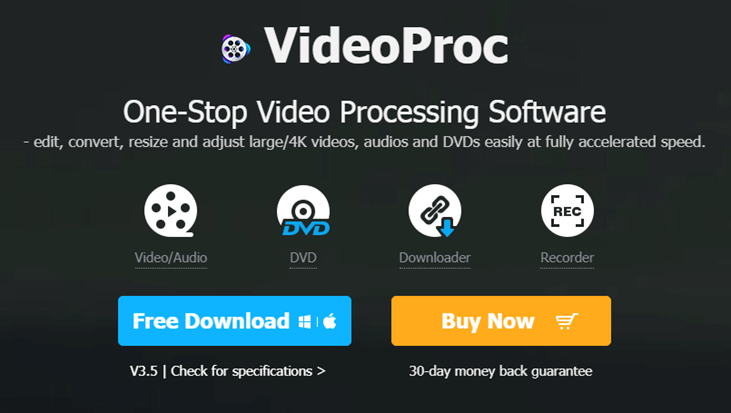 Step 2. Go to Downloader from mainscreen.
Step 3. Paste the link of the video with background music you like.
Once you have downloaded your favorite songs, you can trim and select the best part to sync to iPhone.
Read the step-by-step tutorial in Part 3.
Part 3. Easily Add Downloaded Tones to iPhone without iTunes or Garageband
It's easy to download ringtones for iPhone, you can pick one of the above 5 best websites to free download iPhone ringtones or use VideoProc for unlimited batch downloading. The real question would be how to apply downloaded ringtones to your iPhone.
Most ringtone sites suggest you to sync ringtones via iTunes, which has a workflow way more complicated than it needs to be, and it's risky if you frequently switch computers (iTunes will erase tones, music, photos synced from another computer).
Synced Download Ringtones: iTunes vs DearMob
iTunes workflow: download m4r ringtones online > connect your iPhone to iTunes > Click your device icon > scroll down and find 'On My Device: Tones' (If you are on iTunes 12.6 or lower version, you can find Tones bar from the horizontal menu) > Drag your m4r file > Sync.
DearMob iPhone Manager workflow: drag downloaded m4r ringtones > sync.
Free download DearMob iPhone Manager and see how easy it is.
Detailed Instructions to Sync Downloaded Ringtones
• You can sync to multiple iPhones from various computers, there won't be any content erasing risk.
Step 1. Launch DearMob iPhone Manager, and click Voice icon.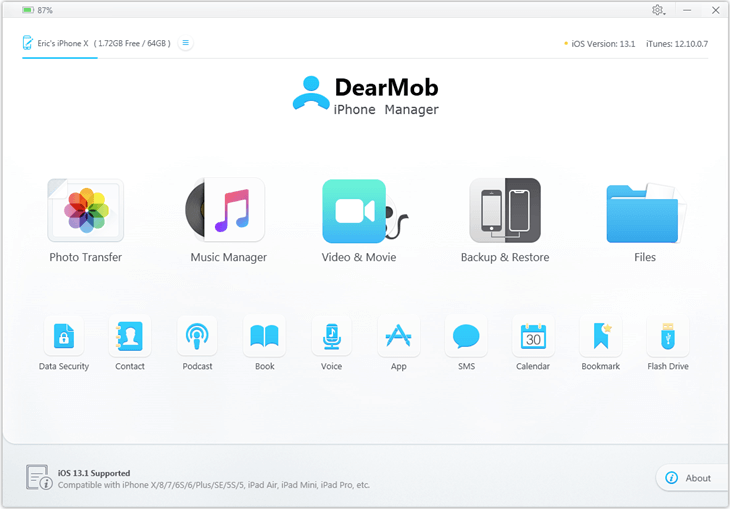 Step 2. Within Voice-Ringtone section, you can drag download tones, and click sync.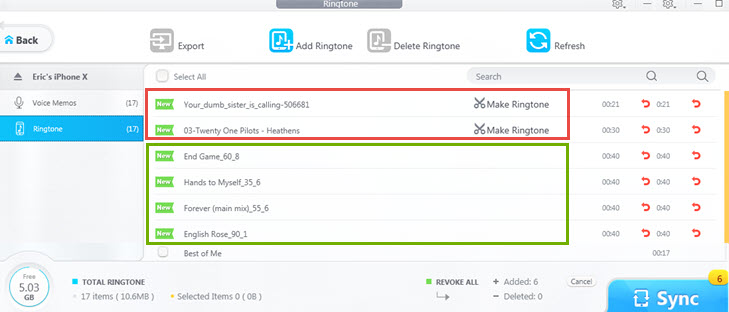 On your iPhone, go to Settings > Sounds & Haptics > Ringtone. You will see newly added ringtone here.
Tips:
For m4r ringtones, you can directly click Sync.
For non-m4r music, DearMob iPhone Manager will help you to auto convert to m4r upon syncing.
If your music is longer than 40s, you can click Make Ringtone to trim your songs.

Free download DearMob iPhone Manager to customize your iPhone ringtones.
• What's better, you don't even need to download tones, instead, you can browse any song on your iPhone via DearMob, and instantly create ringtones from your music collections.
Step 1. Go to Music from main screen.
Step 2. Hover to a song, click ringtone icon, select the part you like and click ok.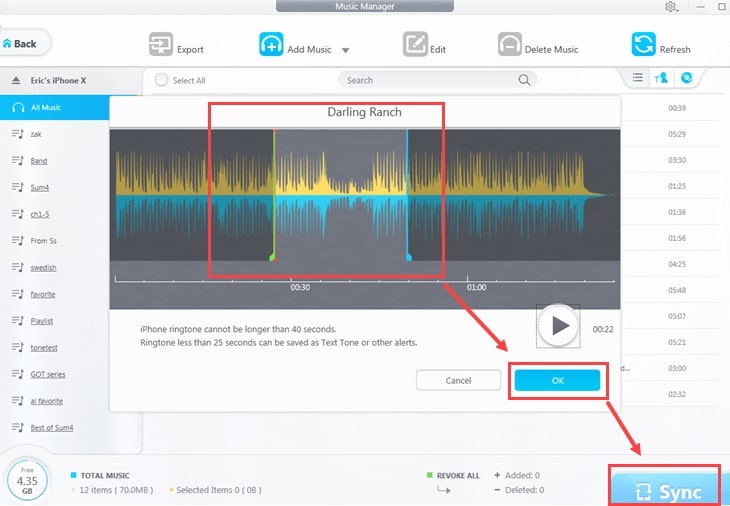 Step 3. Click sync.
For Mac users, you can get rid of iTunes or Finder on macOS Catalina, and start to create and sync ringtone to iPhone with 1-click.
What is DearMob iPhone Manager?
DearMob iPhone Manager is a desktop tool to manage iPhone, iPad, and iPhone touch. It helps you to backup iPhone, transfer contacts, photos, media files, App data, make ringtones, encrypt selected iPhone content, and facilitate iPhone to iPhone data migration.