Check out this list of top 10 Christmas ringtones download to get some fun for your holiday greeting calls. Setting funny Christmas ringtones for iPhone can simply add spice to your holiday enjoyment – Now check out this list of Christmas ringtones for iPhone and an easy guide to add ringtone to iPhone.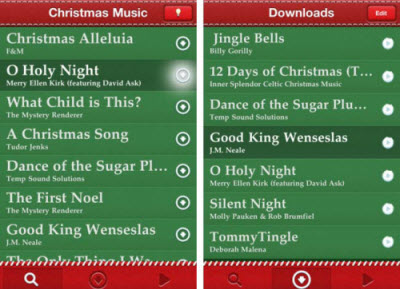 Trying to nab some nitty-gritty beautiful details for your 2021 Christmas season? If you're just looking for free Christmas ringtones for iPhone, end your search here as we've collected the top 10 Christmas song ringtones that are popular all the time. Use the free iPhone ringtone making tool – DearMob iPhone Manager to easily add Christmas ringtone for iPhone, while also guarantee you zero quality loss. First take a look at this list before you make up your decision.
How to Add Christmas Ringtones for iPhone Free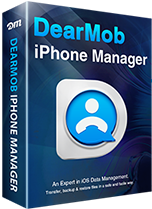 Add custom ringtones to iPhone in best audio quality
Trim Christmas songs into ringtones with 1-click
Support iPhone ringtone format: AAC MP3 M4R
Transfer music between iPhone & computer easily
List of Top 10 Christmas Ringtones Download
NO.1 All I Want for Christmas Is You – Justin Bieber On the chart of Christmas ringtones, you can almost always see Justin Bieber topping the list with his popular Christmas song ringtone like All I Want for Christmas Is You. Though this song was originally the work of Maria Carey, you won't regret downloading this free Christmas ringtone by Justin Bieber. By simply following the steps below you can download this free Christmas ringtone – All I Want for Christmas Is You.
NO. 2 Justin Bieber - Santa Claus Is Coming To Town (Arthur Christmas Version) Probably one of the oldest Christmas carol you've ever heard of, and it's almost the second best song to set as your Christmas ringtone. Originally composed in 1934, this piece of Christmas ringtone can be popular among your parents, or even grandparents. When Justin Bieber re-interpreted it in 2011, this Christmas song became an instant success again among the 1990's and 2000's. If you're fond of not only downloading Santa Claus is Coming to Town as your Christmas ringtone for iPhone, check through this list of best English Christmas songs to explore more.
NO. 3 A Coke for Christmas – Official Coca Cola Christmas Commercial Although some of you may never have thought of Coca Cola's Christmas commercial song into ringtone, truth is that they almost never disappoint you if you download Coca Cola commercial as your Christmas ringtone for iPhone.
Good news is that you don't only have Coca cola Christmas ringtone, its past commercials are all fantastic not one less, such as Shake up Christmas ringtone, and The Last Customer Christmas ringtone. If you're interested in making Coca Cola songs as your Christmas ringtone for iPhone. Consider the free DearMob iPhone Manager as your best iPhone ringtone maker.
NO. 4 Let It Snow! Let It Snow! Let It Snow!
NO. 5 We Wish You A Merry Christmas
NO. 6 It's Beginning to Look A Lot Like Christmas
NO. 7 Santa Claus is Coming to Town
NO. 8 Jingle Bell
NO. 9 A Holly Jolly Christmas
NO. 10 Dean Martin - Let it Snow!
How to Set Christmas Ringtone for iPhone
Before we get started, let's get prepared with audio files that you want to use as ringtone. Please use audio files that fall in the public domain, creative commons, or files that are royalty-free.
You can use VideoProc Converter to save royalty-free audio to your local storage. Next, we need DearMob iPhone Manager – simply the best free iPhone ringtone maker that grants you enough music to add ringtone to iPhone. You can repeat the instructions given below to create other Christmas songs ringtone as you please. Now first check out:
Step 1: Download DearMob iPhone Manager, install and launch it for your Windows/Mac.
Step 2: Connect your iPhone to computer with an original Apple USB cable.
Step 3: First make sure that your iPhone is recognized by the computer, and by the you see your iPhone name, click on "Music Manager", which takes you to the panel of your local music library.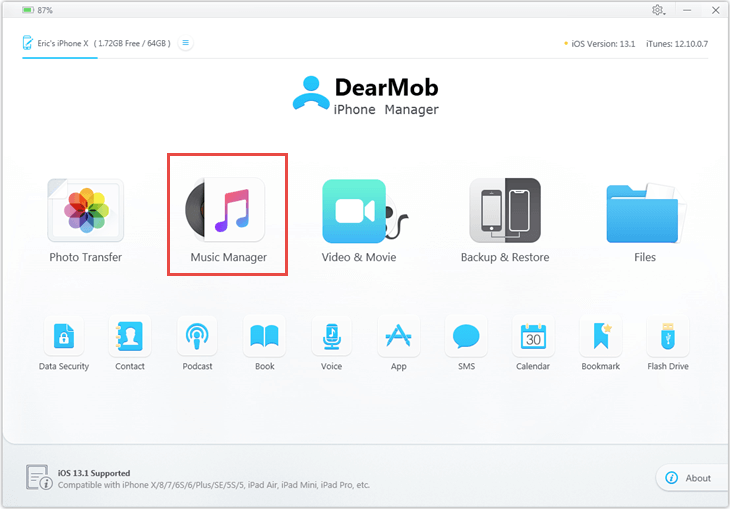 Step 4: If you already have the music stored on iPhone, just hover your mouse over its title to create your Christmas ringtone.

Step 5: When you see "Make Ringtone" icon, click to launch the Christmas ringtone DIY panel, where you can select a section of the music as you like.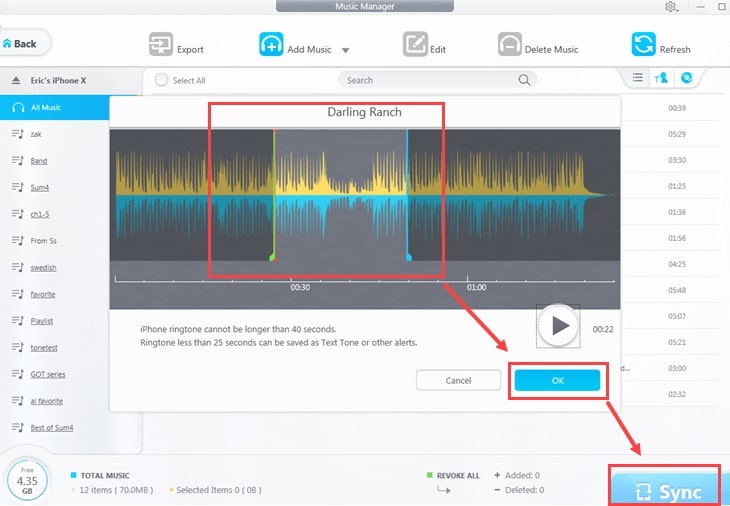 iPhone allows you to trim up to 40-second section of any audio file as a piece of ringtone.
Step 6: Click on "Stop" and then "OK" to apply this Christmas ringtone for iPhone.
Tips
If you don't have the Christmas music on your iPhone, first click on "Add Music" to import music from computer to iPhone. If you need the Christmas ringtone only, click on "Make Ringtone" before you tap "Sync", If you want to transfer bother the Christmas song & Christmas ringtone for iPhone, tap on "Sync" first > make ringtone.
DearMob iPhone Manager automatically generates the Christmas ringtone you just downloaded into AAC format, which can be instantly adapted to your iPhone setting panel.
Of all the recommended popular Christmas carols, which is your favorite? If you just can't get enough, this list of best English Christmas songs is going to help you. Whichever Christmas songs, carols you like, choose DearMob iPhone Manager to help you add ringtone to iPhone for free. Now click to find out.