By Joakim Kling - Last Updated: January 12, 2022 | Contact Author

How to Solve iTunes Sync Error 54 - Causes and Solutions

Want to get rid of iTunes errors once for all? Jump to last solution most user find life-saving [85%]
It's quite frustrating when you are trying to sync iPhone with iTunes and suddenly the process pauses and throws this warning at you "The iPhone cannot be synced. An unknown error occurred (-54)." Read on to find possible causes and corresponding solutions to fix iTunes error 54.

•Possible cause 1. iTunes folder wrongly set as "read only".
"Wait, but I've never manually set iTunes folder read only", in case you are confused, this might happen automatically after a computer system update. With folder property being read only, you have no right to make changes.
•Possible cause 2. You don't have full access.
iTunes sometimes misfunctions when you are not running it as administrator or you are in visitor mode on your computer.
•Possible cause 3. Incompatible files crash down syncing process.
A self-explanatory example would be iTunes purchases on your iPhone, such as DRM protected digital books, or any other problematic files that prevents iTunes from syncing.
•Possible cause 4. Outdated iTunes version.
Install newest iTunes version can avoid known bugs and be compatible with ever-changing iOS version.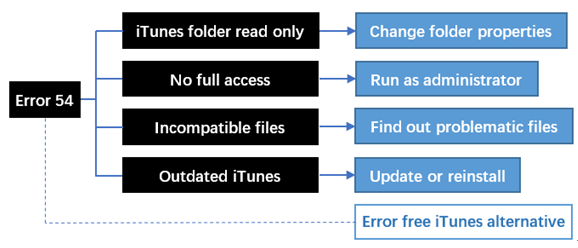 Fix iTunes Sync Error 54 by Dealing with 4 Common Causes
Troubleshoot iTunes Sync error 54 could be a time consuming and energy exhausting process as you won't be able to know in advance which part went wrong before you try out every solution. As a repurposed iPhone syncing tools, iTunes shall be here to solve problems, instead of creating one that takes us hours to fix. If you are fed up with iTunes errors, you can quick jump to Error Free Way to Sync iPhone without Data Loss>>
Solution 1: Change iTunes Folder Properties: Uncheck Read-only
Step 1. Go to music library to find your iTunes folder that contains your songs, iTunes library backup files etc.
Step 2. Right click "iTunes" folder and hit "Properties", then uncheck "read-only" attributes.
Step 3. Restart iTunes and sync your music library to see whether it's still locked and cause sync error 54 again.
Solution 2: Run iTunes as an Administrator
Step 1. Right click on iTunes, and hit properties.
Step 2. Go to compatibility, tick "run this program as an administrator" under privilege level section. Please note, although you can right click on iTunes to run as run as administrator directly, it might be a solution that only works once.
Step 3. Launch iTunes, transfer desired files to test whether sync error 54 still lingering around.
Solution 3: Test Which File Prevent iTunes from Syncing iPhone
Instead of syncing a large portion of files at one time, you can transfer a small amount of file per time. In this way, you can be more assured of which file is ok to sync, and which is problematic that initiate error 54.
Solution 4: Update iTunes to the Latest Version
Step 1 Launch iTunes, go to help > check for updates.
Step 2 Opt for update should you are prompted to do so, if iTunes says it is current version, try other solutions.
Note: Some iTunes users complain that iTunes won't update within the software, in that case, you will have to download the latest version of iTunes from Apple.com and install it manually.
Error Free Way to Sync iPhone without Data Loss [Flexible Transfer] Use this iOS Tool Compatible with All iOS, Windows & Mac OSEasy & Without iTunes
DearMob iPhone Manager is an iOS transfer and backup tool that doesn't require you to install iTunes. Many iOS tool on the market claims to transfer iPhone files without iTunes, but indeed you need to download iTunes in order to have apple related driver that comes with iTunes.
You can flexibly sync photos, songs, videos, contacts and other files within each module. There won't be awkward syncing constraints that you find in iTunes – trying to sync music but unwillingly get voice memos also copied into music playlist, messing your library.
DearMob iPhone Manager - Sync iPhone in the Most Flexibly and Error Free Way.
Light-weight, less than 50 MB (1/6 the size of iTunes)
Clearly display what will be transferred at your choice
Wide media type support: photos, videos, music, contacts, documents, etc.
1-click to set custom ringtone with your favorite songs

Download DearMob iPhone Manager on Windows

Let's take photo syncing as an example.
Hint: you can also drag and drop videos, songs, podcasts, voice memos, safari book marks and more data, no learning curve at all.
Step 1. Launch DearMob iPhone Manager, and click photo Transfer icon.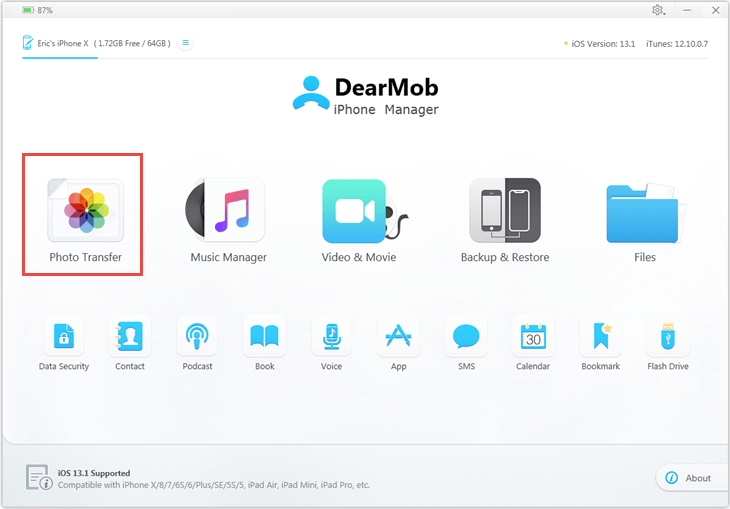 Step 2. Hit + icon at bottom left panel to create an album. Click Add Photo, then hit Sync.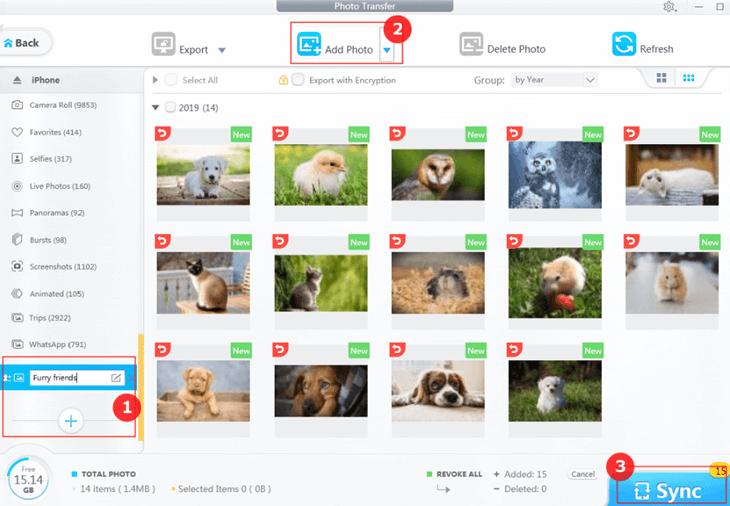 1. To sync photo from iPhone to PC, simply select desired photos and hit Export.
2. You can conveniently preview and transfer photos by media types and from WhatsApp, Instagram, VSCO, etc.
Final Words:
Hope you find solutions here to fix iTunes sync error 54. If you don't want to waste hours to troubleshoot iTunes error with all the possible causes, you might consider ditch iTunes and resort to easy and light weight iTunes alternatives to finish the syncing task. Dearmob iPhone Manager also helps you to make custom ringtone with 1-click and unlock DRM laden movies, songs and digital books.