By Joakim Kling - Last Updated: January 2, 2020 | Contact Author

[Solved] Your iPhone Has Never Been Backed Up to This Computer

If you are searching for a quick fix, click here: The solution most recommended by us [85%]

Spotlight - DearMob iPhone Manager vs. iTunes
iTunes Claiming iPhone "Never Been Backed Up"? But I Did Back It Up!
Apple's discussion forum and other online forums witness a series of compliant where iTunes says your iPhone has never been backed up to this computer, but indeed the users have hit the backup button – at least iTunes pretends to run the process. See how Apple users explain their dilemma:
Case 1: I am sure that I have already clicked "Back Up Now" and iTunes runs for a while and seems to complete (it didn't throw any error message at me).
Case 2: I when I click on Back Up Now, it greys out for about two seconds, then un-greys (goes back to being an active button), underneath which a message reads "Your iPhone has never been backed up to this computer".
Read on if you are facing similar situations.

90% Online Solutions Troubleshoot in a Wrong Order
If you are bothered by the same nuisance of iPhone backup not showing in iTunes, you have come into the right place. We saw tutorials troubleshooting this iTunes bug in a wrong sequence, and that may waste your time and energy – solutions such as purchasing another cable, reinstalling iTunes, updating iOS system or even your computer's OS system can wait. What's high on the list is to check whether tools other than iTunes can detect your backup file, which helps you to decide whether the problem arises from within iTunes or not.
Get the Real Fix: Backup iPhone with iTunes Independent ToolDiagnose which part goes wrong: iTunes, system settings or peripheral issuesTime Saving Solution
DearMob iPhone Manager is an iOS management tool and explorer to back up your iPhone and selectively transfer any file you want from your iPhone, and it runs without installing iTunes. So the logic is, if you succeeded to backup, then there is nothing wrong with your cable, USB port, iOS or OS system. You can go on to fiddle with iTunes and other Apple Service uninstalling and reinstalling or simply stay with DearMob iPhone Manager that comes with more features than iTunes:
Backup iPhone without error & display backup files
Flexibly transfer photos, videos, contacts for selective backup
Light-weight, less than 50 MB (1/6 the size of iTunes)
1-click to set custom ringtone with your favorite songs

Download DearMob iPhone Manager on Windows

Follow these steps to test if your iPhone can be backed up without iTunes:
Step 1. Launch DearMob iPhone Manager and go to "Backup".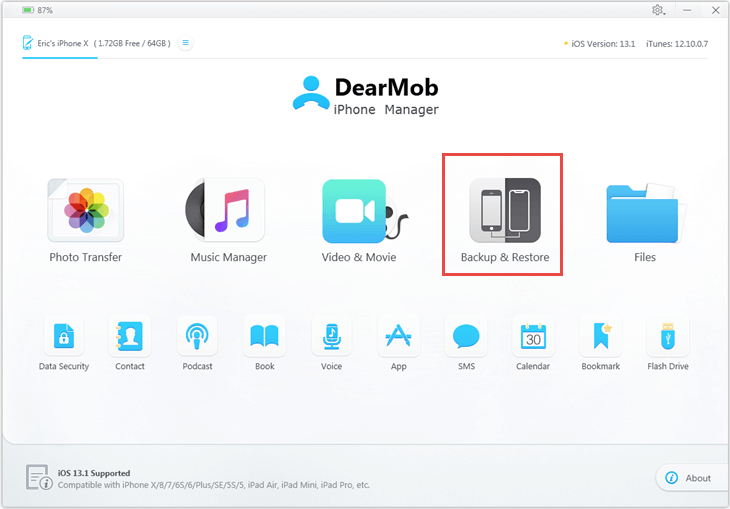 Step 2. Click "Back Up Now" to test if your iPhone can be backed up. You will see a success message when back up is completed so that you can rest assured that your backup file is not corrupted.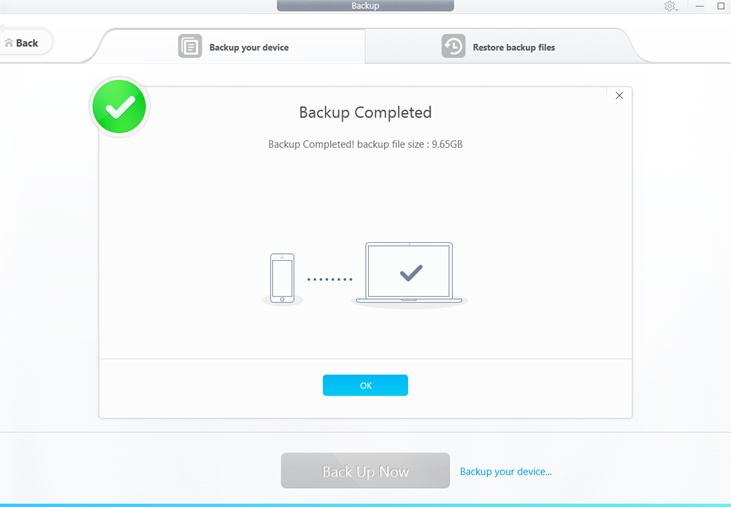 Step 3. Click the "Restore" tab to view your backup file(s). You can also view and restore previous backup files made by iTunes. All the backup files are listed clearly with the device name, backup time and iOS version.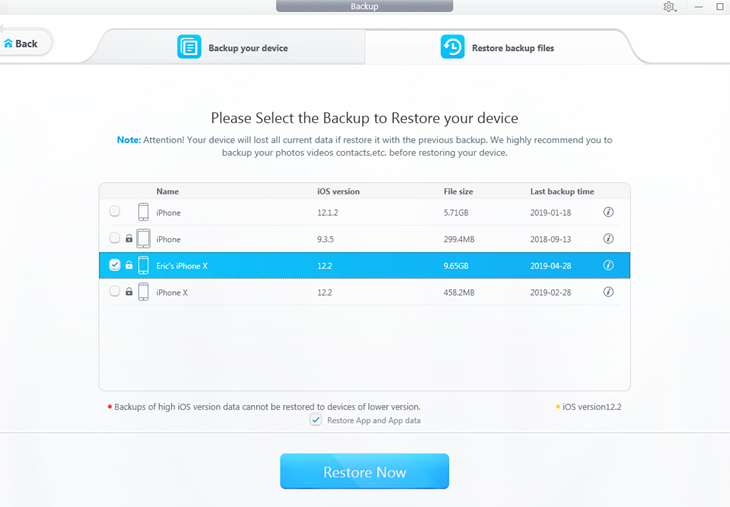 One possible reason that iTunes cannot find old backup file and keeps claiming you haven't backup your iPhone is due to problematic backup files you created previously. It might be an incomplete backup file when you don't have enough storage on the local drive, or the incremental backup mechanism somehow fails to add information to backup files with outdated iOS version.
So, the strategy is to go to the default path of the backup folder to manually change its name, which tricks iTunes into thinking that you don't have a backup folder, and auto creates another one. Make sure you have enough storage on your local drive before jump into the following steps. If you feel uneasy to fiddle with system files, you can go back to the easy solution to fix iTunes backup error.
Step 1: Quit iTunes and go to this location on your PC: C:\Users\YourName\Administrator\AppData\Roaming\Apple Computer\MobileSync\
For Mac users, go to ~/Library/Application Support/MobileSync/
Default backup path of Microsoft Store's version of iTunes C:\Users\YourName\Apple\MobileSync\
If you cannot find MobileSync folder, right click and hit properties, then uncheck "Hide" to display the folder.
Subfolders of "backup" folder are backup files of multiple iDevices such as your iPhone, iPad and iPod touch, each is named after your Device UUID, a 40 digit mix of numbers and letters.

Step 2: Change the name of your backup folder into any name you prefer, such as "Old Backup".

Step 3: Launch iTunes, connect your iPhone to the computer with data cable and click device tab.

Step 4: Now you can try whether "back up" works this time. If it starts to backup with rolling progress bar, a new folder named "backup" will be created by iTunes. Wait until it's done, and "never been backed up to this computer" shall disappear.
Important Notice: this workaround merely solves "iTunes won't backup" problem, you cannot restore data from "old backup" to your iDevice as iTunes only reads file from "backup" folder. However, you can move files back into the newly created backup folder for iTunes to read.
Go Back to the Easiest and Most Effective Solution

If you are not a tech junkie and feel at sea with code line, you can use DearMob iPhone Manager to backup your iPhone. It runs a robust backup process even when iTunes back up button is grayed out. If you want to manually interfere with iTunes error, shut down the program and follow these steps:
For Windows users:
Step 1. Press Windows+R simultaneously to call out Windows "Run". Mind that you don't mix "Run" with "cmd" that are prompted by typing "cmd" in the Windows search box.
Step 2. Copy following line into "Run":
"%ProgramFiles%\iTunes\iTunes.exe" /setPrefInt DeviceBackupsDisabled 0
You will need administrative privileges to finish the task.
In case you are curious, yes you can change 0 into 1 ("%ProgramFiles%\iTunes\iTunes.exe" /setPrefInt DeviceBackupsDisabled 0) to disable iTunes backup, if you want to.

Step 3. Hit "OK" and Launch iTunes to check whether the backup button is enabled.
For Mac users:
Step 1. Shut down iTunes and launch Terminal.
Step 2. Copy and paste the following command in Terminal: defaults write com.apple.iTunes DeviceBackupsDisabled -bool false
Step 3. Press enter and iTunes backup shall be enabled.

Go Back to the Easiest and Most Effective Solution

Final Words:
It is really annoying if iTunes says your iPhone has never been backed up to this computer while in fact you have clicked that "back up" button over and over again. Old backup file created by iTunes can be detected and restored by DearMob iPhone Manager automatically. This tool can also give your device an up-to-date fully backup without glitches, and that's only an iceberg of What DearMob iPhone Manager is capable of. In fact, you can selectively backup iPhone and transfer dozens of file types from iPhone to other devices, including photos, movies & TV shows, digital books, contacts card, safari bookmarks and many more.