By Joakim Kling - Last Updated: January 2, 2020 | Contact Author

Sync without Erasing - Fix "iPhone is Synced with Another iTunes Library"

Not interested in why this is happening? Jump to direct solution: sync iPhone without data removing
Scared by iTunes error message: "The iPhone (Name) is synced with another iTunes Library on (Computer name). Do you want to erase this iPhone and sync with this iTunes Library?"
No? Then you must have once or twice encountered other similar error alerts like "Syncing iPhone (name) with this iTunes library will replace media from another iTunes library on computer (name)" or "Are you sure you want to remove existing music, movies, TV shows, and books from this iPhone and sync with this iTunes library?"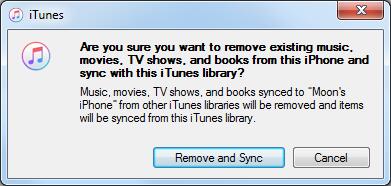 What they have in common is they all offer the similar "erase and sync/sync and replace/remove and sync" nuclear button to scare the sh*t out of you.
Part 1: "iPhone Synced with Another iTunes Library" FAQ
What does this "iPhone is Synced with Another iTunes Library. Do you want to erase this iPhone and sync with this iTunes library" mean? Due to Apple ID restriction, the relationship between your iPhone and iTunes is monogamy – one man one wife. Period.
Should I hit "erase and sync" button? What will happen? Though, according to Apple support, after clicking "erase and sync/sync and replace/remove and sync" button, only the selected type of iTunes related media from the old iTunes library will be removed. This is not a satisfactory explanation. Because we are not acknowledged of each file's storing/deleting status at all. Syncing accompanied with obscure batch replacement and removal is not what we want and won't take us far.
Part 2: What we want is to clearly KEEP Existing and ADD NEW!
According to TekCarta's databank, back in 2012, every U.S household was already equipped with 3 computers on average, for different purposes including gaming, business, personal use and family share use. And buying a new computer to replace the broken/obsolete ones also pushes us to build new iTunes libraries. Isn't it clear that it's impossible for an iPhone user today to stick with only one iTunes library on one computer all the time, and syncing iPhone contents with more than one computer is unavoidable?
iTunes sticks to its old-fashioned one-on-one device syncing concept- "You can only sync your iOS device with one iTunes library at a time". Besides, if you're using an iPhone, you can only add music or videos from a single iTunes Library. If you're using an iPad or iPod, you can add music from multiple iTunes Libraries, but videos from only one iTunes Library. This innate iTunes syncing/transferring limitation urges for a better alternative syncing solution.
[KEEP Existing and ADD NEW] Enable manually manage music and videos in iTunes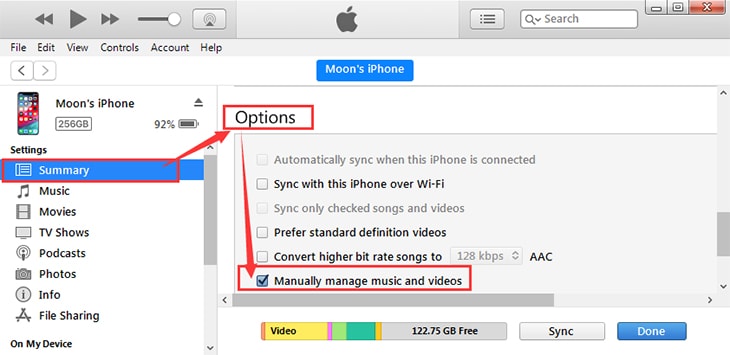 Step 1 Clicking on the iPhone icon in iTunes.
Step 2 Go to Summary.
Step 3 Stroll down to Options.
Step 4 Check the "Manually manage music and videos" box.
Step 5 Click Apply.
Caution: Enabling the option "Manually manage music and videos" is only applicable to iTunes media contents and you can drag them one by one or in batch from your iTunes library to your iPhone. Other files including contacts, sms, podcasts, voice memos have less options.
[KEEP Existing and ADD NEW] Bypass the innate iTunes sync limitationNo data loss, no replacement: syncing with multiple libraries without Apple ID restrictionSelective Backup Supported
DearMob offers 100% no-data-loss iPhone data management solution - "sync without erasing" – the quickest and safest way to deal with iTunes error message: "iPhone is synced with another iTunes library, do you want to erase this iPhone and sync with this iTunes library?"
It keeps existing files and adds new files to your iPhone/iPad/iPod devices from multiple computers, so that users will no longer suffer from the fear of data loss. Its one-to-multiple device syncing feature allows videos, songs, photos, contacts, ringtones, files, apps etc to be added to iPhone/iPad/iPod from any Windows 10 and macOS computers in batch or selectively without replacing the whole iOS inventory, taking control of each file in a flexible manner.
To detail, even those oversized or iOS-incompatible video audio file formats/codecs including FLAC, OGG, webM, will be auto compressed and converted to compatible ones before transfer. This undoubtedly makes video/audio to iOS transfer more efficiently done for instant and practical usage. "
Instead of clicking "Sync and erase" button in iTunes, you can manually manage all iPhone data in a highly selective manner with DearMob iPhone Manager.
Sync iPhone to iTunes without erasing/deleting
Two-way transfer without syncing
Sync one iPhone to multiple computers without losing everything
Sync multiple iPhone to one computer without duplicating

Download DearMob iPhone Manager on Windows

How to sync music video and all the other data from another iTunes library without deleting?
Prep 1. Free download DearMob iPhone Music Manager, install and launch it.
Prep 2. Connect your iPhone to computer.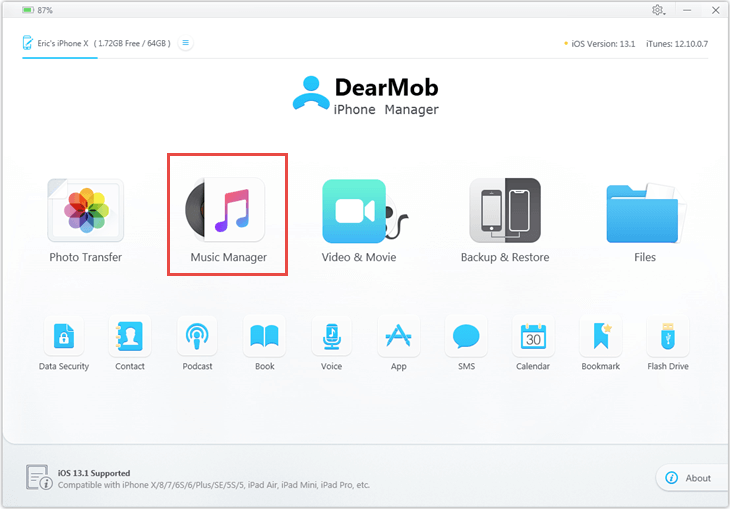 Step 1. Click on Music Manager >Add Music, or you can directly drag and drop a song.
Step 2. Click on Video button > Add Video, or you can directly drag and drop a video.
DearMob iPhone Manager's incremental syncing with multiple Windows 10/macOS PCs can surely forge an effective and crystal iOS content management for efficient daily use, successfully tracking every trace of your file and letting you to decide their leaving and staying.
Final words:
Apart from transferring files freely, users can even export local songs, videos, contacts out from iOS devices to computer for selective backups with encryption. Sensitive files can be individually kept locked on computers against breach risks.