Recently, a viral Twitter thread complaining about iTunes purchases missing brought Apple iTunes up again to the dispute forefront. And the major controversial point is that Apple, defending itself as just a storefront, naturally cannot prevent content providers from removing users' purchased items from global-wise iTunes stores which vary from country to country. Though this case has been already addressed and put in black and white in Apple's long terms of service agreement, it has never drawn our attention until now:
"You may be able to redownload previously acquired Content ('Redownload') to your devices that are signed in with the same Apple ID ('Associated Devices'). Content may not be available for Redownload if that Content is no longer offered on our Services."
To put it in other words - "Blame the content providers. It's not our fault!"
DearMob iPhone Manager Lets iTunes Purchases Travel with You
DearMob iPhone Manager is a professional iPhone media manager designed to perfect your iOS data management. It strips off DRM wrap from your purchased music, movies, and audiobooks to truly make what you've purchased yours! You are free to take songs, movies, and books you bought wherever you go regardless of content providers' actions or destination countries' policies.
However, not all iTunes purchase disappearing issue results from off-shelf content providing. When you upgrade to new iPhone models or change to a secondhand iPhone, or change countries, iTunes movie/music purchases can also go missing. And below are the most reported iTunes music/movie purchases not showing error cases:
"I bought £20 worth of a series only 12 downloaded and I can only hear them and not see them!"
"Bought an album on iTunes and now it's gone. The purchased album not showing up in the Music app..."
"I lost about 25 songs when I upgraded to an iPhone..."
"I bought an iPhone 5 on eBay, and after an issue arising of the previous owner not disabling his iCloud and then clearing that up, I've supposedly got my iCloud synced up. Here's the problem. Purchased music on my Mac won't transfer to my new phone, and I can't download those songs from iTunes directly to my phone."
"The song isn't anywhere in my library, or my Purchased playlist, or my purchase history, or even my hidden music. It's not anywhere associated with my account. That's why I tried to re-download it. But then I went to the song in the iTunes store, and where it normally says 'Download' it said 'Purchased' and the button was grayed out so I couldn't click it."
"Songs that I have purchased are missing in iTunes..."
What a de ja vu! Remember what Amazon has done to Kindle readers by removing ebooks without warning in 2009? It seems that the idea of truly owning your purchased-digital content just won't pan out as expected on these online digital media stores. And they won't travel with you from country to country. And isn't this giving a good argument for physical Blu-ray/DVDs to expand life for many more centuries?
To sum up, those cases are:
iTunes purchases not showing up in theiTunes store on iPhone for re-download
iTunes purchases not showing in the iTunes store on a computer for re-download
iTunes purchases not showing anywhere for re-download
Go through the below solutions to address your iTunes purchases not showing a problem.
iTunes Purchases Missing: Overall Restart
Solution: Restart the iTunes store app, restart your iPhone, and sign out and in your Apple ID. These moves are made to ensure that no system issues or other invisible issues stand in the way.
iTunes Purchases Missing: Hidden iTunes Purchases
Solution: Check if you have hidden your iTunes store purchases:
In iTunes - sign in to iTunes with your apple ID > Account > View My Account > scroll download to "iTunes in the Cloud" tab > Hidden purchases > tap Manage button > Click Unhide button below the item you want to re-download.
iTunes Purchases Missing: Greyed-Out "Purchased" Button
Solution: Light up the greyed-out "Purchased" button
Search for the individual item missing in the iTunes store, ready to buy it again. When it shows $ xxx instead of "Purchased", you can click to buy it. Eventually, it will inform you that you have already bought it and then give you the option to re-download it for free.
Aside from basic features to backup iPhone photos, music, and videos, DearMob's best iPhone backup software stands ready to work with other file types that matter: it transfers ebooks from iPhone to computer, saves text messages from iPhone, as well as calendars, notes and voice memos… pretty much everything that matters to you on your iPhone can be backed up to a computer.
iTunes Purchases Missing: Contact Apple iTunes Support
Solution: Contact iTunes support to get an official answer. Email or report to iTunes Support, and they will get to you very quickly on guiding you to detect possible causes and restoring your purchases. This might save you lots of time one-on-one instead of finding the correct answer from millions of similar cases online.
iTunes Purchases Missing: Use DearMob iPhone Manager to Get Back the iTunes music library
Solution: DearMob iPhone Manager is packed to invisible hands to smartly manage all your iTunes purchased music, movies, audiobooks. It rips DRM camouflage off from purchased items and breaks iTunes transfer limitation - to transfer iTunes purchases out to none Apple devices like Windows computers, NAS, DAS, Clouds, with encryption if needed. It efficiently prevents iTunes purchases not showing up in purchased playlist and avoid iTunes songs missing from purchased album by letting you have a sound ownership over the contents.
For detailed guides, download DearMob iPhone Manager and follow the guides below: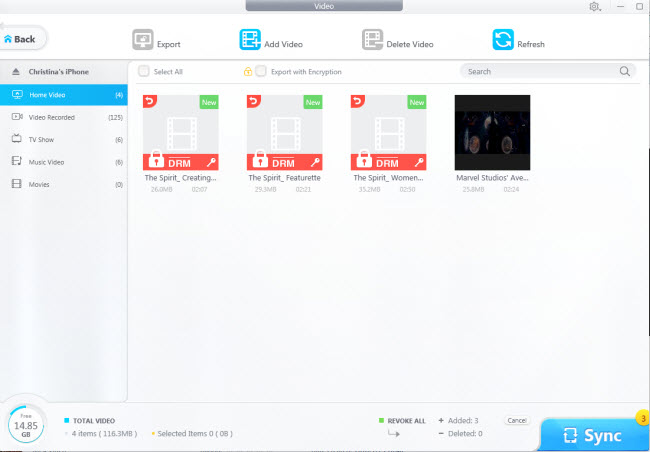 iTunes songs missing from purchased album? Losing iTunes library due to the change of countries? DearMob iPhone Manager is designed to prevent those misfortunes from happening and provide a a solide music/movie/books management and iOS device management. Unlike iTunes and the set of Apple locked-in services, DearMob iPhone Manager directly frees your contents as if you are on an Android platform. It brings Androids' openess to your Apple closed ecosystem while you can still enjoy the safety without jailbreaking iPhone/iPad/iPod.