[Fixed] iPhone Backup Failed Not Enough Space
By Joakim Kling- Last Updated: Contact Author

"My iOS 12 software update failed! Probably I need more space for the software. The thing is, I kept receiving the iPhone backup not enough space alert when using iTunes to backup iPhone, that been the case, what should I do to make enough space for iOS 12?" - Jeremy, iPhone 6 Plus.
The problem of not enough storage to backup iPhone kept bothering Jeremy when he attempts to upgrade to iOS 12. If you run into the same problem like Jeremy, check out the quick fixes below:
Quick Fix - iPhone Backup Failed Not Enough Space
You Need - DearMob iPhone Manager
No iTunes Required to backup iPhone;
100% success rate backing up iPhone data;
Backup iPhone photos, music & contacts & more;
Support backing up iPhone data with encryption.
There are several cases when you can run into iPhone backup failed not enough space problem, here we've collected the list of possible cases and give out corresponding solutions. If you're like me, wishing to backup iPhone to make space for iOS 12 upgrade, but the constant backup failure is almost driving you crazy, here's how you could solve iPhone backup failed not enough space error.
iPhone Backup Cannot be Saved Because of Not Enough Space on Computer
This is the majority that happens to users whose iTunes won't backup iPhone: when you use iTunes to backup iPhone data, such error alerts may come out saying "iPhone backup failed not enough space on computer". Receiving this notice, what you should do first is to check out the real spare space on your Windows computer or Mac, especially the space left on the disk set for default iTunes backup.
Where is iTunes backup location?
iTunes usually occupies: \Users\(username)\AppData\Roaming\Apple Computer\MobileSync\Backup\ to store iPhone backup files, which means you should clear up disk C:/ if your iPhone backup cannot be saved because of not enough space on computer.
Follow the steps given below to solve iPhone backup failed not enough space problem.
Step 1: Upgrade iTunes to the latest version, and use an original Apple USB cable to connect iPhone to computer.
Step 2: Should you run into such problems as iPhone not connecting to iTunes properly, click iPhone not connecting to iTunes for the answer.
Step 3: Wipe out the previously corrupted iPhone backups. Please kindly know that iTunes adopts a backup manner that unsuccessful backups may lead to false messages like iPhone backup failed not enough space.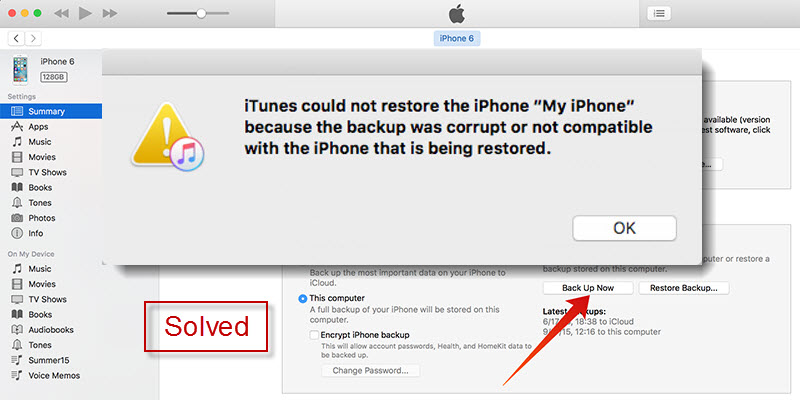 Tips and Notes:
If you tried all the 3 steps above but still receives the same message: iPhone backup failed not enough space, try the best iPhone backup software for good in that it perfectly outreaches the iPhone backup function of iTunes in all rounds.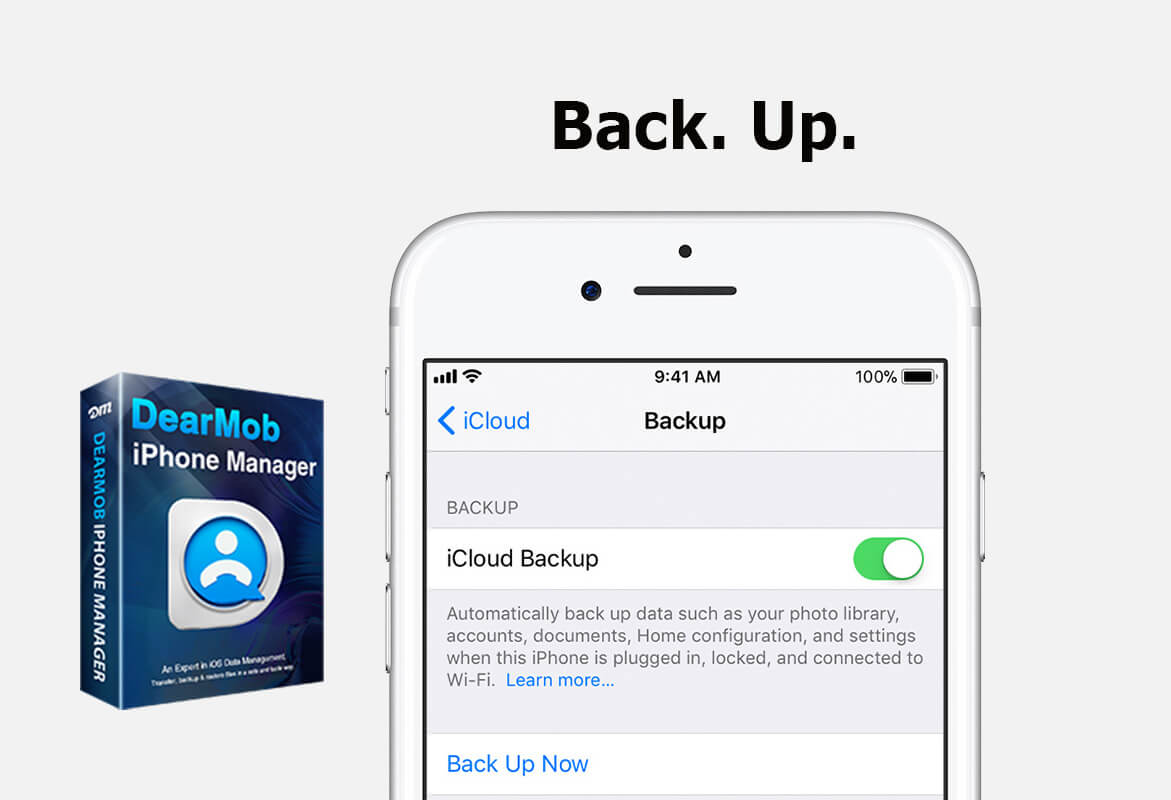 The best way to backup iPhone iPad to computer is DearMob iPhone Manager - No false space-left report, easy & superfast iPhone backup, support iPhone backup in an encrypted manner, now check how to download it:
• 1-Click backup iPhone iPad to Mac Windows;
• Backup iPhone photos, videos, contacts with military-grade encryption;
• Backup & restore iPhone data anytime you want.
iPhone Backup Failed Not Enough Storage in iCloud
Another commonly used method to backup iPhone is iCloud: For every iOS account user a first 5GB free quota of iCloud space is available. Once you run out of the 5GB quota, even when you're halfway in a backup process, you may run into such an alert "this iPhone cannot be backed up because there is not enough iCloud storage available. You can manage your storage in Settings." Now check out for detailed solutions on iPhone backup failed not enough storage in iCloud.
Solutions:
First, considering the monthly charging fees of iCloud backup plan, you may consider switching to a lifetime free upgrade iPhone backup & restore software – DearMob iPhone Manager. This tool empowers you to backup iPhone photos, music, videos, contacts, SMS and calendars, etc to computer or Mac with a mouse-click. If you get the full version of DearMob iPhone Manager, backing up an 256-GB crammed up iPhone would be as easy as ABC if you have enough spare space on Windows or Mac.
Second, you may consider upgrading your iCloud storage plan so as to backup iPhone to iCloud. This is relatively convenient in that iCloud backup takes place as long as you're Wi-Fi connected and click on "Backup Now".
Thirdly, there are some APP data that was already backed-up using iCloud but are not quite necessary. When you're really running out of the iCloud storage so iPhone backup failed not enough space took place, but you don't really feel like upgrading the current iCloud storage plan, then deleting some of the unnecessary APP data would save you out from the dilemma of iPhone storage almost full.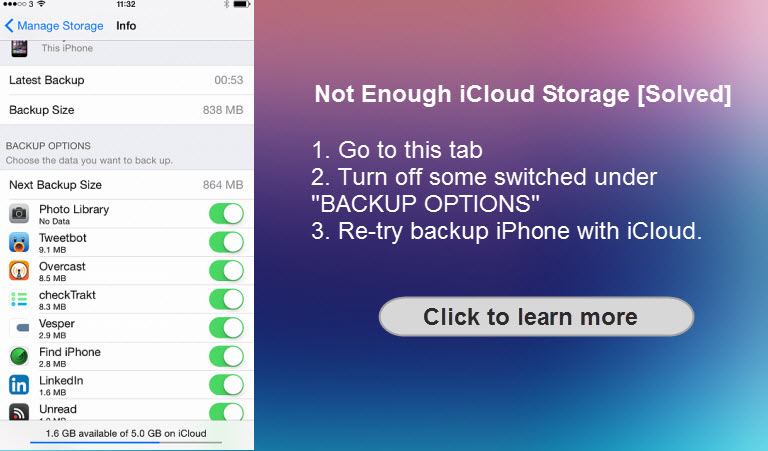 iPhone backup failed not enough space problems occur to users who rely on Apple's native backup solutions when they need to backup and upgrade to iOS 12/13. DearMob iPhone Manager can kick off all the unfriendly errors in the past to provide best iPhone backup experience.