When it comes to manage photos on iPhone, there are several aspects to consider: how to deal with photos when the quantity grows too large and take up too much storage space? Is there a way to group and categorize photos by albums and folder? If we are about to delete photos to free up space, how can we ensure a full backup of photo copies to computer and then go ahead to remove photos? All your questions are well catered in this post.
1. Backup and Transfer Photos
To better manage photos on iPhone, the first thing to consider is to have a backup, or even multiple backups of your photos. In this way, even if your device goes missing, you still have the chance to restore all the photos.
Backup photos on iPhone with iCloud
iCloud photos ensures that all the photos are synced across all your devices with the same Apple ID, and these photos are stored on iCloud server. It offers a 5GB free storage space, meaning you could back up about 3,000 to 4,000 pieces of photos – assuming each photo takes up 1MB, and the storage are mainly used for photos, instead of other categories such as notes, files and app data.
Learn more: keep your photo library safe with iCloud >>
Pros:
Automatically done once you toggle on iCloud photo syncing.
Manage photos on iPhone, iPad, Mac and Apple TV when signing in with same ID.
Deleting one photo from iPhone will also cause deletion of that photo from across all your other devices and iCloud server.
Cons:
Limited free storage plan to manage photo.
iCloud photos might change the photo timestamp against your will, order photos as days created instead of days taken.
As you can see, this method is more about syncing than keeping a true backup copy, which brings us to the second method below.
Transfer iPhone photos to a computer as a separate backup copy
To manually backup iPhone photos offline, you can count on a computer, external hard drive or thumb drive to store a copy of all your photos. The best thing is, you can store hundreds or thousands of gigabytes of photos, as long as your hard drive is large. The only drawback is, you might forget to backup and manage photos regularly.
Learn more:
Copy iPhone photos to Windows PC >>
Once you get all the photos off iPhone to a computer, you can then copy these pictures to external hard drive.
Backup entire iPhone so that photos are included in the backup file
Unlike above mentioned methods, which allows you to view photos, giving your iPhone a full backup with photos included won't let you view the photos. It's like how you backup your computer, with backup files ready to be restored upon request. Whether you are using offline iTunes full backup or online iCloud backup, here are two things to be noticed:
Photos are not included in iCloud Backup if you turn on iCloud Photos.
iTunes backup won't include photos if you turn on iCloud Photos.
Learn more: Six methods to backup iPhone >>
2. Delete Photos with Caution
With high resolution camera, photos soon eat up the storage space on iPhone before you even notice. Once you make sure photos are copied to a computer, you can delete these photos from iPhone to free up space.
It is worth noting that there are two types of photos on iPhone:
Pictures synced from a computer;
Pictures generated on iPhone (taken by camera, saved from Apps, download via safari or other browsers).
For pictures synced from computer, you won't be able to find the delete icon on iPhone, and it requires some workaround to delete these synced photos.
For pictures generated on iPhone, you can directly delete them using the iPhone, or plug iPhone to a computer and delete photos more flexibly.
To delete photos on iPhone:
Go to Photos > Albums > Media Types, and you shall see photos by type, making it easier to spot most unwanted photos to delete.
To delete all photos from iPhone on a computer:
For instance, you might not notice that many photo bursts take up too much storage, or you simple forget to delete them since they are created years ago. You can check photo by categories on iPhone or using Mac photos app or iPhone device manager apps on Windows and Mac. DearMob iPhone Manager can detect and sort out the Recently Deleted album and the Hidden album automatically.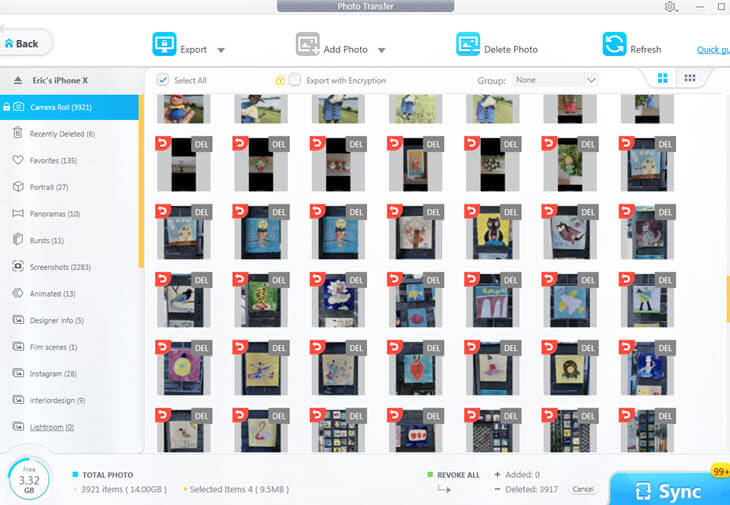 Use a dedicated iOS device manager;
Connect your iPhone to computer and launch the software;
Select all photos and click delete.
For detailed tutorial, please read how to delete all photos from iPhone >>
3. Manage iPhone Photos by Albums and Folders
iOS photos app allows users to create custom albums to store their photos, and it comes very handy to organize your photos by theme and type. For instance, if you are a big fan of vintage cars, you can organize photos of cars into an album. As your collection grows, you can further group albums into folders. A folder named Favorite Cars can hold many albums, such as Antique Cars album, Vintage Cars, Classic Cars, etc.
To create albums and add photos:
Go to Photos > Album;
Click + button on top left;

Tap New Album and enter a name for that album;
Select photos and hit Done.
To add photos to an existing album:
Tap select on top right, and select photos as you wish;
Tap share icon and click Add to Album;

Select an album you created before.
To delete photo albums:
The delete option for photo albums are hidden deeply, you shall:
Go to Photos > Albums, tap See All.
Tap Edit on the top right of the screen.;
Click the red minus button to delete a photo album.
FAQs
If I delete photo albums, will photos within albums also get deleted?
No. Photos are not physically stored in albums. All your photos are actually stored in something you can consider as a library, while albums are merely filters to organize your photos. When you delete an album, you simply ungroup photos within it, but those photos are still in your camera roll.
If I delete photos from albums, will it also get deleted from camera roll?
It depends on which option you choose. If you tap at Remove from Album, the photo won't get delete from camera roll. If you tap Delete, then your photos will be deleted. But you can find it in Recently Deleted album, where it will be store for 30 days before being removed forever.
Do albums account for more storage space on iPhone?
No. Photos are linked to an album, instead of copied into the album. Therefore, photos within albums won't take up more storage space on iPhone.
Can you change album name on iPhone?
Yes. Tap See All, and you shall see the Edit option on top right. Then you simply tap at the name of an album, a cursor will appear and the keyboard will pop up. This could be tricky because some users don't know that they are tap at the album name.
Can you change photo album cover/thumbnails?
Yes. This is one of the hidden tricks you should know about iPhone photos app. Apple uses the first photos within that album as the cover, to change it, you simple move a photo to the first place. Here comes the tricky part: you should firmly press that photo, and move it to the beginning before releasing the finger.