"In the photos app in albums there is not an edit button to delete an album like in previous version. How do you delete a photo album on iPhone with the new iOS 13 update?"—Apple user
"I have some albums which was downloaded (synced) from the computer that I can only make copy, but not able to delete them." —Apple user
How to delete an album on iPhone? Actually, the solution depends on what kind of albums you are dealing with. It's fairly easy to delete albums created on iPhone, such as folders you manually created or auto-generated by Apps like Instagram and VSCO, but that's not the whole story. There are albums synced from computers that cannot be removed on iPhone due to Apple's restriction. If you are struggling with these albums, DearMob iPhone Manager offers a fast and elegant solution.
Cannot Delete Some Photo Albums from iPhone?
Delete photo albums synced from a computer without iTunes;
iCloud and computer syncing can be turned on at the same time;
Preview photos by albums and in chronological order;
Transfer photos to computer from favorite photo albums.
How to delete albums generated by iPhone
It is fairly easy to delete photo album from iPhone if the albums are created on iPhone, but you have to decide what your ultimate goal is: do you also want the photos within the albums be deleted or do you only want to delete the albums but keeps the photos in the camera roll.
Why? Albums in the photos app are designed much like how you organize your music by playlist in the Apple's music app. If you simply delete the albums, it won't affect photos, which are stored in the Camera Roll (or "All Photos"). Therefore, if you also want to delete photos within a certain albums, make sure you delete photos first, and then deal with the album. Otherwise, you will spend more time hunting down photos in the camera roll which are previously organized by a certain album.
Case 1
Follow these steps if you only want to delete photo album from iPhone (keep photos in the Camera Roll):
Step 1. Within the photos app, go to the bottom tab "Albums".
Step 2. Click "See All" at upper right and click "Edit".
Step 3. Click that red minus icon and hit "Delete Album".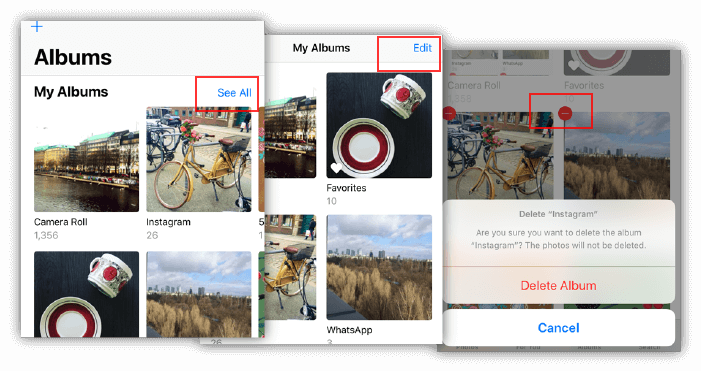 Case 2
Follow these steps if you want to delete an album and photos within it:
Step 1. Within the photos app, go to the bottom tab "Albums".
Step 2. Tap into an album>hit "Select" at upper right>select photos>hit bottom right trash bin icon>Delete.
Step 3. Then you can repeat that "See All> Edit>Red minus icon" in case1 to delete an album.
Tips: You can find deleted photos in Albums>Other Albums>Recently Deleted, and they will be permanently deleted after 30 days.
How to delete albums synced from a computer via iTunes or other software
This kind of albums and photos are undeletable using the photos app, you will have to resort to iOS file management tool to flexibly manage synced albums and photos. I recommend DearMob iPhone Manager, a handy tool for you to manage photos, songs, movies and other files on iPhone. Download it for free and launch the program, connect your iPhone to the computer with data cable, and following these steps to delete albums synced from a computer:
Step 1. Go to Photo, and select albums with a human figure at left panel.
(Optional step) Click "Export" so that you can have a backup of these photos stored on your computer.
Step 2. Select all the photos and click "Delete".
Step 3. Hover over the album and you will see an X icon, click it and hit "Delete".
Step 4. Hit "Sync" to confirm removing these photos from your iPhone. (You will not find these photos
in "recently delete photos", as they are erased immediately).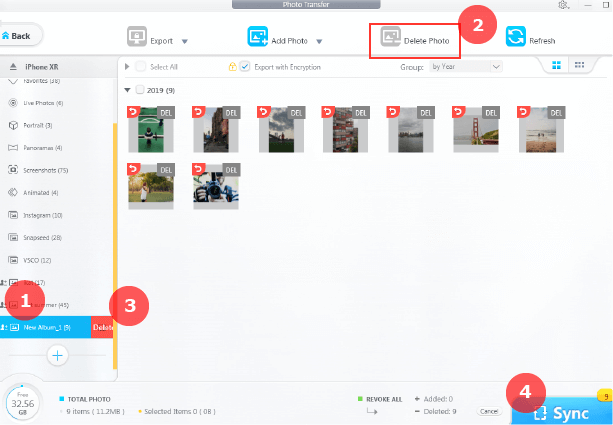 Tips: this tool also makes photo management a no-brainer. You can easily transfer photos from iPhone to iPhone by albums, and select to convert HEIC to JPG if you cannot open HEIC photos on your computer. You can also transfer movies, songs, contacts, SMS, digital books and other files flexibly across devices.
How to delete My Photo Stream album or Shared albums from iPhone
My Photo Stream is a dynamic collection of photos you have generated in the last 30 days. You will be able to view the most recently photos across all your devices that have configured to enable My Photo Stream. If you wish to delete this album, go to settings > iCloud > photos and toggle off My Photo Stream, and you will no longer view the rolling updates of recently taken photos, which only remain in the camera roll on the very device that creates them.
Shared album on iPhone is a fantastic feature for you to invite friends and families-or to be invited-into a sweet exclusive circle and share fantastic moments of your life in the photos app. Though shared albums do not count against your iCloud storage quota, they do take up storage space on all of your devices. If you want to delete shared albums, here is how:
Step 1. Photos app > Album > Tap into a shared album.
Step 2. Tap at "People" at the bottom.
Step 3. Click "Delete Shared Album" or "Unsubscribe" (depends on who creates this shared album).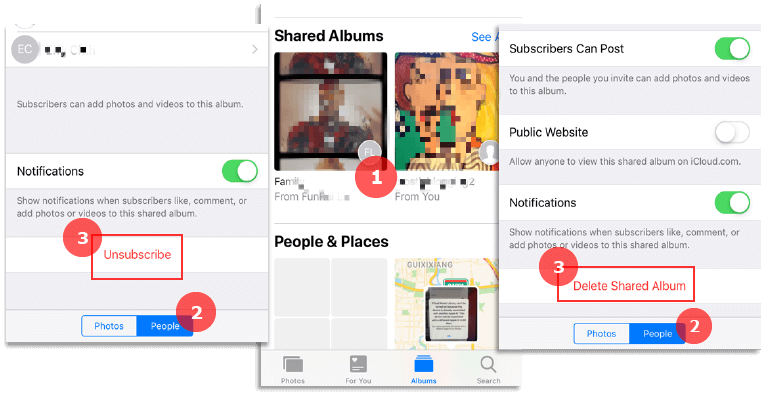 Note: If you have created this shared album, once deleted, it will be removed from all your devices and the devices of subscribers (photos still remain in the camera roll). If this is an album create by other people, upon clicking unsubscribe, it will be removed from all your devices (tap share icon and hit "Save Image" if you want to keep some photos within shared albums created by other people).
DearMob iPhone Manager is moreover a versatile iPhone data backup and transfer tool that you can use to manage 12 types of iOS data files easily. Besides iPhone photos deletion, you can also use it to delete iPhone contacts, apps, songs, etc, transfer photos between iOS and computer, convert Live Photos/HEIC images and more.