Apple Music vs iTunes: What Happens on macOS Catalina?
Apple has announced its divergence from iTunes in the form of individual dedicated applications. This has led to far-flung confusion amongst Apple enthusiasts who are dubious about the future of iTunes music library following its update to macOS Catalina.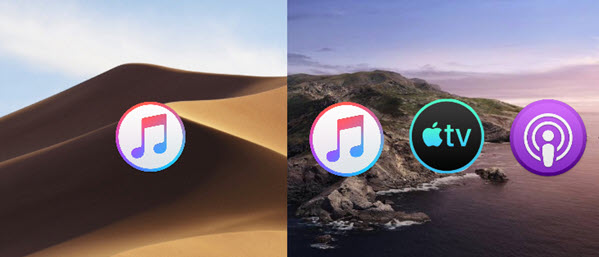 If you have been dealing with similar confusion, then you have come to the right place. Today we are going to discuss about the upcoming changes, the implications it holds for users and best way of backing up your iOS device, transferring the content and removing all DRM-laden items like music and videos.
What is the Difference Between Apple Music and iTunes
• Apple Music is a subscription based streaming service while iTunes is a music store from where users can purchase and download songs. Apple Music can be availed by shelling out 9.99$ per month following the first three months of trial subscription. You can also avail its family plan which comes for 14.99$ per month and can be used by six members simultaneously. iTunes Match on the other hand charges users 24$ for a yearly service where all the music is stored in the iCloud. This also holds true for songs which are not purchased from iTunes Store and the ones imported from CDs.
• Users of Apple Music do not have any right of ownership over the music that they have downloaded using the service. The main reason behind this is Digital Rights Management (DRM) protection. Apple music has a format of m4p that won't playback on unauthorized devices unless you go DRM unlock your downloaded songs. iTunes Match on the other hand allows users to access the songs in 256 Kbps AAC through other computers and devices. You will thus be able to play the songs offline even after cancelling the subscription.
• On unsubscribing from Apple Music, the downloaded tracks won't be available any more. iTunes Match on the other hand is a Cloud backup which can be signed up using the Apple ID. It can be enabled on a variety of devices and computers of your preference for accessing the musical content which is stored via the cloud.
iTunes Match vs Apple Music – Do I Need Both?
Although both the services work together, you need not use them along with each other. If owning music doesn't really matter to you and you don't wish to spend too much in building a music library, then Apple Music can serve you well. Also, subscription to Apple Music comes with the iCloud music library syncing service which you can turn on in iTunes. By doing so, you can add any song into iTunes, and it will match a version and show up on your iPhone. If you don't fancy on the idea of streaming music, it is totally possible to have an iTunes Match subscription without Apple Music.
What is iCloud Music Library?
This is service offered by Apple for helping users store their personal music library online. It allows the same by matching song tracks with the ones listed on iTunes Store. If no match is available, then the tracks are uploaded directly. Music stored in iCloud music library can be streamed and downloaded in ten registered devices under your possession. This music library is compatible with both the stand-alone iTunes Match option and Apple Music subscription service.
How to Turn on/off iCloud Music Library in iTunes or on iPhone
You can enjoy Apple Music streaming service by turning on iCloud music. On your iPhone, go to Settings > Music > iCloud Music Library.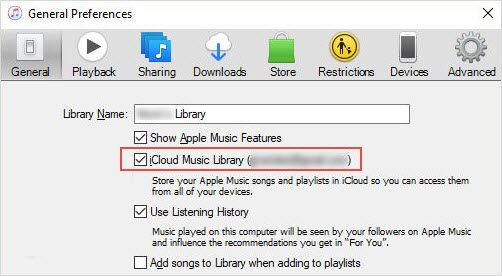 If you have added a song in Apple Music on your iPhone, you will be able to see it on iTunes if you enable iCloud music library via iTunes menu: Preferences > General > iCloud Music Library.
What Will Happen to My iTunes Library on macOS Catalina?
iTunes shutting down stirs large reaction, especially for musicophiles. In the ongoing debate of apple music vs iTunes, people are sharing mixed reviews about the fate of iTunes library following the macOS Catalina update.
According to Apple Support, the brand new Apple Music App will also read your iTunes library content. The same goes to TV App which takes care of your music videos, movies and TV show. You don't have to do it manually, because when you launch Apple Music, it will auto update your iTunes library.
While some think that macOS Catalina will allow users to roll forward their entire iTunes library into its Music app, others can be seen worrying about the possibility of data loss.
Music Missing after Updating to macOS Catalina?
If you found iTunes music missing on macOS Catalina, check if you have multiple iTunes library. Switch to each iTunes library and re-open Apple Music, so that your iTunes library can be updated with music shown in the new Apple Music App.
How to Switch to Another iTunes Library?
If you have maintained multiple iTunes library before updating to macOS Catalina, now you have to switch iTunes library with Apple Music on macOS 10.15 and higher versions.
Step 1. Press down the option key and click Music App.
Step 2. Click library and choose the library you want.
DearMob iPhone Manager—iTunes Library and Apple Music Best Mate
This popular tool can serve as your ultimate nirvana while trying to back up iOS data. Now that the music section of iOS is all set to undergo a drastic change, the requirement of a backup solution becomes all the more necessary. DearMob iPhone Manager allows users to transfer content from their PC, iPad and iPhone to Mac and vice versa without Apple ID, iTunes library limitation or iCloud storage limit. It features smart built-ins to transcode media into Apple friendly format on syncing, convert HEIC to JPG, make ringtones and many more.
Whether you are happy using macOS Mojave or wish to update to macOS Catalina, DearMob iPhone Manager can help you unlock DRM-laden Apple music and even deal with music transfer in a seamless way. Users can easily unlock all iTunes restrictions on apps, movies, music and even books for being transferred from one iPhone to another.
For example, if you wish to transfer songs to Google Play from iTunes, or to any other platforms/devices for successful playback, then you can easily achieve more through DearMob iPhone Manager. Free download DearMob iPhone Manager and follow these steps to manage music, unlock DRM-laden Apple Music and transfer songs to any devices.
Step 1. Launch DearMob iPhone Manager and navigate to the Music module.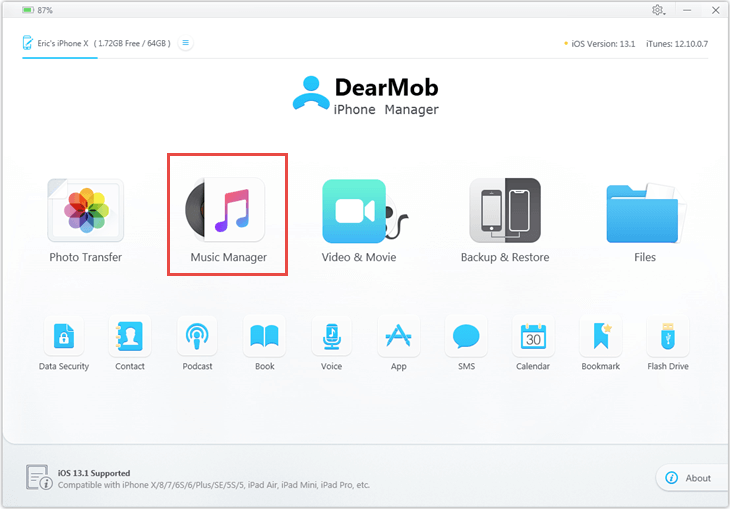 Step 2. Select DRM music and click on Export. Alternatively, you can drag the songs to any folder of your preference.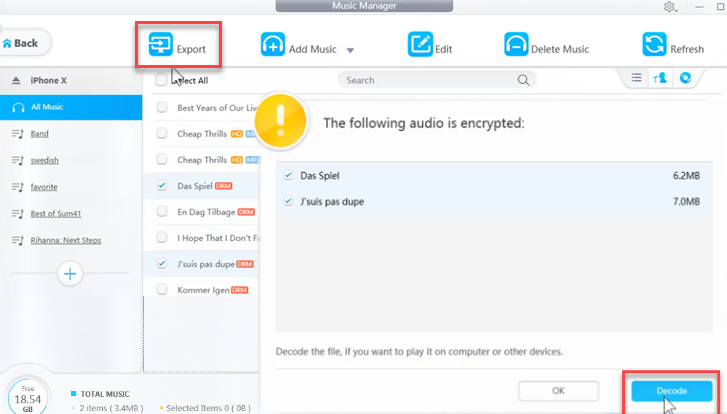 Step 3. Now you need to press the Decode button to remove DRM restriction from .m4p music.
DearMob iPhone Manager will convert the audio to mp3 and this can be easily transferred to Google Play through Google Play Music Manager or chrome extension. You can also use this tool to transfer songs from one iPhone to another iPhone or iPad without Apple ID restrictions.
Final Words
Hope you have a clearer view of Apple Music vs iTunes, iCloud music library and iTunes match. Also, if you want to playback your m4p music, DearMob iPhone Manager helps you to convert m4p to mp3 by unlocking DRM. This easy-to-use iOS content manager also keeps you completely buffered from all chances of data loss while helping you curate all your favourite photos, videos, and songs.