[Solved] My Photo Stream Not Working/Updating
By Joakim Kling - Last Updated: Contact Author

Photostream not working or updating pictures? This means that there is like a blackhole sucking data behind photostreaming wirelessly between Apple devices. Where exactly is the problem located - iPhone/Mac/PC? Here below, we will help you sort them out.
To Solve My Photostream Not Working
You Need DearMob iPhone Photo Manager
Losslessly backup iPhone photos without iCloud, iTune or Wi-Fi;
Superfast photos streaming speed from iPhone to PC, vice versa;
1-Click enable iPhone photos backup whenever you want;
Organize photos according to date/week/month/Albums.

Where is My Photo Stream on iPhone/iPad/iPod?
Open Settings > Photos&Camera > My Photo Stream As illustrated below, My Photo Stream automatically upload new photos and send them to all of your iCloud devices when connected to Wi-Fi. This means that Wi-Fi connection is a must for photo streaming. Turning off photo stream will delete all photo Stream photos from your iPhone, meaning that your might see different photos in the My Photo Stream album on each of your iOS devices due to the time when you re-enable My Photo Stream.

How does My Photo Stream work on iOS devices?
First, after confirmming that you are signed in iCloud when My Photo Stream enabled, iCloud automatically pushes copies of photo to other enabled devices.Not like iCloud photo library, My Photo stream won't take up any iCloud storage space.

Photostream not Working on PC Windows 10/7
Solution: Signing out of your Apple ID account and signing back into iCloud with your iCloud email address and My Photostream will start working again.
Why Photostream Not Updating on Mac
Make sure that My Photo Stream is enabled on your Mac/Macbook/Macbook Air and iPhone and that the two are connected to the same wifi network or Ethernet. If the recent photos are stilled not updated in photostream of macOS High Sierra and below, you can try:
1. Quit Photo app on Mac
2. Launch the Activity Monitor app, which is located under Utilities in the Applications folder.
3. In Activity Monitor, search for "photos" in the upper-right to filter through the list of running processes.
4. There should be a few rows left on the screen. For "Photos Agent" and each of the ones starting with "com.apple" click on the row to select it, and then click the X icon in the upper-left.
5. A confirmation message will appear. Click "Force Quit" to end the process.
6. Once all of the processes mentioned in step 4 are gone, you can quit Activity Monitor.
7. Open the Photos app again and, after a few moments, all of your latest photos should start importing from My Photo Stream.
Note:
1. My Photo Stream supports JPEG, TIFF, PNG, and most RAW photo formats. My Photo Stream doesn't support video or Live Photos. Therefore, if your recent photos are live photos, you might not be able to see those photos streaming.
2. Make sure that you are signed in with the same users ID to allow the auto download
Why Photostream Not Working on iPhone
The reasons might be that you haven't turned on that feature on each of your devices yet:
On your iPhone, iPad, or iPod,
Tap Settings > Wi-Fi on all of your devices. Check that Wi-Fi is on and you have an Internet connection.
If you have iOS 10.3 or later, tap Settings > [your name] > iCloud > Photos. For earlier versions of iOS, tap Settings > iCloud > Photos.
Check that My Photo Stream is on for each of your devices. If the feature is on, turn it off and tap Delete. Then turn on My Photo Stream again.
On the device that took the photo you're looking for, close the Camera app. (Nothing uploads to My Photo Stream until you do.)
NOTE: If your iOS device is below 20% battery power "My Photo Stream" disables itself temporarily to save battery life.
Photostream Not Working PC Workaround - DearMob iPhone Photo Manager
Below is the steps on how to use iPhone Photo Manager to solve photo streaming not working trouble as a workaround.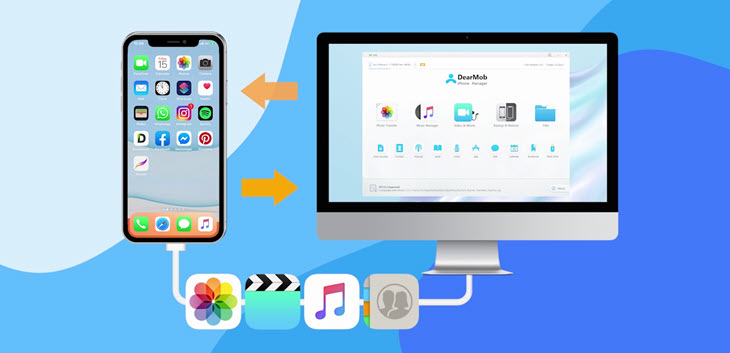 Step 1: Download, install iPhone Photo Manager.
Step 2: Launch the software and connect iPhone to your computer.
Step 3: Select photos you want to stream to PC/Mac.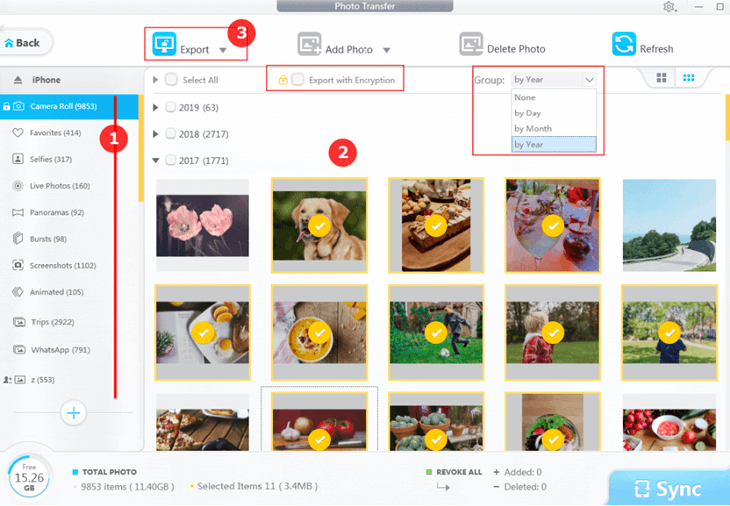 Step 4: Click on Export, and you get photo streamed.
SUMMARY
DearMob iPhone Photo Manager can be your best choice over any other photo streamers since it works without iCloud, iTune or Wi-Fi in a dearly faster manner - transferring 100 pics in 8s and orgnizes your photo library by different indicators.