"I have an iPhone 8 and I tend to take a lot of screenshots. With the new windows update came a whole host of problems with the Photos app. When I try to import the images from my phone on my computer, the app instantly freezes and crashes. I've tried troubleshooting problems and even reinstalling the app, but nothing has worked. It worked very well before, now it's broken."
Though Windows 10 photos app has so many bloated features to brag about – photo editing, slideshow making, video editing, 3D effects adding, album/video remix, drawing etc. many people choose to use this app still only because they want to import photos and videos from iPhone to pc as backup and clear up some storage on their iOS devices. And Microsoft Photos has just slam the last door at our face in its latest version update!
Reported by many, the latest version 2020.19111.24110.0 and version 2017.x of Windows 10 Photos app not importing photos issue has threefolds –
Issue 1. There is no longer an option to "delete photos after import" (from source device)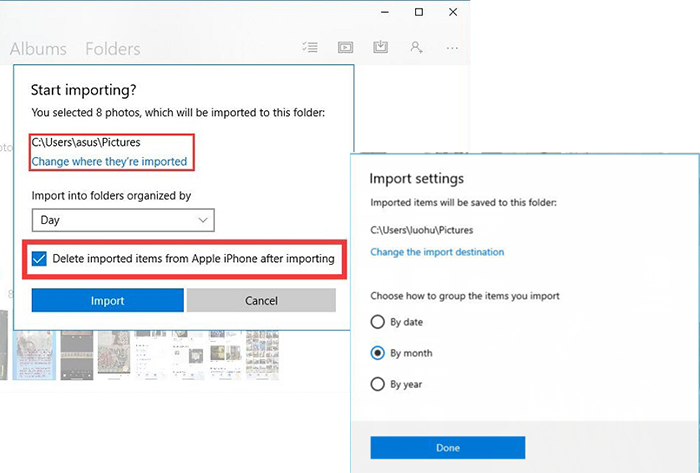 Issue 2. Windows 10 Photos app crashes upon importing photos from iPhone
- When selecting "Items since last import", the app freezes and crashes right away. As users complainted, "I now have to click on each photo I want to import. I take on average 50-70 photos a day for my job." Issue 3. The latest version stuck while "Importing Photos from USB device 1/XXXX" or "Something went wrong". And she is using a PC of 6700K and 32G Ram.
Issue 4. Can't Find My Phone
- There is always a problem with this app finding my phone or downloading from my phone (an typical issue for cellphone).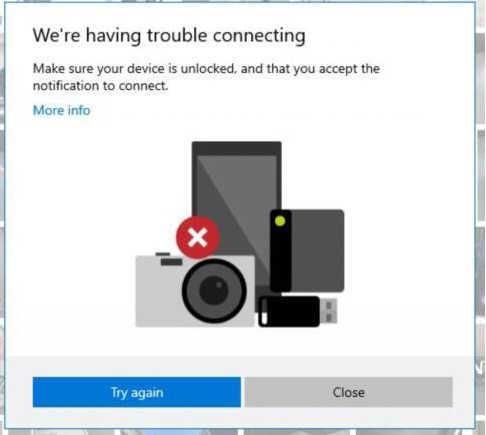 Step 1: Check Your Photos App Version
You have to make sure whether this is the issue brought by Photo app newest version.
Go to Photos app > More > Settings > Scroll down to About this app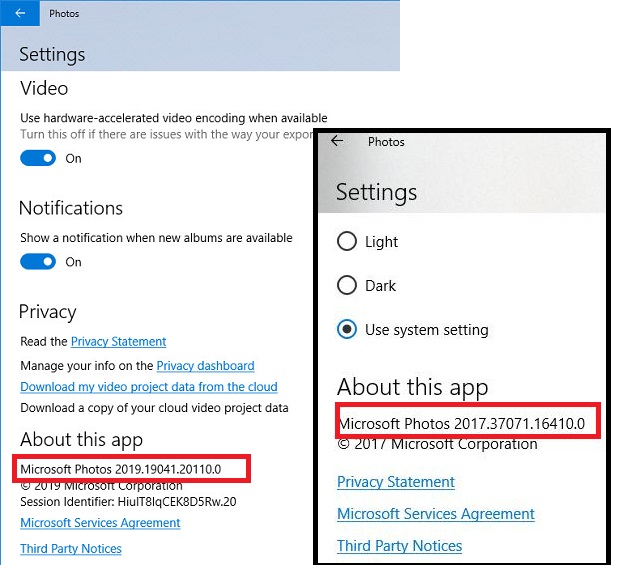 There you will see what your Windows 10 Photos software version is. And the above two versions are 100% workable regarding importing iPhone photos with deletion ability. If your Windows 10 Photos app is the version 2020.19111.24110.0 you can check for update if there's a new version release to fix this not importing bug, or uninstall the current version and install the lower version. Again, do not download the newest Windows 10 photos app if your current version still works.
Step 2: Update Windows Photo App for Official Bug Fixes
1. From Start, go to Microsoft Store

2. Click on your Downloaded Applications

3. Click Check for Updates. 4. If the Photos App is shown in the Available Updates, click to update Windows 10 Photos app
Hope Microsoft quickly responds to our demand and fix this issue in the next update version. But is there's no newer versions, we can downgrade our application to lower version 2019 or 2017.
Step 3: Uninstall and Install Windows 10 Photos App Lower Version
1. Open Task Manager and open Photos app
2. Find Photos app in Task Manager
3. Click on it and right click - Go to details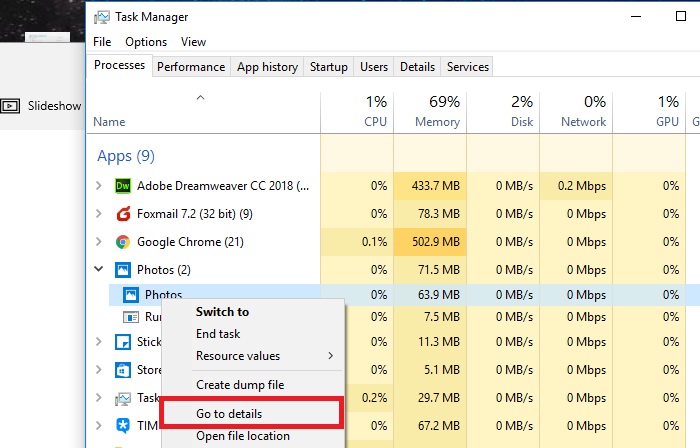 4. Right click on Microsoft.Photos.exe and click "Open file location"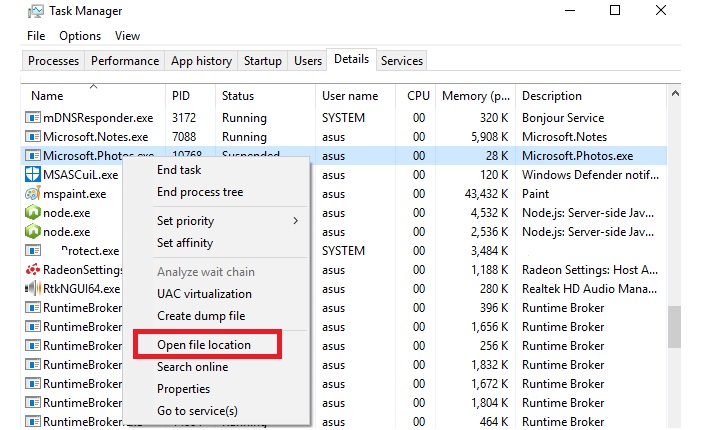 5. Select all the files under this folder and copy to your other new computer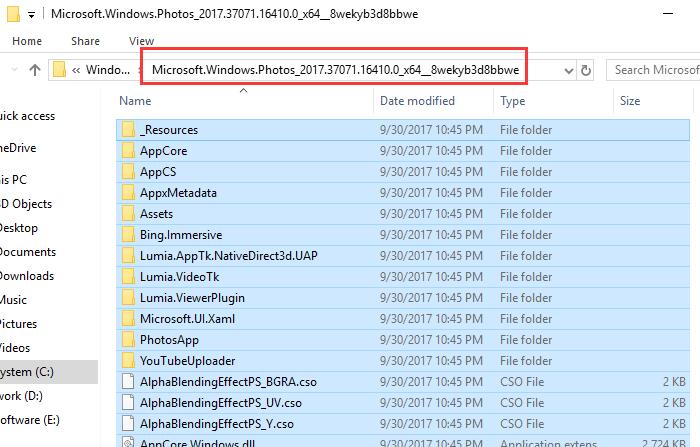 6. Find and download the missing *.dll files online and run the program afterwards.
Step 4: Photos App Alternative for Photo Importing & Deletion
DearMob iPhone Photo Manager offers fairly simple and direct solution to import, export iPhone photos from/to computer with batch deleting feature independently.
Compatible with Window 7 and above
Preview - You can preview any of those photos - live photos, HEIC photos, Apple ProRAW photos, HDR, 48MP photos from iPhone 14 Pro/Pro Max, videos to in full size.
Close-up check - Esp. for burst photos, you can switch to larger icon view to identify which image to be remained.
Wider operation area - You can drag the interface wider and larger to get more photos loaded for easier selecting.
Delete without import - You don't need to import tons of photos to storage-strapped computer for deletion
Regret potion - You can regret and revoke your deletion by clicking "Cancel" button on the lower sidebar.
Delete undeletable iPhone photos - delete photos imported from computer.
Computer to iPhone/iPad photo transfer - Windows 10 Photos app only allows iPhone to computer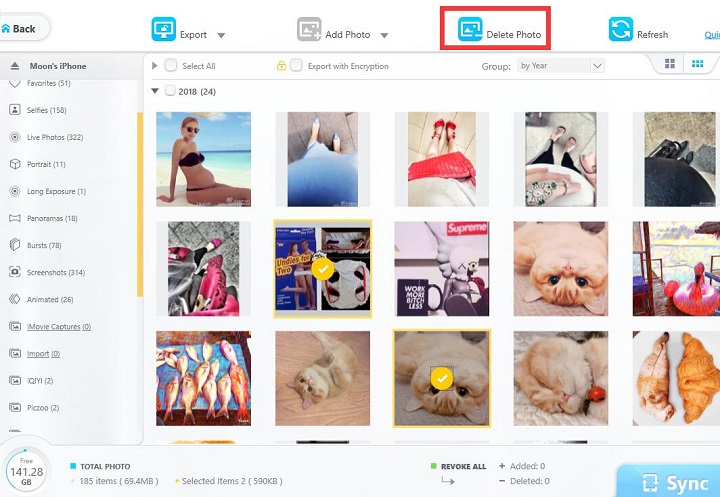 1. Click the Photo transfer tab on this photo manager.
2. Browse your Photo album and select photos you want to import or delete
3. Hit the Export or Delete button on the top sidebar. You can also freely drag'n'drop multiple photos from iPhone 14/13/12 or earlier models to computer.