Summary: In this post, we will break down how to how to send slow motion video on iPhone, and lay out the top 4 solutions for you to leverage.
Unveiled in the iPhone 5s and incorporated in all iPhone models ever since then, iPhone slo-mo video recording feature makes it easy to use the special effect that only a few years back required expensive video recording gear. Starting at 720p/120 fps, iPhone slo-mo recording has been bumped up to 1080p/240 FPS powered by the A11 Bionic chip, which plays at one-quarter normal speed. But what seems to be vexing to some is how to send slow motion on iPhone to other Apple and non-Apple users? And in this post, we are going zero in on three ways to send a slo-mo video on iPhone so that you can not only share it with other mobile/PC users but also upload it to your social media.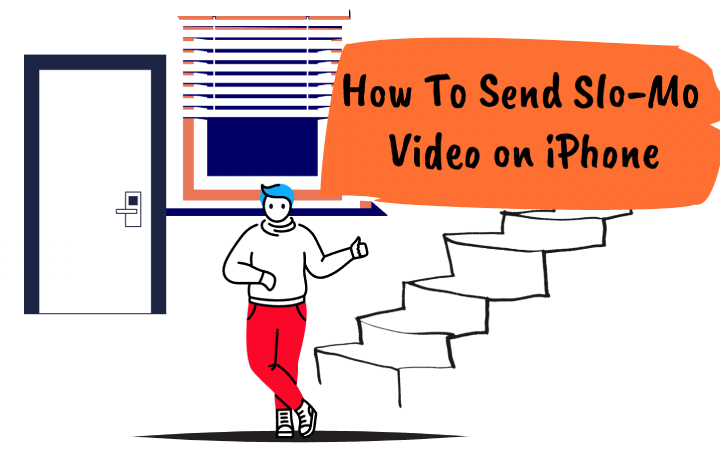 How to Send Slow Motion Video on iPhone to Other Apple Users
The Apple ecosystem enables a platform where all Apple apps and products function together seamlessly, and the case in point is its iMessage and AirDrop, Apple's 'closed' messaging and file transfer services that could also carry out the task to send a slow-motion video with another iOS/Mac device.
1. AirDrop
Before AirDropping the slo-mo video to another Apple device, make sure the target device stays nearby, powered up and within the Bluetooth and Wi-Fi range, and is set up to accept the AirDrop slo-mo video.
Step 1. Open the Photos app on your iPhone, and select the slow-motion video you wish to transfer.
Step 2. Tap the Share button > AirDrop, and select the target Apple device shown in the list of available devices.
Step 3. In the target device, a window would pop up with a preview, and tap Accept to allow sending the slo-mo video. The transfer will start automatically, and the AirDrop slo-mo video will be placed in the Photos app of the target device.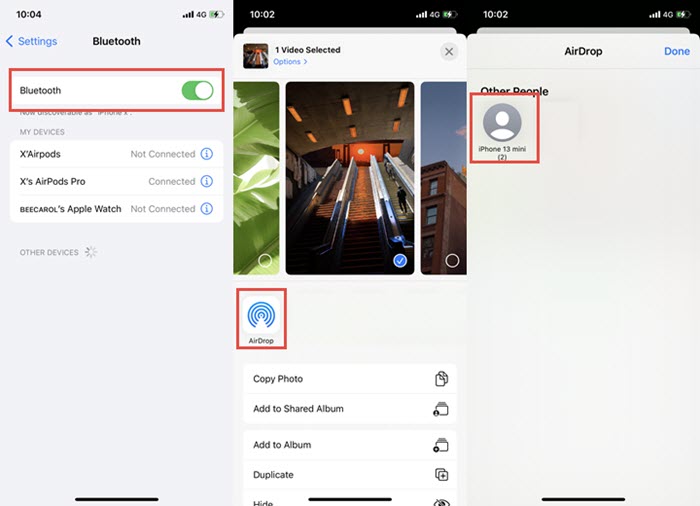 Note: Apple reveals no limit on the size of the file which AirDrop can transfer. Thus it can manage to send the long slo-mo video, but the process duration rests on the video file size.
2. iMessage
Another way to send a slo-mo video to another Apple device is to use iMessage. And you need to ensure both devices have the iMessage turned on with the 'Send' button appearing as the blue button and text bubbles. Otherwise the slo-mo effect might vanish and the video plays at normal speed on the target device.
Note: Since AirDrop and iMessage come with a limit that will exclude the non-Apple users from reaching the luxury, it is attainable to send slo-mo videos from iPhone to Android/Windows/Chrome OS users via these two approaches, and given that, you can direct to the second part for a more suitable solution.
How to Send Slow Motion Video on iPhone to Non-Apple Users
Programmed as an all-in-one solution for iOS content management, DearMob iPhone Manager enables you to send slow-motion videos on iPhone to other Apple/Android/Windows users effortlessly, with which you can entirely and selectively backup videos, images, and data and organize, view, edit and transfer them to other mobiles, computers, and external hard drives. Better yet, the tool could also manage the transfer with intact GPS and EXIF metadata retained, no more tiresome process, and the irritating error of the slo-mo video reverting to the normal speed.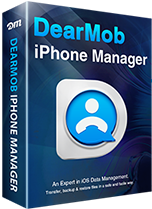 DearMob - Send Slo-Mo Videos on iPhone to Any Device Properly
Bulk send slo-mo videos, photos, media files, etc. to any device or reversely.
Quick & safe iPhone switch; back up the entire or selective data without storage limit with military-standard encryption and password protection feature.
GPU-accelerated video processing tool to transfer long and spectacular slo-mo video shots without frame loss.
Unlock DRM, compress large slo-mo files, lightning fast and stable, ultra flexibility...
Step 1. Free download DearMob iPhone Manager on your PC, install it and connect to your iPhone.
Make sure you unlock the iPhone screen for a successful connection and tap to trust the computer. Both USB and Wi-Fi connections are supported.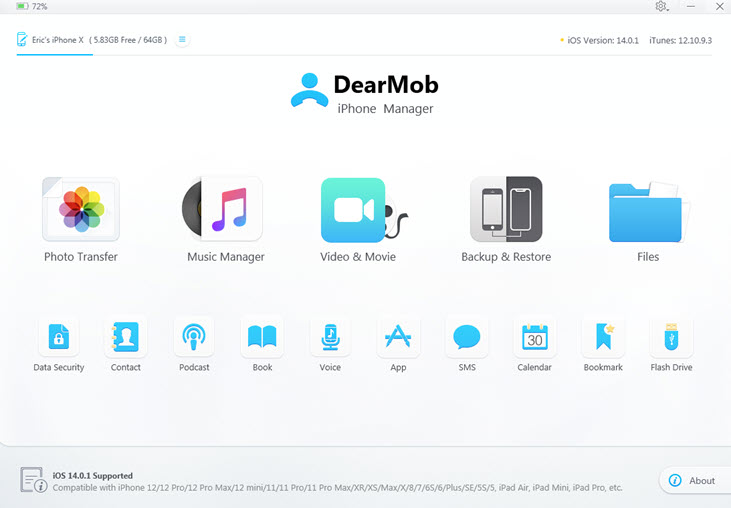 Step 2. Tap on the Video&Movie panel on the home page > select the slo-mo videos you wish to send > Export to send the slo-mo videos to the Windows computer.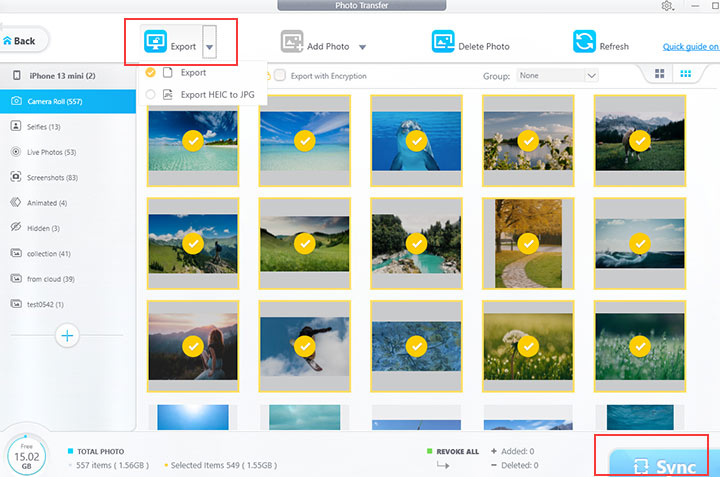 Tips:
Apple ProRaw is natively supported with all metadata included.
Enable the 'Reduce Size' option to shrink large slo-mo videos to save up iOS space storage with the least quality loss before sending.
Step 3. Export the slo-mo videos to Android or other mobile devices.
An extra step is needed if the target is an Android or another mobile device. Switch and connect the device to the computer > tap the 'Charging this device via USB' notification, and set USB for transferring files under the USB settings. In the file transfer window that pops up on your computer, you can start copying your slo-mo videos across.
How to Properly Upload Slo-Mo Video on iPhone to Social Media
Uploading your slo-mo videos to Instagram, Facebook, Twitter, Vimeo, Mail, iCloud, etc. could proceed directly through the Share Sheet in the Camera or Photos apps. You just need to select the slo-mo videos from the Camera Roll > Share and select the social media platform that you wish to upload to without running the social media app.
But it's worth noting that you might need to seek a different way out when sharing with such a service as YouTube, which seems to be eliminated from the Share Sheet. To that end, launch the YouTube app, and click on the 'Upload' button to upload the slo-mo video to YouTube.