Are you looking to download Pages for Windows? Perhaps you want to enjoy the benefits of this creative and real-time updated Office-like program that can handle word-processing, spreadsheets, and presentations. Or maybe you need to open .pages files that your friends or colleagues sent to you, but you don't have access to a macOS/iOS device like they do. Don't worry! This guide to downloading Pages for Windows 11/10 get you covered.
What is Pages for Windows
Before downloading Pages for Windows PC, let's have a look at what is Pages for Windows. Pages app is Apple's word processing program corresponding to Microsoft Word to help view and edit documents easily.
If Pages is installed on your iPad, then you can use Apple pencil to edit, sketch, illustrate and create documents to express ideas more easily. Its real-time collaboration lets you send what's you are typing to your team to allow them to work with you in app online instantly that Microsoft Word can't realize.
How to Download Pages for Windows 11/10
Finding no place to download Pages app for Windows PC? That is because Pages like Numbers and Keynote, is only available in Apple ecosystem, namely iOS and macOS, but that is not the reason to disappoint you to make use of the great features of Pages on Windows 11/10 PC. Here are the ways:
Method 1. Use Pages App for Windows via iCloud
If you have Pages documents on your Mac, iPhone, iPad, or received from others, you can save them to iCloud.com. This way, you can view and edit them on a Windows PC, along with others at the same time. This is a convenient way to open Apple Pages files on a PC without having to download Pages for Windows. You can also export the .pages files to your Windows PC via iCloud. Here's how:
Step 1. Open iCloud.com on your browser. Sign in iCloud with your account and password.
Step 2. Click on the Pages icone and hit the Tools (wrench) icon located in the top right corner of Pages.
Step 3. Hit Download a Copy. Choose the target format. The exported Pages files can be opened and edited on Windows. It's worth noting that DearMob iPhone Manager makes it easy to transfer Pages and Microsoft Word documents from your Windows PC to your iPhone or iPad with just a single click.
Method 2. Use Pages for Windows PC Alternatives
Now that the official Pages download for PC is not available at present, you are suggested to use iCloud.com on Windows to enjoy the Pages feature mentioned above or try Pages for Windows alternatives. And there are 3 excellent Pages apps for Windows outshinning the market deserving your downloading.
1. Google Drive – Docs
Ranking top position of best alternative to Pages for Windows PC, Google Docs is an online word processor that lets you create and edit text documents and collaborate with others in real time like Apple Pages app. Also as fun and creative as Pages, you can personalize your documents by adjusting margins, spacing, fonts and colors. Download files of this Pages Windows alternative to Word, PDF, RTF, HTML, OpenOffice and zip is reachable as well.
2. LibreOffice – Writer
LibreOffice Writer is a cross-platform text processing program available on Windows, Mac OS X, Linux and FreeBSD. As the No.2 alternative to Pages for Windows, it offers you a modern and full-featured word processing to create complete books with contents, diagrams, indexes, etc. The most shining features are its AutoCorrect dictionary to trap typos and spelling mistakes on the fly and great compatibility with different languages typing.
3. Scribus
As an open-source alternative to Pages for Windows, Scribus is free for everyone to download on Mac, Windows, Linux for flexible layout and typesetting. Requiring itself to offer professional quality image setting, Scribus has make itself perfect to use in small newspapers, brochures, newsletters, posters and books. At the same you are able to download this Pages app for PC to create animated and interactive PDF presentations and forms.
Just feel free to choose one Pages for Windows 11/10 alternative here you like most or download Pages Windows alternative in other places to enjoy the similar features as Pages. But, supposing you are in favor of using Pages most, you are suggested to create a .pages file on iPhone iPad and then transfer to Windows PC via DearMob iPhone Manager.
A Better Solution: Transfer Apple Pages Files to Windows 10/11
DearMob iPhone Manager's Files function is what you iOS users are looking forward to for a long time. This is a great feature making it possible for the files including pages, numbers and keynote on your idevices transferrable, accessible by other apps and available to communicate with each other. This is a powerful desktop-based iOS file manager allowing you to import/export all kinds of files and backup to computer safely in a click.
Step 1. Free download DearMob iPhone Manager. Install and launch it on your Windows 10/11.
Step 2. Connect your iPhone to the computer via a USB cable. Tap "Trust This Computer" on your iPhone if a pop-up appears. Click Files on the main UI. Step 3. Choose the .pages file that you want to export to Windows PC, and then click Export. This handy tool starts to export the chosen Apple Pages files from iPhone to Windows 10/11.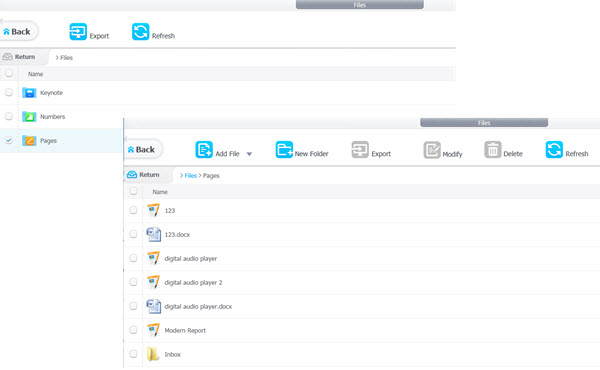 Tips:
If the exported Pages files fail to open with Microsoft Word, just rename the page extension to .zip extension, and then double click then it. Now, you can find some preview pictures or a preview.pdf in a QuickLook Folder. This allows you to have a quick look at your .pages contents.