Whether it's a long-haul flight or an overnight bus ride where radio waves fear to tread, or getting stuck by a limited data plan that takes you offline, having no internet connection doesn't mean you can't indulge in the comforts that the digital content supplies. Instead, downloading mp4 to iPhone for offline viewing could help to pull off the boredom. Thus to that end, we will lay it out here in the post how to download MP4 to iPhone from the web effortlessly and save MP4 to iPhone from the computer directly, as thus no restraints could get in your way while feasting on the video episodes.
Notes: The guide is subject to personal fair use only, and downloading copy-protected content is not recommended. The end-users shall take full responsibility for your behaviors.
How to Download MP4 to iPhone Directly from the Web
Safari, the graphic web browser developed by Apple, comes with a downloading feature for videos, audio, images, and other files, and thus if the MP4 videos uploaded to a site are identified as a download link, you can download MP4 to iPhone directly from the web using Safari:
Step 1. Open the Safari app on your iPhone, and navigate to the MP4 video that you wish to save to your device.
Step 2. Tap on the download symbol which sits next to the address bar, and in the pop-up menu, tap Download Linked File.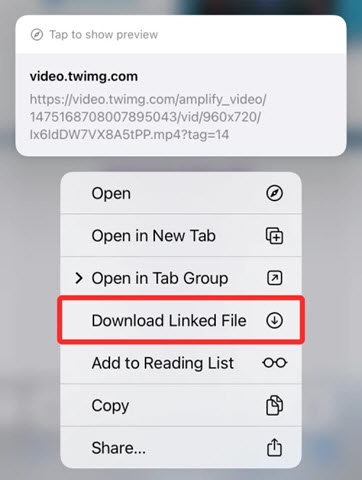 Tips: If the Download Linked File option is not available, check out the Share button > Save to Files from the drop-down menu, and choose a location for the MP4 video to be saved.
But for videos embedded in Facebook or YouTube that cannot be saved to the iPhone directly, you might need to check with some third-party web media grabbers for help. But since these downloaders can make your private data vulnerable to intruders, take heed in dealing with the tools.
Where do MP4 files save on iPhone?
The MP4 videos downloaded from Safari will by default be saved to the Downloads folder, but you can also modify the downloads location through Settings > Safari > Downloads, and select the drive where you wish the MP4 files to be stored. Thus since the MP4 videos downloaded will not be directly put into the iPhone Camera Roll, you might need to move the file from the download location to the Camera Roll or Photos app if this is what you are after.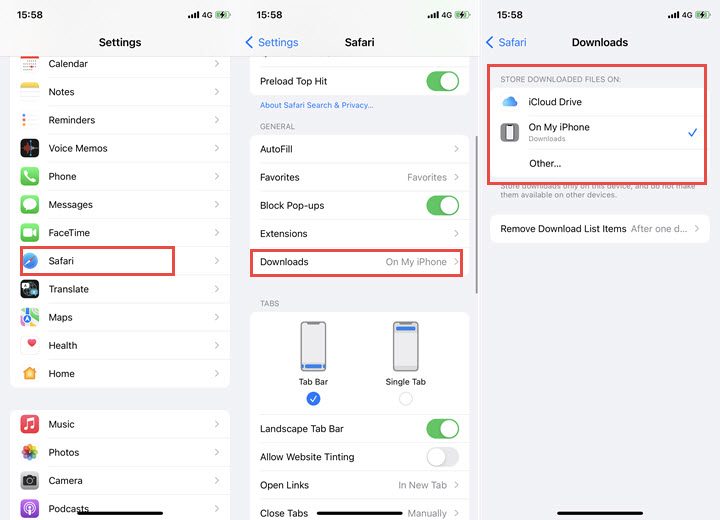 One little tip that you can dig into here is using the Spotlight Search feature to easily locate your MP4 videos saved to your iPhone. To activate the function, simply swipe down from the middle of the home screen, tap the search field, enter the name of your MP4 videos downloaded, and the file that you are looking for will pop up in the result. Tap to open.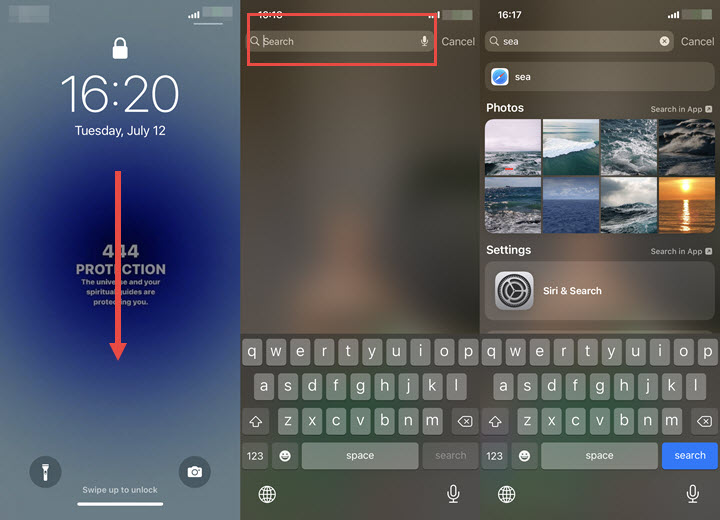 How to Download MP4 to iPhone Directly from Computer
Apart from using iTunes which was discontinued by Apple after tasting a year-long debate to transfer MP4 to iPhone, you can check out a better alternative to download MP4 to iPhone from the computer with upgraded security standards, DearMob iPhone Manager.
Designed to deliver a more intuitive platform for iOS users to manage their files, DearMob allows you to preview and save MP4 videos and other files from computer to iPhone in full resolution, converting incompatible PC videos to the iPhone-supported MP4 format. If you do multistreaming on your computer and record this video, you can also save it from your computer to the iPhone easily. Besides, packed with the cutting-edge DRM removal technique, it can unlock DRM-laden iTunes movies for an unlimited viewing experience on iPhone. The lossless transferring engine equipped helps to maintain the video quality while downloading MP4 to iPhone from computer, with no data loss incurred.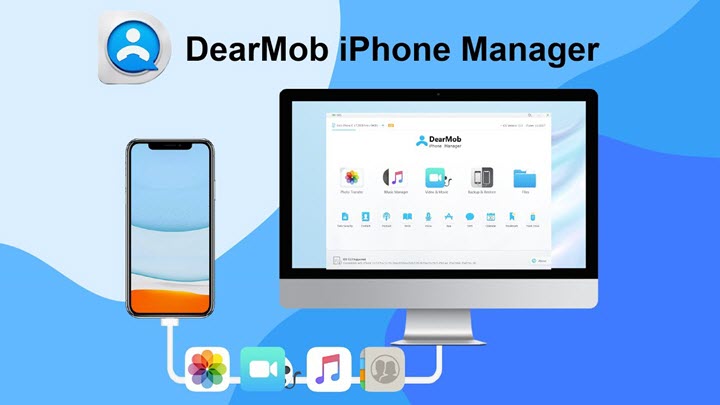 DearMob iPhone Manager - The Easiest Way to Save and Download MP4 to iPhone
Two-way save and transfer a bulk of PC videos and files to iPhone and reversely.
Intuitively convert or keep mp4, rmvb, wmv, avi, mkv, mov, m4v videos as needed.
Handy features to create custom ringtones, convert to Apple-supported format, encrypt files, and unlock DRM.
GPU-accelerated video processing to save and download 8K videos and movies.
iOS file manager to access everything stored on your iPhone, merge duplicated contacts, and access App folders.
Step 1. Free download the tool on Windows or Mac, launch it and connect your iPhone to the computer.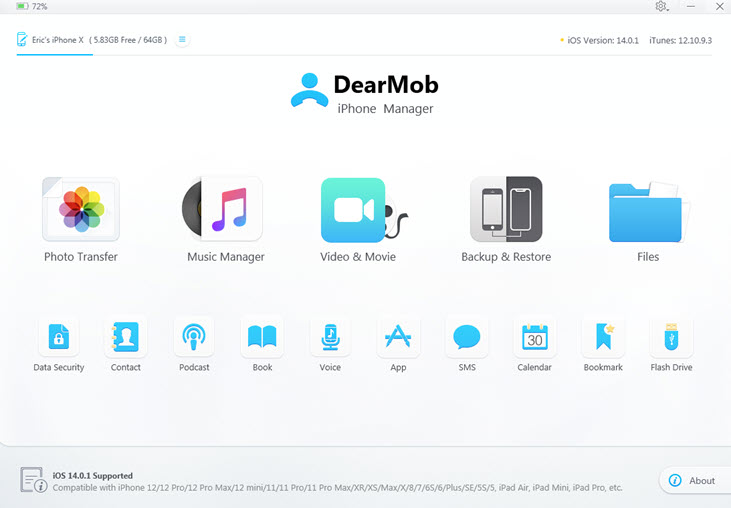 DearMob iPhone Manager supports both USB and Wi-Fi connection; thus go with one that works for your scenario.
Step 2. On the home page, tap on the Video&Movie section > Home Video > Add Video and select videos that you wish to download and save to iPhone from PC. Batch selection and download are supported.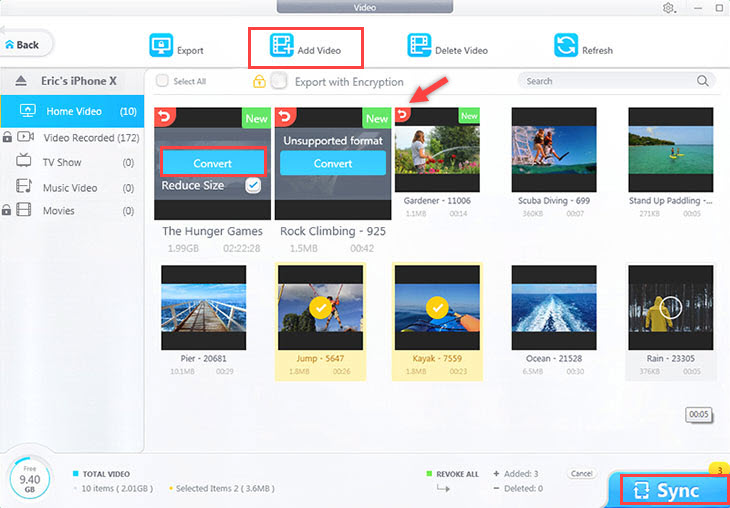 No worry about the video incompatibility and the size being overly large since the tool incorporates the options to convert videos into Apple-supported MP4 formats and compress the large file to save up your iOS storage.
Step 3. Click Sync to download MP4 to iPhone, and the added videos are saved in the default Apple TV app.
FAQs
1. How to download and save an MP4 to my iPhone from Google Drive?
Open the Google Drive app on your iPhone, and locate the MP4 video that you wish to download. Tap the Three-ellipsis icon next to the file name > Send a copy > Save Video to download the MP4 video to your iPhone video library.
2. How to download and save an MP4 to my iPhone from Dropbox?
Run the Dropbox app on your iPhone, and sign in to your Dropbox account if not yet. Browse to your video folder and the one that you wish to download to your iPhone. Open it and go to the top right corner, tap on the Share icon > Save Video to download MP4 to iPhone Camera Roll.