Transfer to New iPhone with Ease
Why DearMob iPhone Manager? The lengthy iPhone to iPhone transfer turns out faster & easier than ever.
World-class transfer speed, support up to 11 categories of iPhone data, easy-to-use for anyone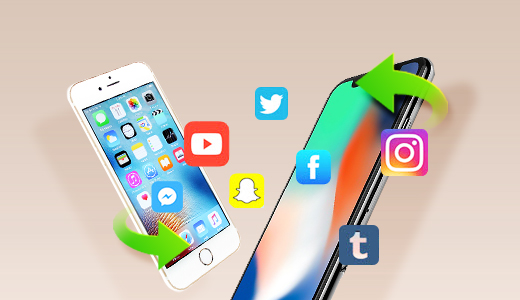 How to Transfer Data from iPhone to iPhone without iCloudHow to transfer data from old iphone to new iphone without iCloud? How to transfer everything from iPhone to iPhone X/8 without iCloud? This guide introduces how to transfer photo, contacts, messages, apps from one iphone to another.
Transfer Everything from iPhone to iPhone without iTunesReceiving your new iPhone parcel, you want to wait no more & transfer APPs & data from iPhone to iPhone 8 in a rush. This page tells you how to transfer everything from old iPhone to new iPhone including music, photos, APPs, etc.
How to Transfer Old iPhone to New iPhone?How to transfer old iphone to new iphone now that you've got the shiny new iPhone Xi/XS/X Plus new model? This guide introduces fastest ways for you to either transfer everything from old iphone to new iphone or selectively transfer iPhone data.
Home | About | Contact Us | News | Privacy Policy | Agreement | Site Map
Copyright © 2018 DearMob, Inc. All Rights Reserved.
AirPlay®, iPod®, iPhone®, iPad®, iTunes® and Mac® are trademarks of Apple Inc., registered in the U.S. and other countries. DearMob's iPhone Manager is not developed by or affiliated with Apple Inc.