Summary: Looking for a simple yet powerful iPhone file manager that can help you manage iPhone files flexibly as you do on Windows or with Mac Finder? Need an efficient iPhone file manager app that is way better than the Files app? You've come to the right place.
The Files app provides a centralized location for managing various types of files and folders, including those stored on your iOS devices locally or synchronized to cloud services like iCloud Drive and Google Drive. However, let's face it! This native file manager for iPhone may disappoint you if you're looking for a similar experience to the default file manager on Android or Finder on Mac. It comes with many known drawbacks, for example, copying large files may render the iPhone or iPad goes crashes, not showing the file extensions for media files like audio and photos, may damage the media file imported from other devices, and frequently accessing external files in a mess.
Those are why many iOS users are looking for third-party file managers for iPhones. And the good news is, there are a few iOS file managers that can help you manage iPad and iPhone data quickly and efficiently. Keep reading to learn 10 of the best file manager for iPhone and iPad.
List of Best 10 iPhone File Managers
Want to manage virtually all kinds of files stored on your iPhone including messages, contacts, photos, videos, music, audio, digital books, purchased media files, and apps? Or perhaps you'd like to transfer the data between your iPhone and a new iPhone, iPad, Mac, or Windows? DearMob iPhone Manager is your best pick for sure!
This multi-facet iOS file manager detects and displays media content and other files in a well-organized way and offers a two-way transfer solution for you to manage and transfer files from iPhone to computer and vice versa.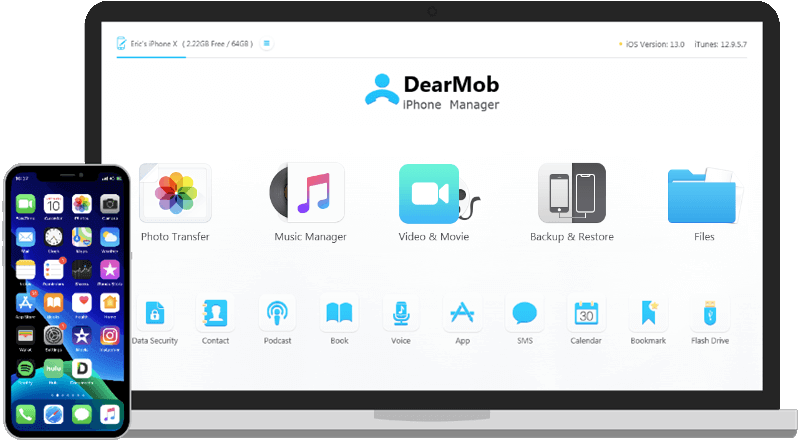 More highlight features:
One-click to backup, restore, transfer, or manage iOS data
Access and export content in File sharing Apps
Make a full or partial backup of your iPhone or iPad
Support 15+ file types: photos, videos, music, contacts…
Can export and decrypt purchased media files
Secure the exported media files with the military-grade algorithm
Transfer 1000+ 4K photos at the full resolution within 2 minutes
Preserve metadata. Never mess up the original album structure
Rich extra features: compress large videos, convert HEIC to JPG…
Simple, powerful, yet lightweight (1/6 the size of iTunes)
Run stable and fast without iTunes or iCloud
2. Documents by Readdle
Documents by Readdle does everything the default Files app can and takes things to next level with features that the Files app lacks. Besides managing multi-cloud content from iCloud, Dropbox, Google Drive, and Microsoft OneDrive, you can also read and write documents in NAS and other home servers. What makes this iPhone file manager app great is it allows you to browse files stored on your iPhone and share them via Wi-Fi. And most importantly, it's completely free. More highlight features:
Transfer iPhone files or file folders via Wi-Fi or USB
Browse iPhone files from a computer or another iPhone
Scan and manage iPhone documents with Readdle Scanner Pro
Play mainstream videos and audio files
Access WebDAV Server, FTP Server, Window SMB, and Cloud servers
3. File Explorer & Browser
File Explorer & Browser is one of the highest-rated iPhone file managers for good reasons. It lets you access images, audio, videos, PDF/Word/Excel/PPT documents, ZIP files, and more. You can sort iOS files by name, date, size, or kind. Thanks to the built-in search feature, you can quickly navigate to the specific files you need. Plus, it enables you to move around the files and even create ZIP files for share. More highlight features:
Manage various types of iPhone files
Encrypt sensitive iPhone files
Built-in PDF reader and music player
Create, copy, move, and extract ZIP or RAR files
4. FE File Explorer Pro
FE File Explorer Pro, with a price tag of $4.99, is a multi-functional iPhone file manager app that works on iPhone and iPad with iOS 12 or later. It lets you view files stored on your iPhone, PC, Mac, and NAS. As for the files stored on your iCloud, OneDrive, Google Drive, and other mainstream cloud services, you can access them without downloading them. Thanks to a self-explained interface, you can browse, move, rename, and delete files from local and cloud right on your iPhone or iPad. The most alluring part is this flexible iPhone file manager supports nearby file transfer, namely, you can transfer files like photos, music, and videos between two nearby iOS devices without Wi-Fi or LTE network. More highlight features:
Play media files in popular formats
Open PPT, PDF, and other document files
Sort iPhone files by dates, names, types
Copy, move, and delete your iPhone files
Create new folders to keep iOS files well-organized
AirPlay your photos and movies on Apple TV
5. File Master
File Master for iOS, available for iOS 12 or later, is another lightweight iPhone file manager. Its interface looks out of date but it does a good job accessing, managing, and playing iPhone files. With it, you can cut, paste, and copy iPhone files, extract ZIP files, and create folders with ease. You can read PPT, Word, Excel, and PDF files inside the iPhone file manager. You can also play common media files like video and audio files directly. However, it should be noted that playing 4k videos within the app could be laggy sometimes.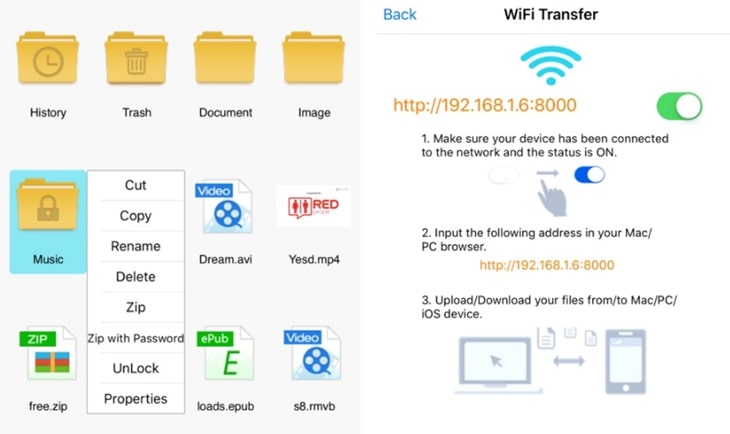 More highlight features:
Hide specific files or file folders
Transfer files between iPhone and computer
Play music files in the background
Secure iPhone files with a password
6. iExplorer Mobile
iExplorer Mobile (known as Awesome file before) is the iOS version of iExplorer. Like most iPhone file managers on iOS, it lets you browse, edit, copy & paste iPhone and iPad files and documents, allows you to communicate with your Windows and Mac browsers via WebDAV and FTP, and helps you play most video and music file inside the app directly. However, please note, this app requires you to purchase for enjoying full features.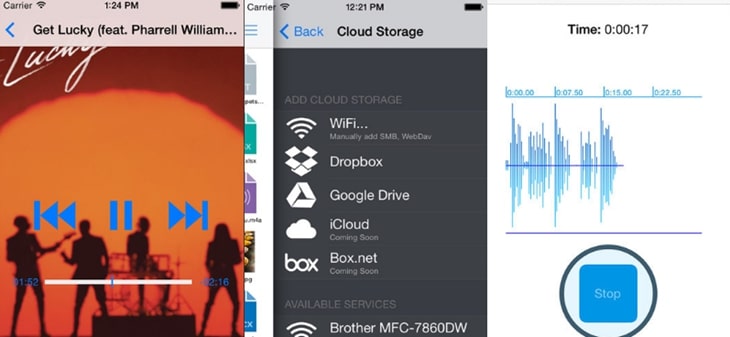 More highlight features:
Stream music from Cloud services like Dropbox
Create playlists with your own music collection
Create photos and text files. Record and edit voice memos
Encrypt iPhone files
HD version for iPad users
7. iMazing
iMazing is one of the best file managers for iPhones on the market. Besides its fast iPhone media transfer to new iPhones without iTunes and smart backups, iMazing also does well in managing iPhone files from the Files app. Just connect your iPhone to this iPhone file manager, and you will be able to access your iPhone File System. Like DearMob iPhone Manager, it is quite convenient for you to copy files to your computer, transfer videos, music, photos, etc. to your iPhone, organize iPhone files by modifying the file name, or create new folders. Please note, the trial version of iMazing only offers 100 files transfer.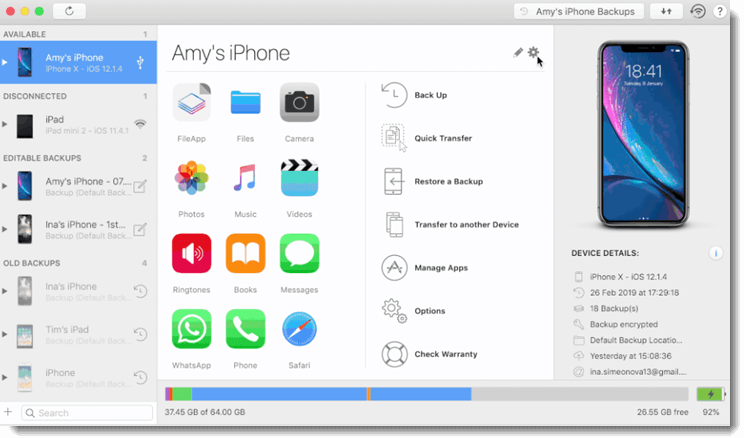 More highlight features:
Transfer photos and music without iCloud or iTunes
Backup iPhone date automatically
Access documents and data stored on third-party apps
8. AnyTrans
AnyTrans is a fully-fledged file manager for iPhones, allowing you to consolidate iPhone files in one place without jailbreaking. It runs together with iTunes and can help you transfer media files, messages, digital books, and more data between iPhone, computer, and iTunes library. You can also manage iCloud files by signing in via AnyTrans. A video download utility is also baked into this program, enabling users to grab videos from websites. With bloated functions and a busy UI, it requires some learning curve to navigate through and fully understand each module.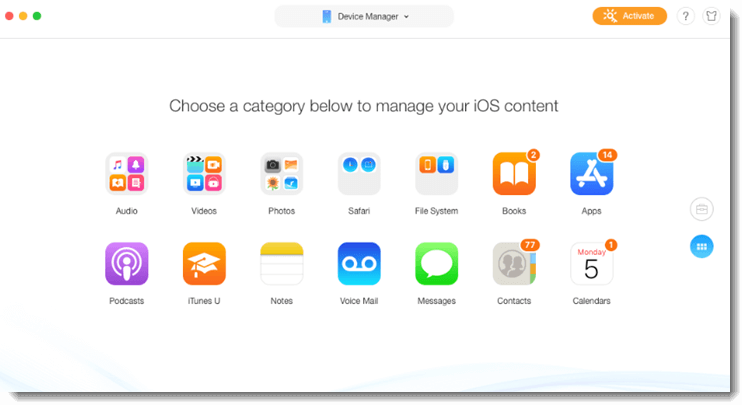 More highlight features:
Quickly manage 10+ types of iOS files
Backup, transfer, and manage all iOS content
Category your iPhone photos by types
9. TunesGo
TunesGo is a must-have file manager for Android & Apple owners with its seamless transfer utility to bridge the gap between Android smartphones and iPhones for file exchange. You can freely sync photos, videos, songs, and more across your smartphone and computer. TunesGo is armed with handy features, such as transferring songs and playlists from iPhone to PC without duplicates, viewing iPhone contacts in excel flexibly, exporting iTunes U and Podcasts, and browsing files and folders on iPhone with the built-in file explorer, making it one of the best iPhone file manager on the market. Since it supports both iOS and Android, with bloated utilities and toolkits, TunesGo could be overkill for users with Apple products only.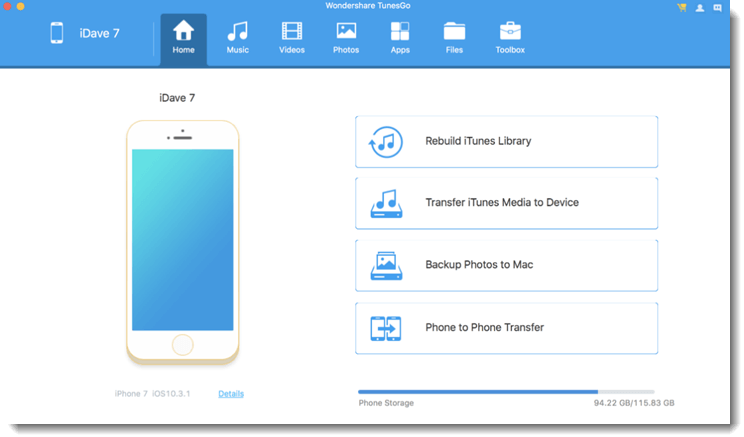 More highlight features:
Transfer files & apps from iPhone to iOS/Android smartphones
Manage downloaded and purchased music files without iTunes
Transfer data between two iDevices without iTunes
10. Xilisoft iPhone Transfer
As its name implies, Xilishoft iPhone Transfer is a tool designed primarily for transferring iPhone, iPad, and iPod files. The most alluring part about this iPhone file manager is it supports managing more than one iOS Device simultaneously, making it an ideal option for Apple fans with multiple iDevices to transfer photos, music, videos, and more iPhone content simultaneously.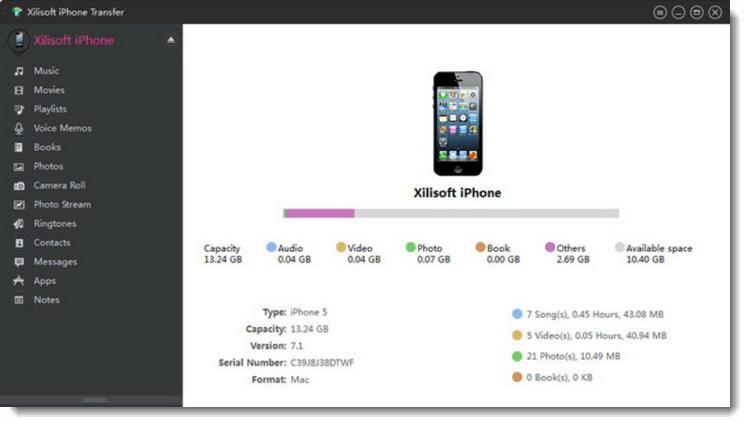 More highlight features:
Manage documents and apps on your iPhone
Support all versions of iPhone, iPad, and iPod touch
View and search iPhone files as you do on iPhone
Modify ID3 tags of multiple files at the same time
Transfer iPhone files via Wi-Fi