iOS 13 New Features: 9 Reasons to Update and 5 Reasons Not to Install
By Joakim Kling - Last Updated: Contact Author

Q: Can old iPhones be updated to iOS 13? What devices are compatible with iOS 13?
A: It depends on how old your iPhone is. iOS 13 is compatible with iPhone 6s or later, iPad Air 2 or later, the new iPad Mini 4, iPhone SE and iPod touch (7th Generation).
Announced at WWDC 2019 keynote, iOS 13 is going to be next Apple operating system. Just like any other Apple OS updates, iOS 13 is going to take your iPhone to a whole new level with fascinating features and impressive enhancements. Updating to iOS 13 or not is a major decision to make, after all, it's not easy to get back to iOS 12. Before you take a step forward to install iOS 13, let's walk through a quick roundup of fantastic iOS 13 new features and potential problems.

Find the Part that Interests You
Part 1: Top Reasons to Install iOS 13/iPadOS
• Performance
Its performance is enhanced a lot: Apps launch up to 2x faster in iOS 13, Face ID unlocking speed is up to 30% faster, apps from App Store will be up to 50% smaller and app updates will be 60% smaller on average.
• Dark Mode
The Dark Mode brings much convenience for you: It gives your iPhone a gorgeous dark color scheme, and the new wallpapers will automatically change as you switch between light and dark. You can quickly set the Dark Mode in Control center or turn it on/off at a certain time. It is integrated with most iOS apps and settings at present, while having some conflicts with the inverted color utility in iOS 11 and iOS 12.
• Swipe Typing
It allows you to drag your fingers across the keyboard so you don't need to tap each key precisely. It will offer 3 options after swiping, and you can choose the most convenient one.
• Revamped Photos App
On iOS 13, the all-new Photos app makes it easier to find and share your photos and videos. It can auto-play the live photos and videos, remove similar photo clutter, display event titles, quickly searching, edit the video, eliminate the noise and remind you of friends' birthday.
• Photo & Video Enriched Editing Utilities
In the improved photo cropping tool, you can use horizontal and vertical perspective tools to change photo perspectives. For videos, you can trim and mute the audio, use adjust tool to make contracts and tweak colors, add filers the same as you do with photos.
• Convert Live Photos into a Video
You can directly save a live photo as a video to ensure compatibility on other devices. Just tap the share icon and hit save as video. If you select multiple live photos, they will be saved as one video. If you prefer not to merge live photos into one video, you can use this workaround to convert live photos into individual videos.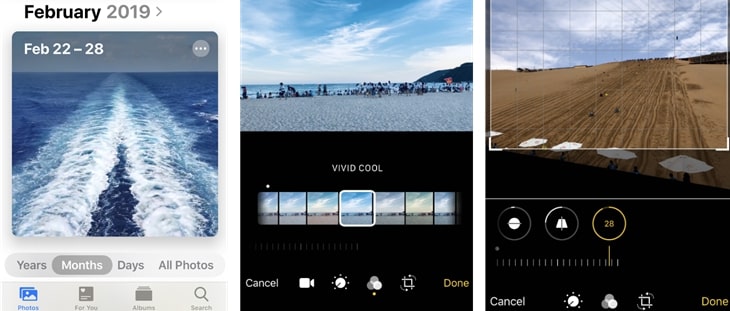 • Look Around Feature in Maps
The new Map app improved a lot and the Look Around feature is amazing: It can explore where you are going before you get there and you can enjoy a 360-degree view of this place. But this feature may not apply for all users in all regions currently.
• Save Safari Webpage as a PDF
Here comes the less known but really handy iOS 13 new feature: you can save a full webpage as a multi-page PDF in Safari browser. But don't expect to use this feature in 3rd party browsers, since it is Safari exclusive.
• Install and Manage Custom Fonts
You can download and use custom fonts on iOS 13, though the option is not available on beta versions. If you go to Settings > General, you will find a dedicated Fonts section just below keyboards. It would be nice to have more choices over typeface for your pictures and videos.
Part 2: Top Reasons Not to Upgrade to iOS 13/iPadOS
• Early Adopter Risks
Earlier versions may still have bugs, such as excessive battery drain, unprovoked reboots, signal problems, constantly App or system crashes, etc., so you can wait until iOS 13.1 or 13.2.
• iOS 13 Might Change the Way You Use Your iPhone
Some of the iOS 13 new features may be a double-edged sword, with interaction or new App layout that might change the way you use that App, negatively.
• Apps Don't Support iOS 13
Some App's updates are lagging behind and temporarily unfit for iOS 13. They may crash or have display problems, such as font shrunk together, interface display incomplete and so on. For example, your favorite game app might crash all of a sudden, which is quite annoying if you are about to win.
• Demanding for Older Models
While Apple says it's improving performance, there's an example of how hard older models are struggling with iOS 13. New features rely on more processing power of the handset's chip, and perhaps users with older models should wait and see how things actually go.
• Download Problems
According to iOS 13 early adopters, there may be some problems with first and third-party apps. If you don't need anything to scratch your tech itch, you might want to refrain from the urge to hop on the software right now.
Besides problems listed here, we also gathered 26 iOS 13 problems and solutions to tackle major and minor issues in iOS 13. If your device is already plagued with early build errors, you can try to fix it with that troubleshooting article.
Part 3: How to Downgrade iOS 13 to iOS 12 or Lower Version?
If you regret upgrading, can you roll back to the previous version? Of course, you can downgrade from iOS 13 to iOS 12 with iTunes or Finder. There might be risks that the operation bricks your iPhone, please proceed with caution. You can transfer and backup iPhone content before leaping into the steps.
Step 1. Go to the Settings app > tap on "iCloud" and scroll down to disable "Find My Phone". You'll be prompted to provide your Apple ID to turn off this feature.
Step 2. Download iOS 12 IPSW file from the official website or you can search the internet for iOS 12 IPSW file for your iPhone/iPad.
Step 3. Plug in your iPhone and launch iTunes, hold down Shift/Option key and click Update. Select the IPSW file you just downloaded.

Note:
1. You can also hit Restore and select IPSW file, but different from Update, the Restore option will erase existing data on your iPhone.
2. If you are on macOS Catalina, use the Finder App to revert to a prior iOS build in similar steps.
Will You Update?
With all the iOS 13 features and problems, have you made up your mind about whether to update to iOS 13? If you find an issue on-board, remember to report it to Apple or resort to our roundup of iOS 13 problems and solutions. If you are worried about the risks, then it's better to wait for the iOS 13.1.