iTunes and Apple Music change their policy every now and then, users with Android devices may be overwhelmed by complicated situations. But don't worry, you can find easy guides here to transfer music from iTunes to Android.
Before we get started, you need to find the iTunes music files to get prepared.
Depending on where the music comes from, the songs in your iTunes may fall into one of the following categories:
Music purchased from iTunes store. These songs for sale in the iTunes store are the so-called iTunes plus songs, i.e. AAC encoded files with .m4a extension that are DRM free music (songs purchased before 2009 could be DRM protected music).
Music in sync with the iCloud Music Library. In most cases, these songs appear on your iTunes because you have Apple Music subscription. If there is a Cloud icon, it means the music is added to the list by you, but yet downloaded to the local storage. You can click the Cloud icon to download them to the local drive.
Offline music you added to the iTunes music library. These songs are offline files you dragged into iTunes, just as how you drag music to a media player for offline playback.
To consolidate these songs, you need to check whether they are copied to the iTunes music library when adding to the library. If not, then iTunes only refers to their corresponding path to playback the music.
Method 1. Transfer Music from iTunes to Android with DearMob iPhone Manager
DearMob iPhone Manager is capable of transferring all kinds of music from iTunes to Android devices. It supports unlock DRM music so that you can enjoy the music you purchased not only on Apple devices, but also on Android phones and tablets.
To get started, click the buttons below to download DearMob iPhone Manager.
Step 1. Launch iTunes and sign-in to your Apple Account.
Go to Preferences > General > iCloud Music Library to turn it on.
Make sure to download the music (those with a cloud icon) from iTunes to your local drive.
Step 2. Launch DearMob iPhone Manager and connect your iPhone or iPad to it.
After opening up DearMob iPhone Manager, go to the Music section from the main interface.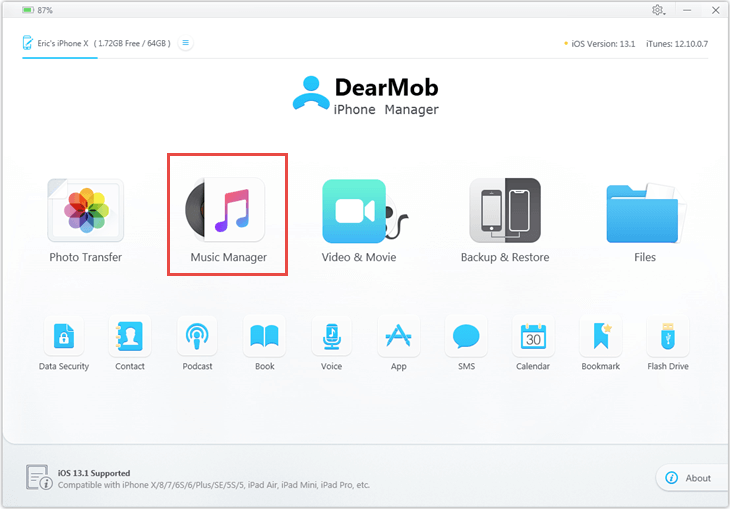 Step 3. Copy music to the local drive of computer and unlock DRM music.
Select the music you want to transfer to Android device and hit Export.
If the music files you selected containing DRM protected ones, you can hit Decode and follow the instruction in DearMob iPhone Manager to remove the locks.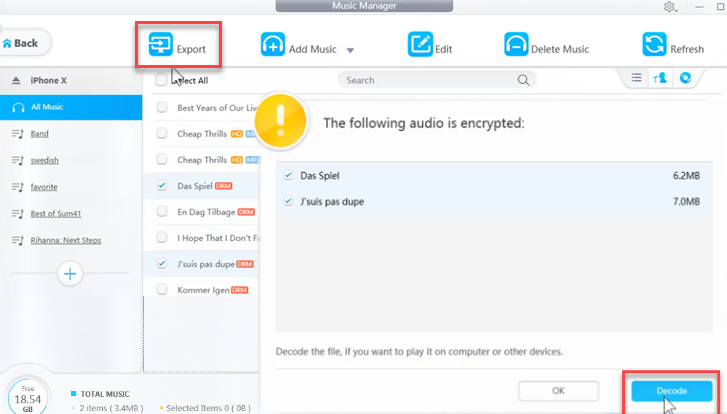 Step 4. Transfer iTunes music to Android.
Connect your Android device to the computer, and copy the exported music to its internal storage.
Why you need DearMob iPhone Manager?
The DRM music files are in .m4p which won't be able to played on Android. Using DearMob iPhone Manager, you can unlock the protected .m4p and decode it as the Android supported audio format - MP3.
Method 2. Transfer Music from iTunes to Android with YouTube Music (Google Play Music)
As iTunes is not available on Android, you can transfer iTunes music to streaming music services. Previously, you can use Google Play Music, and now that it is discontinued, you can use YouTube Music instead. Step 1. Launch iTunes and download the music to your local storage.
Step 2. Find the downloaded music in iTunes Music Library.
The default directory for the iTunes music library is shown as follows. If you have changed the location previously, you can find it in Preferences > Advanced settings.
Windows:
C:\Users\[User Name]\Music\iTunes\iTunes Media
Mac:
~/Music/iTunes Media/Music/
You may also find it here depending on your macOS version.
~/Music/iTunes/iTunes Music/
Step 3. Open your browser and visit music.youtube.com
Step 4. Hit your profile photo, and click Upload Music.
Step 5. Go to the directory of iTunes library and select the music tracks you want to upload to YouTube Music.
Method 3. Sync iTunes Music to Apple Music on Android
Since November in 2015, you can free download the Apple Music app on your Android device in the Google Play store to access millions of songs in Apple Music freely.
If you had subscribed to Apple Music before, you can directly sign into Apple Music on your Android device with the same Apple ID and password, and enable iCloud Music Syncing in iTunes. Now you can have your iTunes Music synced to Android easily.
Note:
This way requires you to have a device in Android 4.3 (Jelly Bean) or later.
This method is only suitable for those who have subscribed to Apple Music. If you want to cancel the Apple Music subscription, you can't use the Apple Music app to listen to iTunes Music and Apple Music on Android anymore, even the cached songs won't work.
If you want to share your iTunes and Apple Music songs with your friends who use Android phones, this way is also disappointing. It is better to be the same person, as your friends will be asked to log in with the same Apple ID, and Apple will also ask for the phone number to check whether it is the same number to relate to the Apple Music account when signing in with the wireless carrier. If the number is right, you have the right to access iTunes Music on Android.
Some regions don't offer the Apple Music app on Google Play.
If you meet one of the above headaches, you can refer to method 1 and use DearMob iPhone Manager to transfer music from iTunes to Android. The above restrictions can by solved easily with DearMob iPhone Manager's DRM removal feature and music transfer utility.
Final Word
With the tried-and-true methods above, you shall be able to transfer music from iTunes to Android. No matter you are on Windows or macOS, DearMob iPhone Manager is the overall best choice, at it deals with DRM music that the other two methods fail at.
Download DearMob iPhone Manager to enjoy your music anywhere, anytime.