How to Transfer Everything from iPhone to iPhone
By Joakim Kling - Last Updated: | Contact Author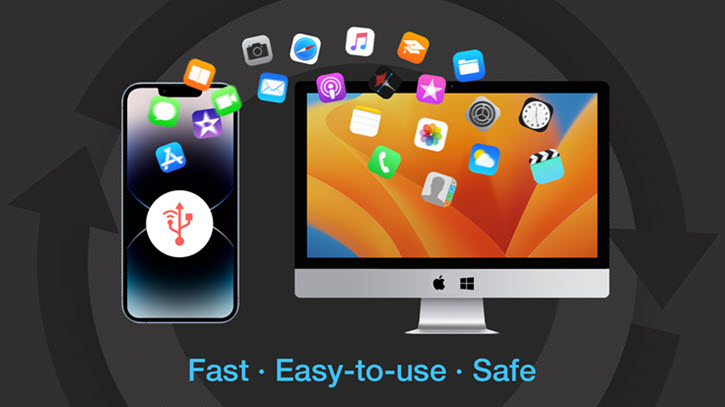 No matter you are going for the iPhone 14 series, or upgrade your old device to a more recent model with reduced prices, here is always one thing worth pondering: how to transfer everything from iPhone to iPhone? There are two solutions for different scenarios:
1. The target iPhone is new with zero content, or you don't mind overwrite existing data on a used iPhone. In such a case, you can perform a full backup of the source iPhone, and restore target iPhone with the backup file. Check out the step-by-step tutorial in part 1.
2. The target iPhone has been used for some time and have content on it. Thus, you normally won't want a restore from a backup file, as it will remove existing data on the target iPhone. Then you can refer to part 2 for a flexible transfer without erasing existing data.
Ready to Switch to the New iPhone 14? DearMob Offers Easier & Safer Solutions.
Apple has unveiled its iPhone 14 lineup on September 7, 2022. Are you ready for a phone switch? No matter you want to migrate iOS content from old iPhone to iPhone 14/Plus/Pro/Pro Max, or you simply want to transfer content from one iPhone to another, DearMob iPhone Manager is a safer and easier way to go. With this powerful iOS manager, you can either selectively transfer all or some of your iOS content to iPhone without erasing existing data on the destination iPhone, or make an incremental backup of the old iPhone and restore it to the new iPhone.
Free Download
DearMob iPhone Manager

to Enjoy A Quick & Safe iPhone 14 Switch:
Part 1: How to Transfer Everything from iPhone to iPhone 14/13/12 etc.
After free downloading and installing DearMob iPhone Manager on your PC or Mac, connect your old iPhone with the computer and make sure to unlock iPhone screen for successful connection. Tap to trust this computer when you are prompted on iPhone.
Step 1: Go to Backup section in DearMob iPhone Manager.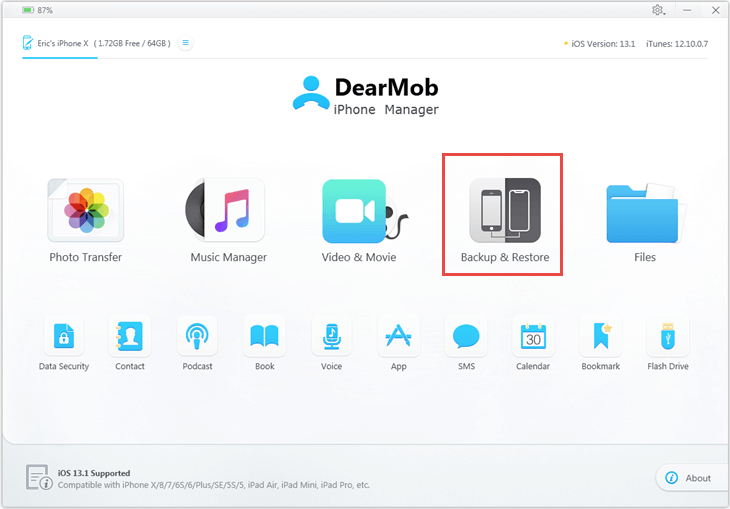 Step 2: Click Backup Now.
You can also tick Encrypt your backup before your hit that blue backup button. To do so, you will be required to enter password when restore an encrypted backup file.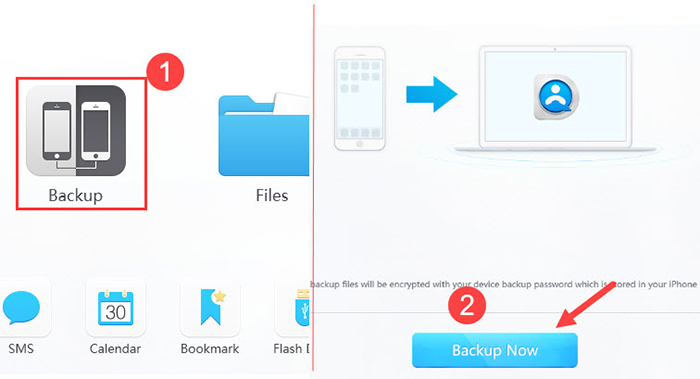 Step 3: Restore backup file to new iPhone to finish transferring everything from one iPhone to another.
• When you see a backup completed message, you are ready to restore backup to new iPhone.
• Insert SIM card into New iPhone, turn on the device and plug it to the computer.
• Click the tab Restore backup files on DearMob screen. Choose the backup file created in step 2, you can tick Restore App and App data.
• Click Restore Now, don't unplug your new iPhone during the process, just wait until it's done.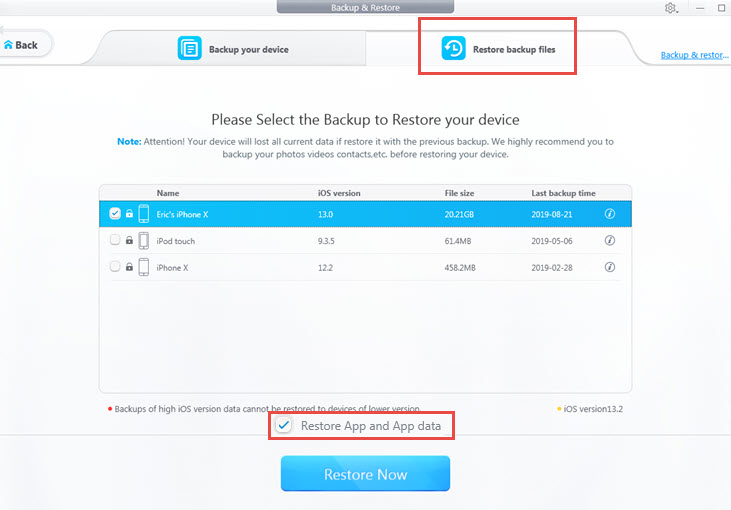 After the restoring, you will see the Apple greeting screen. Just go ahead and finish the set up process as you normal do with a brand new iPhone. On the home screen, if you see Apps with cloud icon, hit it to download Apps from Appstore. That's all the steps you need to transfer everything from old iPhone to new iPhone.
Why do I need DearMob iPhone Manager other than iTunes or Finder on macOS Catalina?
It's true that iTunes and Finder in macOS Catalina also have the iPhone backup and restore utility, but the tricky part is, iTunes backup doesn't back up everything according to Apple Support.
Here is a list of things iTunes doesn't back up.
• Content synced via iTunes or Finder, such as books, photos, imported music (your own music collections, from CDs for example).
• Downloaded files, such as PDFs from Safari downloads and opened up in Apple books.
• Data already uploaded to iCloud, such as photos, photo streams, SMS etc.
• Some preferences or settings such as Face ID or Apple Pay settings.
That brings us to part 2, where you can manually check and make sure to transfer data from old iPhone to new iPhone, or from iPhone to Mac or Windows PC with the help of the powerful iOS data management tool. Selective transfer is also possible.
Part 2: How to Selectively Transfer Everything from One iPhone to Another
In this workflow, you are given with option to transfer desired content to transfer from one iPhone (source) to another iPhone (target), without erasing existing data on the target iPhone.
Step 1: Transfer data from old iPhone to computer.
Browse content on your iPhone via DearMob iPhone Manager by clicking into each icon. Take photo transfer as an example. Go to Photos > Select all or some of the photos you want > Export.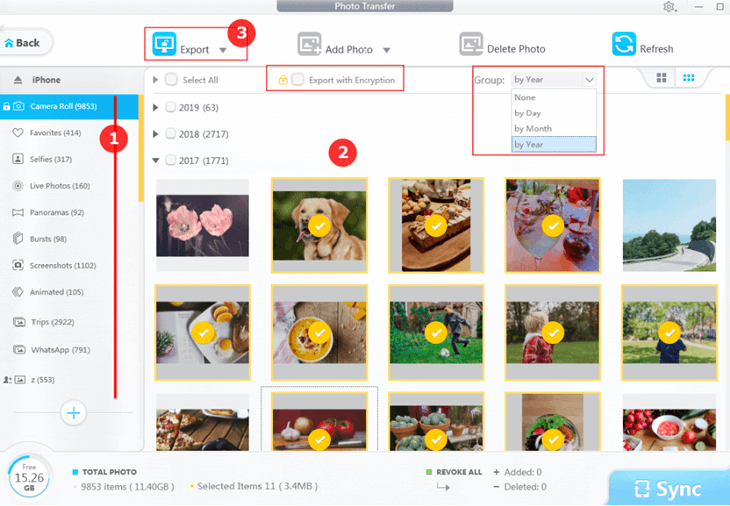 Tips:
• You can opt to export photos into year/month/date folders in settings, which keeps your photos well-organized.
• Apple ProRaw is natively supported, with metadata included.
Step 2: Import iOS content from computer to target iOS device.
Click the + icon to create an album, hit Add Photo to import old iPhone and iPad photos from step 1. You can create multiple albums to better organize photo to be added to the target iPhone.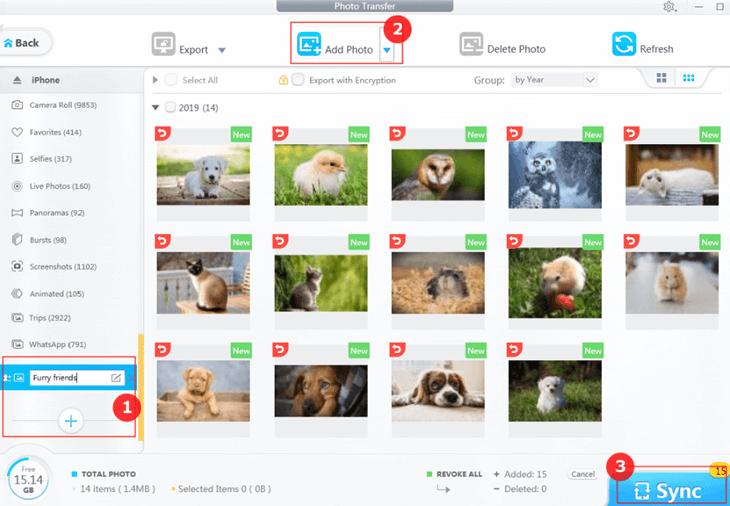 Step 3: When all the things you want are listed in the interface, hit Sync to confirm transfer content to new iPhone.
In a similar workflow, you can transfer videos, contacts, podcasts, books, voice memos, custom ringtones, calendar events, safari bookmarks and FLAC music to iPhone.
Part 3: How to Transfer Everything from iPhone to iPhone with iCloud
For a computer-less iPhone data syncing solution, iCloud could be a good choice if your total data size is less than 5GB, otherwise, you will have to upgrade your iCloud storage plan or resort to the wired solution in part 1 and part 2 without data size limits.
Note: According to MacRumors, for iPhone 14 Pro models, there are potential glitches using iCloud to transfer and restore data. Some iPhone 14 Pro and iPhone 14 Pro Max users find their devices freeze after the Quick Start process. The fix is to force restart the iPhone. Alternatively, you can use DearMob iPhone Manager to migrate everything to the new iPhone without glitches.
Case #1 Set up iPhone with iCloud backup to import data and system settings
Step 1: Back up the source iPhone.
On your old iPhone, go to Settings > Tap at [Your Name] > iCloud > iCloud Backup > Back Up Now

Note: In iOS 10.2 or earlier versions, iCloud is listed right under settings.
Step 2: Check backup files.
On your new iPhone, go to Settings > Tap at [Your Name] > iCloud > Manage Storage > Backups, to make sure the backup file has already been uploaded to the cloud.
Step 3: Erase iPhone to prepare for iCloud restore.
Then back to Settings > General > Reset > Erase All Content and Settings > Erase Now > Enter password, the phone will start to reboot.

Step 4: Restore iPhone from iCloud backup.
When you see the greeting screen, go through the process until you see the prompt of App & Data, tap Restore from iCloud Backup. Sign in iCloud and choose the right backup file to restore.
Case #2 Syncing partial iPhone content with iCloud, no data erasing
Step 1: On your old iPhone, go to Settings > [Your Name] > iCloud, toggle on content types you prefer to sync.

Step 2: On your new iPhone, repeat step 1, and wait for the selected content to be pushed here.
iCloud syncing works fine with small but indispensable data such as iPhone contacts. For large data like photos, emails or books, you might want to wait for the contented to be pushed over from the cloud for a while, with a good Wi-Fi connection of course. Still, errors such as iCloud photos could not be turn on may crop up sometimes. If you want to transfer iOS data without iCloud, jump back to part 1 and part 2 for an error-free method.
Part 4: How to Transfer Everything from iPhone to iPhone with iPhone Migration
If you have already tried the Quick Start utility from iOS 11, you will find yourself go through a similar process, with one exception where you opt to Transfer from iPhone instead of tapping Download from iCloud.
Update 1- Nov. 17, 2022 - In recent iOS 16 version, from iPhone Settings > General > Transfer or Reset iPhone, you shall see a section "Prepare for New iPhone" > Get Started. Here Apple is offering unlimited iCloud storage temporarily when you are trying to use the Quick Start – iPhone Migration feature. The apps and data of your old iPhone will be backed up until the new iPhone is set up. But after that, it will return to the previous storage plan, unless you choice to upgrade iCloud storage.
Apple didn't explain in detail what will happen to the "temporarily backed up data", but we can infer that, since your previous iCloud storage isn't enough, once you choose not to upgrade the iCloud storage plan, the data will be gone. Therefore, DearMob suggests you to fully back up iPhone to your computer (instead of only to the iCloud) before transferring data to new iPhone.
Update 2 - Nov. 17, 2022 - "Transfer or Reset iPhone" option missing? Some users on iOS 15 fail to find the "Transfer or Reset iPhone" option, and thus won't be able to enjoy that temporary iCloud storage during Quick Start iPhone Migration. There is only a General > Reset iPhone option. In that case, it is recommended to upgrade to iOS 16. Before upgrading, as always, make sure to fully back up your iPhone.
Preparations:
• Make sure your source iPhone and destination iPhone are running iOS 12.4 or higher.
• Keep both devices close to each other throughout the entire process (or use an USB3 Camera Adapter and a Lightning cable to connect two iPhones).
• Stay connected to power in case your iPhone turned off accidentally if you have large size data to move over.
• Make sure the old iPhone is signed in with the Apple ID that you want to use on the new iPhone.
Step 1: Initiate Quick Start
Turn on your new iPhone, you will see the greeting screen with different languages. On your old iPhone, the quick start screen pops out, tap continue.
Note: If you don't see that screen on old iPhone, try turning on Bluetooth.
Step 2: Scan to set up
Use your old iPhone to scan the animation on new iPhone, or tap at Authenticate Manually in case of camera malfunction
On your destination iPhone, enter passcode of old iPhone. Then you will go through the process to set up touch ID or face ID.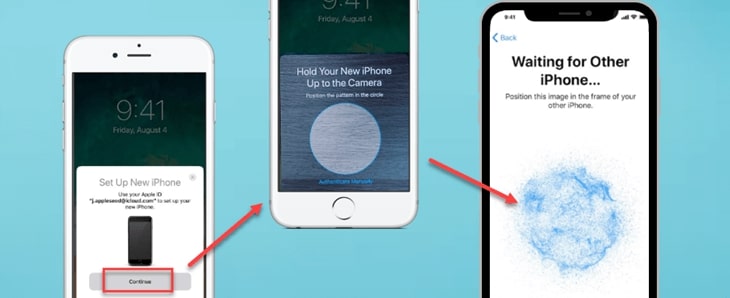 Step 3: iPhone Migration option
On the screen of Transfer Your Data, tap at Transfer from iPhone (that's the new iPhone migration utility implemented in iOS 12.4).
Note: If you tap at Download from iCloud instead, you data will be pulled from iCloud backup should you created one in the past on the source iPhone, i.e., the old way to transfer data to new iPhone by restoring from iCloud backup.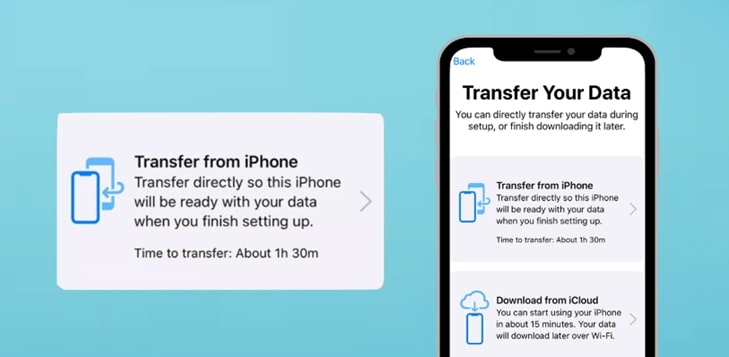 Step 4: Start iPhone data migration
Follow the instructions to set up and the transferring process will begin. You will see estimated remaining time on both screens, which means the data migration process will occupy both of your devices
Tips: Wireless transfer such as iPhone Migration is prone to glitches. For instance, some users find it won't recognize new iPhone, stuck at Apple ID authorization, or report errors saying the old iPhone canceled data restore. If you are facing one of those glitches, an alternative method is to go with the good old wired way to migrate everything to new iPhone, see detailed steps in method 1.
Final Words
Hopefully, you would have a clearer idea of what's get transferred in different iPhone data transfer solutions after reading this post. DearMob iPhone Manager offers you a visualized way to export or import iOS content, without any learning curve. Unlike iTunes syncing that threatens to remove existing iPhone data every now and then, DearMob iPhone Manager only adds things to iPhone instead of replace or erasing. Which method do you prefer to transfer everything from iPhone to iPhone? Share with us your ideas.
Free Download
DearMob iPhone Manager Trial Version

to Enjoy A Quick & Safe iPhone 14 Switch: