iPhone backup is an important step before we switch to a new iPhone, perform a software update, or relieve some space by deleting files from the iPhone. Mac comes with native solutions to back up iPhone, such as Time Machine and Finder. But PC users are not included in such services. When you turn to iCloud and iTunes for Windows, you'll find them choppy, data-erasing, and error-prone.
Here we'll show you the 10 best iPhone backup software for PC and apps for iOS and give you the inside scoop on their pros and cons. Keep reading and find the one that suits you best down below.
1. DearMob iPhone Manger
DearMob iPhone Manager is hands down the best software to back up iPhone and help you out. It not only gives far more scope for what to backup (media files, text messages, contacts, app data, book, voice memos, etc.) but also simplifies the way of iPhone backup within one click.
In DearMob, you are totally free to select any specific file to back up without iTunes, customize the location of backups, lock your backups with strong passwords, and move files to another iPhone, iPad, Windows, Android phone, or an external hard drive.
Have DearMob on your computer, and you will never be bothered by iPhone file management issues, such as transferring files between iPhone and PC seamlessly, converting HEIC/HEVC/ProRes RAW to formats compatible with Windows and many other apps, encrypting and decrypting, and beyond.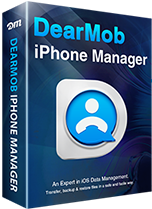 Back up 17+ types of files, incl. photos, videos, music, documents, contacts…
1:1 app data backup for WhatsApp, Facebook, Twitter, LINE, WeChat, Viber, Kik, etc.
Perform both full and selective backups from iOS 7.0 and later.
Clear file categories. Intuitive file management. Connect 2+ iDevices via USB/Wi-Fi.
iPhone file transfer, backup, restore from backups, and migration in one stop.
How to Use DearMob to Back up Your iPhone
Step 1. Download and install DearMob iPhone Manager on Mac/Windows. And launch it.
Step 2. Connect your iPhone to your computer with a USB cable (or via Wi-Fi), and tap "Trust This Computer" to allow this iPhone backup software to access your iPhone handset.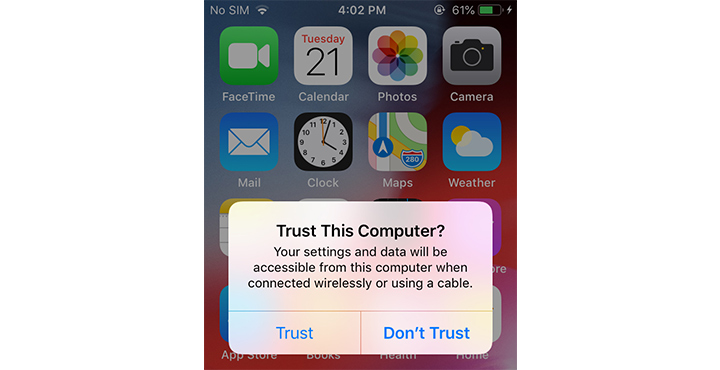 Step 3. Click the "Backup" button, and you'll jump to the second UI to make a backup of your iPhone.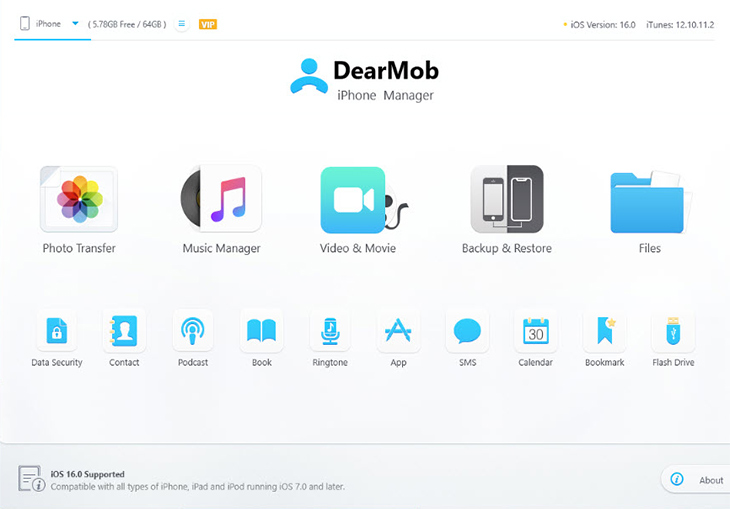 You can check the "Encrypt your Backup" box to password protect your iPhone backups. Later you may also stay with DearMob iPhone Manager to remove password or change password for local backup files including ID password, Homekit data and health data.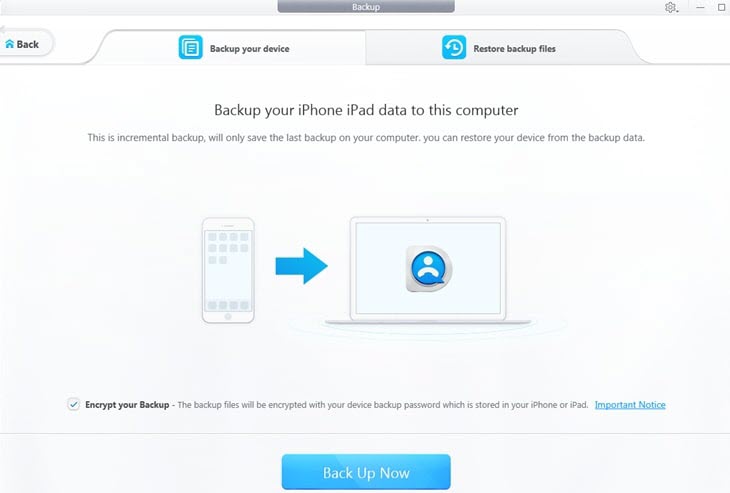 Step 4. Click "Backup Now" to back up iPhone data to the computer, the whole process may take up 15-20 minutes, please make sure you have enough time for the backup. Commonly, the more data on your iPhone, the longer time will spend in the iPhone backup.
Tips: To back up specific files, go to the main UI and click the module according to the file type. Then you can select files at will and click "Export" to make a copy on your PC.
Pros:
Easy and fast to back up iPhone by intuitive drag-n-drop.
Backup iPhone to specific location to your liking.
Make multiple iPhone backups without overwriting.
Effective encryption to make backup only you can access.
Organize, delete, add, convert, and compress files in iPhone.
Cons:
It does not work for Android phones.
2. Wondershare TunesGo
Though the free trial provides very a limited experience of this iPhone data backup software, it delivers a slew of functions including video transfer between iPhone and PC, music transfer and help add ringtone to iPhone, photos transfer and contacts management.
In order to back up your iPhone contents to a computer, launch TunesGo iPhone backup software > click "Backup Device" > change the output path by clicking on the "Save Path" box, you could see both the Save Path, and that Wondershare's iPhone backup software exports its backup files as a .bak instead of a backup folder.
What you need to pay attention to is that TunesGo iPhone backup tool doesn't support ebooks, voice memo, call history, apps, app data, and bookmarks backup.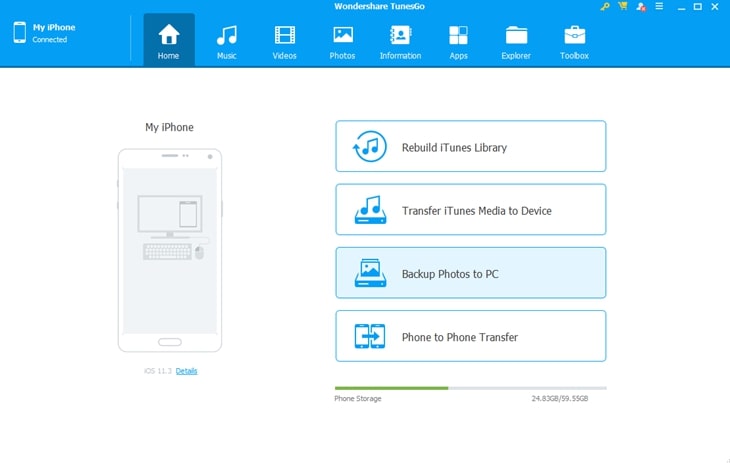 Pros:
Make a .bak file which is easy for other iPhone backup tools to retrieve data.
Easy to move backup files between multiple iDevices.
Optimized media files for iOS devices.
Safe to back up and restore iPhone files on your computer.
Cons:
Limited supported files - contacts, calendars, music, videos, photos, and messages.
Some media playlists cannot be imported into TunesGo.
3. iMobie Anytrans
The very best part about Anytrans iPhone backup software is that it offers 2 alternative methods to backup iPhone data: you can either click on the "1-click backup" button to deploy Anytrans to work and backup iPhone data or you may just click on "iTunes Backup" which deploys the iTunes software installed on your computer to initiate a backup.
This iPhone backup tool integrates most iTunes features when compared to the others of its kind – showing iTunes library with 2 functions - "send to PC" or "send to device".
Note that when using iMobie Anytrans to transfer APP data, you may choose to transfer APP setups along with the APP data.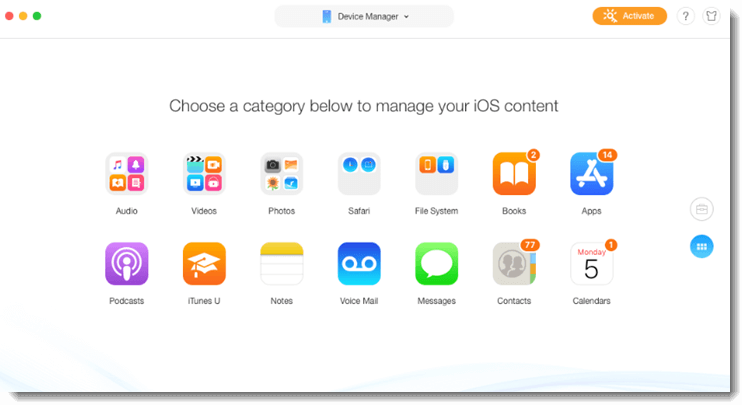 Pros:
Support full backup and selective backup.
Access to iPhone apps, media files, and other data.
Able to manage content on iTunes library.
Feature ports to work with iCloud.
Cons:
It's more expensive than its competitors.
The free trial version has a very limited amount of features.
4. iMazing
Unlike the multi-functionality of DearMob iPhone Manager, iMazing is more a bare-bone iPhone backup software focusing on how to back up and restore the iPhone data. With the free version of this iPhone backup software, you may easily initiate a backup of iPhone data by clicking on the "Back Up" button – next to the stimulated iPhone home screen, the first option of its line – but by the time you plan to use the "Restore a Backup" function, you'll be redirected to iMazing's online store to purchase this iPhone backup software: $39.99 for a single copy, $49.99 for 2 computers and $69.99 for 5 computers are optional.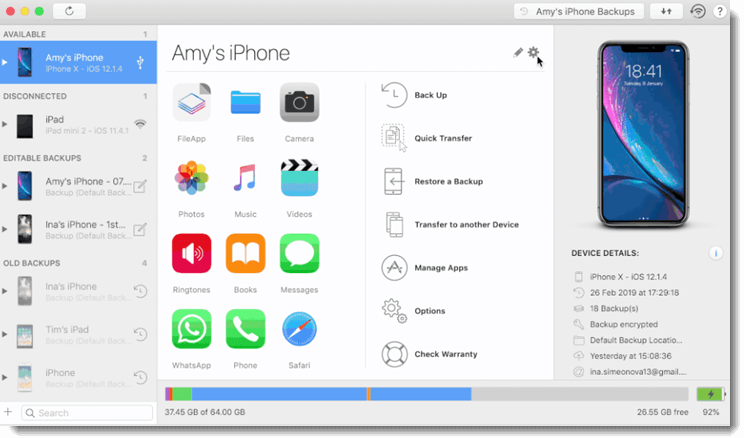 Pros:
Make iPhone backups in one click.
Offer advanced functions such as "Export Raw Data".
Back up your iPhone at a certain frequency, weekly or monthly.
Restore from backup files.
Cons:
Slow performances of some operations.
Lock many useful features in its free version.
5. iExplorer
iExplorer is a piece of old software to back up iPhone on the desktop that is still in use. It presents iPhone files in their own categories and allows you to transfer files from your iPhone to your computer's disk or iTunes on your PC. iExplorer does not have access to all the files on your iPhone, but it lets you view files before backup.
Though quite adept at iPhone-to-PC transfer, it doesn't intend to provide PC-to-iPhone transfer very much. Photos, music, and video backup can be finished with a mouse click, but you're not really going to restore the iPhone backup with iExplorer.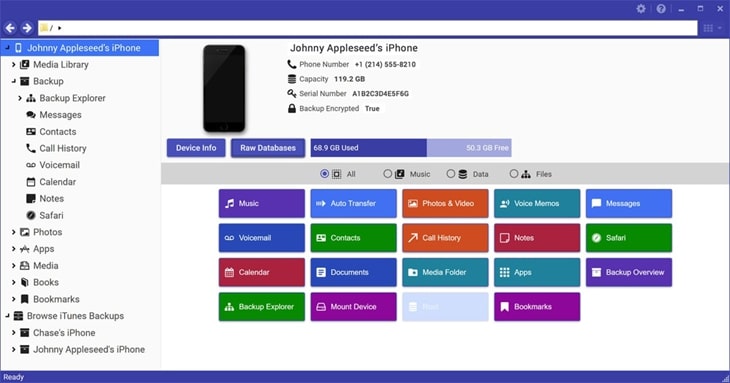 Pros:
Back up iPhone to computer and iTunes.
Access to contact, notes, call history, and more.
It can mount iPhone as a disk for file accessing and management.
Support iPhone, iPad, and iPod Touch.
Cons:
Not free to back up the entire iPhone in one click.
Can't back up files from computer to iPhone, or from one iPhone to another.
Slow to back up the entire iPhone files and data.
6. Easy Backup
Easy Backup is a free app for iPhone and iPad. You can use it to back up all your contact info on an iPhone/iPad, and send backups easily via email, Dropbox, and Google Drive. If you do not need to make a complete backup of your iPhone that includes videos, photos, music, documents, and app data, Easy Backup could be a good iPhone backup app for you.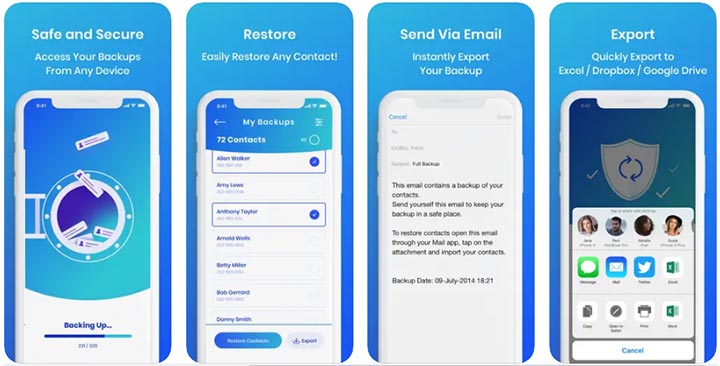 Pros:
Complete iPhone contacts solutions – backup, restore, export, transfer.
Easy, fast, and safe to make backups of iPhone contacts.
Make a backup without using a computer.
Cons:
Only back up iPhone contacts.
Do not support iOS earlier than 12.0.
7. iDrive Online Backup
Even though there are merely powerful iPhone backup apps that perform a full backup like desktop software, iDrive tried its best to offer you as many backup options as possible. You can use it back up contacts, photos, videos, and calendars in a single tap. Moreover, Easy Backup supports NAS backup, server backup, and disk image backup.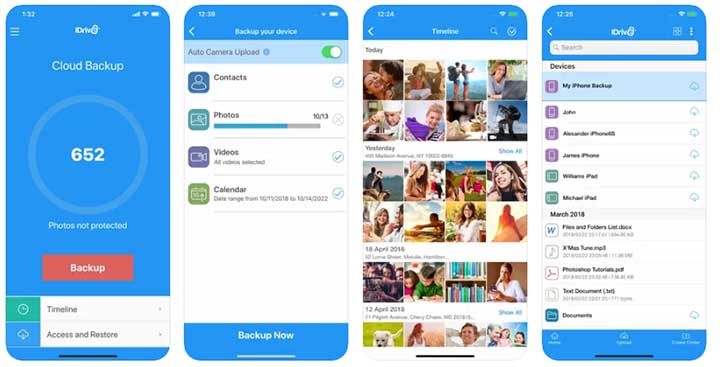 Pros:
Cloud-based that does not occupy any space on your iPhone.
Easily access to iPhone, iPad, and Mac.
Free to back up 5GB of data on your iPhone.
Cons:
No encryption features.
Cannot back up apps, app data, books, voice memos, etc.
8. Synology Photos
Synology Photos is an app to back up iPhone photos and videos in the palm of your hand. It features flexible and comprehensive management tools to back up and browse photos by chronological order or folder structure. It can file photos of loved ones or favorite vacation spots through automatically created albums. Also, it allows managing photos by topics or themes created by yourself.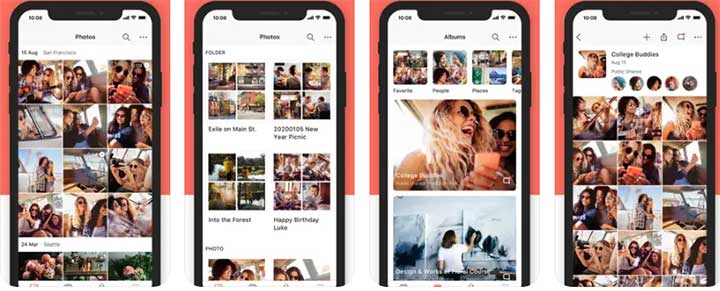 Pros:
Preview iPhone photos and videos before backup.
Clear file categories by date and folder.
Support simple edits on the date, tag, description, and ratings.
Cons:
Cannot back up iPhone files other than photos and videos.
Only available for iOS 14 or later.
Only support 5,000 files per upload.
9. Google Photos
Google Photos is a free app to back up iPhone photos and videos on the cloud. It has a smart image recognition tech that lets you search photos by the people, places, and things in them—no tagging required. Also, it enables you to make photos into albums, apply edits to them, and share them with your friends and family via links.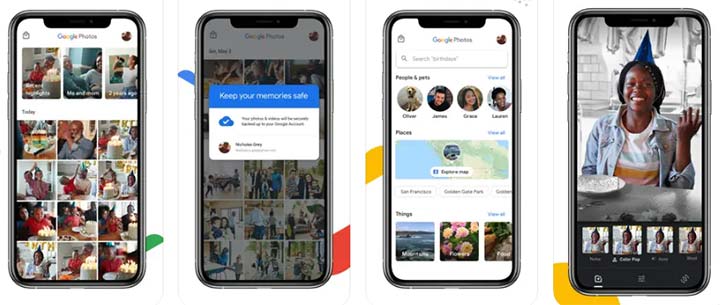 Pros:
Automatic photo organization and indexing.
Share backup files easily via a link.
Advanced security infrastructure and easy-to-use privacy controls.
Cons:
Limited free backup storage (15GB).
Can't back up iPhone app data, contacts, call history, and other data.
Backup files may be impacted if your Google Photos account is inactive for 2+ years.
Can't back up iPhone without network connections.
10. Google Drive
Compared to Google Photos, Google Drive can back up iPhone files of more types, including videos, photos, audio files, texts, documents, and archive files. But it applies specific limits on each type of file and you need to check them out carefully for a successful backup.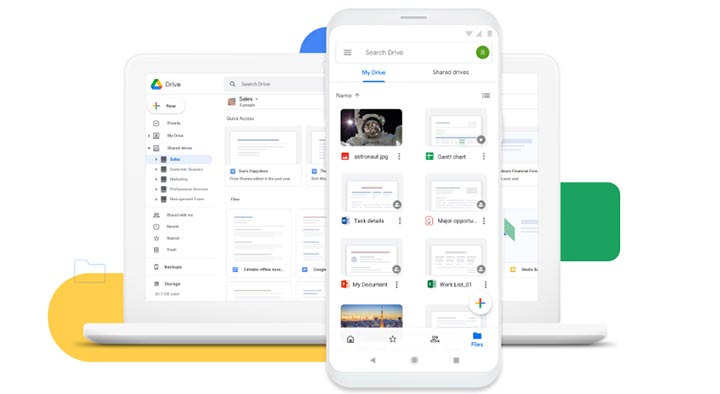 Pros:
Free app to back up iPhone.
Download and share backup files via links.
Let you preview backup files online.
Cons:
Cannot back up the entire data from your iPhone.
Only workable with network connections.
To Sum Up
Although the full version of DearMob iPhone Manager will not be charge-free, its free trial version offers a sufficient amount of backup chances every day. You can 100% surely free backup contacts from iPhone to computer and backup & restore SMS within those limited trial times. It's an ideal iTunes alternative against all the iPhone backup not enough space errors.
So, don't hesitate trying this iPhone backup software out! Be our guest to download the free version and test whether it is worth your money before making purchases. Or you can purchase directly to lift the daily-limitations with 30-refound guarantee.