2023 Top 5 Lightroom Alternatives for macOS Catalina
By Joakim - Last Updated: Contact Author

Today the digital market is rushed with many superficial photo edit software and Operating system to support most of the entertainment apps which literally challenge the market with their branding and advertisement. Where, Lightroom is well-known commanding digital image edit software trending from a great period but still it has issues like lagging, limited quality designing, lack of device and another app compatibility that is overlooked or can say a user is insisted to face after purchasing that brand. On the contrary, there are many Best Lightroom Alternatives for macOS Catalina that are incorporated with latest techniques, feature updates, and impressive edit tools that more efficiently support bulk image integration and photo edits.
On the first note, the speed is a top favorite attribute in most of the scenarios from digital media to internet and from any Nanodevice to any Supermachine. Undoubtedly, photographers and image editors seek more intelligent and impressive functionality to design their content. Where they find MacOS Catalina does not support many Adobe software, including Lightroom. And prefers Free lightroom alternative (macOS Catalina) to achieve cost-effective designing, catalog optimization, and image manipulations.
DearMob iPhone Photo Manager - Tidies up and organizes your iOS photos
As the need for photo archiving and editing has become equally very important. For daily iPhone photographers, managing thousands of iPhone/iPad photos would be a herculean task without a smart iPhone photo manager. DearMob iPhone Photo Manager comes to rescue. It transfers your picked iOS photos from iPhone to computer without syncing the whole albums and organizes your photos by apps, media types and date/month/year.
• Transfer without syncing, no accidental photo replacing, deleting, or erasing
• Batch transfer huge amount of photos between iDevices and computer stably
• Convert HEIC to JPG upon transferring at your choice
• Encrypt sensitive pictures upon transferring
• Retain geo-metrics and photo animation
• Auto transfer both edited and original photos
• Convert live photos into a still photo and a video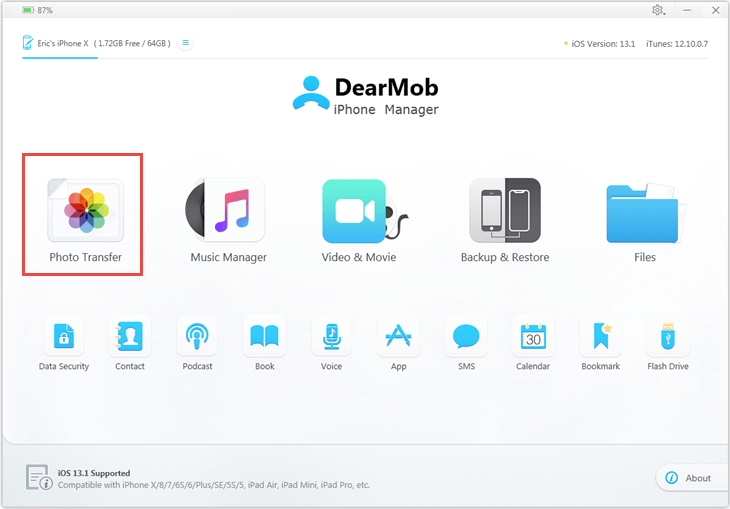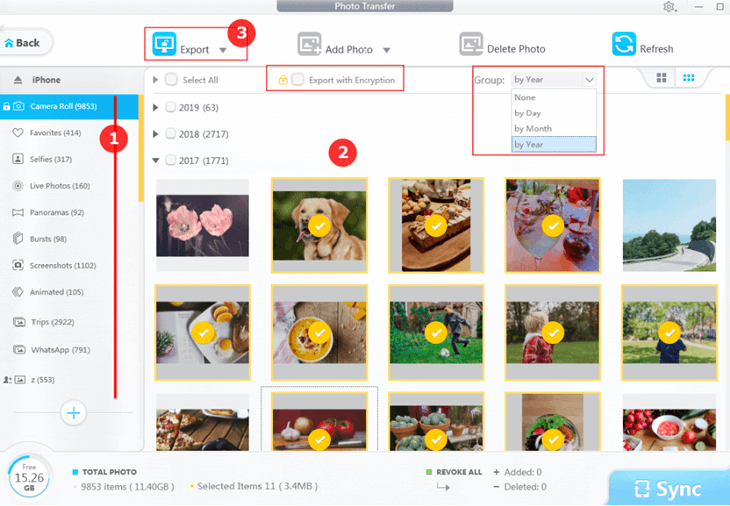 Other features: built-in custom ringtone maker; option to convert video files into an Apple-friendly format upon transfer to iPhone; install apps not available in App Store; print text messages to keep memories alive; group years of calendar events into one place for easy management.
High authority sites strongly recommend DearMob iPhone Photo Manager which is an absolutely great iPhone photo organizer. Download it now:
1. Luminar 3 with Library for regular Pcs, iOS, & MacOS
The Luminar 3 product of Skylum Software is considered as the next generation image designing solution integrated with most explicit features that affirm it as significant lightroom replacement (macOS Catalina). The Luminar 3 professionally designed with impressive adjustments and cinematic effects help in developing realistic and flawlessly creative images with artistic expressions. The Free lightroom alternative (macOS Catalina) software Luminar 3 for all PCs and macOS is much effective image enhancer of the date for macOS & iOS. Easy to collaborate and dynamic editing tools make it an award-winning MacOS that credits it as the best imaging and editing software for a diverse range of photographers.
Significant features that label Luminar 3 best Lightroom replacement (MacOS Catalina)
Ø The library feature assists users to create many catalogs
Ø Free upgrades available for previous versions of Luminar 3.
Ø AI-powered tools and impeccable masking elements caption it as a professional photo editor.
Ø The range of filters, presets, and multi-effects ensure authoritative imaging resolutions for photography lovers.
Ø Support iOS, PCs, macOS, and other companionable software.
2. Affinity Photo - best image enhancer Lightroom alternative on macOS
The Affinity photo enhancer and editor specially designed for macOS by serif recently altered with free download for its wide range of users. The low-cost quality editing and best compatibility feature count it as a Lightroom alternative for macOS Catalina. The software is kept open on a windows computer that somewhere with its extensions challenges Adobe Photoshop and Lightroom too. In terms of cost and incorporated with other own subordinate apps it is listed as one of the leading image editors with great macOS, iOS, and MS Windows supporting photo editor.
Ø One time purchase and lifetime free updates and versions
Ø Controlled RAW processing & Best zooming qualities
Ø Powerful photo editing & Great image resolution possibilities
3. Capture One Pro is Lightroom equivalent (MacOS Catalina) photo editing software
Developed by phase 1 the Capture One Pro is incredible software that provides major assistance for image classification and secured photo editing. With boundless support to different types of cameras and editing tools, it is weighed up as Lightroom replacement (macOS Catalina) image editing software. It offers a trial for 30 days, and subscription options also can purchase it at affordable prices. Imaging solutions with dignified RAW quality images, import, and export features with elite customizations title it as top Lightroom alternative. The elucidating interface provides exceptional backtrack experiences without any interruptions to other apps.
Ø Advanced camera shooting modes
Ø Best image organizing tool
Ø Powerful user control
Ø Multiple layer adjustments
Other features: extract photos from iCloud backup; take a snapshot of iOS device (a utility for advanced users); built-in video downloader; manage apps; sync file contents to iTunes; backup Contacts/SMS/Voice Memos/Notes etc.
4. The image fun editor app On1 Photo Raw
Most fun editing Photo editor On1 Photo Raw app comes with high-quality filter options and automated editing features that somewhere count it as lightroom replacement (macOS Catalina). The integrated layer setting helps you combine many images decently with much accuracy. Well off image ornamenting tools and imaging resolution makes it the best Lightroom alternative. Intelligent Facial recognition and massive photo library is another appreciating feature for various standards of photographers.
Other features: extract photos from iCloud backup; take a snapshot of iOS device (a utility for advanced users); built-in video downloader; manage apps; sync file contents to iTunes; backup Contacts/SMS/Voice Memos/Notes etc.
5. The Hi-tech Rawtherapee Image Editing App Software
Classified as cross-platform and opened source Raw processing system the app is master of photo enhancer and valued highly by top photographers as well. Rawtherapee the most preferred photo enhancer than Lightroom Alternatives for macOS Catalina is qualified with automated photo alignments, camera look, editor toolbox, history panel segmented with snapshots like features. The Hi-tech Rawtherapee channelize smooth editing of different images captured from different devices, processing, organizing, color scheming, and handling bulk image editing makes it viably a great Lightroom replacement (macOS Catalina) image editor. Conclusively it is claimed as best photo editing software that supports monochrome cameras and film negatives also best manage chromatic aberrations too.
.
Final Words
That's our list of the top 5 Lightroom alternatives for macOS Catalina in 2020. No matter which one you choose, to manage your gorgeous and organize pictures on iPhone/iPad, you will always need a smart tool - and DearMob iPhone Manager is exactly what you should get. Flexibly transferring photos without backing up the entire iPhone, curating your edited photos, converting HEIC to JPG, retaining photo geo-metrics and animation of GIFs, DearMob offers the most understanding solution.