iPhone is a fantastic device to take photos, and as Apple keeps improving its chips and software, it gets better every year. It's dead simple to take pictures on our iPhone but Apple gives us a headache when we try to move massive photos from an iPhone to a PC or Mac for better iPhone photo management or to free up iPhone storage.
Windows does not fully access to iOS photos and manage them easily as you wish. Open the DCIM folder on Windows File Explorer, and you'll find it only contains photos from iPhone camera roll and mixes them together with videos. The Photos app cannot perform full management of your iPhone images, either. Let alone encrypting photos and processing photos to Windows-friendly formats.
If you want to keep safe all your precious iPhone photos and manage them intuitively, take a look at our recommendations of the 5 best iPhone photo managers for Windows, as well as some actional tips to find the extractly right software for you in the end. Let's get started!
1. DearMob iPhone Manger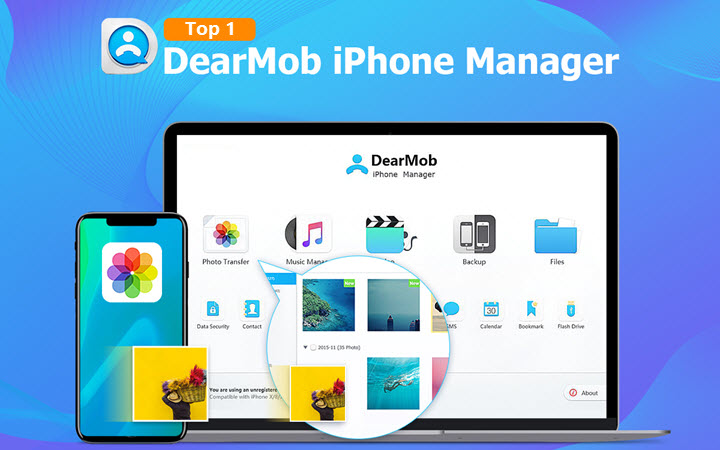 DearMob iPhone Manager is a dedicated iOS content management tool that helps you to flexibly add, delete, and move iPhone photos on Windows and Mac.
iPhone photo management on PC becomes super easy with this smart and lightweight tool. Fully backup and restore iPhone is 1-click away, while you can also choose to selectively backup and restore some of your iOS files, including photos, videos and audio tracks, contacts, SMS, and 17+ types of files. For photo hoarders, try DearMob iPhone Manager to manage photos in the most straightforward way and keep enjoying and capturing more moments in your life!
DearMob iPhone Manager - iPhone Photo Management on Windows/Mac Made Easy
No iTunes, no accidental data erasing.
Batch transfer a huge amount of photos stably.
Manage iPhone photos by albums/types/date/apps.
Auto transfer both filtered and original photos.
Showcase the best shot of burst photos.
Convert HEIC/Live/Raw/GIF/edited/live photos at your choice.
Encrypt sensitive pictures upon transferring.
Keep intact GPS data, time data, and all EXIF metadata of iPhone photos.
How to Manage iPhone Photos on Windows PC with DearMob iPhone Manager
Step 1. Download and install DearMob iPhone Manager on your PC or Mac. Launch DearMob and unlock your iPhone.
Step 2. Connect your iPhone to your computer via USB or Wi-Fi. Choose "Trust" in the prompt on your iPhone.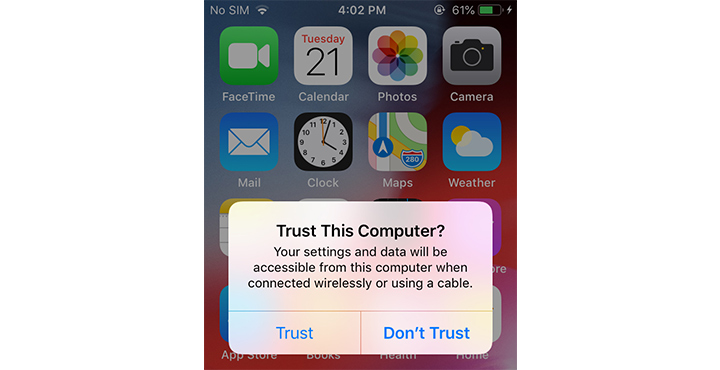 Step 3. Click "Photo Transfer" on its main interface to enter the iPhone photo management panel.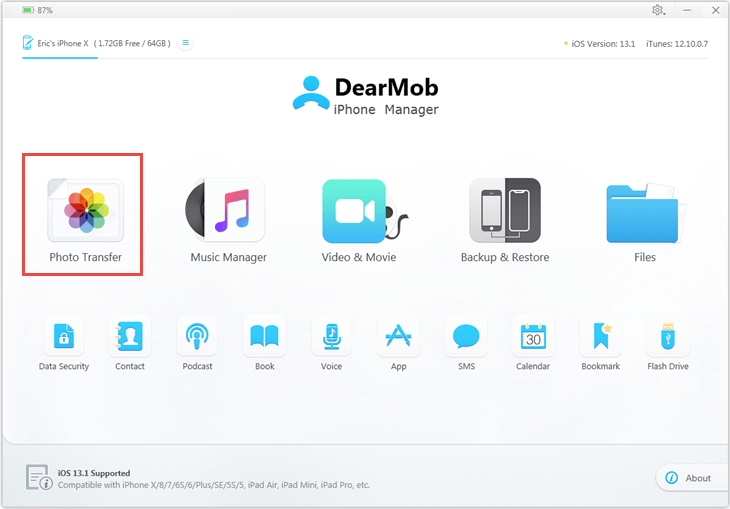 Step 4. Now you can see all the files on your iPhone, including images from the camera roll, apps, downloads images, and so on. Preview these photos by folders and date. Now you can select all of them or some of them by clicking.
Then here goes multiple options to manage iPhone photos on PC.
Option 1. "Export". The selected photos will be exported from your iPhone to your computer. Click the down arrow icon, and you can choose to export them in their original formats or convert HEIC photos to JPG. You can see the file destination in DearMob Settings.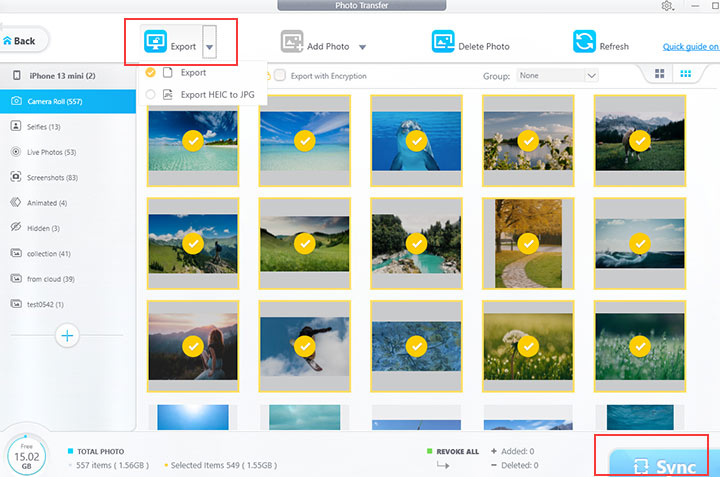 Option 2. "Delete Photo". The selected iPhone photos will be deleted. Click "Sync" and they will be removed from your iPhone.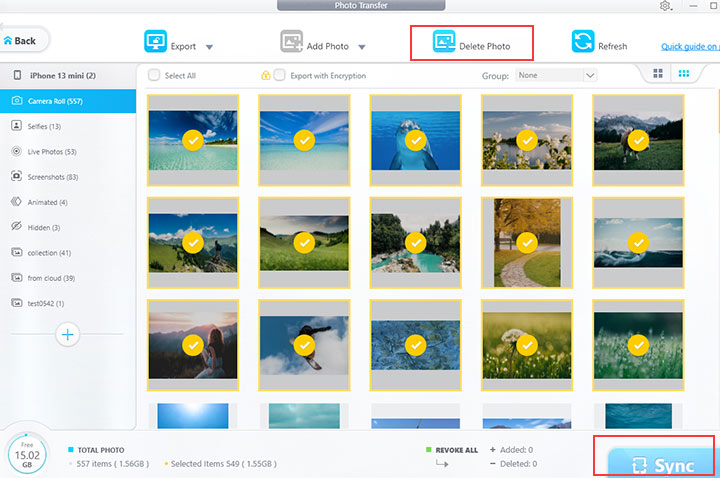 Oprion 3. "Add Photo". Click the plus icon, then go to "Add Photo" to import any pictures from your PC to your iPhone. Then hit the "Sync"' button.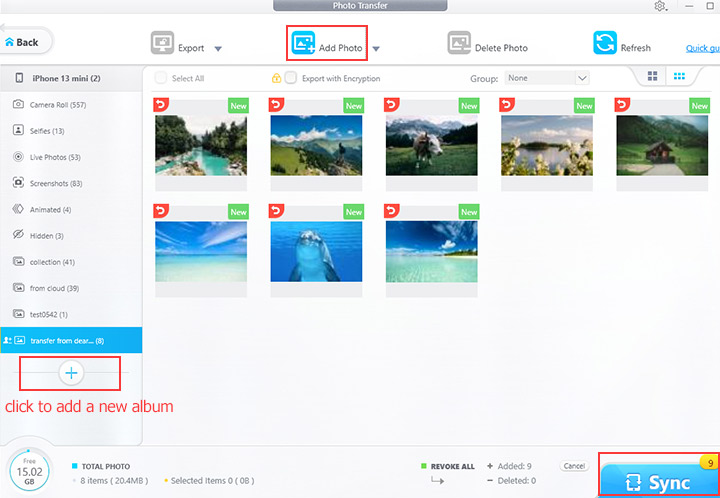 Step 6. When everything is finished, close this iPhone photo management software and disconnect your iPhone from Windows.
2. Wondershare TunesGo
If you have both Apple devices and Android gadgets at hand, TunesGo will be your one-stop Android and iPhone photo manager. It intelligently discovers photos from iPhone camera roll, photo library, shared photo albums, and iCloud photos for you to preview and transfer. A bonus feature is its built-in GIF maker that allows you to create GIFs from live photos, motion photos, static images, and video clips.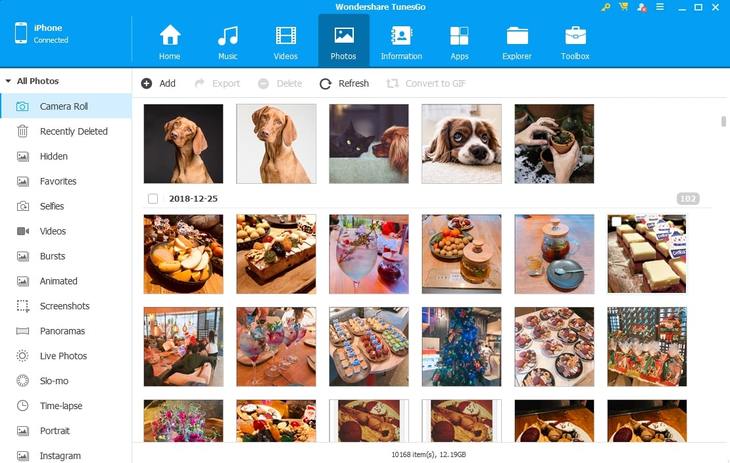 3. Xilisoft iPhone Transfer
The best thing about Xilisoft iPhone Transfer is its support of multiple iOS devices at the same time. Baked with two way syncing utility, it outsmarts iTunes to transfer photos from iPhone to computer and backward. Xilisoft also offers you the option to create and edit albums to better organize iPhone photos on Windows. A bonus feature is "convert to GIF" which allows you to create animations out of pictures and videos.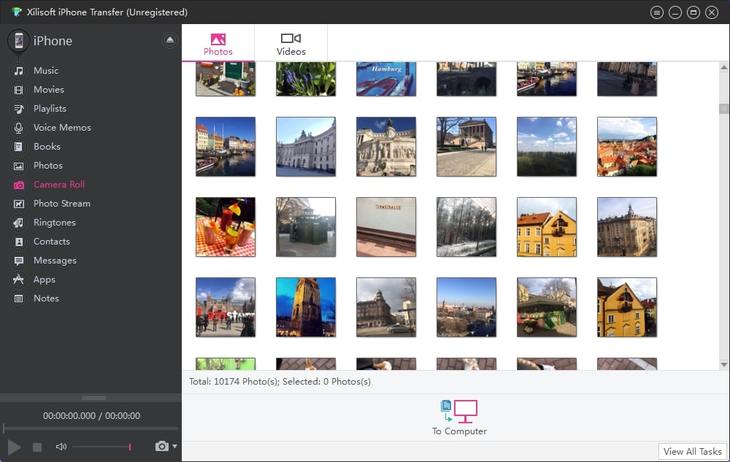 4. Syncios
Syncios is an iTunes-dependent transfer tool for iDevice, though it's not necessary to run iTunes when you use Syncios. Currently, it doesn't support exporting edited photos and GIFs from iPhone, but other photo types work just fine, including those in photo streams and shared albums. You can select desired pictures and save in a PC for better iPhone photo management.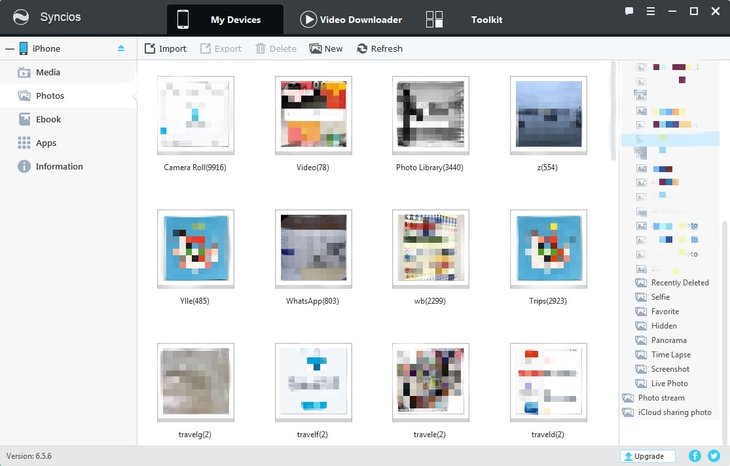 Other features: extract photos from iCloud backup; take a snapshot of iOS device (a utility for advanced users); built-in video downloader; manage apps; sync file contents to iTunes; backup Contacts/SMS/Voice Memos/Notes etc.
5. iExplorer
iExplorer has a UI that resembles windows explorer where files are organized in a tree structure for users to explore photos and other files on iPhone. It is convenient to batch manage iPhone photos by albums and by people (based on face recognition). The list view provides you with detailed information on the date, picture size, and name, but the lack of a grid view makes it less convenient compared with other software.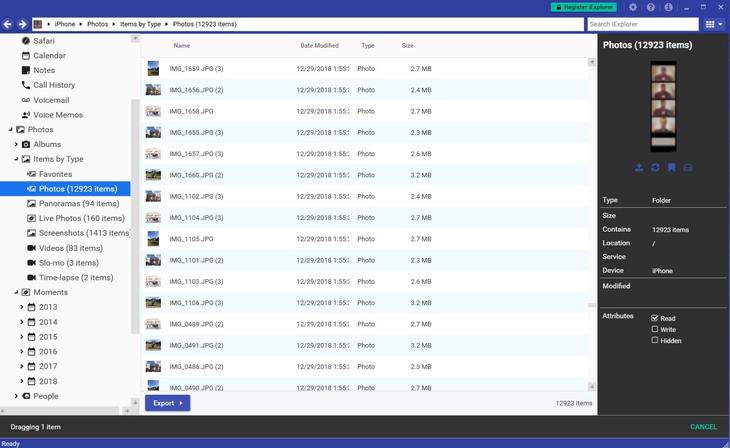 Other features: disk mounting features for advanced users (require additional driver installations: EldoS's Callback File Systems driver); export call history, voicemail messages, calendar events, and more; read and write to the root of iDevice (jailbreaking required, use with caution).
How do I Find the Right iPhone Photo Manager
Users looking for the best program to transfer photos from iPhone to computer have a truly large range of options to choose from. Before rushing to make a purchase, it's better to try out a number of programs instead of making a decision based on fancy screenshots offered by the providers. Though we round up 5 best iPhone photo transfer software in this post, you might still have no idea which one to settle on or you might want to try other programs in the market. Here is a handy list for you to test and make a decision:
Does the program load pictures quickly?
Image loading time weighs a lot as it is common to have thousands of pictures on iPhone nowadays. If you plug in your recently purchased iPhone XS with only dozens of pictures, nearly every iPhone manage tool will deliver a fantastic performance, making it impossible for you to choose from. It's better to test a program using an iPhone with a huge number of photos, and you will thank yourself not purchasing programs that easily crash with content-rich devices.
Does the software require you to install other programs/apps to perform a certain task?
You might purchase the license of the software for a certain function that it claims to have. Make sure to try out the function to see if it's built-in or do you need to download other plug-ins or install certain apps to accomplish the task together with the desktop software. Due to the limitation of Apple's ecosystem, it's common for developers to find a workaround to perform certain tasks in order to manage iPhone photos, and you have the right to decide whether the workaround is convenient for you.
How easy is it to use?
If the software is user-friendly, it will save you time and effort. Try it out to see if the interface is self-explanatory so that you don't have to waste time on the user guide. The best iPhone photo manager for PC are those well-designed with simple yet powerful functions, not over-bloated ones with tons of unnecessary utilities that try to convince you that you have spent money in the right place.
Taking photo transfer utility as an example, can you easily preview pictures in the most straightforward way and flexibly select one or multiple photos to transfer? After transferring, will the folder containing transferred photos pop out automatically or do you need to find out the folder manually? Never overlook these details that facilitate your work.
How many photo types/media types can be recognized and handled by the software?
Make sure a program read all the photos on your iPhone. There are various types of pictures and albums on your iPhone, such as photos taken by the camera, saved from other apps, received from friends via Airdrop, updated from shared albums and my photostream, and pictures synced from a computer. A bad example is Windows Explorer which fails to display computer-synced pictures on your iPhone.
With regard to media types, use the following questions as a checklist to fulfill your personalized requirements and find your own best iPhone photo manager:
How does the software handle your live photos?
Do you need to convert HEIC to JPG?
Does the program transfer GIF/animated images?
Will the software keep photo EXIF information such as time stamps and geo tags?
Do you need to encrypt private photos?
Would you like to sort photos by year/month/date?
Final Words
That's all for the top 5 iPhone photo managers for Windows this year. Also, we'll catch up with the latest trends and tools in the future to provide you with the best iPhone photo management software for your gorgeous pictures.
Now, if you want to flexibly transfer, back up, migrate, and organize photos on your iPhone, or convert HEIC to JPG at your will for maximum compatibility, DearMob iPhone Manager is exactly what you need.