Any iOS 16/15/14 home screen ideas? Where to download free aesthetic app icons? And how to change iPhone app icons?
Right, you can Google images and download unlimited icons for iOS 16/15/14 apps for free and change iOS icon using them. But you will have to deal with watermarks.
You are also right about DIY varied sets of iPhone app icon themes using Photoshop or Illustrator. But you will have to invest extra amount of time in designing or maybe designing multiple times for multiple themes.
Thus, for you convenience, we managed to round up 7 great iPhone app icon pack download sites for iOS 14. And you will be thrilled at how creative and uniformed the styles they can provide. Simply download and save those icon photos of varied styles in batch and organize them to different photo albums, then you can easily match the applications with target icon logos and shifts between multiple themes the way you like.
Also note that, according to apple official site, the preferred app icon size for iPhone iOS 14 is 50px × 50px (60pt × 60pt @2x). So, before you matching applications with the icons, check if the icon size is adjusted in advance.
#1 Download icons for iOS 14 Apps from Site - icon8
After signing up, you can get as many free iPhone app icons for your iOS 14 home screen ideas as you want from icon8. And the best part is that you can even edit the icons right on the webpage. Recoloring it, adding overlays/texts/effects etc. You are not just copying others works but somehow refining to get your own ideal piece on top of those creative minds. You can choose to download the icon in PNG, SVG, or PDF formats. Although a suggested pixel size will be listed, you can decide the icon size on your own.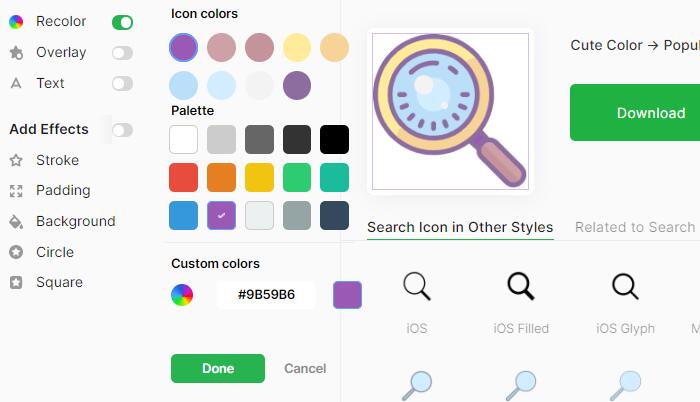 Step 1: Sign up when prompted
Step 2: Click on the iPhone icon you prefer and click "Download" button
#2 Download iCons for iOS 14 Apps from Site - Flaticon
I like Flaticon a lot since it allows you to download aesthetic app icons for iOS 14 free without watermark. If you use the icon on web, you will have to contribute to the designer using the given link. However, to make aesthetic home screen of iPhone, you only need to save them to your album one by one. You can get Halloween app icons, Thanksgiving app icons, Christmas app icons for iOS 14
You can get both the Flat version and the lineal color version which are all colorful and lovely.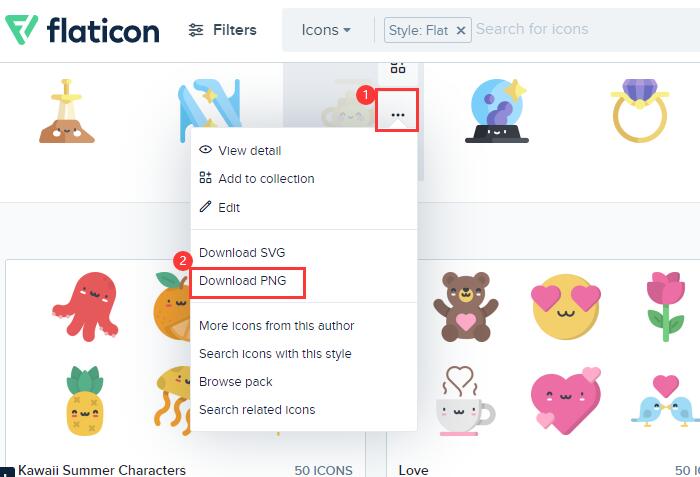 Step 1: Choose and click on an icon pack
Step 2: Click on the three dots icon
Step 3: Navigate to Download PNG and click it
Step 4: The icon will be downloaded very quickly and you can find them in your download folder.
#3 Download iCons for iOS 14 Apps from Site - theNounProject
Quite enjoy the lineal icons on thenounproject.com. On the homepage, you get several themes including Work from Home Outline, Redefinding Women Collection, On Wheelchair Collection, etc. If you dig harder, you will find a collection of Human Organs Line, which is innovative to be set as black iOS 14 icon for your iPhone home screen. There are more icons for educational use - https://blog.thenounproject.com/educational-icon-collections-d0ae8352d20d.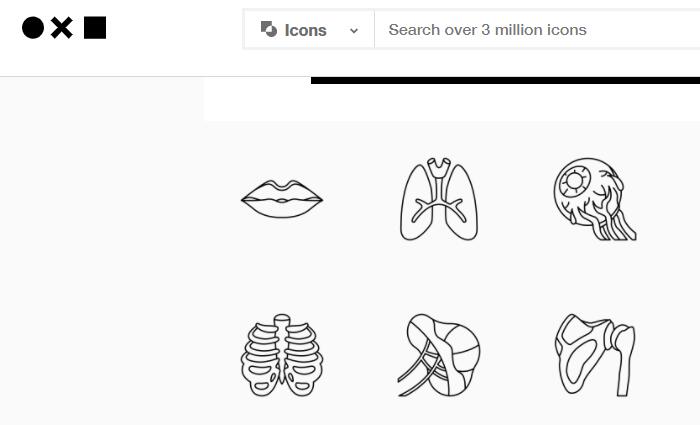 Step 1: Right click on the icon
Step 2: Navigate to "Saving image as…"
Step 3: Browse the folder location and click save Button (100% no watermark)
#4 Download iCons for iOS 14 Apps from Site - NerdsChalk
This is another place I quite enjoy downloading app icons for my iOS 14 home screen ideas, mainly for two reason. First, I can navigate according to the colors I prefer; Second, I can navigate icons for each application. I don't care its headline saying 175+ awesome aesthetic app icons for iOS 14, all I want is to find a set of icons I can use right away. And it gives me plenty ready-made choices.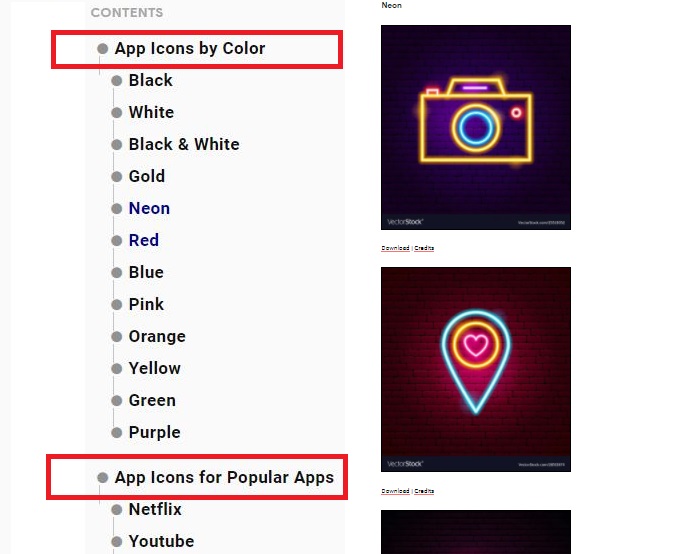 Step 1: Navigate to the exact icons
Step 2: Click the "Download" button
#5 Download iCons for iOS 14 Apps from Site - iconscout
Iconscout provides both free and fee-based icons. The best part I love about this site is that you can download those free icons in batch without one by one selecting. You can either sort out all the free icon packs, or dive into a fee-based pack and spot some hidden free items. Iconscout surprised me with many more icon genres, including colored outline icons, dualtone icons, flat icons, glyph icons, gradient icons, line icons, rounded icons, sticker icons.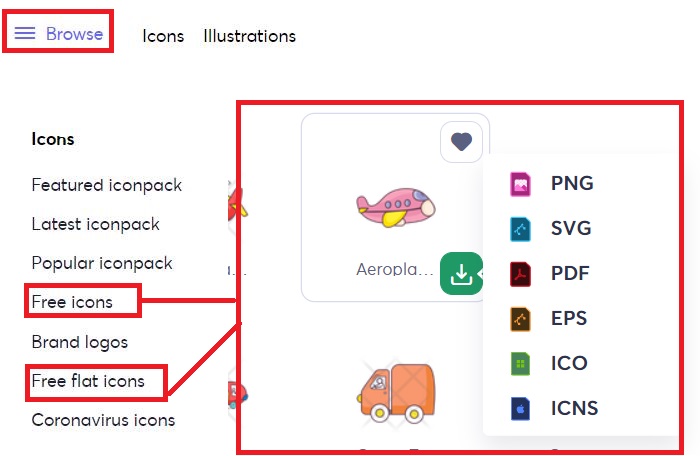 Step 1: Click Browse and select free or free flat icons
Step 2: Click the "Download" icon
#6 Download iCons for iOS 14 Apps from Site - Dribbble
Advanced users may find this site super useful. Since they can snapshot some great pictures and turn them into icons for iOS 14 iPhone home screen. One can grab some fragment pieces from a complete set of design. It might not be a perfect place for iPhone icon download, but one can collect mind blowing iOS 14 home screen ideas from this a forefront designing community with hundreds of artists posting their works online.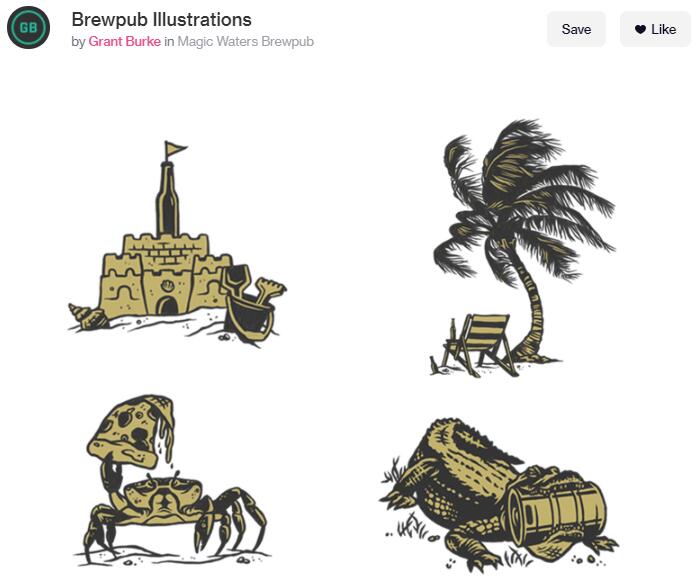 #7 Download iCons for iOS 14 Apps from Site - Pinterest
While Dribbble is more of a designers' community, Pinterest on the other hand is more popular among social network users to obtain aesthetic iOS 14 home screen ideas. In the Search box, simply input "icon for ios 14 app" and you will be presented with a slew of icons, icons packs, themes with wallpapers etc. Ready-made icons and complete set of home screen designs are shared by many dedicated iPhone users. They may enlighten your ideas as well.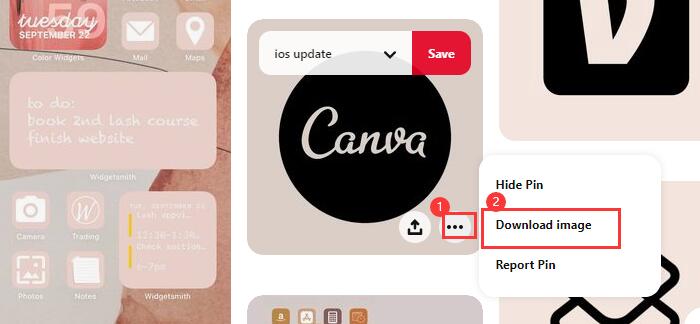 Step 1: Input "icons for iOS 14 apps" or any other keywords in the search box
Step 2: Click on the three-dots icon and choose "download image"
How to Move iOS 14 Home Screen Icons from PC to iPhone?
This won't be an issue when you download those icons or images online directly from iPhone, as you can directly save the images in your local albums. However, some users might prefer downloading and filtering those icons on computer while in the meantime making some edits. From computer end, they can easily and accurately classify icon logos without squeezing on a tiny screen. Then, how to transfer those downloaded icons from computer to iPhone iOS 14?
Step 1: Download DearMob iPhone Manager
Step 2: Connect your iPhone to computer with DearMob iPhone Manager launched
Step 3: Click on the Photos icon when the software reads your device Step 4: Click on the New Album button on the left side bar to create icon pack albums
Step 5: Drag and drop the icons to the albums and click Sync
How to Change App Icons on iOS 14 Home Screen?
There are mainly two ways to change icons on iOS 14. For one, using the built-in app Shortcut. For another, using third-party icon changers.
Once you moved the iOS 14 icons needed to iPhone photo album, you can proceed with the following steps:
Step 1: Open Shortcuts and add new actions;
Step 2: Find the "Open app" action and tap on it;
Step 3: Tap the Choose button to select the app you want to change the icon of;
Step 4: Tap the blue threedots icon on the top right corner to name the shortcut and tap "Add to Home Screen";
Step 5: Now you can change iOS 14 icon under "Home screen name and icon" and tap "Add" to enable the changes.
Tapping to edit icon - choose file/choose photo/take photo.
However, I'd personally recommend another third-party icon change app instead of using Shortcuts for 4 reasons:
1. You can batch change iOS 14 icons without one by one setting, which can be time consuming;
2. Ready made iOS 14 icon packs of multiple themes are right at your service (wall paper included);
3. You can also create multiple iOS 14 icons on your own in this app, changing image shapes/BG color/icon border;
4. You can password protect several apps from opening!
Step 1: Download the icon changer in app store
Step 2: Choose icons or themes
Step 3: Match the icons with your app
Just as simple as that.
No matter you are using Shortcuts or third-party iOS 14 icon change apps, they all have defects: no new message notifications on the corner of the custom app icons and tapping the icon launches Shortcuts/icon changer first before it jumps to the application at your call.