How to Transfer Photos from iPhone to iPad
By Jason Copper - Last Updated: Contact Author

Case 1: How to transfer all photos from iPhone X to iPad Pro and start with no photos on the iPhone X
I just bought an iPhone X (64GB) I have an iPhone 7 Plus (128GB), and I have 90GB used, 50GB of which are photos. I was wondering how I could transfer all my photos(9500 photos) to my iPad Pro (512GB) and start with no photos on the iPhone X.
Case 2: How to transfer RAW photos captured on iPhone to iPad for editing
Is it currently possible to transfer the RAW data from a photo taken on iOS to the iPad for editing? I'm having trouble transferring anything other than the jpeg over, meaning I loose all the RAW data.
Case 3: For a photography project, I need to transfer hundreds of photos from iPhone 4s to iPad 2 for editing
From the above cases we can see that the need for transferring photos from iPhone to iPad, generally categorizes into two purposes - empty iPhone storage and editing photos on iPad. Therefore, the photos can be either too many to transfer or certain spec requirements for the photo is expected.
Solution 1: Transfer Zillions of Raw Photos from iPhone to iPad via Computer for Free
I would firstly recommend you the most reliable tool - DearMob iPhone Manager, which might be the best practice to efficiently transfer a GREAT AMOUNT of photos from iPhone to iPad via computer for free in only two steps:
Step 1. Export photos from iPhone to computer;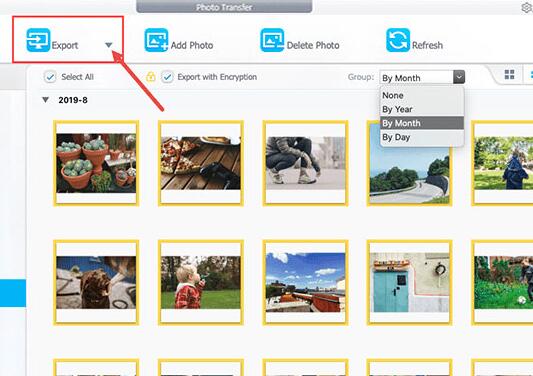 Step 2. Import photos from computer to iPad.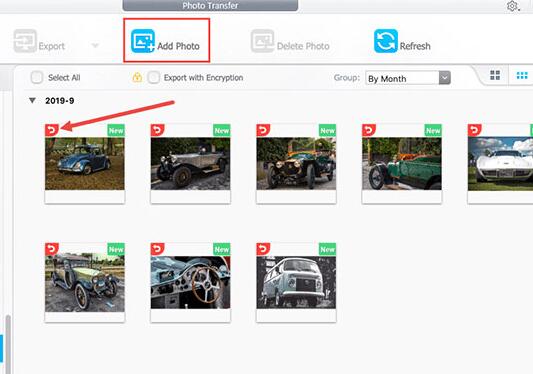 DearMob Photo Transfer advantages:
• Transfer photos albums: You can directly create and transfer oodles of photo albums from iPhone to iPad easily.
• Fast & stable: Quickly transfer over 10,000 photos and more from iPhone to iPad without connection issues.
• Retain geotag and complete photo data: No worries of lossing a gigabyte of photo data saved in iPhone.
Solution 2: Transfer iPhone Photos to iPad using Airdrop
Transferring photos from iPhone to iPad using Airdrop is generally the first solution come up from all our minds. Wirelessly without cable is all we desire and prefer. However, when you tried Airdroping multiple GBs of photos, you would realize that this action totally unreliable – keep timing out.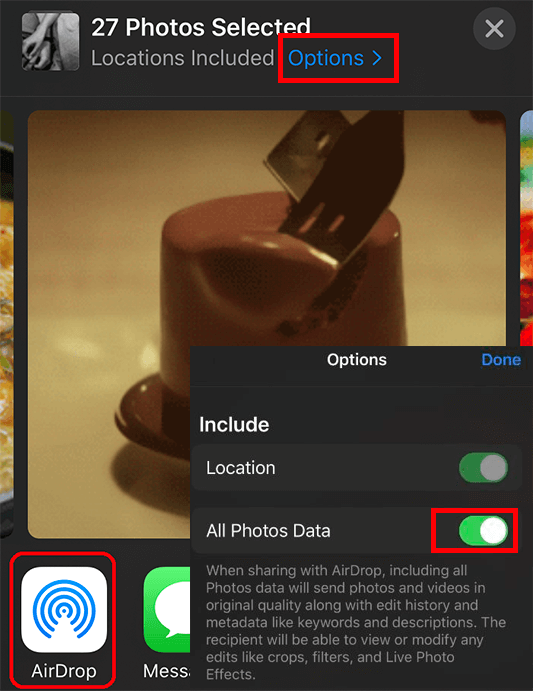 Also, older models of iPhone like iPhone 4s and iPad 2/3/mini do not have Airdrop utility. So this without cable solution only applicable to those who migrate few photos at a time using recent iOS device models. If you have like over 10k photos of over 50GB on your old iPhone or to transfer pictures from iPhone x to iPad 3, just forget about AirDrop. But anyway, here you can still try this method on your own:
Step 1: Wake up both your iPhone and iPad and make them connected to the same WIFI network
Step 2: Choose the photo you want to Airdrop from iPhone to iPad.
You can select one or several pictures individually to transfer and you can also select all photos under a photo album to transfer.
Step 3: Tap the share button and tap the Airdrop icon.
Your iPhone will auto detect your iPad amd ask for permission to receive those photos.
Step 4: Simply tap accept on your iPad and wait for the photos to be loaded in your camera roll.
The problem of using Airdrop could be many - endless waiting, not connecting issues, not detecting issues, time out issues. And this is why we do not recommend you this methods to transfer large amount of photos wirelessly.
For Case #2, you can choose Airdrop to transfer RAW photo from iPhone to iPad for editing.
Solution 3: Transfer photos from iPhone to iPad using iCloud photo library.
To choose iCloud, you choose to pay a subscription fee monthly. Willing to pay for the endless price? Then iCloud can be a not bad idea. And iCloud also saves the RAW version of your iPhone photo when you choose Download and Keep Originals.
Step 1: Simply to go to Settings > Your Name > iCloud > Photos > toggle iCloud Photos on
Step 2: On your iPad, sign in the same Apple ID of your iPhone and you can find photos synced with your iCloud library;
Issue 1: A least amount of 500MB physical storage is required if you're to enable iCloud Photo Library uploading properly;
Issue 2: Enabling iCloud photos will some how force you to remove photos and videos synced from iTunes;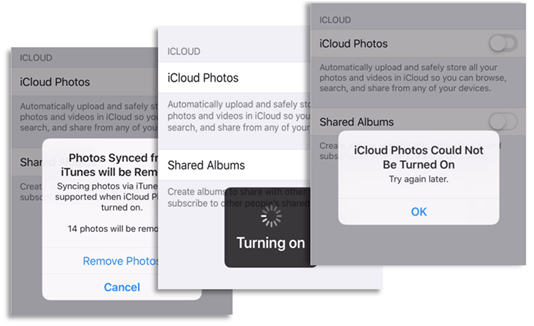 Solution 4: Connect iPhone to iPad directly using a USB adaptor
Now comes the most direct solution. Somehow, the iPad seems to see the connected iPhone as an camera, so that you can directly connect the two using a USB adaptor and import photos from iPhone to iPad.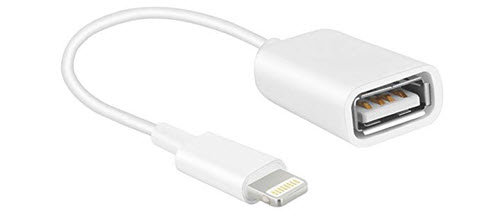 Step 1: Open Photos on your iPad ( iOS 13 and iOS 12 workable)
On your iPhone, you should be prompted to "Trust this computer" and input your passcode. And you have to trust the iPad every time you connect it to the iPhone.
Step 2: In the Photos app on your iPad, you will see an "Import" icon come up in the bottom right of the screen.
Step 3: Click Import to transfer photos from iPhone to iPad directly.