Summary
We tested six workable methods to transfer photos from Mac to iPhone, and the tools used in this tutorial are free of charge. With both native ways and decent tools that are popular among Apple users.
Copying photos from Mac to iPhone or iPad allows us to enjoy the pictures on the go. Besides, when you create folders and albums to organize photos, it saves your time to quickly location a picture you need. Read this post and you will learn how to transfer photos to iPhone camera roll, photos app, and even outside photos app (in Files!)
No matter you prefer to transfer photos to iPhone with or without iTunes, you will find a workable way for yourself here.
1. Transfer Photos from macOS Catalina to iPhone with Finder
Anyone upgraded to macOS Catalina would know that iTunes is gone. The much bloated app has been split into the Music app, books app and Movies app; while its device management function has been integrated into Finder. As a result, when you plug in your iPhone, iPad or iPod, you shall see the device appear in the sidebar in Finder, just as if you plug in any USB flash drive or external hard drive.
Follow these steps to transfer photos from Mac to iPhone on Catalina using Finder:
Step 1. Unlock your iPhone screen, and make sure the screen lock time is not too short.
If you have tons of photos to transfer, the process can be long. Automatic screen lock might cause expected errors, disconnecting iPhone and break the transferring.
To change screen lock time, go to Settings > Display & Brightness > Auto-Lock, and set it to Never or 5 Minutes.
Step 2. Launch Finder. USB connect your iPhone to Mac, and tap trust on your iPhone to trust this Mac.
If you cannot see your device on the sidebar, unplug iPhone and try another USB port on your Mac.
Step 3. Click your device, and go to Photos on the horizontal bar. Step 4. Check the box before Sync photos to your device from and select:
Pictures: transfer photos from Finder Pictures folder to iPhone;
Photos: transfer photos from Mac photos app to iPhone;
Any other folder you created in Finder to store photos.
Note:
If your albums are not in the root in Photos app, i.e. Albums are grouped under folders in Photos app, you might encounter the bug that Finder won't sync photos inside albums.
Step 5. Once you select desired folders and albums, click Sync.
If you check Include videos, your clips will be synced to iPhone photos app too. If you prefer the synced videos to be stored in other apps such as VLC or iMovie, you need to sync them in Files tab (next to the Photos tab).
2. Transfer Photos from Mac to iPhone with iTunes (Mojave and earlier)
If you are on macOS Mojave and earlier version, you can still use iTunes to sync Photos to iPhone and iPad. iTunes allows you to select folders or albums containing photos, but you cannot select individual photo.
Culprit of iTunes Syncing: Unexpected Photo Deletion
Before you proceed, please note that iTunes SYNC photos to iPhone, as oppose to ADD photos to iPhone. If you neglect the difference, you might end up losing photos on iPhone (Photos in albums under the From My Mac section).
Let's say you have 2 photo folders on Mac, named Test1 and Test2, and you sync these two photo folders to iPhone. You will see them in Photos > Albums > From My Mac: album Test 1, and album Test 2.
Someday, you create folder Test3 on your Mac, and add some photos to Test2 and other photos to Test3. Now you want to sync added photos to iPhone, here is what will happen:
If you check Test 2 and Test3, then hit Sync. On your iPhone, photos in Test1 will be erased!
Instead, you should check Test1, Test2 and Test3 together (even if you didn't add new photos in Test1 this time).
That's because iTunes SYCHRONIZE what you select every time. If you didn't tick Test1, it will delete that on your iPhone, without warning!
Bear in mind the syncing mechanism, let's get started:
Make sure your iPhone lock screen time is not too short (See reason above) and follow these steps to synchronize photos to iPhone:
Step 1. USB-connect your iPhone to Mac, and tap Trust when prompted on iPhone screen.
Step 2. Launch iTunes, click your device and go to Photos under Summary in sidebar.
Step 3. Check the box of Sync Photos, and here you have options to sync all photos or photos in selected folders. You cannot select a specific photo.
Step 4. Click Sync.
3. Enable iCloud Photos Library on Mac Photos App
If you have large iCloud storage, or family sharing iCloud storage plan, you can sync large quantity of photos directly from Mac Photos App to iPhone. It may take a long time for the first time syncing, but from then on, every changes you made in Mac photos app will synchronize to your iPhone.
iCloud syncing could be either a bless or a curse. On the one hand, everything is automatically done, and even if you lost your iPhone or iPad, those precious photos are still in the cloud. On the other hand, when you delete a photo from one device, the deletion will also be applied to other devices.
It could be nice to combine offline transferring and iCloud syncing methods together, based on your specific needs. Here's how to enable iCloud syncing on Mac: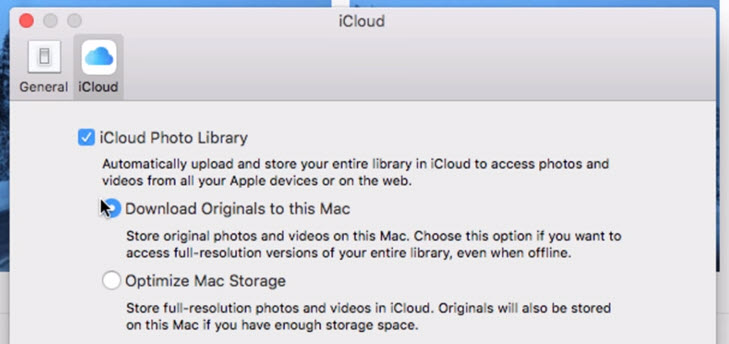 Step 1. Open up Photos app on Mac, and go to system > Preferences > iCloud.
Step 2. Tick iCloud Photo Library. Make sure the apple ID on Mac and iPhone is identical.
Step 3. In your iPhone settings, tap your user icon on top, and go to iCloud > Photos to toggle on iCloud photo Library too.
4. AirDrop Photos from Mac to iPhone
AirDrop works fine when you need to quickly transfer some pieces of photos to iPhone.
Unlike iTunes syncing, AirDropped photo will find its way directly into the camera roll. Step 1. Make sure your iPhone has enabled AirDrop receiving.
Scroll from top right to bring down the control center.
Press firmly on the top left square box.
Tap on AirDrop, and select Contacts Only or Everyone.
Step 2. On your Mac, go to Finder > AirDrop.
Step 3. Drag and drop photos here, select the icon that indicates your iPhone.
Step 4. On your iPhone, confirm receiving photos from your Mac.
5. Transfer photos from Mac to iPhone Files App
Previous methods allow you to transfer Mac photos into iOS photos App. However, some of you might prefer to transfer certain photos to Files App or any other File explorer type of app.
You might want to curate a group of related photos, for instance, illustrator or designer's portfolio. Or a scan or important document, such as your ID card, certifications, etc.
The default Files app is handy to group your photos and other files, and you can choose iCloud syncing in Files app, or offline storage.
Copy Mac photos to iOS Files App offline:
Step 1. Launch iTunes or any other iPhone device manager app, and go to Files.
Step 2. Drag and drop photos from Mac to folders in Files.
Step 3. On your iPhone, open up Files app, go to Browse > On My iPhone. This is where all the photos and documents in Files app stored: on your iPhone internal storage.
Copy Mac photos to iOS Files App via iCloud:
Step 1. Visit iCloud.com and go to Files.
Step 2. Create new folder or upload photos to existing folders.
Step 3. On your iPhone, go to Files app > Browse > iCloud Drive.
A photo with a cloud icon indicates that, you can preview the thumbnail of that photo, the full resolution copy is stored in iCloud server.
6. Send Mac photos to iPhone via a Browser (Wi-Fi Transfer)
Most file explorer apps allows you to Wi-Fi send photos via browser. If you have one of them installed on your iPhone, you can check the user guide to see the browser transfer steps. If you don't have one at hand, you can check out Documents by Readdle. We use it as an example, and other file explorer apps shall work similarly in Wi-Fi transferring.
Step 1. Install Documents via Appstore.
Step 2. Make sure your iPhone/iPad and Documents are connected to the same Wi-Fi network.
Step 3. Visit docstransfer.com on your Mac, and enter the right code on your iPhone.
Step 4. Once your computer and mobile are connected, you can add photos into the browser, and view it on iPhone in Documents.
Final Words
Above methods may come into use in different situations. You can use the following quick guide to choose a best method base on your situation:
If you prefer offline solution, use iTunes, Finder, or any other desktop iPhone manager software.
For wireless transfer, use AirDrop, iCloud, or Documents.
To copy photos into iPhone internal storage other than photos app, use Files app that enables file-sharing feature.